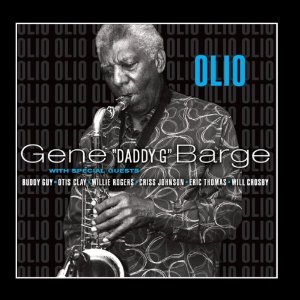 OLIO
Gene 'Daddy G' Barge
Wildroot Records
The number of authentic soul-blues pioneers is steadily diminishing, but even when the field was more crowded than it is today Gene "Daddy G" Barge was a man among men. On his new solo album, Olio ("Webster's dictionary defines olio as 'a miscellaneous mixture or collection.' To best describe this production, I refer to the famous wedding cliché: 'something old, something new, something borrowed, something blue.' Or shall I say, something bluesy?' he writes in his liner notes), he illustrates rather profoundly and emphatically why he is one of the towering figures of post-war popular music: he blows that sax with fire or tenderness as the situation demands; sings with gripping, gritty authority; produces and arranges; and either writes or co-writes nine of the disc's 11 songs. Without question his body of work had something to do with him being able to enlist guest artists on the order of Buddy Guy and Otis Clay to lend a hand on a couple of cuts. Furthermore, Olio is released on his own Wildroot label, a name hearkening back to the nickname given him by fellow students during his days at West Virginia State College.
SELECTED TRACK: 'We'll Be Friends,' vocals by Otis Clay, Willie Rogers and Gene Barge; guitar: Richie Davis, from Olio
If the nickname "Daddy G" rings a bell, yes, he is the Daddy G name-checked by Gary U.S. Bonds on the latter's 1961 classic "Quarter to Three," which was originally a Barge instrumental titled "A Night with Daddy G" to which Bonds added lyrics and Daddy G checked in with a searing sax solo. Barge played on all of Bonds's ensuing hits on the Legrand label, but before that, long before that, he had played on Chuck Willis's evergreen 1957 hit "C.C. Rider" on Atlantic, and a fellow sax player named King Curtis took notice and took notes; two years before that he had made his solo debut on Checker with the single "Country." His all-around musical gifts landed him a job behind and in front of the mic for Chess records in 1964, where he contributed to a number of hits, among them Koko Taylor's "Wang Dang Doodle," in addition to being one of the prime movers behind Muddy Waters's Electric Mud album in 1968. In the '70s he worked at Stax's gospel division, Gospel Truth, and later teamed up with the formidable duo of Chuck Jackson and Marvin Yancy to produce demos for an aspiring pop-soul singer of royal lineage, Natalie Cole, eventually winning a Grammy for co-producing Natalie's 1976 R&B smash "Sophisticated Lady." In '82 he went on the road with the Rolling Stones in Europe, and during that decade found himself migrating to the silver screen with parts in The Fugitive with Harrison Ford and The Package with Gene Hackman, in addition to roles in some slam-bang action movies with Steven Seagall and Chuck Norris. During that decade he also began working with Chicago bluesers Big Twist and the Mellow Fellows, co-producing the group's two acclaimed albums for the Alligator label. When death claimed the ascendant Big Twist in 1990, just when it seemed things might break big for that group, Daddy G stepped in as a vocalist; in '93, when two of the Mellow Fellows, sax man Terry Ogolini and trumpeter Don Tenuto, formed the Chicago Rhythm & Blues Kings, Barge came on board and still appears with the group. This is only a taste of what's on his resume, but you get the idea that his experience translates to him bringing extreme musicality, a sharp intellect and a big heart to his musical endeavors. Which brings us to Olio.
SELECTED TRACK: 'Shame on You, Shame on Me.' Vocals by Buddy Guy and Gene Barge. From Olio. 
SELECTED TRACK: 'Give Me My Flowers Now,' lead vocal by Gene Barge. From Olio.
As his liner notes indicate, Daddy G goes where his muse leads him on this production, starting with the Stax-styled funk workout "Reader Woman," fueled by the exuberant strut of a four-man horn section and Gene's humorous kissoff of a woman on whom he spent way too much time and energy—the horns seem to be having a good time at the expense of G's chagrin over his ill-fated love affair. The hard charging soul (with a tinge of country) of "We'll Be Friends," with Richie Davis having a field day setting the table with his funky guitar work, is the framework for an affecting, really heartwarming number trumpeting the virtues of unqualified friendship, featuring Barge, Otis Clay and veteran Soul Stirrer Willie Rogers singing solo and unison vows to continue to have each other's backs as they always have and as the years roll on. The swoon-inducing instrumental "More Love," with Matt Rose's lovely, romantic keyboard flourishes and G's dreamy sax solo, all cool, soothing phrases now gently rising and falling, now bursting forth in a flurry of impassioned notes, is the sort of sensitive digression that would pop up on Natalie Cole's early albums as a balance to her fiery, gospel-fired outbursts. Don't get settled in just yet, though. "More Love" has barely faded out when guitarist Will Crosby erupts with a stinging salvo, the horns burst through the soundscape and Buddy Guy comes charging in with a smokin' vocal to put the hurt on a deceitful user of a woman in "Shame On You, Shame On Me," ceding the stage long enough for Barge to add his gruff two cents' worth before the horns express their own umbrage at the state of affairs in this fiery blues stomper. Daddy G's gospel side comes to the fore on the lush, string-enhanced ballad "Give Me My Flowers Now," which spotlights an emotional tenor solo by G as well as his deeply soulful lyrical reading, the song's theme being to appreciate what you have here and now before it's too late ("don't put off tomorrow what you should do today/all you got to do right now/is give me my flowers now"), a sentiment delivered with the velvet hammer of G's earnest delivery shadowed by a muscular, righteous sextet of mixed-gender background singers in what is the album's most moving moment.
SELECTED TRACK: 'All or Nothing (At All),' vocals by Eric Thomas and Gene Barge. Keyboards: Matt Rose and Richard Gibbs. From Olio.
SELECTED TRACK: 'Them Changes,' a cover of the Buddy Miles tune, with lead vocal and lead guitar by Criss 'Righteous' Johnson, accompanied by the Phenix Horns (aka the Earth, Wind & Fire Horns). From Olio.
On the other hand, "Give Me My Flowers Now" gets a run for its moment in the sensitivity department with the heart tugging "All or Nothing (At All)," a double-edged gospel-influenced '70-style soul ballad that finds vocalist smooth-voiced Eric Thomas (late of the Independents and Silk) and G sharing verses bemoaning the end of an affair but leaving the door open for reconciliation hinging on a total commitment ("I can't share your love/got to be all or nothing at all"). And coming up hard on the outside challenging these is a happier, horn-enhanced soul ballad, "This Is My Love Song to You," co-written with Chicago soul singer Billy McGregor and brought home with full force by the emotional expressiveness of G's heartfelt vocal, with Will Crosby's soaring guitar solo complementing the singers' (G and his gospel-style background chorus) intense conviction. On an upbeat note, G also puts the band through a fierce workout in a raucous cover of Buddy Miles's "Them Changes," a burning track keyed by a keening, powerhouse vocal from Criss "Righteous" Johnson, who also gets it going with a dazzling, dizzying multi-textured white-hot guitar solo, and the robust punch provided throughout by the Earth, Wind & Fire horn section, the Phenix Horns. Sly Stone got nothing on this track. And no one's got anything on Gene "Daddy G" Barge: he just keeps getting better. The only problem with Olio is that it's only one disc—when it closes with the lovely if aching "I Can't Make You Love Me," an instrumental coda with sensitive, rippling keyboard work from Matt Rose and Richard Gibbs and, for almost the entire 4:28 of the song's length, a probing, introspective sax solo by G that will flat lay you low it is so epically sad, you simply want more of this fine music as conceived by this towering artist. For that we will have to wait. And we will.