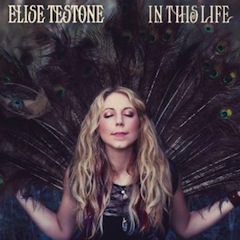 IN THIS LIFE
Elise Testone
Red Tambo Records
Finishing sixth, and no higher, on American Idol's eleventh season, may have been the best thing to happen to New Jersey-born Charleston, SC, resident Elise Testone early in her career. It's a high enough finish to use as a marketing tool but, one hopes, not high enough that she had to sign her professional life away and give American Idol a stake in everything she does forever after. Methinks not, because she's not on a major label and she's made an album more honest than just about anything we've heard from any Idol contestant, one that aspires to grand heights commercially but also rings true every step of the way—she sounds in control, assured and in her element. Writing or co-writing all of the record's impressive ten tunes, Ms. Testone puts meat on the bone with smart lyrics rife with searing, intense emotions that she owns by singing them like they're being torn from her soul—no coasting here, and no posing. Moreover, she's the credited producer of In This Life, and to that end she and her engineers have fashioned a rich, eclectic soundscape featuring sizzling rock guitars and powerhouse percussion in the more boisterous moments, but far more striking atmospherics are supplied by keyboards, horns, woodwinds, lap steel, cello and timpani. Though a blues singer at root, the artist in question displays a versatility many a pure blues singer cannot approach, which explains why she can make you feel, at once, her hurt and her resolve in the aching, string-enhanced pop ballad "I Will Not Break" and the triumph of her refusal to wallow in the misery inflicted by a feckless lover in "What I Need," a juggernaut of country and soul flourishes (nice lap steel work by Tyler Ross and by a surging three-man horn section) underscoring the singer's determination to "make it alone."
Elise Testone, 'I Will Not Break,' from her debut album, In This Life (official video)
Those who have kept up with the emergence of a new generation of British soul singers, led by Adele, might hear something familiar in Elise Testone's voice. There once was a most promising young singer on the British scene named Duffy, whose first release, a Welsh-language EP bearing her full name, Aimée Duffy, made her a star in her native Wales, but it was the Bernard Butler-produced Rockferry that put her on the international map in a big way in 2008: it was the U.K.'s #1 album that year, and a multi-platinum international phenomenon as well, selling seven million copies. Nothing much good has happened to Duffy since then—absent Butler's guidance and sense of song, her second album, 2010's Endlessly, took her away from the classic pop-soul of Duffy in favor of weightless disco and hip-hop numbers, and basically tanked critically and commercially. Duffy has been on an extended hiatus ever since. This is a long way of saying Elise Testone sounds a lot like what Duffy was on Duffy, while at the same time showing off a tougher, harder-edged timbre born, again, from the blues she clearly loves and understands. But that Duffy petulance, vulnerability, sensitivity and sensuality is all there when Elise sings, and it's quite captivating when blended with the extra je ne sais quoi she adds to it.
Elise Testone, the title track from In This Life
Case in point: the very first words she sings, on the album opening title track. A cappella she growls, "I foresee what I want here in this life/No, I don't need to give you any of my time if you don't deserve it/I know better than to serve you," and instantly she not only has you but she has declared her album's overriding theme of self-reliance, self-realization and, in a phrase, being nobody's fool. "In This Life" is a spare production, as things go on this album, with a tight focus on the singer's message supported by a stomping, relentless blues arrangement memorable for Wallace Mullinax's slide guitar, Lonnie Root's droning cello and the ominous advance of drums and percussion. "Still We Try," the second song, has a mid-period Aerosmith feel about it in its bluesy, anthemic arrangement and soaring vocal, but it stays true to the theme in the singer's aggrieved attack on a stillborn relationship. A pumping soul arrangement, with horns and organ leading the way (and making room for a tasty Mullinax guitar solo midway through), fuels a merciless kissoff titled "Never Gave Me Butterflies" (as in "you never gave me…") "Love has so much beauty but it always lets me down," the artist sings wearily, before signing off with a spunky, "I'm cryin' baby, you know I love to let you go/there ain't no sorrow in my eyes/'cause you never gave me butterflies." The singsong soul of "Save Me," replete with Gerald Gregory's sinewy vintage Joe Sample '70s synth line and atmospherics provided by Cameron Handel's frisky muted trumpet, is a slinky moment of enlightenment on the singer's part in realizing she can't conjure something out a relationship that isn't there and she had best get busy taking care of number one: "So I followed what my heart felt/what I found out myself is something/I now know I never knew/I need savin' too…" Although five songs precede it and four follow it, the aforementioned "I Will Not Break" is arguably this album's apex, when concept, execution and near-palpable passion coalesce in a moment of musical grandeur and personal statement. From the somber, understated cello-piano-timpani intro over which Ms. Testone sturdily asserts, "I will not break, I will not bend," to its more florid midsection, when her voice cracks ever so slightly, and to great effect, when she cries, "My heart's under attack, it's under attack," up to the final whisper rising to a howl, the song has the listener in its grip.
Elise Testone at Music City Roots from the Loveless Café in Nashville, May 29, 2013. A live version of 'Still We Try' from her debut album, In This Life.
A tough country-inflected scorching in "What I Need"; the jazz shadings of the moody, ironic "Lucky Day" (featuring a stinging guitar solo from Mullinax and from Cameron Handel some evocative musings on trumpet complementing a richly textured vocal articulating a range of feelings from resigned to revitalized); a brutal blues-rock assault in the horn-fired "I'm Runnin'"; and the closing track, a gentle blues-tinged ballad titled "Ease My Mind," in which the artist closes the circle she began with the title track by declaring, in the most soothing, comforting tone, "You don't wanna talk, baby?/that's fine"—these both complete what amounts to a concept album centered on the fallout of a turbulent relationship and suggest this is but the first chapter of an ongoing saga. Wherever her muse takes her from here, Elise Testone has served notice with In This Life of being an artist pursuing a serious vision that has everything to do with substance and staying power and nothing at all in common with the evanescent fame attending her appearance on a popular TV show.