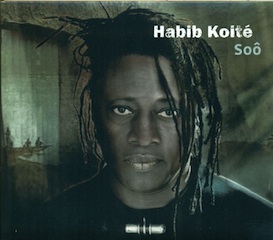 SOÔ
Habib Koité
Contre Jour
Last year Mali music master Habib Koité teamed with the formidable American blues and folk artist Eric Bibb on a delightful fusion of his country's music with that of Bibb's and wound up with one of the Deep Roots Albums of the Year, the timeless Brothers in Bamako, an archetypal border crossing exercise. Following a lengthy, acclaimed tour of the States, both artists went back to their solo careers. Habib has now retuned with Soô (or Home, in English), which, like his contributions to the collaboration with Bibb, resonates with the lyrical, gentle, melodic music of the Malian cultures he weaves together in song. (On Soô he reprises, with a greater banjo flair, one of the most popular tunes from Brothers in Bamako, the jaunty "L.A.," with its irresistible sing-along chorus, "One shot, two shot, three shot, four-shot, five-a… tequila, tequila make me happy…")
With all the turmoil that has hit Mali since Brothers in Bamako was released, it's no wonder Habib chose to record Soô in his own home. But Mali's civil strife was not what drove the musician to do his first home recording. Rather, he did it because he could. What started as a logistical decision paved the way for the album's theme.
For a musician on the road for long stretches, home becomes a dream, a vision. A place to treasure. But this home is much more than four walls. It's a chance to draw together all the strands of his life–his music, his friends, his countrymen. A chance to breathe, to reflect and also to make some needed changes.
From his new album, Soô. Habib Koité's solo acoustic 'Drapeau.' On this guitar, a gift from a fan in England, Habib uses metal strings instead of the familiar nylon strings with which he has fashioned his distinctive sound.
"On this album most of the songs are played by new musicians," Koité explains. "I had the same band—Bamada–for 22 years, they played on all my albums and tours everywhere in the world. All my albums, I did with them." It was time for fresh blood; only bassist Abdul Berthe remains from the old lineup. Even the engineers were new–one of them Koité's twenty-year-old son.
SELECTED TRACK: from Soô, 'Balon Tan,' a celebration of soccer. 'It's an important point of meeting where you learn to live together,' Habib says of the sport's popularity in his native Mali.
Soô has had a complete makeover. Not only personnel, but songwriting and instrumentation. The drum kit has gone, replaced with a percussionist on calabash and djembe. And with this album, Koité has brought the banjo home to Africa. After playing with American bluesman Eric Bibb on 2012's Brothers in Bamako and on tour, Koité adopted Bibb's six-string model of the instrument.
"It gives another effect to my sound, something new," says Koité. "Issa, my other guitarist, said 'Wow, I've never played this instrument.'" Neither had Koité, but he knew he wanted to hear the banjo in his new music along with a brand-new guitar that was a gift from a fan in England. It has a wide neck, like his familiar nylon-stringed instrument, but uses metal strings. "The sound is so great. I fell in love with it and decided to record all the songs with this guitar." Still, he made a few changes, switching to heavy strings for a cleaner sound. "You can hear it on 'Drapeau,'" he observes, a song which features only Koité and the guitar. "I muted the bottom strings. You can hear the bass lines and the treble separately that way."
Habib Koité and his new band live in Vancouver, February 2014, performing 'Diarabi Niani' from Soô
Singing in Malinke, Bambara, and Dogon, and incorporating styles and rhythms from all over the country, Koité brings together the diversity of ethnicities of Mali on Soô. But that's a perfectly natural feeling to him. Growing up in Kayes, he was surrounded by a Babel of tongues, and that continued when he moved to the capital, Bamako. A student of classical guitar, he also learned jazz on his way to becoming a master of the instrument, "the African Clapton" as he's been called. And from the start he's relished mixing things up in his own music. On his 1995 song "Fatma," Koité crossed cultural borders playing a sonrai style from the North, creating a hit in Mali. Ten years later the great singer Afel Boucoum told Koité that he was shaken by this song. "He thought it was familiar, but somehow very different."
That mix of Malian musical cultures is very much in evidence on Soô, an album that looks squarely at his native land, a country torn apart by violence over the last two years–a time when a real feeling of home couldn't be more vital. On "Diarabi Niani," for instance, Koité takes a traditional rhythm then gives it a twist by adding a bridge that wouldn't normally exist. And with "Bolo Mala" he sings in Malinke, but over a Kassonké rhythm from his own Kayes, before adding a few words in Spanish.
From 2011's Five Great Guitars tour, Habib Koité with fellow guitarists Jan Kuiper, Erwin Java, Zoumana Diarra, Digmon Roovers and percussionists Dra Diarra and Mousse Pathe M' baye perform 'Simany.'
Koité addresses many of the issues facing Mali at the moment. Under the beautiful lilt of "Dêmê" is the serious issue of people helping each other and living together peacefully. But there are other problems to be addressed: the forced marriages highlighted in "Need You," where the iron fist is hidden beneath the velvet glove of a gorgeous melody, or "Khafolé," the traditional story of a mother losing her young child to a circumcision gone wrong. This song was first performed over a hundred years ago when a group of women were protesting to the chief of the Blacksmiths, the group traditionally in charge of circumcision.
"In the big cities, it's going down in popularity," Koité notes. "But it still continues in small villages."
And sometimes he makes his point without words. "Diadjiri" is completely solo, a reminder of Koité's virtuosity on the fretboard. But it's also a song made famous by Fanta Damba, one of the first Malian singers to find fame in Europe, a song about war and its horrors. When Koité lets his fingers do the talking, the melody is more eloquent than any voice.
SELECTED TRACK: The English-language 'Need You' from Habib Koité's Soô
But Soô is a place of joy, too. "Balon Tan" celebrates soccer, a vital part of life in Mali.
"Every afternoon after school you can see boys of different ages playing soccer in the dust," Koité explains. "Parents come to watch and talk. It's an important point of meeting where you learn to live together. And everybody goes home at the end of the day."
Home. Always home. Even in "Tekila=L.A.," a memory of times with friends in Los Angeles, he compares the city to the place closest to his heart—Mali–while the banjo connects people on both sides of the Atlantic. And "Terere," featuring the legendary Toumani Diabaté on kora and the n'goni of the masterful Bassekou Kouyate, is a celebration of the strings that power Malian music.
Home. The place that brings everything together, as he sings on the title track, "Soô."
"The word soô is a symbol of the heart," Koité reflects. "It's the center of your life, the heart of life. It's a place with your family, the place where you have old friends. A place where you know the climate. It is all of those. That's what soô means. Your sweet home. It's where your life makes sense."