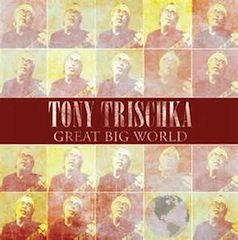 GREAT BIG WORLD
Tony Trischka
Rounder
If the banjo is in resurgence, then credit the likes of staunch traditionalist and media magnet Steve Martin and progressive hotshots with cross-generational appeal such as Bela Fleck, both of whom, of course, would bow at the altar of the great Earl Scruggs. Ultimately, as Fleck asserts in his liner notes for Great Big World, the road leads back to Tony Trischka, who's been blazing new trails in traditional and progressive worlds since the '70s—"the son" of modern banjo, Fleck calls him, alluding to all the influences Trischka absorbed in developing his signature approach. Of course the history Bela references is a bit more complex than he has time to delve into in the limited space available in liner booklets, and you know had the space been available he wouldn't have omitted citations of a whole other generation of young-ish banjo pickers whose work is drawing even younger players to the instrument and to progressive ideas about the instrument's possibilities. These would include, most certainly Alison Brown; the Infamous Stringdusters' Chris Pandolfi, the Punch Brothers' Noam Pikelny; the Grascals' Kristin Scott Benson; and the Steep Canyon Rangers' Graham Sharp, for starters. But Bela's larger point is on the money: from his early solo albums to his work with Skyline in the '80s and on to ambitious solo albums such as 1993's World Turning; 1999's Bend; his cheery, mellow Yuletide classic, 1995's Glory Shone Around: A Christmas Collection; up to and including his spectacular 2007 knockout punch, Double Banjo Bluegrass Spectacular, a Grammy nominated outing teaming him with Ms. Brown, Bela Fleck, Steve Martin and Earl Scruggs, Trischka has expanded both his instrument's sonic palette and its repertoire even as he has inspired succeeding generations of pickers. His career arc reveals an endearing selflessness in his pursuits, a willingness always to put the music first and give his guests a wide berth to make their own statements on his records.
A Great Big World promotional sampler video
It's nice to report, then, that although 32—yes, 32–other musicians join him on Great Big World (his 17th solo album), Trischka and his scintillating, nuanced banjo remain the star of the show, even when he brings on Steve Martin and Noam Pikelny to add their signatures to a couple of tracks and expands the instrumental lineup with powerhouse players such as Larry Campbell on pedal steel, Oteil Burbidge on electric bass, Mike Barnett (from his own group) on fiddle, and an impressive drummer named Sean Trischka on the rousing "Joy." There is simply no mistaking the lyrical, expressive touch of the Trischka banjo, whether it surfaces in his festive, rolling phrases backing Chris Eldridge's plaintive vocal and yielding to Mike Barnett's sizzling fiddling on the Steep Canyon Rangers-like "Say Goodbye (For KM)," Trischka's buoyant, self-penned tribute to his late friend Kate McGarrigle; sprinting along with Larry Campbell's roof raising pedal steel guitar solo and complementing Catherine Russell's house wrecking vocal on the aforementioned "Joy," an interfaith gospel celebration of the first and most humanistic order; or crafting the evocative, old-timey solo fueling his album closing parlor-style instrumental "Swag Bag Rag."
SELECTED TRACK: 'Joy,' with lead vocalist Catherine Russell
Trischka's voice is his banjo, but throughout his career he's enlisted top-drawer vocalists in his cause, and Great Big World continues that trend. Eldridge, as noted above, gets into the heart of the Kate McGarrigle tribute that leads off the album, and Catherine Russell is nothing short of spectacular in bringing cutting loose emotionally and with conviction in shouting the word in "Joy." Elsewhere Aife O'Donovan has a nice moment in the "Angelina Baker" segment of the barnburning medley "Belated Wedding Hoedown/Angelina Baker"; Maeve Gilchrist is an appropriately soothing messenger, in a dual role as vocalist/harpist, on the touching "Ocracoke Lullabye," a track rich in affecting atmosphere with the addition of Tristan Clarridge's low humming cello and Trischka's soft, spare banjo outro; Abigail Washburn is positively transcendent on the ethereal "Lost," a haunting track effectively enhanced with strings and woodwinds; and in many ways most spectacularly, Ramblin' Jack Elliott with an earthy, folksy lead vocal on the epic story song "Wild Bill Hickok," which also features a rumbling spoken word segment by actor John Goodman along with Mike Compton's personable second vocal and understated mandolin work and some festive fiddling by Brittany Haas. Some listeners will undoubtedly find the album's only weak link to be the studied, self-conscious singing of Michael Daves but Great Big World contains simply too many inspired performances to be anything but a blessing, apart from it being one of Trischka's showcase moments as a banjo titan and band leader without peer.