Chicago Urban Farming Partnership Focuses on Empowering South Side Neighborhood
By Katie Venit
The Englewood community on Chicago's South Side has endured much of the impact of urban disinvestment over the past 30 years.
Now, thanks to a coalition of community partners, bare lots are being turned into productive fields as part of Chicago's urban agriculture movement.
Angelic Organics Learning Center, a non-profit based in Caledonia, Illinois, has partnered with other longtime influential not-for-profits in the community such as Real Men Charities and Black Oaks Center for Sustainable Renewable Living as well as the City of Chicago Department of Housing and Economic Development to form the Eat2Live garden and farm.
Now going into its fourth year, the garden is used as a space for community members to learn how to bring fresh produce into their kitchens. The farm, however, is still a work in progress. This half-acre plot will act as a small business incubator for up to ten for-profit and non-profit businesses. If all goes according to plan, it will include 8,000 square feet of high tunnels, growing systems, and hoop houses that will allow for year-round organic food production.
According to Eat2Live project coordinator J. Anton Seals Jr., this urban farm is only possible because of the collaboration with the project coalition. Although the city of Chicago won't be supplying any hard materials, such as hoop houses, as soon as the weather warms it will begin working on land remediation, which Seals says will be a big help.
"Getting urban land ready for use as a farm is often the biggest impediment for people doing urban agriculture projects," he says.
Read more at Seedstock.com
UC Riverside Takes Active Role in Promoting Community and Local Food Systems at 'Grow Riverside' Conference
By Robert Puro
UC Riverside, a sponsor of last week's 'Grow Riverside: Citrus and Beyond' Conference, played a large role in shaping the conference proceedings and contributing concrete ideas and steps to help the City of Riverside develop local agriculture strategies and solutions to reconnect with its agricultural roots and foster a robust and sustainable local food future.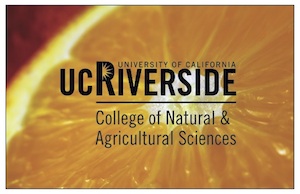 Fortino Morales III, Director of the UC Riverside Community Garden (R'Garden), a 3-acre community garden on UCR's campus, participated on the 'Local Ag Growth Strategies' panel on day one of the conference. The panel looked at the infrastructure needed to grow new farmers from educational programs and farmer training to incentives for entrepreneurs and more.
Morales III spoke about the UCR Community Garden as "an educational center" where "a lot of different students, staff and faculty have gotten involved [. . .] across disciplines." Morales III noted, "It's not just botany and plant sciences, it's business, it's poli-sci."
Morales III also spoke about what UC Riverside is doing to support the next generation of farmers. He said, "one thing is that they (UCs) passed in 2009 is a UC Sustainability Policy and in that policy they actually dedicate, or mandate . . . that every UC have 20% of their food budget go toward local, organic, sustainable food products. And so it's forcing them to really look at the community and what's around them and I think that's one thing that could be really great." About UCR's role in supporting local farmers, Morales III remarked, "There's 20,000 students on campus that they feed every couple of hours, so you can imagine the amount of food there and the market as well that is dedicated toward looking at supporting local food."
Read more and watch video from the conference at Seedstock.com
City of Baltimore Adopts Policies and Programs to 'Grow Local, Buy Local, Eat Local
By Katie Venit
Baltimore has long been working towards a more sustainable city. In 2009, it developed the Baltimore Sustainability Plan, which included a number of broad recommendations to move the city towards a sustainable future.
And in November 2013, it took a large step towards one of those goals—food sustainability—with the adoption by the Baltimore City Planning Commission of Homegrown Baltimore: Grow Local, a three-pronged plan to "grow local, buy local, and eat local."
The city sees its role as supporting the local food movement that is already underway, rather than trying to create it.
"I am so pleased that we have implemented a comprehensive plan that will guide our efforts to develop a local food system and revitalize Baltimore's communities through farming," says Baltimore's mayor, Stephanie Rawlings-Blake.
"Baltimore's urban farms are already playing a vital role in cleaning up vacant lots, beautifying neighborhoods, providing fresh food to residents, and creating opportunities for education and employment," adds the mayor. "Through my Homegrown Baltimore initiative, we are working to support and grow this movement to create a healthier and stronger city."
One of the most important steps towards achieving this goal is changing the zoning code to explicitly allow farms and community gardens in the city limits. The city's current codes, which date back to the 1970s, were due to be completely rewritten, and the city decided to take the opportunity to modernize the rules for urban agriculture.
Unless a zoning code specifically allows for land to be permanently used a certain way, it is technically forbidden, and permanent urban farms were not specifically allowed under the current codes. Because they wanted them to be there, city leadership allowed the establishment of urban farms as temporary uses for the land, but that gray area led to a sense of insecurity on the part of the farmers, according to Abby Cocke, environmental planner for the city,
Read more at Seedstock.com
From 'Music City' to 'Food City': Nashville Grows Urban Farming Community
Nashville's urban agriculture scene continues to grow.
in 2009, Nashville's zoning ordinance was amended to allow both commercial and noncommercial community gardens as a permitted use or special exception use in certain residential districts.
And in early 2014, the Metropolitan Council, which governs the city of Nashville and Davidson County, approved an ordinance to expand the ability of county residents to keep backyard hens. The measure removed a previously attached sunset provision and expanded the legislation to be effective countywide and to include all districts.
"The 630,000 residents of Metro Nashville now have the opportunity to keep hens and enjoy fresh, local eggs," says Jennifer Tlumak, executive director of Urban Green Lab, a Nashville nonprofit dedicated to improving the health and well being of the city through sustainability. Urban Green Lab offers workshops that cover everything from green building to urban agriculture. Overall, the organization strives to spark positive changes at home and at work that will save money, improve health and conserve resources.
"Through partnerships with local businesses, government and nonprofits, we expand our reach in offering this needed service, and team with local colleges to monitor our impact," Tlumak says. "Workshops in the fall included backyard hens, food labeling and food preservation techniques."
Along with policy changes and Urban Green Lab's work, the city also continues to foster a positive atmosphere that's helped new urban agriculture-focused organizations grow.
For example, Nashville Grown is a new organization dedicated to building a local food system where most food is grown within a 100-mile radius of the city. It works to achieve this goal through urban farming education, connecting farmers with available land, coordinating growers with buyers through a food hub, assisting in food distribution, and helping to brand and market restaurants that support local farms.
Read more at Seedstock.com