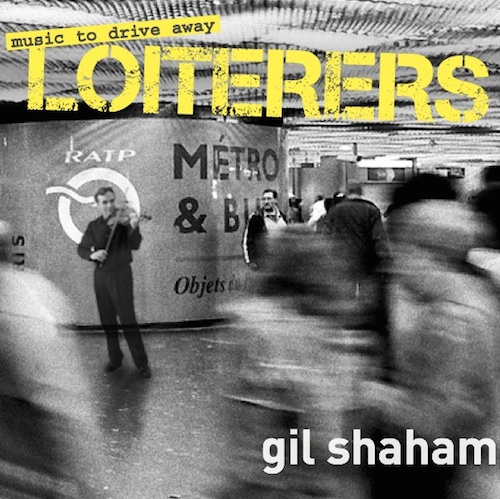 The violinist Gil Shaham was battling his way through Penn Station recently when he heard a recording of the Haydn Violin Concerto being piped over the public address system. "I wanted to stay and ask if it was my recording, but before I knew it, I was in a cab and on my way out," he said.
To Shaham, the anecdote illustrates the powerful (some say, unfortunate) effect classical music has, not in enlightening the masses, but on reducing loitering.
Reports of train stations and shopping malls blaring classical music to chase off vagrants, vandals and ne'er-do-wells have been making headlines for over a decade. Along with Penn Station in Manhattan, New Jersey Transit pipes light classics into its Newark transit hub, purportedly to create a soothing ambiance.
While some artists may cringe at having their performances appropriated for nuisance abatement purposes, the internationally recognized Shaham saw an opportunity in the concept, and on April 1—that would be April Fool's Day–he released Music to Drive Away Loiterers.
SELECTED TRACK: Chen Gang & He Zhanhao: Theme (Adagio Contabile) from Butterfly Lovers Concerto, Gil Shaham with the Singapore Symphony Orchestra as heard on Music To Drive Away Loiterers
"All those years of conservatory training have endowed me with superpowers to drive away people," Shaham joked during an interview with WQXR morning host Jeff Spurgeon, who quipped later in the conversation, "It's a wonder one of us hasn't walked out yet." (Right up to the moment the interview began Spurgeon was wondering on-air if the album really exists or if it the whole thing might be Shaham's idea of an April Fool's joke.) The whimsical collection, released on Shaham's own Canary Classics label, reissues 15 short pieces and single movements by Bizet, Faure, Mozart, Prokofiev, Sarasate and other composers.
While Shaham's concept is tongue-in-cheek, some quality-of-life campaigners take a more earnest view. Last year, when a Columbus, OH, YMCA began playing Vivaldi in its parking lot, a local business leader touted its efficacy to the Associated Press. "There's something about baroque music that macho wannabe-gangster types hate," he said with marked enthusiasm.
Others are less enamored with the idea. "We must seek out other pro-sociable ways of dealing with the problem rather than just squirting acoustic insecticide at young people," Nigel Rodgers, the head of the anti-background music group Pipedown, told WQXR's Conducting Business last year.
Bizet (arr. Sarasate), Introduction from Carmen Fantasy, Op. 25. Gil Shaham with the Orquesta Sinfónica de Castillay León, Alejandro Posada, conductor, as heard on Music To Drive Away Loiterers
Shaham has yet to receive any licensing requests from police departments or transit authorities, but he envisions a genuine practical application for the CD.
"To be fair, classical music could also drive away dawdlers and loafers," the violinist told Spurgeon. "But we designed this specifically to drive away loiterers. For me, when I pop this in the machine, it makes me want to stand up and walk away."
Or as Laurie Niles wondered at Violinist.com, "The question remains, can Gil Shaham truly drive away anybody with his playing? Consider the play list: Bizet (arr. Sarasate): Introduction from Carmen Fantasy, Op. 25; Fauré: Sicilienne from Pelléas et Mélisande and Fileuse Op.78 No. 2; Fileuse (Spinning Song) Op. 80. No. 2; Mendelssohn: Octet in E-flat, Op. 20: iii. Scherzo; Mozart: Sonata in E-flat, K. 302: ii Rondeau; Prokofiev (trans. Heifetz): March from Love for Three Oranges; Prokofiev: Andante from Five Melodies, Op. 35; Chen Gang & He Zhanhao: Theme (Adagio Contabile) from Butterfly Lovers Concerto, with the Singapore Symphony Orchestra; Sarasate: Navarra for 2 violins, Op. 33; Edwards: Chorale from Maninyas; Sibelius: 3rd movement from Violin Concerto in D minor, Op. 47; Williams: 'Remembrances' from Schindler's List; Bloch: 'Nigun' from Baal Shem; Dorman: Scherzo from Nigunim (Violin Sonata No.3); and Sarasate: Zapateado Op.23 No.2."
Indeed. From the Deep Roots perspective, nothing drives us out of a shop or restaurant faster than rap, hip-hop or U2. And if we were to walk in to any of the selections Shaham culled from his catalogue for Music to Drive Away Loiterers, we would be, as likely as not, transfixed. His delicate touch on Fauré's Fileuse (Spinning Song) Op.78 No. 2 is as sublime as his sensitive probing of Chen/He's beautiful Theme from Butterfly Lovers is mesmerizing. The shifting dynamics he employs to wring every ounce of passion and anxiety out of Bloch's Nigun from BalShem betray an artist working at a high level of dramatic interpretation, whereas his counterpoint to Orli Shaham's nuanced piano on Mozart's Sonata in E flat Major, K.302: iiRondeau is a stately complement to her more emotional attack, creating a musical dialogue marked by fascinating shifts between conspiratorial whisperings to testy ripostes.
Mozart, Sonata in E flat Major, K.302: iiRondeau, Gil Shaham and Orli Shaham, as heard on Music To Drive Away Loiterers
Perhaps, though, Mr. Shaham himself should have the last word, from a mission statement of sorts he fashioned for the album's liner booklet. To wit:
"After deciding to dedicate my life to music, I knew I had found my true calling. In pursuing the quest for musical enrichment, I realized that although some people enjoyed my music, others shied away from my performances and recordings. Did people just want me to stop? Did they not like Mozart or Mendelssohn's irresistible melodies? When I heard that classical music was being used as a tool to drive loiterers away from public places, I thought perhaps I'd found my niche. Please enjoy this album. Or don't. Whatever."
Sources: Brian Wise, WQXR Blog, 'Violinist Gil Shaham Takes On a New Role: Crime Fighter.' April 1, 2014
Further Reading:
"An Australian McDonald's Has Been Blasting Opera Music to Drive Away Teen Loiterers" by Hayley Peterson, Business Insider, Nov. 22, 2013
"Want to Get Ride of Teenage Loiterers? Blast Some Beethoven" by Justin Peters, Slate, Oct. 29, 2013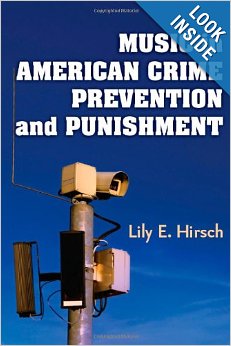 Music in American Crime Prevention and Punishment, by Lily E. Hirsch (University of Michigan Press, Nov. 16, 2012) from Amazon: "In Music in American Crime Prevention and Punishment, Lily E. Hirsch explores the related terrain at the intersection of music and law, demonstrating the ways in which music has become a tool of law enforcement and justice through: police and community leaders' use of classical music in crime deterrence and punishment; the use of rap lyrics as prosecutorial evidence; allegations of music as incitement to violence; and the role of music in U.S. prisons and in detention centers in Guantanamo, Iraq, and Afghanistan."