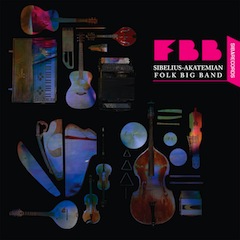 FBB
Sibelius-Akatemian Folk Big Band
Siba Records
Back in the '70s, when he was but a lad, David Bromberg dreamed up a musical collective he called the David Bromberg Big Band, a shifting lineup of frighteningly skilled players well versed in folk, blues, country, ragtime, bluegrass, gospel and '50s and '60s rock 'n' roll. Bromberg served as these virtuosos' virtuoso, a multi-instrumentalist who could take any stringed instrument and make beautiful music with it, while also skillfully leading largely improvisational proceedings through majestic, epic sets of memorable original tunes and vibrant covers of songs from the basement of time up to the present day (along the way he even worked up a bluegrass tribute to Ethel Merman). There have since been similar aggregates assembled for one-off projects, but really nothing to compare to the scale, scope and longevity of the DBBB–until now. To the east, in Finland, the Son of the DBBB arises in the form of the Sibelius-Akatemian Folk Big Band with an album, titled FBB, that is one of the most joyous and life affirming musical outpourings this or any other year is likely to produce.
Despite many similarities, some key distinctions separate the two groups in questions here. Though the Sibelius-Akatemian Folk Big Band shares the DBBB's love of its country's native music, its music speaks to a more multicultural world than did the DBBB's and so sneaks in, sometimes overtly, sometimes subtly, sound signatures from sometimes well beyond Finland's borders. Then there's the sheer size of the Finnish group: the DBBB maybe had a dozen players or so at most in tow, whereas our Finnish friends are more than 40 strong in number; each musician can legitimately claim to be a composer-arranger-soloist-multi-instrumentalist (some or all of those) in his or her own right; and the instrumental lineup includes not only guitars, violins and double basses and various percussion, but also kanteles, harmoniums, woodwinds, two-and-a-half- and five-row accordions, descant and treble recorders, folk harp, bowed lyre, cittern, harmoniums, even a månmarkapipa, a particular type of folk fipple flute made by Gunnar Stenmark, a Swedish luthier specializing in, as musician Sergio Ribnikov Gunnarson says in his Sheer Folk profile of Stenmark, "traditional and newly developed folk wind instruments." Whereas David Bromberg was clearly the master of the David Bromberg Big Band, the Sibelius-Akatemian Folk Big Band, although founded in 2010 in Helsinki by Petri Prauda (who plays the cittern, a string instrument resembling a bouzouki, with which it is often confused, dating from the Renaissance era—if you're wondering "So just what exactly is a cittern, anyway?", Robin Bullock answers the question at robinbullock.com), disdains any notion of having a leader. In the liner booklet of its album, an unsigned note—you were expecting someone to take credit for it?—states categorically, "The orchestra performs without using a conductor or sheet music, with all the members communicating together in each given situation in a dynamic, rhythmic and expressive way, through improvisation and focus." As for the band name, it denotes the Sibelius Academy, part of the University of the Arts Helsinki, which has a university-level music school and in fact is the only music university in Finland. Founded in 1882 as Helsingfors musikinstitut ("Helsinki Music Institute"), the school was rechrsitened Sibelius-Akatemia in 1939 to honor its own former student and Finland's most celebrated composer Jean Sibelius, one of the giants of 20th Century nationalistic composition. In 2013, the academy merged with two formerly independent universities, Theatre Academy Helsinki and Academy of Fine Arts, Helsinki, to form the University of the Arts Helsinki.
Sibelius-Akatemian Folk Big Band, a live version of 'Kaivantomjehen laulu,' the first song on their new album, FBB. Posted at YouTube by Aeaenipaeae.
So there's that. The key to understanding what goes on in the songs of FBB comes in the abovementioned liner note, in the second paragraph, to wit: "Despite our careful research of historical singing and playing styles, we see folk music as something that lives strongly in the present. It doesn't belong in museums; we live with it every single day. The Folk Big Band is a part of a 10,000-year continuum, and the only way to continue is to keep creating new folk music. The end result is something unprecedented, powerful and contagious–it glows with pride for our own musical traditions! Sometimes more is more!"
A segment from a July 9, 2011 concert at Helsinki's Sibelius Akademy Music Center featuring the Sibelius-Akatemian Folk Big Band joined by the TradAlp Orquestra and OFG Sondeseu. Posted at YouTube by ETRAD VIGO.
About the only flaw yours truly can point out here is the lack of English translations of the wonderful songs on FBB. Oh, the booklet does include English translations of the song descriptions, so a listener knows, for instance, that in the Irish-tinged waltz titled "Kaivantomiehen Laulu" both the pride and the melancholy evident in the female lead singer's expressive vocal and her backing chorus's sturdy support make sense given the lyrics' report on immigrant Finns' hard life as miners in America (the song wäas written by a Member of Parliament identified as "author and agitator Santeri Mäkelä, who worked in the ore mines of Michigan as a young man." Maybe it's because we lost him so recently, but in listening to FBB it occurs to your faithful friend and narrative how much Pete Seeger would have loved this album—its spirit, its precision but soulful musicianship, and its conscience, whether these virtues arise in joyous tunes such as the festive polka medley "Omatekopolkka/Vili-Vainaan Polkka/Reepakan Polkka"; the heart tugging, ethereal blend of voices, accordions and wind instruments in "Vanhalla Nuorisoseurallla," composed by group member Tero Hyväluoma and described in the booklet as being about "bittersweet memories from the Patana Village Youth Society Hall, destroyed by a fire in 2006"; the blend of spiritual yearning and spiritual ecstasy (including chanting reminiscent of the Native American style) underpinning the bold but sensitive textures conjured by woodwinds and voices in "Metsän Sävel" ("Forest Tune"), a musical depiction of "a small fantastical moment from a shepherd's day at work"; or the whole orchestra flexing its collective muscles in the ambitious "Promootiokantaatti" ("Conferment Cantata"), a near-12-minute composition of constantly changing tempo and mood, from triumphant to reflective, with the various instruments  and multiple voices entering, fading out and then returning for greatest atmospheric effect. All in all, the Cantata seems a product of Ireland as much as it is of Finland, and moreover it has the majesty and vision of a Karl Jenkins work, so throw in Wales too.
SELECTED TRACK: Andy Statman's klezmer band meets Iron Butterfly? From the Sibelius-Akatemian Folk Big Band's album, FBB, 'D-Mollisottiisi' ('Schottische in D Minor').
Yeah, Pete would be smiling all the way through FBB, maybe even all the way through the frisky schottische written by the Finnish fiddling giant Konsta Jylhä, "D-Mollisottiisi" ("Schottische in D Minor"). The best and only way to describe this remarkable track is to say it sounds like Andy Statman's klezmer band meeting Iron Butterfly, as it breaks into a hard, stomping rhythm—led by accordion instead of organ–about midway through, overlaid with a melody reminiscent of "In-A-Gadda-Da-Vida." You half expect the Butterfly's Doug Ingle to come rumbling in with "In-A-Gadda-Da-Vida, hawney…" Seriously.
In the end, FBB celebrates the musicians' Finnish heritage while also celebrating what they have taken from other cultures' music in creating a world in which their listeners can in turn celebrate the same common humanity fans of the David Bromberg Big Band found in its eclectic repertoire. For a moment, anyway, you can believe we are all one.
For more on the Sibelius-Akatemian Folk Big Band, visit the orchestra's Facebook page at: https://www.facebook.com/sibafolkbigband/info