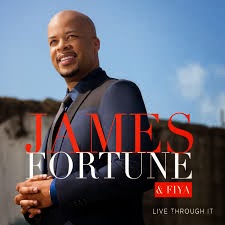 Today, James Fortune is one of gospel music's best-selling artists. In addition to recording a string of radio hits and launching his own record label, FIYAWorld Music, Fortune helped introduce singer Zacardi Cortez to a wider audience. Cortez's "One On One" is now riding high as a crossover single. The James Fortune Show is a nationally syndicated radio show.
On February 25, James Fortune & FIYA released the double-disc, 20-track Live Through It, the group's first live CD. Recorded September 6, 2013, at Atlanta's Word of Faith Church, the album rose to number one with a bullet in its first week on Billboard's Top Gospel Albums Chart.
The title is a three-word encapsulation of Fortune's life, one with epic highs and lows. At his lowest point, the singer and his family had no place to live, no car, and no money. "I felt like a failure," he said. "It was hard to see my family going through that." Divine inspiration and acute experience during that moment resulted in Fortune writing "I Trust You" in a motel room. It became his breakthrough hit.
"That's the song that really turned our life around," Fortune said. "That season taught me a lot about suffering. The present suffering is not worthy to be compared to the glories that will be revealed. God intentionally allows us to go through the storms because he's trying to get something out of us that would not normally come out."
James Fortune & FIYA, 'Live Through It,' from the like-titled live album
Experiences from homelessness to discouragement early on as a Houston-based choir director are in part why several of Fortune's most popular songs focus on overcoming hardship through faith. The title track of Live Through It is no different. The song is "a word of encouragement that God gave to me," Fortune explained. "We all have to go through different struggles, different storms in this life, as believers, but we can live through it if we pray through it. God says I'm only allowing it because I know it will make you better."
Fortune said that people had been asking him to do a live recording for some time. He was initially apprehensive because he had never recorded a live album; his four albums had all been studio projects. "I didn't want it to sound like a studio record," he said. "I wanted to make sure we were able to capture worship on record. As I started to get new music and new ideas, God began to give me songs of worship and praise that I felt would really capture the live feel. That's what helped me get out of my comfort zone. I was also able to reach out to some people who had done [live albums] and they gave me great advice."
That's why 70 percent of Live Through It is praise- and worship-based. "The songs are songs of encouragement. They are not as wordy as some of our studio albums, so people can sing along with them and have a God encounter. We intentionally wanted people to enter the presence of God and experience God's presence."
From Live Through It, James Fortune & FIYA, featuring Hezekiah Walker, 'Praise Break'
Since he does not play an instrument, Fortune records his initial song ideas on audio memos and his wife Cheryl sings the songs. She also adds her own touch to the composition, Fortune added. "Ninety percent of the time, she will tweak the melody or add the bridge or the vamp." Sometimes he passes songs along to other producers to finish.
In addition to promoting Live Through It, Fortune plans to focus on being with his family and spending time with FIYAWorld Music, he and Cheryl's two-year-old record label. They have thus far signed Lisa Knowles and Todd Galbreth. "I don't plan to reenter the studio except for other people's projects," he quipped.
Fortune summarized the Live Through It corporate worship experience: "When you worship more, you worry less. If people will put their attention on God, it will take them away from problems in everyday life, because God is a problem solver."
For more information, visit www.jamesfortunemusic.com.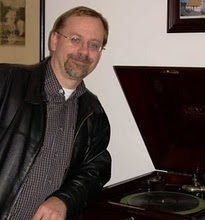 Bob Marovich is a gospel music historian, radio announcer and author. His "Gospel Memories" radio program of vintage black gospel music and artist interviews airs live first Sundays from 3 a.m. to 7:30 a.m. on Chicago's WLUW 88.7 FM, and streams live at the station's website. Snippets of recent broadcasts can be heard online at the Gospel Memories Radio Show. Bob is also editor of The Black Gospel Blog where this interview with James Fortune first appeared.