'…artists that could get a Zion song over…'
BLACK GOSPEL RARITIES VOL. 4
Various Artists
www.crystalballrecords.com (US)
or www.bim-bam.com (UK)
This past December, music historian, researcher, and dedicated crate digger Galen Gart released the fourth volume in his Black Gospel Rarities CD series.
Like its predecessors, Vol. 4 is a mixed assortment of sides plucked from minty gospel 45s and 78s recorded during gospel's Golden Age. Some of the artists were well known in their day, others not, but all, save the Golden Gate Quartet, have sadly been forgotten today.
While other Black Gospel Rarities volumes focused on labels such as Revelation and J&S, the latest release includes discs produced by a young Atlantic Records. Included are selections from polymath Otis Jackson, notably "I'm Grateful to the NAACP" and "Korea (Fightin' in a Foreign Land)," recorded with the Gospel Pilgrims; the Silver Leaf Quartet; and a selection from the influential Mary Johnson Davis Gospel Singers. The first commercial release by Norfolk's Parker Brothers Quartet, known for their tight and highly-propulsive harmonies, was for Atlantic, though their King issues are better known. Both Parker Brothers Atlantic sides are included on Vol. 4 and they sound as good as the group's King product.
From Black Gospel Rarities Vol. 4, the Detroit Harmonettes, 'I Gave Up Everything'
Just as influential as the Mary Johnson Davis Singers were Chicago's Willie Webb Singers, whose members at one time included Alex Bradford and Albertina Walker. Their "Climbing High Mountains" from 1953 demonstrates the churchy group sound for which Chicago is well known. It is doubtful Walker was part of this session; she was already part of the Caravans by then.
The Detroit Harmonettes' "I Gave Up Everything" is so strikingly brash and in-your-face, one can only wonder why this female group did not make more records. "How Do Earthly Men Know" by the Gospel Consolators features a lovely exchange between the bass and high tenor singers. It and the Flying Clouds of Detroit's "If I Get Inside the Gate" remind us that when music accompaniment was sparse or non-existent, there was nothing to hide behind.  You had to know how to sing or go home.
Hard core gospel music collectors may already have many of these discs in their collection, but if not, or if the vinyl is well scratched, Black Gospel Rarities Vol. 4 is well worth it. It's a meaty blend of well- and lesser-known artists, all of whom could get a Zion song over.
Picks: "I Gave Up Everything," "How Do Earthly Men Know."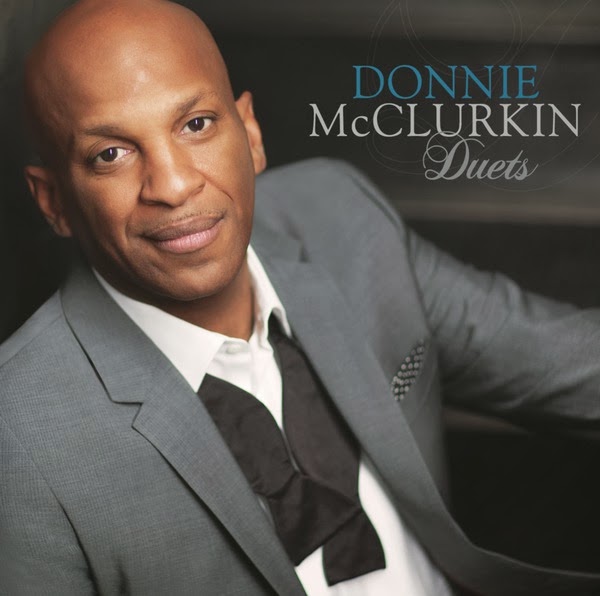 '…a well-considered matchup of singers and songs…'
DUETS
Donnie McClurkin
RCA Inspiration
Donnie McClurkin got the idea for Duets from a conversation with Fred Hammond on how to invigorate gospel music. Citing the strength and popularity of multi-artist collaborations in secular music, Hammond suggested that one way to maintain gospel's vigor would be to promote greater collaboration between gospel artists.
McClurkin took that to heart and, more than two years later, Duets has made its debut on RCA Inspiration. Nine of the ten songs feature collaborations with gospel luminaries such as Tye Tribbett, Tina Campbell, John P. Kee, Tramaine Hawkins, Martin Sapp, Israel Houghton, and Dorinda Clark Cole.
Many of the tracks exceed six minutes, giving the vocalists plenty of space to stretch out, improvise and sell the selection. For example, McClurkin, Erica Campbell, and Houston's Preashea (Pastor P) Hilliard—in this case, a trio—wring every ounce of energy from "I Am Amazed." Similarly, Tramaine Hawkins and McClurkin seethe with sacred passion on "My Past," driving the song well past the eight minute mark.
Arguably the best duets in terms of vocal similarity are "Encouraged," a lovely ballad with talented singer-songwriter Justin Savage; and the McClurkin/Kee combo on "Anytime," a heartwarming song of thanksgiving to God for always being there.
Donnie McClurkin, a Duets album sampler (running time: 15:01)
In a live segment that comprises the CD's showcase moments, McClurkin and Dorinda Clark-Cole shower love on Detroit with a hyper-driven, pulse-pounding version of Mattie Moss Clark and the Southwest Michigan State Choir's mid-'60s rouser, "Write My Name Above." "Let it Go," also with Clark-Cole, is a cool down, both rhythmically and lyrically, from the pew-wrecking power of "Write."
To intoxicating African drumming and harmonies, "Come As You Are" features Marvin Sapp and Israel Houghton & New Breed Africa. The song celebrates the "whosoever will, let him come" facet of the church. Its penultimate position on the CD mirrors that of the pivotal song in musical theater that brings the tension to its apex. The final track, "All About the Love," is the only selection on which McClurkin does not have a duet partner.
Duets is a well-considered match-up of talented singers and a mix of songs that cover P&W, traditional, and contemporary gospel musically and thematically.
Picks: "Write My Name Above," "Encouraged."
'…crisp production, smart inspirational songs…'
REDEMPTION
Macheeste'
Tate Music Group (2013)
Redemption is a fine debut CD from Maryland-based singer-songwriter Macheeste' Malloy. His elastic tenor voice, coupled with sunny, melodic melodies and buzzy electronica, evoke the popular gospel fusion of J Moss, Deitrick Haddon, and Vashawn Mitchell.
The album's opening track, "How Could I Live," gives the listener a quick summation of Macheeste's musical palette. This up-tempo song of effusive praise glides over a sugary blend of gospel, pop, rock, and R&B.  "Jodie," a story song about a person contemplating suicide, is power CCM, while "Heaven Can't Wait" gets a nuanced Latin treatment. "New Creation" celebrates the spiritual redemption of a friend with a party-like mélange not dissimilar to OutKast's rollicking 2003 smash, "Hey Ya!"
Macheeste', 'Higher,' from his new album, Redemption
The lyrics feel personal, as if you are listening in on Macheeste's most intimate thoughts. For example, the deliberate "Though He Slay Me" finds the singer fiercely trusting in God while fighting the storms of life.   He traverses the same thematic terrain on "I Trust You." "Situations, circumstances spinning out of control," he sings, "but my faith outweighs my circumstance, so I won't let go."
All of the songs are written by Macheeste' with Kevin A. Younger, though "Jodie" is entirely Younger's creation. I could see Redemption being picked up by a major label because it combines crisp production with smart inspirational songs.
Picks: "How Could I Live," "Though He Slay Me."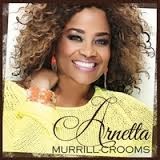 '…well crafted, authentically delivered…'
ARNETTA MURRILL-CROOMS
On The Beat Entertainment (2013)
www.OnTheBeatEntertainment.com
Arnetta Murrill-Crooms hails from the talented Murrill Family of North Carolina. Alumni of Donald Lawrence's Tri-City Singers, the Murrill siblings released their own album, the Lawrence-produced Family Prayer, in 2008. It featured Arnetta leading the single, "There's a Healing." The album garnered Stellar and Grammy nominations.
Arnetta, who recently received the Best Female Gospel Artist honor at the 2013 Queen City Awards, has released her debut solo CD. In a genre known for distinctive voices, Arnetta's voice stands out for its musky texture and breathy staccato lyricism that borrows from jazz, gospel, and R&B. At the same time, she pounces on a song's emotional apex with gravelly gospel shouts.
Arnetta Murrille-Crooms, 'Try It Again,' from the artist's eponymous debut album
The finest moments on the self-titled album come when Arnetta wraps her voice around what can be described as love songs to the Most High. "You" is a bit of pop-jazz that has as much in common with contemporary gospel as ballads by such classic cabaret thrushes as Dakota Staton and Nancy Wilson. Similarly, "My Desire," on which Arnetta croons "I never desired anyone like I desire you, Jesus," is more sensual a love ballad than any sung from woman to man.
"Yes Jesus Died" is a contemporary gospel number with a churchy backbone, while the encouraging "Try It Again," the album's initial single, has a bracing urban AC vibe and finds the singer at her vocal peak. Fans of Arnetta's prior work with the Tri-City Singers will appreciate her reprise of "I Am God," a song she led with the award-winning ensemble.
Family members support their sis on the project. "In the House" features a duet with Roger, who really sells the song. Carnell wrote and plays keys and drums on "Yes Jesus Died."
Arnetta Murrill-Crooms would have been even better had it had a few more than eight selections, but what it has is well crafted and authentically delivered.
Picks: "You," "My Desire."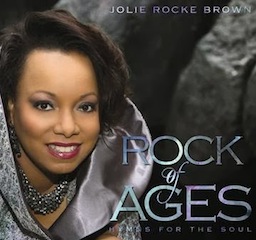 '…demonstrating the jazz-sacred connect…'
ROCK OF AGES: HYMNS FOR THE SOUL (2013)
Jolie Rocke Brown
Album available at CD Baby, iTunes, Amazon, or
Dorothy Norwood famously commented that contemporary gospel has its merits, but when people are really hurting, they turn to traditional gospels and hymns for comfort.
Jolie Rocke Brown of Hartford, Connecticut, can attest to this. After the coloratura soprano was diagnosed with, and recovered from, breast cancer, she gathered four talented jazz musicians and recorded a handful of hymns. The result is Rock of Ages: Hymns for the Soul.
Rock of Ages has the feel of an intimate recital in an after-hours jazz club. Brown's soprano is a blend of church singing, musical theater, and classical repertory. Her vocal training is anchored in classical: an undergraduate degree in music from the University of Hartford's Hartt School, graduate work at Loyola College, and doctoral studies at the University of Connecticut.
Jolie Rocke Brown, Rock of Ages album promo video
All the selections on the album are familiar chestnuts, many of them gospel hymns from the Second Great Awakening, with its camp meetings and tent revivals. At 82 years old, Albert Brumley's "I'll Fly Away" is the most recent selection; the Dutch folk song, "We Gather Together," is the oldest, dating from 1597.
Age doesn't matter because the jazz arrangements make the songs sound fresh. The restful "His Eye is on the Sparrow" and "Great is Thy Faithfulness" find Brown and the combo in perfect congruence. The musicians and vocalist use the space to improvise, and even drop in blue notes from time to time.
The album belongs as much to the jazz quartet that serves as the backing band as to the singer herself. Truth be told, the combo—producer Joel A. Martin (piano and organ), Dan Campolieta (piano), Charlie Dye (drums), and Lou Bocciarelli (bass)–could do an album of jazzed hymns on their own. The brief musical interlude for "Guide Me, O Thou Great Jehovah" demonstrates this, and Campolieta's piano on "Blessed Assurance" is nothing short of remarkable.
For the decades-old fuss over the relationship between jazz and the sacred, Rock of Ages demonstrates how the two are indeed first cousins.
Picks: "His Eye is on the Sparrow," "Great is Thy Faithfulness."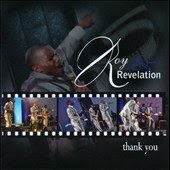 '…a front-row experience…'
THANK YOU
Roy and Revelation
4 Winds Records
While listening to the contagious title track of Roy and Revelation's latest album, Thank You, I couldn't help but think that if Philly singer Dee Dee Sharp was in the audience, she would have thought the group just gospelized her mashed potato. Or the twist, because towards the end of the song, the quartet bursts into the Beatles' cascading harmonies from "Twist and Shout."
"Thank You" is one of two songs on the album with a distinctly '60s pop sensibility. A rollicking folk melody drives "My God Knows It All," a song that wags its finger at those who "throw rocks and hide your hands" because "God sees and knows all you do." On the other hand, the group gives the classic "Stand By Me" a modern funky reading.
Roy and Revelation, a live performance of 'Thank You,' the title song of the group's new album
Not all live albums sound or feel live, but Thank You does. Recorded at a program in Columbia, South Carolina, the CD finds Roy and Revelation, a young quartet from Hopkins, South Carolina, relaxed but spirited as they eke as much conviction out of the songs as possible.
The album title is fitting, because the general mood and theme is of thanksgiving. Sometimes the gratitude is expressed directly, as on "I Thank You Jesus," and sometimes it is indirect, as on "One More Time," an appreciation for having been given one more day and a second chance.
The album and the quartet benefit greatly from Roy Ladson's intensely urgent lead vocal. His churchy tone contrasts with the quartet's smooth harmonies, but producer Ray Braswell Jr. brings it all together and puts the listener on the front row of the Columbia program.
Picks: "Thank You," "My God Knows It All."
'…a finely tuned debut…'
WORK IN PROGRESS
Ethan Kent
Tonic Blueprint/Central South Distribution
A singer, songwriter, producer and worship leader from Dallas with a 15-year track record in music ministry, Ethan Kent works in an invigorating, eclectic an array of music styles—from gospel to jazz to hip hop, rock, and classical. It's not surprising that he injects his debut album, Work in Progress, with a kaleidoscope of sounds that emerge as edgy electronica, freshly popped melodies, and playful arrangements in the mode of Kirk Franklin's "I Smile."
The songs are as bright and optimistic as their lyrics, which instruct without preaching. "Lecture," featuring Chanese Jones and Will Sanders, is intimate, friend-to-friend advice on not wasting one's life on dangerous activities. "People," featuring lovely vocals from Lauren Lee, reprises something songwriter Kenneth Morris said more than sixty years ago: that those who sing and preach the gospel should not be in it solely for what they can get out of it. "Human Tendencies" explores a similar subject, that of false people.
Ethan Kent, 'My Hope Is In Glory,' featured on his debut album, Work In Progress
"My Hope is in Glory" is the current charting single and radio hit, but it is not the only captivating song on the album. Equally catchy is the neo-traditional "The Name of the Lord," with its funky uptempo beat and Kent's gospel shouting in the second half. It leads naturally to "Good to Me," a contemporary fueled song of thanksgiving.  "Always Be Around" is a touching ballad; its premise is that an earthly father may let his child down, but the heavenly father never will.
Kent's argument behind "work in progress," as he sings on the title track, is that we are imperfect, so our lifelong work to build the Kingdom of God is one of continuous growth. That may well be, but as far as albums are concerned, Work in Progress is finely tuned, as good a debut project as I have heard in some time.
Picks: "My Hope is in Glory," "The Name of the Lord."
Bob Marovich is a gospel music historian, radio announcer and author. His "Gospel Memories" radio program of vintage black gospel music and artist interviews airs live first Sundays from 3 a.m. to 7:30 a.m. on Chicago's WLUW 88.7 FM, and streams live at the station's website. Snippets of recent broadcasts can be heard online at the Gospel Memories Radio Show. Bob is also editor of The Black Gospel Blog.