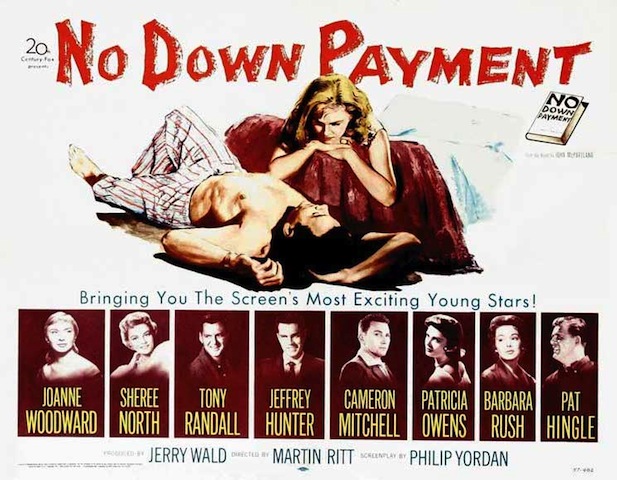 CAST
Joanne Woodward as Leola Boone
Sheree North as Isabelle Flagg
Tony Randall  as Jerry Flagg
Jeffrey Hunter as David Martin
Cameron Mitchell as Troy Boone
Patricia Owens as Jean Martin
Barbara Rush as Betty Kreitzer
Pat Hingle as Herman Kreitzer
Robert H. Harris as Markham (as Robert Harris)
Aki Aleong as Iko
Jim Hayward as Mr. Burnett
DIRECTOR
Martin Ritt
PRODUCER
Jerry Wald
MUSIC BY
Leigh Harline
CINEMATOGRAPHY BY
Joseph LaShelle
MUSIC DEPARTMENT
Lionel Newman (conductor)
Edward B. Powell (orchestrator)
Arthur Morton (orchestrator, uncredited)
In 1957, a year after director Nunnally Johnson exposed the folly and soul deadening reality of conformity in pursuit of riches in the material world of post-war America in The Man in the Grey Flannel Suit (adapted from the like-titled novel by Sloan Wilson), director Martin Ritt blew the lid off the idyllic illusion of suburban American life in No Down Payment (based on the novel of the same name by John McPartland; the screenplay, however, is credited to veteran screenwriter and script doctor Philip Yordan, who was actually a stand-in for the uncredited, blacklisted Ben Maddow). Set in southern California, where housing developments were springing up like crabgrass, with cookie cutter dwellings distinguished by being so indistinguishable from every other abode on the block. All, however, promised a peaceful, bucolic existence on the cheap (the movie takes its title from a popular post-war policy of offering returning veterans a no-money-down opportunity to own their own home), No Down Payment quickly gets down to brass tacks in showing its four couples' true colors.
Electrical engineer David Martin (Jeffrey Hunter) and wife Jean (Patricia Owens) are all wide-eyed optimism as they find their dream house in the Sunrise Hills subdivision (its sign promises "The Happy Ending to Your House Hunting") and are immediately welcomed to the neighborhood by eager, earnest, slightly oleaginous appliance store owner Herman Kreitzer (the young Pat Hingle) and his suspiciously eager wife Jean (Patricia Owens). The Kreitzers invite the Martins to their neighborhood BBQ they throw every week, and the fun begins. In short order the Boones move in. Southern man Troy (played by an earthy Cameron Mitchell in a bravura turn) is an auto mechanic by trade, but he's come to California seeking a new start, hoping to get his drinking under control and to land a job as police chief. His lusty, unhappy wife Leola isn't making it easier for him to regain control by pushing him to impregnate her, against his wishes. A few doors down, morose Jerry Flagg (a splendid Tony Randall in a straight dramatic role) begins his days with a martini and keeps the alcohol flowing as the day unfolds ("I like to drink, honey," he tells his wife. "It makes me feel like somebody."); while he's at it he humiliates long suffering spouse Isabelle (Sheree North) by consorting other men's spouses. Meanwhile, David Martin is revealed to be struggling financially, but resisting his wife's urgings that he go into the more lucrative field of sales. He makes one of the few sensible decisions any of the characters make in insisting on staying an electrical engineer, the job he knows best. When Troy is denied the police chief's job owing to his lack of education, he goes on a bender that brings him into Isabelle Martin's orbit, leading to him sexually assaulting her, and then beating up her angry husband, all the while claiming "she wanted it!"
Alcoholism, adultery, racism, perilous ambition and hypocrisy all meet in varying degrees in No Down Payment, leading to an unpleasant, unsettling finale. As the Martins pack up and leave the development for good, they cruise past the Sunrise Hills Estates billboard, its slogan—"The Happy Ending to Your House Hunting"—now turned tragically ironic.
Only Martin Ritt's second film, released the same year as his debut directorial effort (Edge of the City), No Down Payment is a lost classic. His location shots of late '50s southern California and its burgeoning suburbs are priceless; Joseph LaShelle's black and white photography beautifully captures the light and shadows of the suburban denizens' conflicted lives; the ensemble performance is mostly free of overwrought melodrama, well played in a relaxed manner. Ritt makes no effort to make the studio sets look natural, and that seems to be the point—the artificial look of the interior and backyard shots mirrors the characters' artificial facades. An actor and playwright in addition to being a film director, the New York City-born Ritt, who died in 1990, went on to fashion a most impressive film resume, including The Long Hot Summer (1958), Hud (1963), The Spy Who Came In From the Cold (1965), The Great White Hope (1970), Sounder (1972), The Front (1976) and Norma Rae (1979, with an Academy Award winning performance in the title role by Sally Field, who delivered one of the Oscars' most memorable acceptance speeches—"You like me!"). — David McGee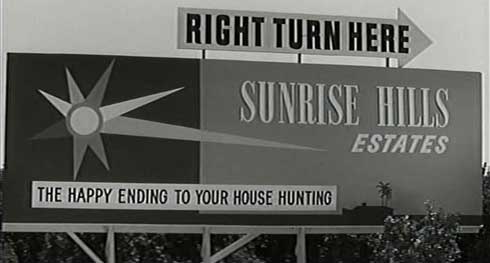 SELECTED SHORT SUBJECTS: 'HILL-BILLING AND COOING' (1956) & 'POSSUM PEARL' (1957)
http://www.youtube.com/watch?v=fxjui0IEwAo
'Hillbilling and Cooing,' Popeye and Possum Pearl (1956): Olive Oyl saves Popeye from the advances of female hillbilly Possum Pearl. Directed by Seymour Kneitel, written by Jack Mercer, with Jack Mercer as Popeye and Mae Questel as Olive Oyl. Music by Winston Sharples, animation by John Gentilella and Thomas Johnson.
'Possum Pearl' (1957)
The only Popeye spin-off cartoon, Possum Pearl stars the antagonist from 1956's Hill-billing and Cooing. Standing more than six and a half feet tall, with shoulders over three feet wide, and a 50-inch chest, Pearl's arms are heftier than Popeye's. She might be considered the female equal to Bluto. Hill-billing and Cooing depicts a gender-role reversal of the Popeye-Olive-Bluto rivalry, as Pearl and Olive Oyl end up fighting over Popeye, with Olive losing until she eats Popeye's spinach, grabs Pearl by the hair and swings her into outer space. This is a "Noveltoon" produced by Famous Studios in 1957. Director Seymour Kneitel was constantly "testing" new characters to see if they could become part of the Noveltoons rotation. Following Pearl's appearance in Hill-billing and Cooing, he gave her a chance to headline her own cartoon. Yet it was not successful enough with audiences to warrant another one, so Pearl receded into cartoon history as a Popeye trivia question.
In Possum Pearl, the title character lives alone in her woodlands cabin where she entertains herself by singing songs reflecting her desire to wed a good man. She then goes out "hunting" for potential husbands. The mountain mailman eludes her and warns the local men about the marriage-obsessed stalker; defeated, Pearl returns to her cabin just as a criminal breaks in, escaping from the police. She is perfectly willing to oblige to the crook's demands and play house with him, offering him heart-shaped waffles. He panics and tries to make his escape, but is thwarted at every turn by his singing would-be bride. Even after fleeing the shed and going through a bear cave, a haystack and a river, he cannot shake his persistent persecutor. The robber is chased all the way to the state police's station, where he locks himself up. Pearl's attention then shifts towards a handsome police officer, whose getaway motorcycle she easily captures.