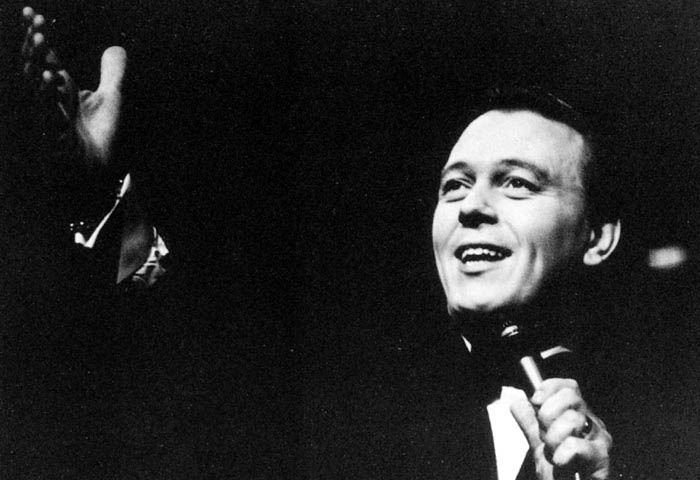 Matt Monro recorded many soaring or tender love songs, but it could be argued he was at his best when he got hold of a heartbreaking lyric. Many of his best records were produced and arranged by George Martin, and though Matt is no longer with us his romantic balladry endures as a superior example of the art form. Yes, Valentine's Day is about love, but it was Matt who advised us, in the theme song from the movie "Love is a Many Splendored Thing," of love's many twists and turns. So we celebrate the day and Matt Monro's artistry all at once. It seems only fitting.
Matt Monro, 'Portrait of My Love' with a montage of the artist in still photos and live footage
Right about now most readers are probably wondering, "Matt who?" The late, great British vocalist, who was discovered driving a bus in the 1950s, thus earning him the nickname "The Singing Bus Driver," had only two substantial hits in the U.S. (1961's "My Kind of Girl," a #18 single, and 1964's "Walk Away," a #23 single that stood out even in that British Invasion year) but charted regularly in his native U.K. from 1960 through 1966, and had #26 U.K. hit again in 1973 with "And You Smiled." Monroe died of liver cancer in 1985 in London.
Matt Monro's first U.S. hit, 1961's 'My Kind of Girl' (#18 single)
Monro's legend rests less his recorded legacy than on his popularity as a concert and club entertainer on the international circuit. But he was sought out by some of England's top producers and arrangers for major projects, including film soundtrack work, and the records he made have continued to touch a responsive chord among lovers of contemporary standards around the world (check the comments section below his YouTube videos).
Matt Monro sings the theme from the James Bond film From Russia With Love, as heard over the closing credits. Composed, arranged and conducted by Sir John Barry.
While driving the #27 bus from Highgate to Teddington, the London-born Monro (born Terence Edward Parsons, he was given his stage name by an early mentor, Trinidadian pianist Winifred Atwell) was signed as a featured vocalist in 1956 by the BBC Show Band, and a year later released his first album of standards, Blue and Sentimental. Favorable reviews ensued, but his career languished until 1960, when producer George Martin, whose path was soon to cross that of The Beatles, brought Monro into a Peter Sellers album he was producing for the purpose of recording a satirical song for Sellers to then imitate with a Sinatra-style vocal. Sellers liked Monro's version so much he decided to use it to open his album, but billed Monro as a guest named Fred Flange, not much of a boost to Monro's career. But it kicked off a lifelong friendship with Martin, who began producing Monro's recordings for Parlophone. Their second single together, "Portrait of My Love," rose to #3 on the U.K. Singles Chart, and the next year he was named the Top International Act by Billboard.
From his BBC TV show Matt Sings Monro, Matt Monro with a sensitive reading of his hit (U.K. Top Ten) single, 'Softly As I Leave You'
More chart successes followed—in '61 he won ITV's A Song for Britain with "My Kind of Girl," which became his first U.S. hit, peaking at #18, and in '62 delivered one of his most sensitive performances, "Softly As I Leave You" (#10 U.K. single, a double-sided hit with its B side, "Is There Anything I Can Do") and gave a powerful reading of the John Barry-produced theme song from the James Bond film From Russia With Love (heard playing on the radio in the film and over the closing credits).
Matt Monro, 'I Will Wait for You'
Matt Monroe on The Liberace Show in 1962, 'All of a Sudden'
In '64 he went to the mountaintop with a wrenching, enigmatic heartbreaker, "Walk Away." Its lyrics are the words of a man dismissing a lover, pleading with her to move on and "live a life that's full, with no regrets," suggesting he is unavailable, but for reasons undisclosed—"Walk away, please go, before you throw you life away, a life that I could share, for just a day/we should have met, some years ago/for your sake I say, walk away, just go…" A beautiful George Martin arrangement, with soft strings and a lonely, weeping flute line, rises into an orchestral march segment in the chorus before returning to its mournful cadence as the song winds down. Monro's nuanced reading—the control in the verses, the urgency in the chorus plea—is masterful. It's his finest moment on record. The singer is also featured in a video for the song, which was apparently shown in British theaters as a short in 1964. Its odd feature is the dark haired young lady Monro sings to, who is clad in a black-trimmed pink outfit eerily reminiscent of the pink Chanel ensemble Jacqueline Kennedy was wearing on November 22, 1963, on a fateful day in Dallas, TX.
The video for Matt Monro's wrenching, enigmatic heartbreaker of 1964, "Walk Away," as sung to a dark-haired lass wearing a black-trimmed pink outfit eerily reminiscent of the pink Chanel ensemble worn by Jacqueline Kennedy the previous November on a fateful day in Dallas, TX
Following the U.S. breakout of "Walk Away" EMI moved Monro from Parlophone to Capitol and relocated him to California to work with American arrangers (including Nelson Riddle, Billy May and Sid Feller); from this period the album Matt Monro Sings Hoagy Carmichael is a keeper–but there were no hits. Back in the U.K. he continued working with Martin and with John Barry, and also had a productive partnership with Johnnie Spence, the producer behind Dusty Springfield's early solo hits, whom Dusty regarded as indispensable to her success following her departure from her successful family band The Springfields. Monro's final U.K. hit came in '73 with "And You Smiled," a vocal version of a popular TV show theme song. A 1977 single, "If I Never Sing Another Song" was not a hit but memorable nonetheless for its melancholy view of fading celebrity. In 2005, marking the 20th anniversary of Monro's death, a concert DVD became the top selling DVD in the U.K., a tribute CD rose to the Top 10 and the BBC-TV aired a documentary chronicling his career. Though he released no concert albums in his lifetime, Monro commissioned a number of private recordings of his concerts, several of which have been released commercially with remastered audio, including a 1967 BBC concert with Nelson Riddle. His daughter Michelle has written a biography of her father, The Singer's Singer—The Life and Music of Matt Monro, available online at Amazon, where a good number of Monro's albums are available as well.
The most complete accounting of Monro's recordings and DVDs, and his career, is at the website Matt Monro—The Singer's Singer. Nothing is available for sale at the site but it is the best guide to all of the artist's work.