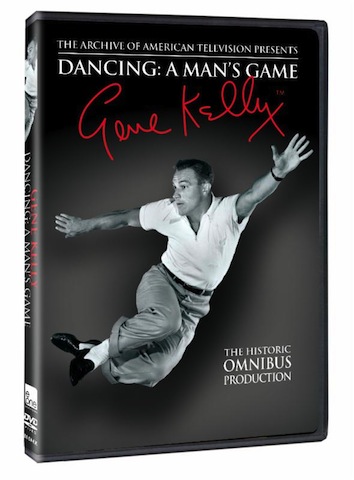 DANCING: A MAN'S GAME
Gene Kelly
Entertainment One (2013)
In 1958, Omnibus, the Golden Age of Television's most distinguished series, commissioned Gene Kelly's first television special. Written, choreographed, co-directed, and starring the legendary hoofer, Dancing, A Man's Game enlisted some of the top names in sports to illustrate Kelly's message about the masculine grace of dance. Digitally re-mastered from the original 16mm kinescope prints preserved by the Library of Congress, this acclaimed production is available now for the first time since its historic NBC broadcast on December 21, 1958.
In contrast to his buddy Fred Astaire's suave, elegant grace, Kelly advanced an athletic, masculine style of dance that was in and of itself a model of muscular grace, and was the foremost proponent of filmed dance. Especially memorable sequences from this innovative broadcast include appearances by Olympic skater Dick Button, New York Yankees slugger Mickey Mantle, the Boston Celtics' ball handling wizard Bob Cousy, boxing champion Sugar Ray Robinson, Baltimore Colts star quarterback Johnny Unitas, and other celebrated sports professionals, whose characteristic movements Kelly incorporates into a remarkable solo dance sequence. The program also includes a stunning performance by Edward Villella, and an extended tap routine by Kelly and Sugar Ray..
From Gene Kelly's Dancing: A Man's Game, Gene Kelly, with the help of fellow hoofer Edward Villella and sports stars Sugar Ray Robinson, Mickey Mantle, Johnny Unitas, Bob Cousy and others, demonstrate the skills common to athletes and dancers alike. From Omnibus, December 21, 1958, now available commercially for the first time since its original broadcast. The host is Alastair Cooke.
Called "the most successful cultural magazine series and a prototype for educational television," Omnibus was the Golden Age of Television's most distinguished production, a multiple Emmy® and Peabody Award-winning series delivering sophistication, refinement, and sparkling intelligence to a national audience. Its eight groundbreaking seasons–broadcast live and nationwide from 1952 to 1961 over 164 episodes–of live, commercial-network broadcasts featured host Alastair Cooke and the most accomplished luminaries of the day, and garnered more than 13 million viewers per program and 65 awards, including nine Emmy and two Peabody Awards.
Timeless, effortless, elegant and indelible, Gene Kelly's body of work still thrives and still thrills. With films that also include An American in Paris, Summer Stock, On the Town and Brigadoon, Kelly revived the movie musical and redefined dance on screen, bringing with him an inspired sensibility and an original vitality. His choreography and his performances were relaxed but compelling, innovative but highly accessible and, ultimately, magical. He endeared himself to audiences and had a profound, eternal impact on the craft. Among the most beloved stars of Hollywood's golden age, Kelly's career remains one of the most surprising.
Solely responsible for creating a new approach to film musicals as performer, as choreographer and as director Kelly was a creative genius fueled by single-mindedness, a volatile temper, narcissism and an uncompromising need for perfection. A lasting influence in the worlds of film and dance, his first major film success came at the age of thirty and a short ten years later, he had made his final hit film.
Taking a cue from one of his legendary movie dance scenes, the alter-ego scene from 1944's Cover Girl, Gene Kelly challenges himself in a sequence from Dancing: A Man's Game as seen on Omnibus, December 21, 1958.
Gene Kelly in the alter-ego dance scene from Cover Girl (1944)
At odds with MGM throughout his time there, Kelly fought to expand the concept and reach of motion picture musicals, always keenly aware that he was beginning his film career well past his prime as a dancer. By the mid-1950s, Kelly found himself at loose ends the genre he helped master now over a victim of changing musical tastes and economic restrictions.
Born in 1912 into a large middle-class Irish family in Pittsburgh, Kelly's father was a traveling record salesman and his mother was possessed with a formidable determination to expose her children to the arts. By his teenage years, Gene and his brother Fred took over a failing dance school with their mother and their father slid deeper into alcoholism. After choreographing local shows and playing nightclubs with Fred, by 1938 Kelly felt he was good enough to buy a one-way ticket to New York City and eventually won the lead role in the original Broadway production of Pal Joey.
Seeing him on stage, MGM head Louis B. Mayer assured Kelly that the studio would like to sign him without so much as a screen test but, through a series of miscommunications, a screen test is requested and Kelly refused. Writing an acerbic letter to Mayer accusing him of duplicity, Kelly turned down the counteroffer and set the stage for a lifetime of acrimony between the two men. Ironically, Kelly was put under contract at Selznick International by Mayer's son-in-law David O. Selznick, who had no interest in producing musicals and thought Kelly could exist purely as a dramatic actor. With no roles forthcoming, Kelly was loaned out to MGM to co-star with Judy Garland in For Me and My Gal. The film was a hit and Selznick subsequently sold the actor and his contract to MGM.
Gene Kelly and Judy Garland, 'Ballin' the Jack' (written 1913 by Jim Burris and Chris Smith) in For Me and My Gal (1942), Judy and Gene's first film together, thanks mostly to Judy pushing for Gene to co-star with her. Directed by Busby Berkeley in straightforward fashion with no dazzling human geometric formations or breathtaking dolly shots, focusing instead on the two stars' clear affection for each other.
A series of mediocre roles followed and it was not until Kelly was loaned out to Columbia for 1944's Cover Girl, with Rita Hayworth, that he became firmly established as a star. His landmark "alter ego" sequence, in which he partnered with himself, brought film dance to a new level of special effects. With Stanley Donen as his assistant, Kelly created a sense of the psychological and integrated story telling never before seen in a Hollywood musical. Realizing what they had, MGM refused to ever loan him out again, ruining Kelly's opportunity to star in the film versions of Guys and Dolls, Pal Joey and even Sunset Boulevard. Back with producer Arthur Freed at MGM, Kelly continued his innovative approach to material by placing himself in a cartoon environment to dance with Jerry the Mouse in Anchors Aweigh, yet another musical first.
The classic 'Fit As a Fiddle' scene from Singin' In the Rain (1952, directed by Gene Kelly and Stanley Donen), with Gene Kelly and Donald O'Connor
More mediocre roles in "revue" films followed and Kelly's frustrations mounted. He was, however, able to continue refining and showcasing his unique appeal and approach to new material with standout numbers in The Pirate and Words and Music, among other films. Determined from the start to differentiate himself from Fred Astaire, Kelly concerned himself with incorporating less ballroom dancing and more distinctly American athleticism into his choreography. Easter Parade and the chance to co-star with Judy Garland would have been Kelly's opportunity to get away from what he considered substandard fare. But, in a show of bravado in his own backyard, Kelly broke his ankle during one of his infamously competitive volley ball games and, ironically, had to turn the film over to Fred Astaire.
Finally, Kelly and Stanley Donen were assigned their own film to co-direct 1949's On the Town. In just five days of shooting selected sequences, they opened up the genre as no one had ever done before, creating another first a musical film shot on location. Followed by his two masterworks, An American in Paris, with its 17-minute ballet sequence, and Singin' in the Rain, Kelly achieved icon status at the age of forty. In 1951, he was awarded a special Oscar for An American in Paris for his "extreme versatility as an actor, singer, director and dancer, but specifically for his brilliant achievement in the art of choreography."
Gene Kelly and kids get with George Gershwin's 'I Got Rhythm' in a memorable scene from An American in Paris (1958, directed by Vincent Minnelli)
And then the shift began. The musical era, as well as the Freed unit at MGM, wound to a close and Kelly's last productions, including Brigadoon and the ambitious It's Always Fair Weather, failed to appeal to either critics or the public. The latter film also brought a bitter end to his partnership with Stanley Donen. The two had made history together in their three previous films as the only successful directorial collaboration in Hollywood, before or since. But professional and personal conflicts–not least among them being that Donen's wife, Jeanne Coyne, fell in love with Kelly—led to their breakup. With Kelly's own marriage to Betsy Blair in dissolution, both couples divorced and Kelly eventually married Coyne in 1960.
Small roles and directing jobs followed. Professional highlights included the Broadway musical Flower Drum Song and an original ballet he created for the Paris Opera. In the late 1950s, the television show Omnibus invited Kelly to create a documentary about the relationship between dance and athletics Dancing: A Man's Game is considered one of the classic treasures from television's golden age.
Gene Kelly and Fred Astaire in 'The Babbitt and The Bromide' challenge dance scene from Ziegfeld Follies (1946)
The movie star and director has gathered together a gaggle of dancers, musicians and athletes to illustrate the fundamental components of his chosen art form. Kelly both hosts and demonstrates, allowing his feet to do the talking when it best serves the presentation.
Dancing: A Man's Game is broken into two parts. The first features Kelly alongside renowned sports stars Mickey Mantle, Johnny Unitas and Sugar Ray Robinson to show how different athletic disciplines require similar control of muscles and movements and can be incorporated in dancing. Unitas demonstrates how to throw and tackle, and Kelly's troupe mimics his routines. In one excellent bit, Kelly himself incorporates boxing, basketball, tennis, baseball and football into one complete piece of choreography. In another, Sugar Ray demonstrates that he can keep up with the famous hoofer in tap dancing. Boxing, after all, requires rhythm.
Gene Kelly dances with Jerry the Mouse of Tom and Jerry to the tune of 'The Worry Song' in the dream sequence from Anchors Aweigh (1945, directed by George Sidney).
The second part of the show is more a history of American dance, including how jazz influenced tap dancing, bringing together both African American traditions and traditional Irish jigs. Kelly argues that dance isn't just a manly discipline, but also an art that comes from the street. The program ends with a final number set to the music of George Gershwin.
Gene Kelly and Frank Sinatra in the 'Take Me Out to the Ballgame' sequence from the like-titled 1949 film directed by Busby Berkeley and co-starring Esther Williams, Betty Garrett and Jules Munshin.
One of the movies' greatest dance scenes, Gene Kelly in Singin' in the Rain (1952)
Jeanne Coyne died of leukemia in 1973, leaving Kelly to raise their two young children alone. In his determination to be a better father than he had been to his first daughter, Kelly refused all work that would take him away from Los Angeles, including the offer to direct the film Cabaret in Munich. He tried series television, guest appearances, children's records and became a frequent advisor to younger filmmakers who were hoping to resurrect the movie musical. At his death in 1996, it was said of Kelly, "Just as he confirmed his place as one of the most important talents ever to work in film, he went downhill so fast you hardly saw him go."
Yet, the potency of Kelly's gifts, his remarkable achievements in dance and choreography and the creativity and charisma with which he exploded in a handful of films continues to endure and to inform. Gene Kelly's final filmed words are from 1994's That's Entertainment III, quoting Irving Berlin: "The song has ended, but the melody lingers on." And, so too has Kelly himself. He was number 15 on AFI's millennium list of most popular actors and Singin' in the Rain has been voted the most popular movie musical of all time.