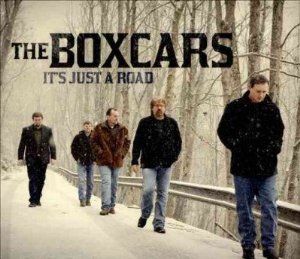 IT'S JUST A ROAD
The Boxcars
Mountain Home Music Company
Depending on when you are reading this, the Boxcars' third album, It's Just a Road, may have won a Grammy Award as best bluegrass album of the year. If that happens, it's merely the latest affirmation of this outstanding outfit's prowess—the quintet has already been twice honored as the IBMA's Instrumental Group of the Year award and some of its members boast individual Grammys. And should the Grammy in question be awarded the Boxcars, you might say it's well deserved. It's Just a Road brings all the band's strengths to the fore—the expected impeccable but soulful musicianship, the deeply committed vocals, the imagination informing the pickers' reimagining of well-chosen cover songs from the roots archive, plus five strong original songs from band members William Keith Garrett (three) and Ron Stewart (two) among the dozen tracks. In addition to these assets, what impresses your faithful friend and narrator is the steadiness of the album's easygoing pace as the musicians roll out traditional bluegrass and spice it with some blues, gospel and folk-flavored selections. On its website the band admits to gathering in the studio "without a list or a plan" and cutting this long player in less than four days. Spontaneity really suits the Boxcars, because they not only came up with a terrific album but one that feels as intimate and warm as a house concert.
The Boxcars, 'You Took All the Ramblin' Out of Me,' a cover of a 1973 Jerry Reed song that opens the band's Grammy-nominated 2013 album, It's Just a Road. Video shot live at XM Studios for Bluegrass Junction with Kyle Cantrell.
About the original songs, both Garrett and Stewart lean towards the dark side lyrically, save for the latter's sprightly instrumental, "Skillethead," an occasion for each instrumentalist to work some impressive, hard driving variations on the melody in striking solo parts and even get into some sizzling give-and-take as the song winds down. But Stewart's foreboding "The Devil Held the Gun" tells a sad story of a young girl swept off her feet by a man who turns out to be abusive and controlling. Garrett, with a voice so reminiscent of Alan Jackson's, takes the lead vocal and invests the lyric with drama but not melodrama—he keeps the tension taught as the story unfolds to its tragic but inevitable conclusion when the girl happens upon her husband romancing another woman. Garrett's rustic, stately paced "Caryville" finds its narrator having to correct a friend who mistakenly believes the town in question is an Eden-like paradise, intoning gravely, "I don't think God lives in Caryville," a doom-laden appraisal underscored by the desultory solos John Bowman (fiddle) and Ron Stewart (banjo) contribute to the ambiance on a track in which the instrumental voices become grim shadows of Garrett's subdued, cautious vocal. The Garrett-penned title track comes strutting out of the gate with an exuberant fiddle and banjo sortie that sets a positive tone before Garrett enters vocally, upbeat and soaring, to point out how no matter where a certain road leads ("think of all the words written for the one that takes you home," goes the high flying, richly harmonized chorus, "those you never traveled, the one you broke down on…"), "to me it's just a road," which gives you some insight into why the wandering troubadour may be a romantic in name only after he or she has lived life out of a suitcase for a while.
The Boxcars with the Keith Garrett-penned title track from the band's new album, It's Just a Road. Keith Garrett, lead vocal and guitar. From the Niles (MI) Bluegrass Festival, May 30-June 2, 2013. Posted at YouTube by Harmonies Du Jour.
Things don't exactly lighten up when the band gets into the cover songs, other than the album opening track, an obscure Jerry Reed gem, "You Took All the Ramblin' Out of Me." A percolating country number in its original incarnation on the Guitar Man's 1973 album Hot A' Mighty is reincarnated here as a high stepping bluegrass workout spiced with frisky solos from Steffey (mandolin), Bowman (fiddle) and Stewart (banjo) punctuating Bowman's engaging lead vocal telling of how a good woman's love "and country cookin'" inspired a traveling man to settle down. Otherwise little light cuts through the modal musings of "When Sorrows Encompass Me" and Steffey's rumbling, Josh Turner-like lead vocal grimly anticipating his day of salvation, although he does deliver a brighter lead on the band's bouncy cover of the oft-recorded evergreen "Trouble in Mind" and leaves room for robust solos from Stewart and Bowman plus a spirited, clicking-clacking, sure-to-be-crowd-pleasing bass solo via Harold Nixon. The band adds a swing flavor to the Carter Family's "Coal Miner's Blues" in contrast to its woe-is-me lyrics ("my place it will cave in/my life I will lose…") then returns to the A.P. Carter songbook to close the album with a barnburning reconfiguration of "I'm Leavin' You This Lonesome Song," buoyant and joyous despite its despairing lyrics, with fiery solos from Bowman, Stewart and Steffey keeping the heat on throughout. And instead of competing against Hank Williams's epic heartbreak in his "Never Again (Will I Knock On Your Door)," the Boxcars pick it up and run with it—where Hank's original hinted at him in fact not going away but hanging on for the most meager hint of a reconciliation, these fellows are east bound and down, loaded up and truckin' right now, with only the sweet keening of twin fiddles to hint at the singer retaining a scintilla of emotional attachment to the woman who's dumped him. Safe to say it'll take some work to catch up with this bunch, in a manner of speaking.