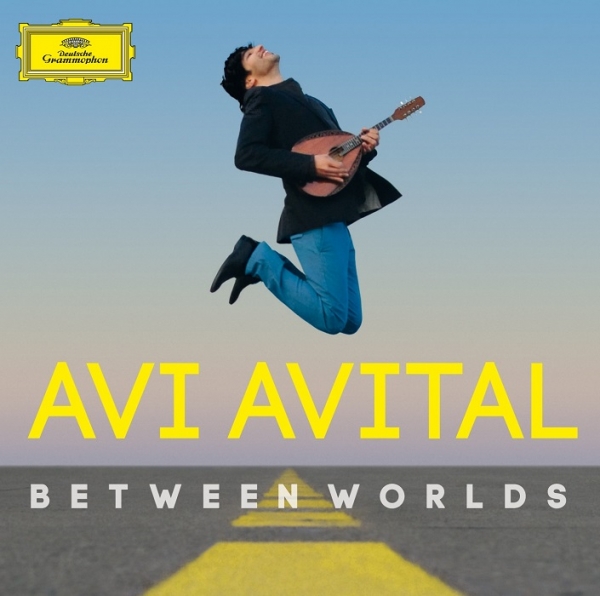 'Blurring the lines of classical music…'
Avi Avital is among a growing group of young musicians blurring the lines of classical music, notably with his new recording, Between Worlds.
This is the second album from the 35-year-old Israeli mandolinist, who garnered a Grammy nomination with his debut album of self-transcribed Bach concertos in 2012.
He goes deep into exploration mode on Between Worlds, with music from Bulgaria, South America, Spain, Greece, Italy and Russia.
He's gathered some of his favorite musicians for his new collection, including Argentine-born Israeli clarinetist Giora Feidman, credited with helping to keep klezmer music alive after World War II and bringing it into the concert hall.
A video profile of Avi Avital and the making of Between Worlds
Israeli percussionist Itamar Doari and French accordion player Richard Galliano also join him in works that move your feet from Georgia's foremost 20th century composer, Sulkhan Zsintsadze.
Most delightful are the unusual treatments of classical works like Manuel de Falla's "Six Popular Spanish Dances" and Bela Bartok's "Romanian Folk Dances," recorded with the crack Potsdam Chamber Orchestra. How appropriate that he includes Bartok, the great preserver of Hungarian and Romanian folk tunes. And out of the blue, Avital ends it with a traditional Welsh tune, "Hen Ferchetan," with harpist Catrin Finch.
To Avital, there is no real line between classical and folk or popular music. "The mandolin has a mixed identity… that was my starting point," he said recently.
Indeed, the mandolin straddles many fences, a member of the lute family going back at least 15,000 years across Eurasia and beyond.
In the United States, we think of it foremost as a bluegrass instrument, a genre from which another prominent mandolin wiz has recently crossed over into classical, Chris Thile. Thile topped the charts last year with a recording of his own solo Bach transcriptions for mandolin. (Transcribing Bach, by the way, is an honorable rite of passage for pluckers–guitar, lute, and the increasingly trendy mandolin.).
Avital was hooked on the instrument as a boy. He began playing at 8 and joined his town's mandolin orchestra, which had 30 or 40 players at times, when he was 10.
–Monika Vischer, "Mandolinist Avi Avital 'Between Worlds' of Classical, Folk," Colorado Public Radio, Jan. 16, 2014
'A genre-defying tour of the globe…'
"Forgetting borders" is what he calls it in the liner notes of his latest CD. He's mandolin virtuoso Avi Avital, and that CD on the Deutsche Grammophon label is Between Worlds.
The disc is a journey with, and a tribute to, those 20th-century classical composers who used music based on folk traditions in their own works. A genre-defying tour of the globe, the program on Between Worlds ranges from Dvořák, Bloch, Villa-Lobos and Piazzolla to folk dances from Bulgaria, Georgia, Romania, Spain and Cuba.
Along the way, he builds sturdy bridges between past and present; joins the old world of Europe and the new world of America in a pas de deux; and shows due reverence for all kinds of folk and popular music without trying to ingratiate himself with those worlds. Thanks to his character and personal aesthetic, the album's different musical strands are woven together into a harmonious fabric.
Avi Avital at the 8th Osaka International Mandolin Festival performs the Vivaldi Mandolin Concerto in C Major with Arte Mandolinistica, Japan, June 10, 2012
In order to complete those bridges, Avital's construction crew included not only a hand-picked chamber ensemble, but also such world-famous representatives of other musical genres as French jazz accordionist Richard Galliano and Argentine-born Israeli clarinetist Giora Feidman, a klezmer virtuoso who has been a great influence on Avital's life and musicianship.
Avital was born in 1978 in the Israeli city of Be'er Sheva and showed an aptitude for the mandolin at an early age; by the time he was eight years old, he was performing with a local orchestra. He went on to study at the Jerusalem Academy of Music and the Cesare Pollini Conservatory of Music in Padua, Italy, where the focus of his work moved from mandolin transcriptions of violin pieces to those originally written with his instrument in mind. His study in Italy was sponsored by the America-Israel Cultural Foundation.
Avital has performed at Carnegie Hall, Lincoln Center, the Forbidden City Concert Hall, the Berlin Philharmonie, and has performed with a number of international orchestras and chamber groups. In 2013, he performed on a tour with the Geneva Camerata. In addition to a Grammy nomination, he has won Israel's Aviv Competition and received Germany's ECHO Prize. He was also part of a collaboration with Yo-Yo Ma's Silk Road workshop on a new composition by David Bruce, and he performed in Avital meets Avital, a cross-genre program with New York-based jazz artist Omer Avital in Berlin and at Schloss Elmau. Plans for 2014 include an Australian tour with the Australian Brandenburg Orchestra, concertos with the National Taiwan Symphony Orchestra and at the Savannah Festival, and recitals in Berlin, Vancouver, New York (Carnegie Hall), Riga and Montreal.
–Joe Patti and Jill Pasternak, "Mandolinist Avi Avital: Between Worlds," WRTI Public Radio, Jan. 18, 2014
Avi Avital on Exploring the Dual Nature of the Mandolin
Mandolinist Avi Avital's mission is two-fold: to revitalize the mandolin in both solo and chamber repertoire and inspire the creation of new music for an instrument that has been, in his view, unjustly neglected by classical composers.
"The mandolin was very popular in the Baroque era, especially in Italy," Avital said. "Vivaldi and some lesser-known Italian composers, such as Paisiello and Barbella, wrote music for the instrument."
But after that time, the mandolin fell out of favor with classical composers. "There is a gap in the repertoire," Avital acknowledged, speaking from New York where he was preparing to give his Carnegie Hall recital debut on January 17.
Avital, who was born in Israel in 1978, currently lives in Berlin.
Of course, the mandolin continued to play an important role as a folk instrument, and can still be heard in European and American folk music today.
It is this dual nature of the mandolin that Avital explores in his second album, Between Worlds, released on Deutsche Grammophon. Between the release of his new album and his Carnegie Hall debut, this is a crucial time, for Avital and for the instrument whose legacy he is trying to revitalize.
'Bach for me represents absoluteness. Even after 15 years, every time I play Bach, I discover something': Avi Avital on Bach. Avital earned a Grammy nomination for his 2012 album of self-transcribed Bach concertos.
But who better to take on this challenge than the musician some have called, "the first rock star of the mandolin."
"The release of this album is another dream coming true," Avital said. Between Worlds is a collection of music by composers from the early to mid-20th century, including Bela Bartók, Manuel de Falla, Heitor Villa-Lobos and Astor Piazzolla.
What is the one thing these names have in common? As Avital noted, "They are all classical composers inspired by folk music."
Avital collaborated with a string quartet and two musicians well-known for their improvisational abilities, clarinetist Giora Feidman and jazz accordionist Richard Galliano. He likened the process of creating this album to "a huge playground" where the musicians felt free to improvise on a specific theme, add a new rhythm line to the music or change the instrumentation.
"We thought, how can we make this music sound closer to its folk music origins?" asked Avital. The musicians were after a sound that is not really classical and not really folk–but somewhere in between.
Just like the mandolin, itself.
"For instance, I thought, how can I make the de Falla sound more Spanish? We added the cajon, the typical percussion used in flamenco, as well as Spanish guitar," he explained further.
Between Worlds is Avital's follow-up to his well received 2012 DG debut Bach, featuring his own transcriptions of the composer's concertos for harpsichord and violin, in arrangements for mandolin and orchestra.
–excerpt from "Mandolin Virtuoso Avi Avital Talks New Album 'Between World' and Carnegie Hall Debut' by Louise Burton at Classicalite.com, January 16, 2014