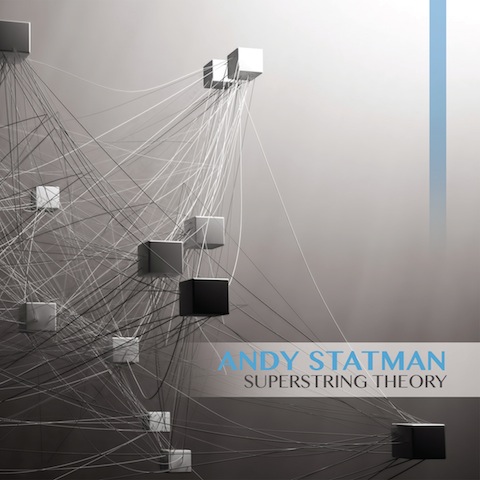 SUPERSTRING THEORY
Andy Statman
Shefa Records (2013)
The sedate packaging and rather academic title of Andy Statman's Superstring Theory might mislead some into thinking it a sterile exercise in virtuosic playing, when in fact it is infused with both stellar musicianship and great heart, common attributes of this exceptional artist's work. It is also an admirable followup to his epic 2011 album Old Brooklyn, a double-CD journey through a range of roots styles—including klezmer, the style he singlehandedly brought into the roots mainstream with soulful, exhilarating albums such as Between Heaven and Earth: Music of the Jewish Mystics (1997) and his riveting 1995 collaboration with fellow mandolin master David Grisman, Songs of Our Fathers—in the company of Ricky Skaggs, Bela Fleck, fiddlers Byron Berline and Bruce Molsky, pedal steel stalwarts Jon Sholes and Marty Rifkin as well as keyboardists and horn players supplementing his veteran trio members Jim Whitney (bass) and Larry Eagle (drums). Superstring Theory might be called a more modest effort in that Statman, Whitney and Eagle are joined only–but formidably–by whiz-bang bluegrass fiddler Michael Cleveland and quality control expert Tim O'Brien, who stars in a couple of the album's most surprising moments and as usual makes the whole enterprise better by simply being part of it.
The Andy Statman Trio (Statman, mandolin; Jim Whitney, bass; Larry Eagle, drums) with Michael Cleveland (fiddle) and Tim O'Brien (guitar) with an unplugged version of 'Surfin Slivovitz' from Superstring Theory
Only the cast, though, is more modest than 2011's. But like their predecessors in Statmanology, this bunch ranges far and wide across the longitudes and latitudes of the musical map, starting with "Little Addy," with its, well, modest opening salvo featuring Cleveland deliberately probing the melody line before giving way to Statman's feisty mandolin solo as a table-setter for a frisky, part-free-form hoedown section that announces the album as something out of the ordinary—a soulful, multi-cultural exploration of 10 Statman originals and two inspired covers.
AUDIO CLIP: Andy Statman Trio, with Michael Cleveland on fiddle and lead vocal by Tim O'Brien on a bluegrass-ified cover of Ritchie Valens's 'Come On Let's Go' from Superstring Theory. Statman is on mandolin.
Statman's Django-ish "French Press" is an energizing sprint of speed-picked mandolin (Statman) and guitar (O'Brien) with Cleveland fashioning precise, heated Grappelli-like ripostes on fiddle, whereas the incredible "Surfin' Slivovitz" features mandolin and guitar quotes from the Chantays' surf classic "Pipeline" (really!) buttressing Cleveland's long rides on waves of Appalachian fiddling. On the other hand, Statman and Cleveland deliver aching, heart tugging tenderness in a mandolin-fiddle dialogue on the southern-flavored ballad "For Barbara." O'Brien is playing acoustic and electric guitar on most of the tracks, but he does take up the fiddle and team with Cleveland to add a lonesome, keening ache to the Cajun meditation "Herman Howe's Bayou" in addition to crafting a lilting acoustic guitar solo to complement the upbeat mandolin discourses Statman fashions to enhance the workout's bipolar personality. He also delivers a warm, earnest reading of "Green Green Rocky Road" comparable to the most memorable readings of this folk classic, those being by Dave Van Ronk and Tim Hardin. Of all these melting pot exercises none is more unexpected or delightful than Statman's resurrection of Ritchie Valens's early rock 'n' roll classic "Come On Let's Go" in a sprightly but decidedly rustic bluegrass mode sparked by his own red-hot and rockin' mandolin solo and a spitfire fiddle solo courtesy Cleveland supporting a joyous O'Brien lead vocal evoking the innocence of Valens's original. This may seem a left-field choice of tune, but Valens left behind tapes revealing him to be exploring the links between Mexican song forms and rhythms and connecting those to what he knew as American rock 'n' roll. Somewhere the first important rocker of Mexican descent is smiling at the possibilities Andy Statman and company found in his modest—there's that word again—but lovable tune. The bright, live sounding sonics and the improvised feel of many of the solo set-tos lend a spontaneous vibe to proceedings overpouring with life. That's not theory—it's fact.