'…an intimate gospel performance…'
LIVE AND UNPLUGGED (CD/DVD)
Twinkie Clark
Larry Clark Music (2013)
www.larryclarkgospel.com
Live and Unplugged is an intimate gospel music performance by Elbernita "Twinkie" Clark and a small band of musicians.
Recorded at Detroit's Charles H. Wright African American Museum on July 21, 2012, the CD and accompanying DVD feature Clark singing and playing a grand piano on a handful of songs that have the Clark Sisters contemporary sound in their DNA.
Of special interest is the fascinating, psychedelic "There is a Word." Its melody and repetitive chorus about the Word drying every tear get more captivating with each successive listen.
As with most Clark-related projects, the production is a family affair. Larry Clark, Twinkie's nephew, produces, plays keys, and sings on the album. The Clark Sisters gather for a congregation rousing remix of "Hallelujah." Karen Clark Sheard reprises her prayerful "Speak Lord."
Twinkie Clark, an extended sampler from her new album, Live & Unplugged
But the rest belongs to Twinkie, especially when she switches to the B3 for an instrumental of "Great Is Thy Faithfulness," and proceeds to play the stops off the organ. She cascades notes in, around, and under the melody in a tour de force that leaves the listener wanting at least one more instrumental from her before the disc stops spinning. She clearly appreciates the audience's reaction to her technical prowess.
The companion DVD is a video presentation of most of the recording session and a music video of "Awesome God," featuring Larry and Twinkie Clark. The liner notes apologize that the unplugged portion of the program did not end up on the final product, but there is enough music that only the attendees will care what content is missing.
Live and Unplugged, led by Twinkie's easy-going style, has the ambiance of a pleasant Sunday afternoon program in a church sanctuary.
Pick: "There is a Word," "Hallelujah."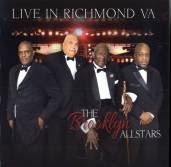 '…smooth modern quartet flair…'
LIVE IN RICHMOND, VIRGINIA
Brooklyn All Stars
Malaco Records (2013)
Moss doesn't grow on a rolling stone, nor on a gospel quartet like the Brooklyn All Stars. The group has been singing for more than sixty years, recording for more than fifty of them, and shows no sign of slowing down.
On their latest album, Live in Richmond, Virginia, the quartet, including original member Thomas Spann, reprises some of its signature singles. Lead vocalist Sonny McClary does his best to evoke Hardie Clifton's intense tenor on the group's 1960s-era hits "No Cross No Crown" and "I Stood on the Banks of Jordan." Spann sings his bass parts on "Jordan" nearly note for note, and reprises his rumbling lead on "I've Got My Ticket."
The Brooklyn All Stars, 'I Can't Forget'
Two songs deliver important messages with a lighter touch. "Cookie Jar" is a warning to those who like to fool around that the Second Coming can happen at any time, so "don't get caught with your hand in the cookie jar." "Get in the Way" is an ode to self-determination. "God's got a blessing waiting for you, but you need to get in the way to get it," the quartet sings. It is as close to Objectivist philosophy as gospel music is likely to come.
There's quite a bit of twilight reflection on the album.  Spann recollects some of the All Stars' highs and lows over the years, and songs such as "Too Close" and "I Stood on the Banks of Jordan" suggest an acute awareness of the nearness of that awful day. Still, on "Just Look At Me Now," Spann celebrates that fact that, at eighty-something, he still has the health and energy to travel and perform. The single, "God Has Been So Good to Me," is a high-octane acknowledgement of He who makes such health and energy possible.
The Brooklyn All Stars, 'I Stood on the Banks of Jordan'
Malaco's Darrell Luster makes an appearance on two selections, most notably the bluesy "I Can't Forget." Talented Ray Braswell Jr. handles the production, keeping the singing and music well-balanced.
Live in Richmond, Virginia is a sample of Brooklyn All Stars highlights with smooth, modern quartet flair.
Pick: "God Has Been So Good To Me."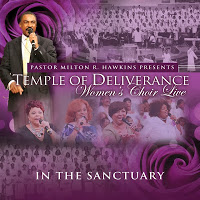 '…a traditional/contemporary blend of gospel music…'
PASTOR MILTON R. HAWKINS PRESENTS
TEMPLE OF DELIVERANCE WOMEN'S CHOIR–LIVE
IN THE SANCTUARY
Habakkuk Music (2013)
With a chorus of 200+ women and a parade of top female soloists, In the Sanctuary is a veritable injection of high-octane estrogen that engulfs the Temple of Deliverance Church of God in Christ in Memphis, Tennessee, with a traditional/contemporary blend of gospel music.
Women have been at the forefront of gospel from the beginning. Since most denominations, including COGIC, did not (do not) allow women to pastor, they had to find other ways to serve the church. For some, that meant evangelizing; for others, it meant making a joyful noise. For yet others, such as Sister Rosetta Tharpe and Arizona Dranes, it meant doing both at the same time.
What we hear on In the Sanctuary is the soundtrack to this phenomenon. The Temple of Deliverance Women's Choir is a wall of sound supporting the lead vocalists who sell their respective songs. None of the lead singers are shrinking violets when it comes to aural force. Tamela Mann, gospel's current "it" girl, renders "Have Thine Own Way (In the Sanctuary)" in her smart, direct, and ultimately bluesy manner. Memphis's own Carla Tolbert Taylor propels the infectious single, "Everybody Praise," while the hard-singing Lisa Page Brooks fronts the powerful "Keep Me All the Way."
Temple of Deliverance Women's Choir, the house wrecking 'Everybody Praise,' the first single from the choir's live album, In The Sanctuary
Among the males, Pastor Milton R. Hawkins, nephew of the late COGIC Senior Bishop Gilbert Earl Patterson, serves as narrator and exhorter. The fine band includes J. Drew Sheard II on drums and Chicago's Joey Woolfalk on bass.
The album finishes strong with the pulse-racing and optimistic "Breakthrough," led with evangelistic ferocity by Karen Clark Sheard. Ten thousand P&W anthems linked together could not top the joyful exuberance of this kind of congregation rouser. It represents everything gospel is about, or at least should be.
A portion of the proceeds of In the Sanctuary will go to the Temple of Deliverance's charity efforts, which have included, among other projects, support for victims of Hurricane Sandy.
Picks: "Everybody Praise," "Breakthrough."
'…exalting the multicultural, multi-genre Florida P&W sound..'
LIVING WATER FELLOWSHIP PRESENTS WE WORSHIP YOU
Those who follow The Black Gospel Blog know I'm not a huge fan of praise and worship music, but music sung and performed well deserves its own praise.
Such it is with Living Water Fellowship Presents We Worship You. Recorded live last September at Living Water Fellowship in Kissimmee, Florida, this church-produced album benefits from a smart selection of songs, stellar production, strong singing from a multicultural chorus, and full-steam-ahead musicians. It is as professional as any major label release.
The album's timing is impeccable. The first four song selections, bright and up-tempo, maintain a steady forward propulsion. The second section is a cool down period, with five praise and worship ballads in a row. "You Are," a funky workout, concludes the album. It is where we hear the signature Salsa Praise rhythm of Puchi Colon.
Songs on the album not written by Colon come from the pens of BJ Putnam and Laurie and Doug Engquist, well known for their work with Israel and New Breed. Not terribly deep or complex lyrically, the songs are nevertheless rendered with authenticity. Best of all is the title track, a lovely, gentle acoustic worship ballad with Colon's horn section acting as a brass congregation that answers the vocalist and chorus.
Living Water Fellowship Presents We Worship You exalts the multicultural, multi-genre Florida P&W sound with refreshing unpretentiousness and honesty.
Pick: "We Worship You."
'…evoking a spirit-filled church service…'
SNAPSHOT
James Fortune & FIYA
World Wide Music, Inc./Red Distribution
Snapshot is a ten-track collection of hits and rarities by James Fortune & FIYA, the orator-choir combo that is successful because its recordings and performances evoke a spirit-filled church service.
Indeed, many of Fortune's finest songs, "I Trust You," "I Wouldn't Know You," and "I Believe" (the latter is arguably his best), are mini-sermons turned into inspirational ballads. While Snapshot includes these selections, the prize jewel of the collection is William Murphy's majestic, church-wrecking version of "I Need Your Glory" ("Less of me and more of you is all I need"). Although Earnest Pugh made the Fortune composition a hit, Murphy's live version blows all others out of the water.
Another significant key to Fortune's success is his ability to surround himself with top-shelf singers, such as Murphy, Zacardi Cortez, Shawn McLemore, M.D. Stokes, and Keith "Wonderboy" Johnson. Whether they deliver the melody in a cool croon or a raspy shout, Fortune is omnipresent, encouraging them on, raising the temperature of each performance with his vocally explosive interjections.
James Fortune & FIYA, with Shawn McLemore and Zacardi Cortez, 'I Believe'
James Fortune & FIYA, 'I Trust You'
In the rarities category is the previously unreleased "Over and Over Again," which features Pugh, McLemore, and Stokes not so much trading leads but enjoying each other's singing companionship. While interesting, the better-known songs on Snapshot are far stronger.
Red Distribution has issued competitively priced "snapshots" on other artists, but this is the first time it has released one on a gospel artist. In the spirit of the collection, the CD comes with four color photographs of James Fortune. Years from now, collectors will place the greatest value on the CD with the photos intact because, without a slot or pouch in the case to hold them snugly, they are constantly in danger of falling out.
Snapshot will please diehard Fortune & FIYA fans and introduce others to the ensemble's most memorable moments.
Pick: "I Need Your Glory."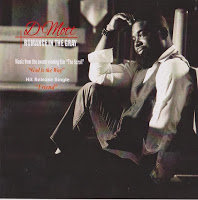 '…smooth jazz-fueled praise and worship…'
ROMANCE IN THE GRAY
D'Mott
Sonny Camp Music Group (2013)
With the build of a wide receiver and an intimidating beard to boot, De'Juaine Motley, aka D'Mott, has a steely-cool tenor voice evocative of the Doobie Brothers' Michael McDonald. D'Mott's album, Romance in the Gray, is an authentic, if modest, project of smooth jazz-fueled praise and worship, all but one of the songs written by the singer himself.
According to the spoken word intro, "Romance in the Gray" is about not putting God in a box, and not making Him black or white, but celebrating the grayness of his existence. It is perhaps in this vein that D'Mott performs his music in a retro style, counter to the current contemporary trend. For example, on the single, "Friend," D'Mott uses an '80s soul groove to celebrate the reasons why there's no friend like Jesus. He posits a similar sentiment in "Mind Blowin'," albeit with a different set of adjectives.
D'Mott, 'Friend,' the first single from Romance in the Gray
Reminiscent of early 1970s Motown protest songs, "God is the Way" casts a serious eye on the streets, where fourteen-year-old girls can be prostitutes, young men wear saggy jeans and crime and violence rips the heart out of the community. D'Mott implores society to shower love on the community, and reminds that belief in God is the "truth and light" that can brighten all dire circumstances. Parrish Smith, executive director of the project, included "God is the Way" in his feature-length film The Scroll.
A preview of D'Mott's Romance in the Gray
D'Mott's original songs are satisfactory but not groundbreaking, and tend to be repetitious in style. The exception is "Thank You (Ask It)," an up-tempo, quartet-style handclapper from the pen of Albert "Bob" Robinson and the Prodigal Sons of Washington DC.
In addition to singing and serving as a drummer for a number of gospel quartets, groups, and singers, D'Mott pastors the Remnant House Outreach Church in Buffalo, NY, thus continuing his grandparents' longstanding tradition of church ministry.
Pick: "Thank You ("Ask It").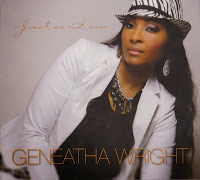 'Praise and Worship from South Florida'
JUST AS I AM
Geneatha Wright
Godfather Records (2013)
Just As I Am is the solo debut album of Geneatha Wright, a praise and worship singer from South Florida. Her style falls within the Florida multicultural P&W sound made popular by the likes of William McDowell, Javen, Madelyn Berry, and sisters Martha Munizzi and Mary Alessi.
The album was recorded live at the Bible Church of God in Boynton Beach, Florida, where seven-year-old Geneatha Daughtry started her music ministry by joining the Little Singing Angels Children's Choir. She went on to sing with the Daughtry Family and became part of gospel legend Rev. Timothy Wright's family when she married his son, John David Wright.
Geneatha's soprano is light, soft, pop-inspired. When she does increase in volume, her voice takes on a rock texture without the high melismatic drama of traditional gospel singers. She receives ample support from a smooth background vocal group and extroverted musicianship. "Have Faith" is the strongest of the album's three single selections for its easy but vigorous tempo and encouraging message.
Members of the Wright Family play a significant role in the album as writers, co-writers, and musicians. Ironically, both John David and Geneatha suffered tragic losses of parents to automobile accidents—-Rev. Timothy and Betty Wright and Elder Horace Daughtry Sr., respectively—-within two years of one another. John David Wright shares a few of the sad moments but also the inspirational insights of these personal trials during the performance of his song composition, "Everything Will Be Alright."
Though the album was recorded live, the ambient sound of the audience is potted down except during intros and reprises, most notably on the "Just As I Am" intro and outro, where Geneatha churches it up to David Wright's warbly B3. Strikingly, these and the intro to "We Praise You Lord" are the album's most emotionally charged moments. They suggest that a live recording of more traditional fare (perhaps a tribute to Revs. Wright and Daughtry), is in order.
Pick: "Have Faith."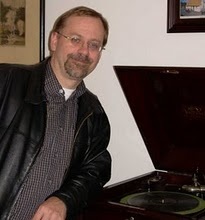 Bob Marovich is a gospel music historian, radio announcer and author. His "Gospel Memories" radio program of vintage black gospel music and artist interviews airs live first Sundays from 3 a.m. to 7:30 a.m. on Chicago's WLUW 88.7 FM, and streams live at the station's website. Snippets of recent broadcasts can be heard online at the Gospel Memories Radio Show. Bob is also founder and editor of The Black Gospel Blog.