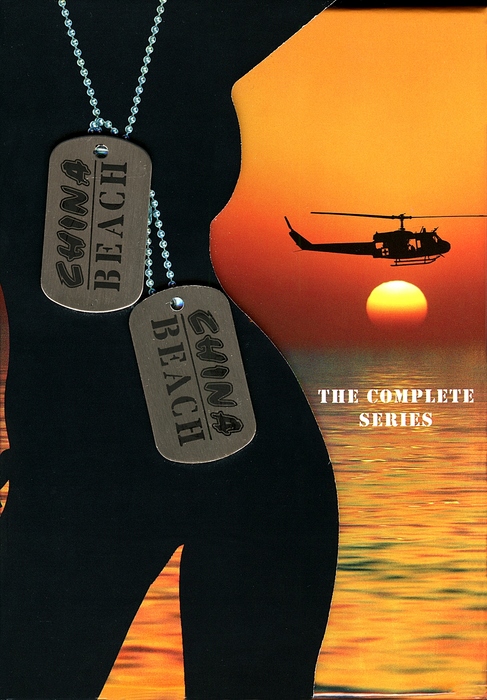 CHINA BEACH—THE COMPLETE SERIES
StarVista Entertainment/Time-Life (2013)
THE DEAN MARTIN CELEBRITY ROASTS: COMPLETE DVD COLLECTION
StarVista Entertainment/Time-Life (2013)
For some of us—likely a lot of us, especially of a certain age—2013 brought a pair of unexpected, long-awaited gifts in the DVD box set realm and thus ended years of frustration making do with thoughtlessly edited re-runs (when they could even be found), shoddy bootlegs or, in the case of one of the titles in question, piecemeal releases of a show or two on VHS. In concert with StarVista, Time Life towered over its competitors on the strength of its impressively packaged releases of the complete China Beach series and the complete Dean Martin Celebrity Roasts. These have been so long in coming that they were almost a guaranteed lock to share Video Event of the Year, but the extra features and, again, the packaging of these collections really made it no contest.
China Beach: The Complete Series contains all 62 episodes of the series on 21 DVDs plus 10 hours of new bonus features including a reunion of the stellar China Beach cast and an informative booklet titled Tales from the Five & Dime  comprised of character biographies, reminiscences by the cast members, and letters (some extremely moving) the show received from actual Vietnam War veterans.
StarVista-Time Life's trailer for China Beach: The Complete Series
For China Beach fans, this complete set is a godsend. From my point of view, its existence means I can now erase 35 hours of episodes stored on my DVR—episodes that in many cases are clunkily edited (omitting some key scenes from the original broadcast versions) and of poor color quality. That hasn't stopped me from watching the episodes regularly, because no amount of washed-out hues or indelicate cutting dulls the impact of the show's writing and the degree to which its extraordinary actors brought the scripts to life. Desperate for China Beach back in the early 2000s, I bought what I thought was a legit copy of the series from a Canadian outfit, and it turned out to be a bootleg: the shows had been copied off TV, the channel's logo was in one corner, the color was dull and the discs had no functional menus. You want to watch all four episodes contained on a particular disc? You have to reload the disc each time and select the next episode—no searchable menu in sight. Those days are now gone for good.
Introducing Colleen McMurphy (Dana Delany) on China Beach. From StarVista-Time Life.
China Beach made Dana Delany not just a star but a TV legend. Her only previous small screen credits had come in a short-lived NBC sitcom (Sweet Surrender, in 1997, a year before China Beach premiered), guest shots on soap operas and on Moonlighting and Magnum, P.I. and in a Wisk detergent commercial, and she had done some stage work (including the 1983 off-Broadway production of Blue Moon directed by Nicholas Kazan). She wasn't exactly a neophyte when she landed the role of First Lieutenant Colleen McMurphy (after first being rejected because, she said, "they thought I wasn't pretty enough") but she certainly had never been charged with carrying a show the way McMurphy carried China Beach. From the pilot episode—when McMurphy is a short-timer counting down the days before she heads back to the world—her command of the character is riveting both in the strength she summons at critical moments and in the vulnerability she can't hide. Needless to say, McMurphy's return Stateside was delayed (for four seasons) and her personal story arc became central to the show's evolution—even when the focus was on another character's issues, McMurphy was almost always there in various guises: confidante, cheerleader, psychologist, den mother, drinking buddy, lover, what have you. The first time we see her onscreen, sitting on the beach reading a book, is a shot as iconic as her last words are poignant at the close of the series' final show in 1991.
The classic opening credits of China Beach, set to the Supremes' 'Reflections'
McMurphy's interactions with the other characters bring out the human side of the medics, nurses and fighting men in what for them was a strange, uncharted land in which they were making up rules as they went along. Minus interaction with McMurphy (that is, McMurphy as Dana Delany realized her on the screen), Robert Picardo's Capt. Dick Richard would be just another cynical, skirt chasing head surgeon instead of a man conflicted about betraying his wife and disappointing his family back home; minus interaction with McMurphy, Jeff Kober's Marine Staff Sgt. Evan Winslow, the enigmatic "Dodger," would be a hard-boiled warrior in the mold of Platoon's Sgt. Barnes, a beast of a man so focused on killing the enemy and keeping his men alive that he had almost terminally repressed all human feeling in himself. Instead, after he's injured and McMurphy helps nurse him back to health, he not only reveals a sensitive side in his encounters with her but even comes to rely on her judgment when he's trying to make arrangements to bring his Vietnamese-American son back to the States with him in one of the series' most intense story arcs; minus interaction with McMurphy, Marg Helgenberger's hard-bitten K.C. Koloski, a prostitute and civilian volunteer, might never have revealed any sentiment for anything save money. The list could go on and would include almost every significant character that ever showed up on China Beach. Simply put, Dana Delany's performance here, the way she grew the character on screen, is one of the most remarkable and memorable in TV history. In her comments in the booklet accompanying the box set, Ms. Delany says China Beach changed her forever, and indeed, a viewer can see in her very demeanor, in the way she speaks in character, an actor subsumed in and consumed by a role. It's hard to say she's better in one part of the series than another, but in the fourth and final season, perhaps because we're closer to the time it happened, and certainly owing to today's headlines being full of similar stories relating to veterans returning from our current overseas conflicts, McMurphy recognizing post-traumatic stress disorder (PTSD) as the reason for her difficult adjustment to civilian life hits home hard. The shame of it all is CBS's cancelling the series after this season and foreclosing the continuation of this arc.
'It's the perfect All-American name': McMurphy and K.C. meet while showering at dawn to the tune of 'I Got You, Babe' as sung by the former.
Of course McMurphy's character was written this way, as were the others—this is not a documentary. China Beach was created by William Broyles Jr. (a Vietnam vet himself) and John Sacret Young, and their names (one or the other) are on many of the most compelling scripts from the first two seasons (John Wells made his debut as a writer with Season 2's "XMAS Chnbch VN '67" Christmas episode, then became a regular contributor for the rest of the series' run and deserves considerable credit for China Beach being not a series about war but a story about the human factor of what war does to those on both sides of the conflict). For many reasons this was a groundbreaking series, and not solely for its realistic treatment of the horrors of war (the surgical unit headed by Capt. Dick Richard is often a bloody chamber of horrors and the graphic depiction of many soldiers' wounds is not for the squeamish)—this is about as far a cry from the antics of the M.A.S.H unit as one could imagine. More to the point, Broyles Jr. and Young made us see the war unfolding often through the eyes of its female characters, especially the nurses—a point of view a short-lived China Beach knockoff, Tour of Duty, didn't offer and one still unique to China Beach to this day. In fact the series was based on a Vietnam nurse's book, Home Before Morning, by former U.S. Army Nurse Lynda VanDevanter, the real-life Colleen McMurphy. Her story, and the Broyles Jr.-Young depiction and transformation of it, offered an unprecedented look at what the nurses endured, and how skilled and vital to the cause they were. To their credit, Broyles Jr. and Young didn't let their wonderful fictional creations be the nurses' only voice—in Season 2, Episode 12, "Vets" (co-written by Wells and Young), actual Vietnam vets, men and women alike, discuss their experiences in Vietnam as scenes from previous episodes are intercut to illustrate how close the fictional China Beach world was to the real one; and in Season 3, Episode 13, "Souvenirs," Viet vets' reminiscences illustrate Dodger's quest to bring his baby boy back to the States when his tour of duty is up. A couple of episodes may not seem like much over the course of four seasons, but every time one of the real vets comes on screen a very personal moment ensues with the viewer, especially (maybe only, but I think not) if the viewer has any experience directly or through friends and family, with anyone who went to Vietnam.
Beautiful sadness: the final scene from Season 1's finale of China Beach, the episode titled 'Chao Ong,' set to Lennon-McCartney's 'With a Little Help from My Friends.' Featuring McMurphy (Dana Delany), Laurette Barber (ambitious USO singer played by Chloe Webb) and Corp. Boonie Lanier, USMC (played by Brian Wimmer).
This only begins to scratch the surface of what made China Beach so special. Even more amazing, it appeared on network TV and had to work within the boundaries of mainstream standards and practices—and yet, with no nudity (McMurphy running around in her panties when back home in Nebraska was about as racy as it got), no profanity and no overt displays of violence (only its aftermath), it stands with the most celebrated of cable series in its cultural resonance and relevance on the strength of its story and characters. Many of its cast members have gone on to do other notable work (several of the China Beach cast landed on NBC's top-rated E.R.; Marg Helgenberger became a regular on the top-rated C.S.I.; Robert Picardo transitioned from being a doctor in Vietnam to being the Emergency Medical Hologram in various Star Trek episodes) and one has completely disappeared (Nan Woods, who played Cherry White for a few episodes in Seasons 1 and 2 and has never acted since) but they all wrote their names largest in TV lore with their work on China Beach. You would be hard pressed to cite a single mediocre performance in the series' entire run. And as anyone who watched the show religiously knows, the period music–not the least being the eerie, shimmering "Reflections" by the Supremes over the opening credits–was as vital a component of the storytelling process as were Hank Williams's songs in The Last Picture Show. Obtaining licenses for all that music was the main sticking point preventing the DVD release from coming sooner, but job done—268 songs, sometimes only in snippets but almost always by the original artists, were used in the series. Somewhere I've read that all but one of the original songs heard in the shows was licensed but that song was never identified and I'll be a suck-egg mule if I can tell you what it is.
In addition to the collection reviewed here, Time-Life is offering a limited edition 25th Anniversary Collector's Edition containing three scripts (the pilot episode, the abovementioned "Vets" and the series finale, "Hello Goodbye") and five 8×10 photos of the cast then and now. This adds about 80 bucks to the price (see pricing info and link below), but Time Life offers a five-month installment payment plan if you can't shell out $200 or $300 all at once. Also, the company has released a three-DVD Season 1 disc and an eight-DVD disc of Seasons 1 & 2; presumably the other seasons will follow.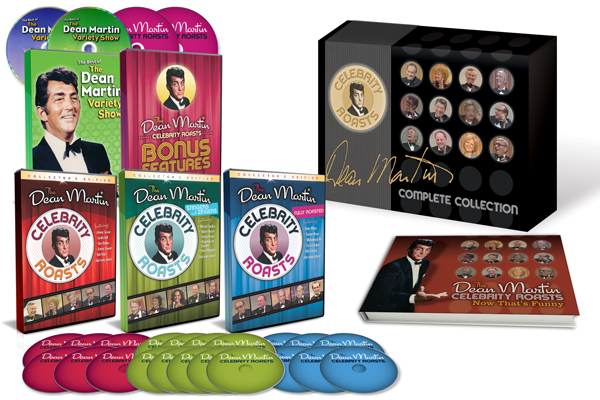 The Dean Martin Celebrity Roasts has not had quite as troubled a video history as China Beach but close enough. Whereas the China Beach pilot episode was released on VHS back in the day, many of the Roasts have had their fair share of bootlegs but have also been legitimately released on VHS under the aegis of the show's producer, and Dean's good friend, Greg Garrison (titled Greg Garrison Presents The Dean Martin Celebrity Roasts) and Guthy-Renker Video (a company well known to fans of late-night infomercials). With the VHS version came some quality control issues in terms of sound and video but plenty of Roasts fans leaped at the chance to add these titles to their video collections—by all estimations sales were robust. The videocassette editions included Roasts that were initially aired as segments of The Dean Martin Show (where the Roasts originated first as 15-minute and then 30-minute segments of the hour-long production), which raised the hackles of NBC Universal, which in turn sued Garrison and Guthy-Renker, but only for their use of the Martin Show footage. The series was discontinued after about half of the 54 episodes had been issued, although copies remain available from various online outposts such as eBay and Amazon sellers. Not that anyone needs those anymore.
Promotional trailer for The Dean Martin Celebrity Roasts: The Complete DVD Collection from StarVista Entertainment-Time Life
Enter, at last, StarVista and Time Life with a handsome, hefty Collectors Box containing all 54 remastered Roasts and a lower priced 12-DVD collection containing 18 Roasts, both loaded with special features (including some hilarious—and authorized–sketches from Dean's variety show along with a few complete variety shows and featurettes such as "Ladies of the Dais" and "History of the Roast") and one of the most informative booklets you'll find in sets such as these. (Full disclosure: Yours truly wrote the liner notes—nutshell overviews—for some 35 of the 54 roasts. Cite me for conflict of interest if you like, but [a] I didn't write all of the liner notes and kudos are in order for Peter Keepnews and Colin Escott for their well-observed contributions to this effort and [b] I loved these shows when they were first broadcast and make no apologies for accepting a plum assignment when it was offered.)
Those unfamiliar with the Roasts culture, if you will, and those who may not have spent time viewing a Roast lately, should be forewarned that these were not gatherings for the politically correct. Sanford & Sons' LaWanda Page and comedian Nipsey Russell didn't shy away from hurling racially insensitive barbs at their white companions on the dais (Ms. Page, volatile as ever, took issue with those who came to praise Jack Klugman for his acclaimed portrayal of Quincy, M.E., saying "For a doctor, honey, you are one hokey honky.") and you can bet Don Rickles took notice of Nipsey, a Roast regular ("Don't move into my neighborhood," Rickles advised Russell with malice aforethought). No one seemed to care what he or she said, and though most of the comments were scripted—some Roasters less familiar with teleprompters stumble in their readings—for the most part they come off as spontaneous, and many times stinging, as when then-California Governor Ronald Reagan, speaking at the 1978 Roast of Frank Sinatra, says, "Without Frank's support in my last campaign, I might have been President."
'I really goofed': The Dean Martin Celebrity Roasts honors then-Calif. Governor Ronald Reagan
As per that Reagan quote, politicians were absent from the dais save for Barry Goldwater, who appeared a couple of times, and Hubert Humphrey, who was himself roasted. Skilled public speakers both, it's no surprise when they come off so well in their remarks, but their propensity for self-deprecating humor is a value-added bonus. Goldwater was on a roll during his turn at the Jimmy Stewart Roast, referencing his "razor-thin" defeat in the 1964 Presidential election (he lost in a record landslide to LBJ) and generally getting off one good quip after another as if he were a veteran standup artist. Humphrey took his roasting in good stride, and in his own turn at the mic fired gentle shots at those who had had good sport at his expense. He was gracious in speaking of his losing effort against Nixon, but in the end he was a winner:  his Roast occurred at the moment the Watergate scandal was flowering and there were far more comments extolling Humphrey for not being Nixon than there were barbs for his election debacle—the roast in fact became a kind of alternative victory celebration for the man the press dubbed the "Happy Warrior." This is to say, also, that the Roasts did not take place in a vacuum; current events in politics, sports and the arts were often referenced, making the complete collection of shows (the Roasts ran from 1974-1979, went into hibernation from 1980-1983, then returned for a final run in the 1984 season) a cultural Baedeker of its time.
One of the all-time great moments from The Dean Martin Celebrity Roasts: Orson salutes James Stewart, May 10, 1978.
Laughfests of the first order though they were, some genuinely touching, very human moments emerged from the fray. I'm thinking of a visibly moved Tony Randall expressing mock outrage that his fellow Roasters would rake his Odd Couple partner Jack Klugman over the coals before turning serious to laud him as "a whale of an actor." I'm thinking of Orson Welles, during the Jimmy Stewart roast, bringing the full weight (no pun intended) of his own tortured history with Hollywood to bear in remarks skewering the "senseless violence" of contemporary films and the silver screen's need for "the soft-spoken, shy, kind-hearted fellow that Jimmy Stewart was." Welles captures the poetry of his subject's career, likening it to "an evergreen" that "keeps growing, because it has a kind of beauty and purpose that will never die." Then the gracious coup de grace, in a most touching coda: "I pause for a parentheses: I'm the only actor on this podium who has not attempted to imitate you, Jimmy, because in my view that's all we can do." The ensuing rousing applause is of a singular intensity in Roast history.
And I'm thinking especially of Jonathan Winters at the Frank Sinatra roast. In the guise of Elwood P. Suggins, Sinatra's cornpone tour bus driver in the crooner's salad days, Winters/Suggins reduces Dean and Frank to tears with eight minutes-plus of totally improvised, near-surreal, precisely detailed, must-be-seen-to-be-believed stream of consciousness monologue about being on the road with the young Frank. When the Great Singer meets the Great Comic, an epic Roast moment ensues, one worthy of both towering artists. Typical of the complexity of the late, great Winters's comedy, Suggins's fumbling attempts to point out his subject's humanity wind up being a poignant comment on his own.
'Lovable Lush' Foster Brooks roasts Jack Benny, February 21, 1974
Note too how the Roasts expanded the definition of "celebrity" to include not only actors and comedians but also sports figures (Wilt Chamberlain, Joe Namath, Bobby Riggs, Leo Durocher, Hank Aaron) and politicians. Hugh Hefner (first season Roastee) and Truman Capote (second season Roastee) were the sole representatives from the literary side of the culture. This sort of cultural integration is de rigeur these days, but back then athletes and politicians were rare birds when it came to appearing on comedy specials.
Of course at the center of it all, as host, was Dean himself, who always got in his own zingers (and was frequently physically abused by Ruth Buzzi in her guise as Gladys Ormphby, wielding a handbag as a bludgeon) but in his own way kept order and a certain rhythm going in the proceedings (how much of this was editing room magic and how much was real is another question, but irrelevant, really). As it says in one of the liner essays (yes, by your faithful friend and narrator): "A toast to Dean is in order—the ringleader who set the tone and encouraged the freewheeling spirit that makes it so fascinating still, nearly 30 years after the last laugh died out."
CHINA BEACH—THE COMPLETE SERIES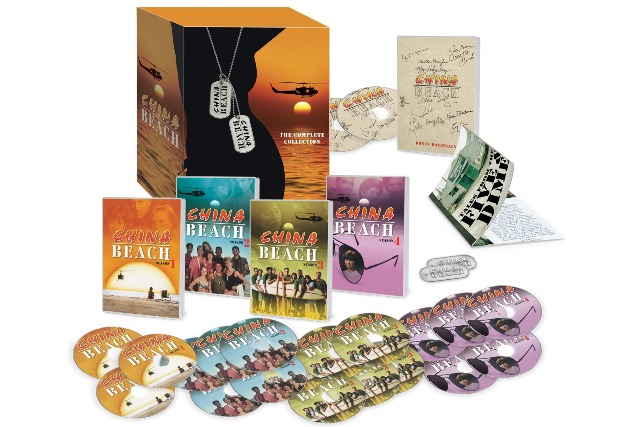 Sixty-two episodes on 21 DVS. $199.95 at the Time Life website, with installment pricing available. Also available: a special 25th anniversary set with three China Beach scripts included for $274.95, also with optional installment pricing)
Also available: China Beach Season 1 (3 DVD set) and China Beach Seasons 1 and 2 plus bonus features (8 DVD set).
THE DEAN MARTIN CELEBRITY ROASTS
$250 at the Time Life website, with installment pricing available. The 12-DVD, 18-Roasts collection checks in at $99.95, also with installment pricing available.