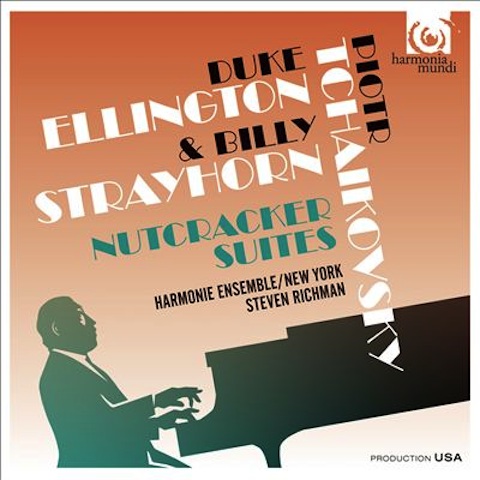 TCHAIKOVSKY, ELLINGTON & STRAYHORN: NUTCRACKER SUITES
Harmonie Ensemble New York
Conductor: Steven Richman
Harmonia Mundi (2013)
 Since releasing its first album in 1990, Harmonie Ensemble/New York, founded by conductor/music director Steven Richman, has been predictably unpredictable in its program choices and even more so in how it approaches those choices. Works by Copland, Grofé, Stravinsky, Dvorak and Gershwin adorn the ensemble's catalog and all have received enthusiastic reviews. Richman and Ensemble scored a major triumph in 2010 in revisiting the Miles Davis/Gil Evans jazz landmark Sketches of Spain with veteran trumpeter Lew Soloff (who, in addition to his many other credits, joined Evans for two albums in the '70s and has been a longtime member of the Manhattan Jazz Quintet) joining the project. While respecting the original recording, Richman's arrangements added new texture and color that, as critics agreed, enhanced the strengths of the Davis/Evans collaboration by injecting striking personal touches that evokes, as, as one reviewer said, "a Spain that existed in Evans' musical imagination." Writing in his album liner notes, legendary producer George Avakian, who signed Davis to Columbia, held nothing back in praising Richman's concept, lauding it as "an event in jazz, classical, crossover and world music! There is much greater clarity in the instrumental details, with subtle elements of Evans' atmospheric orchestrations coming thru beautifully. All the members of the Harmonie Ensemble play at the very highest levels. This may be one of the most important albums of the year not only in the jazz category but also in world music and crossover."
Avakian's "world music and crossover" phrase need be kept in mind when considering Richman and the Ensemble's latest foray into the classical/jazz realm in the form of not one but two versions of Tchaikovsky's The Nutcracker Suite ballet music. The first is a straight-ahead, beautifully arranged recording of the original score, as you might hear it every year at this time at the New York City Ballet's annual Nutcracker productions at Lincoln Center. The second originated with an idea suggested to Richman by former Duke Ellington trombonist and master plunger practitioner Art Baron ("that plunger will kick your butt," he told Trombone.org, "but it's also a lot of fun to do. It's a whole emotional thing. If you're into really communicating when you play, there's a lot there for you."). Back in 1960 Ellington and his trusted collaborator Billy Strayhorn had come up with an exotic new arrangement of the entire Nutcracker Suite that took the listener to places even jazz fans rarely visited, given that "world music" wasn't even a category at that time and recordings of new and traditional music from Africa, say, or the French Antilles (where Alan Lomax was running around recording all the music in sight) were mostly considered novelties appealing to a tiny percentile of the American listening audience.
The straight Tchaikovsky 'Overture' to The Nutcracker Suite as performed by Harmonie Ensemble New York as conducted by Steven Richman
The Duke Ellington-Billy Strayhorn treatment of Tchaikovsky's Nutcracker 'Overture' by Harmonie Ensemble New York as conducted by Steven Richman
Baron pointed Richman towards the Ellington-Strayhorn Nutcracker Suite released by Columbia in 1960, which at that time had not been recorded by any other artists or groups in more than 50 years. Ellington's Nutcracker was way ahead of its time, and though it was well received upon its release it has not occupied a prominent place in Duke's catalogue as time has passed—it wasn't even issued on CD by Columbia until 2008, when it appeared on Three Suites along with Duke's interpretation of Grieg's Peer Gynt Suites 1& 2 and his and Strayhorn's Sweet Thursday.
So, Richman's brainstorm was to honor the Ellington-Strayhorn Nutcracker with a Harmonie Ensemble run at it after introducing the composition in a faithful rendition of Tchaikovsky's score. Here's where you might get confused if you start checking online appraisals from the album from credible critics. Most tend to like it, and like it a lot, but you will come across some Grinches who will not cut Richman any slack. Writing at artfuse.org, for example, Jonathan Blumhofer describes the performance of Tchaikovsky's original as "bewildering, uneven," and gives specifics: "In general, the winds and brass are strong, but the string playing is sluggish and that kills everything: it plods throughout, lacks any spark or bounce, and robs the music of its charm (and this is pretty charming music when played right). Nobody's helped by conductor Steve Richman's cautious tempos, especially in the Overture and 'Trepak,' but tempo isn't the whole problem. Rather, at issue seems to be an interpretive approach from one section of the orchestra that falls flat and lacks life." He goes on to damn with faint praise: "Which is odd, because, when the strings aren't distracting from them, the winds, brass, and percussion are crisp, colorful, and vibrant–everything they should be. They lead the way in delightfully cheeky readings of the 'Dance of the Sugar Plum Fairy' and 'Chinese Dance,' and deliver a restrained but flowing 'Waltz of the Flowers' (which is only once marred by an overzealous trombone player). Still, with so many better renditions of this music already out there, there's really little to recommend this half of the album."
The straight Tchaikovsky version of 'Trepak (Russian Dance)' from his Nutcracker Suite, as performed by Harmonie Ensemble New York with Steven Richman conducting.
Harmonie Ensemble New York's version of the Ellington-Strayhorn interpretation of Tchaikovsky's 'Trepak,' which they retitled 'The Volga Vouty (Russian Dance)'
Write this off as so much critical balderdash if you like, but Mr. Blumhofer is an award winning composer and violist with a doctorate from Boston University. Yours truly, with no advanced degree and no discernible musical talent beyond being able to feel what's happening in his heart when music touches it deeply, would say that the first sprightly opening bars of the "Overture" signal a special moment unfolding. Indeed, the life flowing from the Ensemble's instruments—with the incalculable assist from the usual rich Harmonia Mundi sound—is positively bracing. Where Mr. Blumhofer hears a cautious tempo, I hear one bursting with uplifting energy. The zesty string work in the "March," the heralding of the wind and brass, the way the wind instruments flit hummingbird-like through the early passages and fall back when the brass surges in triumphantly—this is all very impressive and captivating as a musical statement. The bold attack that is "March" has barely settled down the strings creep softly forward to announce the beloved "Dance of the Sugar Plum Fairy," which is simply 1:40 of dazzling, shifting textures and delicate instrumental voicings that evoke both dance and the ethereal quality of the Fairy in question. If the tempo of the Russian dance "Trepak" is cautious, then it's hard to imagine what it would be if it were any more exuberant than the hard charging version here that practically takes a listener's breath away just hearing it, much less what it must do to do those actually dancing it. By contrast, the "Arabian Dance" and the following "Chinese Dance" are marvelously conceived confections, the former being moody and atmospheric with eerie woodwind moans, some feathery, some deep and foreboding, whereas the latter flitters across the soundscape with the bassoons' ostinato burping underneath as the woodwinds cavort merrily overhead. The shifting dynamics of "Dance of the Reed-Pipes" are executed in an impressively tempered performance with no ragged edges as the Ensemble's strings and woodwinds softly shadow each other in the buildup to the brass's emergence at the midway point before returning for the graceful finale. The closing "Waltz of the Flowers," with its beautiful, flowing harp  flourishes at the outset followed by a moderate surge from the brass and woodwinds that serves as a dramatic buildup to the entrance of the full host of strings playing one of classical music's most famous, and rapturous, dance melodies is a work of art unto itself, a grand finale to a superb rendering of the suite of songs the composer selected from his complete Nutcracker ballet to be played as a concert piece. There are indeed many other fine Nutcracker recordings out there—of the complete ballet and the suite alike (yours truly highly recommends the 1997 CD Tchaikovsky: Ballet Suites from Deutsche Grammophon, featuring Mstislav Rostropovich conducting the Berliner Philharmoniker in Swan Lake and The Sleeping Beauty suites in addition to the Nutcracker Suite)—but the Harmonie Ensemble's version more than holds its own with many of the most famous interpretations.
The straight Tchaikovsky 'Overture' to The Nutcracker Suite as performed by Harmonie Ensemble New York as conducted by Steven Richman
The Duke Ellington-Billy Strayhorn treatment of Tchaikovsky's Nutcracker 'Overture' by Harmonie Ensemble New York as conducted by Steven Richman
You might even say this disc has an advantage over other Nutcrackers, in that no sooner does the captivating "Waltz of the Flowers" conclude the Tchaikovsky version than does a cool walking bass line start up the "Overture" section of the Ellington-Strayhorn Nutcracker, and send the Ensemble into swinging mode with a smoky, sexy tenor sax solo courtesy guest artist Lew Tabackin, who's worked with Tal Farlow, with the Dick Cavett Show and Tonight Show bands and in a combo with Elvin Jones, Sir Roland Hanna and Donald Byrd in addition to leading his own Lew Tabackin Big Band (now the Toshiko Akiyoshi Jazz Orchestra featuring Lew Tabackin).
For this Nutcracker iteration the Ensemble's jazz lineup features, in addition to Tabackin on tenor sax, Mark Gross, alto sax; Scott Robinson, alto sax, clarinet, and bamboo flute; Bill Easley, clarinet and tenor sax; Bobby Lavell, tenor sax; Ron Jannelli, baritone sax and bass clarinet; Lew Soloff, Bob Millikan, Steve Bernstein, and Stanton Davis, trumpets; Art Baron, Wayne Goodman, and Curtis Folkes, trombones; Hassan Shakur, bass; Victor Lewis, drums; and George Cables, piano.
Ellington and Strayhorn weren't much concerned with the order (or title) of the pieces in Tchaikovsky's original Suite, so their "Overture" gives way not to "March" but to a delightful midtempo romp through "Dance of the Reed-Pipes" or, as it's titled here, "Toot Toot Tootie," with the brass and woodwinds bouncing woozily off each other as Bill Easley's clarinet figuratively staggers around the other instruments. Disdaining the militaristic strains of "March," Ellington and Strayhorn instead recast it as "Peanut Brittle," a swinging workout with the brass pushing the rhythm as Lew Soloff (trumpet), Bill Easley (clarinet) and George Cables (piano) take frisky solos leading up to Lew Tabackin blowing a mighty, darting tenor sax solo to close out the rollicking moment.
The straight Tchaikovsky, 'Waltz of the Flowers,' from The Nutcracker Suite, as performed by Harmonie Ensemble New York with Steven Richman conducting
The Ellington-Strayhorn take on 'Waltz of the Flowers,' titled 'Dance of the Floreadores,' as performed by Harmonie Ensemble New York with Steven Richman conducting
Working without a string section, Richman and the Ensemble make full use of the warmth and atmospheric possibilities of Tabackin's tenor sax to transform "Dance of the Sugar-Plum Fairy" into "Sugar Rum Cherry," a moody, noir-ish piece reeking of stale cigarette smoke, one for the road and another lonely night alone. Again the horns—tenor sax, muted trumpet and a rousing clarinet–fuel the two-minute "Entr'acte," a bopping recapitulation of the Nutcracker themes heard thus far that sets up the final quartet of dances originating in other lands, starting with the robust, driving "Volga Vouty (Russian Dance)," which sounds less Russkie and more Roseland in its brassy reimagining. On the other hand, "Chinoiserie," aka "Chinese Dance," dispenses with the cute frolic that is the original and, with Easley's sultry clarinet, Cables's tentative piano and Tabackin's suggestive tenor sax, becomes more of a mating dance with Asiatic overtones, and quite hilarious in the sensuous pas de deux it suggests. Even Irving Townsend, who produced the Ellington-Strayhorn Nutcracker Suite album, had no idea what "Floreadores" are, but they are standing in for Flowers in "Danse of the Floreadores," which may have been "Dance of the Flowers" in the original composition but is now some four minutes of plunger trumpet, trombone and clarinet weaving frisky multi-textured solo lines in between full ensemble bursts of brass that cease abruptly at the 4:10 mark to the soft, sustained cry of Scott Robinson's bamboo flute introducing the Moorish melody of "Arabesque Cookie (Arabian Dance), which unfolds with nearly four minutes of steady droning tones from the reeds and woodwinds, individually and collectively, alternating as if engaged in a dialogue sotto voce. When Tabackin enters howling on tenor sax, the mood changes from guarded to heated until the calming texture of a trumpet (probably Soloff's) quiets the storm as the track ends, concluding this most captivating journey. For some, one Nutcracker a year is likely quite enough but Steve Richman and the crack lineup he's assembled in the Harmonie Ensemble New York lend musical heft to Hall of Fame Chicago Cubs shortstop Ernie Banks's classic cry of "Let's play two!" They did, and they won both ends of the doubleheader.
For a look back at the making of Duke Ellington-Billy Strayhorn's The Nutcracker Suite in 1960, courtesy producer Irving Townsend, and a review of the finished work, click here.