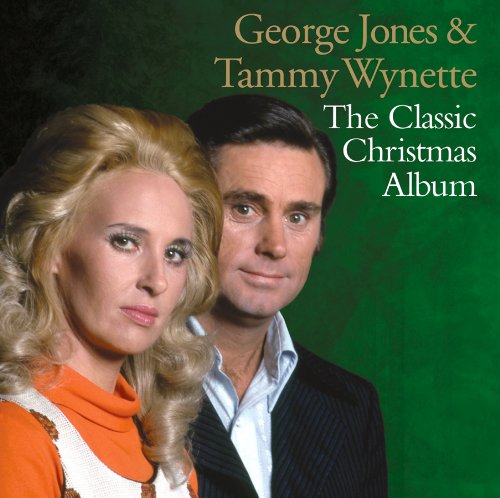 THE CLASSIC CHRISTMAS ALBUM
George Jones & Tammy Wynette
Legacy Recordings
Give compilation producer Gregg Geller credit for bringing a sense of humor to the task of compiling tracks for the George Jones & Tammy Wynette Classic Christmas Album entry. Working with the scant raw materials available to him (Tammy recorded but one holiday album; George & Tammy together but one Christmas duet; and George solo only a handful of Yule singles, most of which qualify as rarities), Geller casts George (more properly, George casts himself) as the Grinch forever despairing of the holidays bringing anything but misery, whereas Tammy plays his polar opposite, forever optimistic, upbeat and/or inspirational–she believes in Father Christmas.
With apologies to the immortal Bard, Shakespeare, April is the cruelest month only if you're not George Jones wounded by seasonal heartbreak in December. This ranges from the steel-drenched homesick blues of the conditional weeper "Maybe Next Christmas," a self-penned Jones rarity, produced by his mentor Harold "Pappy" Dailey and released on Mercury in 1957 in which the singer plumbs the depths of a lonely man who can't be with his family this Christmas and so has only to hope he'll be reunited with his loved ones next year. The other side of that 1957 single is a cheerier item, "A New Baby for Christmas," a bouncy country item with a music box piano and a bright lead vocal complete with that distinctive upward swoop at certain junctures. It all sounds so cheerful until you realize Jones, singing his own lyrics, is asking Santa for a new girlfriend because the one he thought he was treating so well "turned my white Christmas to blue." "Pappy" was also behind the board for Jone's 1962 Mercury single "Lonely Christmas Call," fashioning an arrangement with the basic band (keyed again by a weeping steel guitar and a bluesy, Floyd Cramer-like piano) augmented by a sumptuous background chorus. The wrenching story is encapsulated in the opening, Jones-penned lyric: "You left a year ago this Christmas/and we're wondering if you miss us/don't know why you ever left and went away/the kids are lonely here without you/even wrote ol' Santa about you/please don't leave them all alone this Christmas Day…" The dramatic reading—with Jones emphasizing and drawing out the word "away" into an anguished cry and his vocal otherwise so measured yet wounded—is an early example of the power he would summon time and again on the monumental work he did with producer Billy Sherrill starting in 1972. Here he lays a guilt trip on the absent mother ("Don't you miss their arms around you…") but never lashes out, simply lets the damning facts of the matter sink in. He even manages to make "Silver Bells" (during which "every street corner" becomes "elvry street corner," in classic Possum phrasing) less hopeful and more wary when he tackles the lyrics cautiously, as if disaster looms, and gets some support for his perspective when Gene Watson steps in to contribute a teary-eyed verse of his own.
George Jones & Tammy Wynette, 'Mr. & Mrs. Santa Claus' (Epic single, 1973, produced by Billy Sherrill)
'Maybe Next Christmas,' George Jones, a promotional single for the Stewart Sales Co., released in 1957. It was later released on Mercury, produced by Harold 'Pappy' Dailey. It's one of the rarest of George Jones' singles.
Tammy, on the other hand, brings mostly messages of good cheer, most from her 1970 Billy Sherrill-produced Christmas with Tammy album, which is about the sum total of her Yuletide catalogue. These are largely traditional favorites lovingly rendered, although she does deliver a credible ache—and a first-rate performance overall–on a lush, string-rich arrangement of "Blue Christmas." Elsewhere she delivers a tender treatment of "White Christmas"; a reverent reading of "It Came Upon a Midnight Clear," in an interesting setting that's part country church (thanks to the close-miked acoustic piano) and part country-pop (thanks to the evocative strings and silky background chorus); and stirring takes on "Away In a Manger" and "Silent Night, Holy Night." In the secular realm, she is endearingly jubilant on Chip Taylor's "One Happy Christmas," a bouncy country tune (a 1970 Epic single not included on Christmas with Tammy) about a couple reuniting during the holidays; at that, it counters the sentiments and mood of Jones's "Lonely Christmas Call"; the same reconciliation theme animates the tender ballad "(Merry Christmas) We Must Be Having One," as Tammy gives it a full measure of the trademark sincerity, with a detectable dash of vulnerability, common to her best work with Sherrill.
Tammy Wynette, '(Merry Christmas) We Must Be Having One' (Epic single, 1970, produced by Billy Sherrill).
George & Tammy, 'The Greatest Christmas Gift' (the other side of 'Mr. & Mrs. Santa Claus,' Epic single, 1973, produced by Billy Sherrill)
In case anyone didn't get the drift, this is not a George & Tammy duet album. But there are two G&T duets, the A and B sides, both co-written by Dallas Frazier, of a non-charting 1973 Epic single. The jolly "Mr. & Mrs. Santa Claus" opens this disc on a lighthearted note as the couple anticipates some quality time together after "the kids are all tucked in and fast asleep," and they're alone in "a cozy den with a big ol' fireplace burnin'…" You can take it from there. The other side of the single closes the album on a touching note. "The Greatest Christmas Gift," led by George's warm reading setting up Tammy's softer, reflective vocal, is a sentimental but affecting musical hug by parents thankful for the child ("a precious part of me," as George sings at the outset) they regard as "a blessing sent from Heaven." George and Tammy's daughter Tamala Georgette was only three years old at the time of this recording, and it doesn't take a genius to hear in the singers' voices their deep love for the child—it's one of their most personal duets, deeply felt and undeniably true. Let it be said the happy couple made the most of their only Yuletide duet, and apart from each other they each made worthwhile contributions to seasonal music. This disc really earns its Classic rubric.