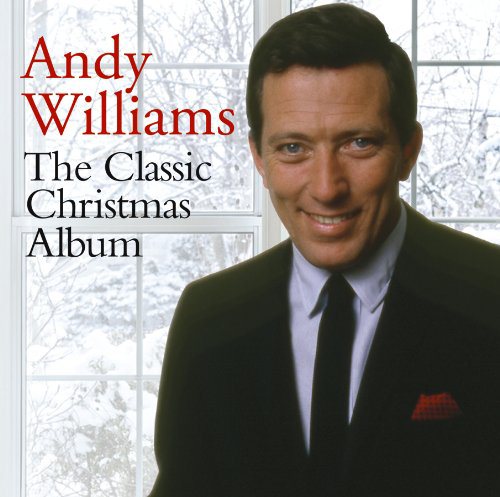 THE CLASSIC CHRISTMAS ALBUM
Andy Williams
Legacy Recordings
In keeping with the concept of Legacy Recordings' Classic Christmas Album series, the Andy Williams entry is comprised of selections from his previously issued holiday recordings. For most artists that would mean a couple, maybe three albums; Andy, however, made a second career of recording Yule fare, leaving behind a catalogue of no less than eight holiday long players. Crying "No mas!" this disc's assembled the tunestack herein from three of those albums and threw in a single-only release from 1968. The bulk of the 16 tracks is drawn from Williams's 1963 juggernaut titled The Andy Williams Christmas Album (certified gold, it was the first of the singer's Christmas entries and dominated the Christmas Albums and Singles charts Billboard inaugurated that year, topping the Albums chart for all five weeks of its initial run) and from 1965's Merry Christmas, which hit #1 the following year and again in 1969; four tracks are from his 1974 Christmas Present album, with the lone stray, if you will, being the 1968 single of Schubert's "Ave Marie," a stirring rendition with the singer backed by the St. Charles Borromeo Choir.
Given that most of the tracks fall in that period when Williams was not only hot on the charts but also hosting his own wildly popular TV variety show, he's in peak vocal form here. Despite critics deriding his bland tenor and conservative interpretive approach, the public voted in his favor, time and time again, in the ratings and at the cash register. On TV he came off as a regular, next-door-neighbor kind of guy, and that warmth came through on his records–he connected, and that counts for a lot. Moreoever, on more than a few occasions he proved he could deliver a lot more than surface emotion, as he proved on his smash hit versions of "Moon River," which many consider to be the definitive take on the Johnny Mercer-Henry Mancini classic, and the Carl Sigman-penned title song from the multiple-hanky box office bonanza Love Story.
Andy Williams, 'Let It Snow! Let It Snow! Let It Snow!' Produced, arranged and conducted by Robert Mersey for Andy's 1965 Merry Christmas album and featured on A Classic Christmas Album.
On Classic Christmas Album the song selection favors the contemporary numbers in his Yuletide catalogue. The most vibrant of these populate Merry Christmas, the '65 release produced, conducted and arranged by the gifted Robert Mersey. His string charts are lush and luxurious; the background choruses full and rich; and he had an affinity for adding proper seasonal flavor with playful woodwind punctuations. "Let It Snow! Let It Snow! Let It Snow!" is arguably the best example of the Mersey-Williams collaborations, as Andy responds to the cheery arrangement with a buoyant, carefree vocal that benefits from him seeming so spontaneous. The same could be said for "Winter Wonderland," on which he sounds as free as he ever did on record, which may have something to do with the Mersey arrangement featuring joyous pizzicato strings, frisky cornet commentary and a swinging, big band wall of sound chart. When things turns solemn, Williams and Mersey are no less effective: check out the beautiful, deliberate reading of "Silent Night" over an understated string arrangement by George Wyle and the support of a children's choir, which could easily have veered into cloying territory but instead functions as a sedate, respectful shadow of Williams's heraldry.
Andy Williams, 'Winter Wonderland,' from the Merry Christmas album (1965) produced, arranged and conducted by Robert Mersey
No slouch as a producer either, Dick Glasser made memorable contributions to Williams's 1965 Christmas Present, represented on this release by some powerful traditional carols, starting with the opening track, a lush, commanding take of "Joy to the World" that exemplifies one aspect of Glasser's approach in its powerful orchestral crescendos and full-bore background vocals. "O Little Town of Bethlehem," on the other hand, builds gradually on the strength of an evocative celeste and smooth wash of woodwinds backing a tender Williams vocal supplemented by sensitive background chorus hums and unison refrains. "What Child Is This?" has all the Glasser trademarks in its rousing orchestral parts and muscular background singing, but it opens and closes solemnly with a medieval-like oboe and acoustic guitar arrangement that is not altogether unlike what the Left Banke would introduce to rock 'n' roll two years later on its debut album, from which sprang "Walk Away Renee" and "Pretty Ballerina."
From The Best of The Andy Williams Christmas Show, 'It's the Most Wonderful Time of the Year.' Arranged by Johnny Mandel, produced and conducted by Robert Mersey, the original recording appeared on Andy's 1963 Christmas Album.
The big hit to come off Christmas Present was Williams's version of "Do You Hear What I Hear?" but it's oddly absent from this collection (a concession, perhaps, to Bing Crosby's original being the undisputed champion of all the many covers of this seasonal classic?); however, Andy's all-time biggest Christmas hit, and his everlasting contribution to the season, arrived on '63's Christmas Album and winds up the Classic Christmas festivities. Come a certain time in late November, when the season is fully upon us, you cannot walk into any place programming Yule fare and fail to hear "It's the Most Wonderful Time of the Year." Nor should you want to avoid it. Written in part by Edward Pola and the abovementioned George Wyle, its big brassy arrangement came courtesy none other than a Sinatra favorite, Johnny Mandel, with Robert Mersey producing and conducting and Williams delivering with a joyous, almost giddy vocal articulating all the reasons why the song title is right on, as a lively background chorus offers peppy support to his position. A perfect secular Christmas tune, its buoyant, upbeat message, brash horns and jubilant mixed gender chorus could not be better attuned to Andy's high spirited interpretation. Many have covered this song—from the inspired (Gonzo the Great and Rizzo the Rat in a duet on The Muppets: A Green and Red Christmas) to the totally inept (Scott Weiland, who made it the title tune of his disastrous holiday album, released in 2011)—but as surely as "White Christmas" always and ultimately belongs to Bing Crosby and "Blue Christmas" to Elvis, the definitive "It's the Most Wonderful Time of the Year" always and ultimately will belong to Andy Williams. In the sequencing here, it's a home run of a closing track—Andy hit it out of the park in '63, and it hasn't come down yet. Do you hear what I hear?