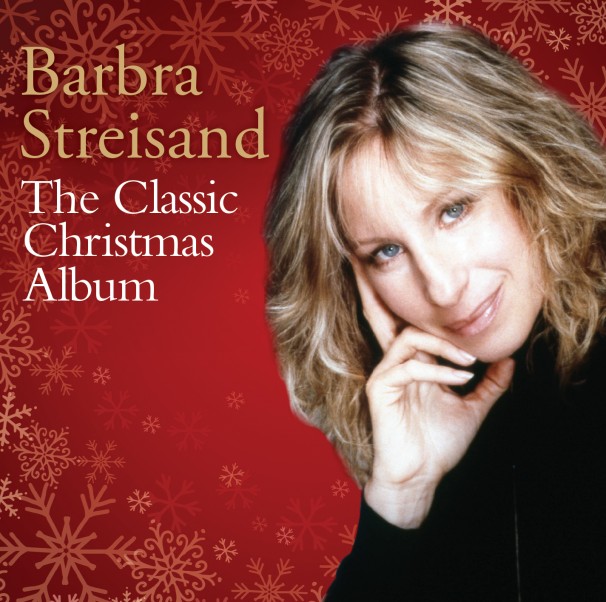 THE CLASSIC CHRISTMAS ALBUM
Barbra Streisand
Legacy Recordings
When it came time to compile a setlist for Barbra Streisand's Classic Christmas Album entry, producers Didier C. Deutsch, Jeffrey James and Tim Sturges probably couldn't believe they were getting paid for this task. Babs has but two Christmas albums in her catalog, separated by 34 years' time, but in their combined 23 tracks the discs offer a bounty that must have made the producer team giddy.
In 1967 her first Yule affair, titled simply A Christmas Album, pretty much proved that as a recording artist only the Beatles could rival her sales figures. Produced by Jack Gold, arranged and conducted by Sinatra favorite Marty Paich, A Christmas Album was not merely the best selling holiday album of '67, it was, and is, one of the best selling Christmas long players in history, certified platinum five times over–a real juggernaut. Come 2001 she returned to seasonal fare on Christmas Memories, produced by Streisand alone and in tandem with arranger-conductor William Ross (she used multiple arrangers on this project), and earned herself another platinum holiday album, a feat nothing short of amazing and indicative of this towering artist's staying power.
Barbra Streisand, 'Snowbound,' originally recorded by Sarah Vaughan, with a Don Costa arrangement, in 1962. Streisand's version, released on her 2001 Christmas Memories album, was arranged by Eddie Karam and conducted by William Ross, who also co-produced it with the singer.
Barbra Streisand, 'I Remember,' from Christmas Memories. The song was written by Stephen Sondheim for his 1966 made-for-TV chamber musical, Evening Primrose, and was not a Christmas song in its original form. Asked by Streisand to write an opening verse she could use on her Yuletide album, the great songwriter complied with a verse that adds a hopeful note as a prelude to the singer's wistful reflections to come. It's great Sondheim, that verse, and even greater Streisand in the masterful sensitivity she brings to the new lyrics.
Apart from a 1967 recording of Gounod's "Ave Maria" that remained unreleased until 2005, when it was licensed to Starbucks for inclusion on Christmas compilation CD, Baby, It's Cold Outside, Streisand's entire Christmas report is contained on the abovementioned albums, and from those releases the producers fashioned a compilation worthy of the source material's awe inspiring artistry, which time only enhanced. What this overview provides is an exmple of how the artist's interpretive gifts grew richer over time. On Christmas Memories, the then-59-year-old Streisand assayed songs of a more reflective nature. None better epitomize the album's mood than Stephen Sondheim's "I Remember," a poignant, emotionally wrenching ballad he wrote overnight for inclusion in his 1966 made-for-TV chamber musical, Evening Primrose. In the song the show's male lead, an artist in search of his lost muse, plumbs a failing memory for the tactile and sensory images remaining to him, which all happen to be scenes of the changing seasons–a life cycle, that is–until he concludes with a fervent plea for one more day to see "blue sky." In the show it's a touching moment, but has nothing to do with Christmas. Streisand, you see, loved the song and asked Sondheim to write a seasonally appropriate opening verse for her Christmas album. So he did, and it actually adds a hopeful note as a prelude to the character's wistful reflections to come: "I awake on a chilly Christmas morning, watch the choir singing carols on TV/I gaze out through my window at a dozen other windows/when I plug in my artificial tree/and like a dream I begin to remember/every Christmas I used to know/a thousand miles away, a million years ago…I remember sky…" It's great Sondheim, with that telling "artificial tree" sneaked into the narrative, and Streisand, with delicate strings behind her, brings masterful sensitivity to her textured reading, imbuing it with wary optimism–it's hard to imagine a more perfect setup for the poignant moment about to unfold. Yes, it's great Sondheim, but it's even greater Streisand.

From the five-times platinum A Christmas Album, Barbra Streisand, with orchestra arranged and conducted by Marty Paich, makes 'White Christmas' her own.
Another gem from Christmas Memories, a memorable treatment of Ann Hampton Callaway's 'Christmas Lullaby'
The other selections from Christmas Memories follow the "I Remember" template and are mostly from contemporary writers: a lush, beautiful "Christmas Love Song," written by Johnny Mandel and Streisand mainstays Alan & Marilyn Bergman, with a sumptuous Jorge Calandrelli arrangement backing the singer's buoyant, sensuous reading; a dreamy, irresistible treatment of Justin "Mr. Christmas" Wilde's and Doug Konecky's holiday tale of first love, "It Must Have Been the Mistletoe," which had been a hit for Barbara Mandrell in its original version in 1984; another delicately nuanced Calandrelli arrangement to match Streisand's soothing approach to Ann Hampton Callaway's affecting "Christmas Lullaby," not merely a mother's goodnight wishes to her child but also her hopes for a better world for her offspring; tingly, romantic balladry at its best on a lush "Snowbound," with an Eddie Karam string-rich arrangement paying homage to the opulent woodwinds-and-strings Don Costa arranged for the original 1962 recording of the song by one Sarah Vaughan and Streisand's blues-tinged vocal honoring the Divine One's measured approach; and another tender-hearted seasonal reflection from the Bergmans in collaboration with Don Costa, "Christmas Mem'ries," delicately handled by Streisand over Calandrelli's empathetic strings and piano rising and falling away as the narrative demands.
Barbra Streisand's singular sprint through the song she titled 'Jingle Bells?' on A Christmas Album
From A Christmas Album, Streisand does Rodgers & Hammerstein on 'My Favorite Things'
On her monumental A Christmas Album, Babs opted for familiar traditional fare and succeeded in making it all sound new and fresh. This would range from her hymn-like approach to "White Christmas," bolstered by Marty Paich's sensitive arrangement, which features a harpsichord at key emotional points and a subtly deployed choir; to another outstanding Paich arrangement (again with harpsichord adding an old-world atmospheric touch) supporting Streisand's multi-textured (now jubilant, now thoughtfully restrained) of "Have Yourself a Merry Little Christmas"; to her now-famous sprint through "Jingle Bells," titled "Jingle Bells?" and clocking in at a swift 1:54 with variegated time signatures, multiple orchestral textures and our gal's freewheeling vocal rife with jazzy dramatics (including a sly nod to Sinatra and Crosby in her "jing-jingle-bells" appropriation); and a deliberate reading of Rodgers & Hammerstein's "My Favorite Things" that brings out the best in Streisand's uncanny ability to invest a lyric with greater meaning by a simple twist in phrasing or even a casual, offhand chuckle. Add a couple of deeply invested interpretations of the beloved sacred carols "I Wonder As I Wander" and "O Little Town of Bethlehem," and you get a a collection of timeless performances adding up to an unforgettable emotional experience for the listener, and a five-times platinum album to boot. So there's that. And there is Streisand at her apex in recordings made almost three-and-a-half decades apart. Make no mistake–she's the classic here, and a classy one at that.