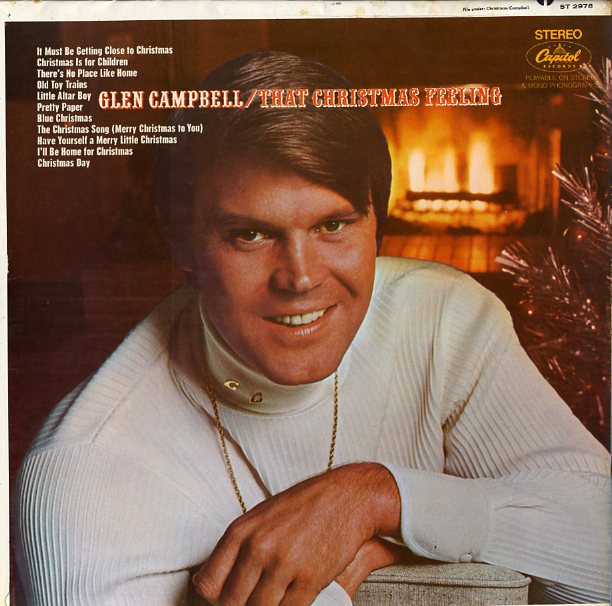 THAT CHRISTMAS FEELING
(reissued in 2013 as ICON CHRISTMAS)
Glen Campbell
Capitol Nashville
Finally, Capitol Nashville has heard the Internet howls of Glen Campbell fans and issued the artist's beloved, and highly sought after, That Christmas Feeling, on CD. The original vinyl album dates from 1968, when Glen was a hit making juggernaut, but it's been out of print for years and inexplicably never merited a compact disc iteration until now. The only CD previously available came from the Netherlands-based Disky label, and it featured different cover art than the original and could be had only at exorbitant prices. In assigning the album to its Icon series Capitol Nashville has added new cover art, as well as a new title, now simply Christmas (however, be ye not too dismayed, Glen fans—the original cover art, depicting the youthful, smiling, turtleneck shirt-clad Campbell in front of a roaring fireplace, decorates the back of the CD case). But the music's the thing, and nothing's changed about that (other than the sequencing of it, which is markedly different from the vinyl version's)—this is a meditative, reflective album, and Glen's nuanced vocals are remarkable as a sustained interior monologue. Further strengthening the effort, he went into the studio with producer-arranger-conductor-pianist Al De Lory, who was responsible for producing and arranging the music that put Glen Campbell on the cultural map–"Gentle On My Mind," "By the Time I Get to Phoenix," "Wichita Lineman" and the amazing "Galveston" hit singles along with the albums Glen cut between 1967 and 1970. Without exception, De Lory's arrangements here are marvels of subtle, empathetic support for some sophisticated crooning—soft strings flowing soothingly through and around the melodies, low humming or sweetly singing background choruses, an evocative acoustic piano here, a spare acoustic guitar there—and he makes nary a false move on any of the 13 tracks (two are bonus tracks added to the original vinyl version's 11, about which more later). In the end, artist and producer deliver nothing less than a torch Christmas album— a curious melancholy underpins even the cheeriest of moments, but the outcome always breaks in favor of hope. It's a beautiful record, a work of Yuletide art.
(De Lory came to Campbell's career with quite a resume. In 1960 he had a #1 single as a songwriter with Larry Verne's novelty hit "Mr. Custer." Based in L.A. in the '60s, he became part of the legendary Wrecking Crew and was a regular in Phil Spector's Wall of Sound productions. He accompanied the Beach Boys on their monumental Pet Sounds album and even had a hit on his own, as a bandleader, with a 1970 instrumental version of "Theme from M.A.S.H." His daughter Donna was for a time one of Madonna's regular touring backup vocalists.)
From Glen Campbell's That Christmas Feeling, Sammy Cahn-Jimmy Van Heusen's 'It Must Be Getting Close to Christmas'
Although well-known evergreens comprise the majority of the selections, Campbell and De Lory did reach out for some more contemporary material, and of course it came from top-tier writers. From the Sinatra-favored Sammy Cahn-Jimmy Van Heusen catalog Glen picked off an affecting ballad (previously recorded by Jo Stafford), "Christmas Is for Children," which De Lory frames in a lilting string arrangement as Glen casually delivers the songwriters' learned opinion that the day in question makes children of us all ("…that electric train that no one could tempt poppa with/will someone explain/why it's all that poppa will bother with/I guess Christmas is for children, but aren't we all children Christmas Day?"); and a clever take on the inevitable signs of folks preparing for a special season's arrival, "It Must Be Getting Close to Christmas," leading to the inevitable, poetically stated conclusion, "This paradise is very close to sublime/and very close to Christmastime." Working with songwriter Gary Bruce, Cahn rewrote the sentimental 19th century song "Home! Sweet Home!" with a touching Christmas- and family-centric lyric that Glen delivers with a hint of a cry in his voice in "There's No Place Like Home." Featuring a prominent acoustic guitar and restrained strings, Roger Miller's "Old Toy Trains" is given a memorable revival in Nick Lowe's new Christmas album, Quality Street, but Glen got to it in 1968 with a vocal, buttressed by an acoustic guitar and quiet strings, understated in such a way as to make the song feel like a hymn. From the desk of Willie Nelson comes the classic Yule weeper "Pretty Paper," on which Glen ably navigates the emotional minefield he sees in the season's cheery outer trappings in contrast to the despair he carries like Marley's chains in lamenting a lost love.
From That Christmas Feeling, Glen Campbell's version of the Roger Miller-penned 'Old Toy Trains'
Among the contemporary standards, the album opens with a heart tugging take on "Blue Christmas," with Glen proceeding at a cautious, deliberate pace, the better to emphasize how deep the "Blue" really is in his heart. Also on board: a mellow "Have Yourself a Merry Little Christmas" sporting a lovely string arrangement, a nice vocal blend between Glen and the singers come the chorus, and a thoughtful lead vocal that brooks no hint of irony in the title sentiment; a dreamy, on-the-money run at "The Christmas Song (Chestnuts Roasting On An Open Fire"); and a cozy, comforting "I'll Be Home for Christmas" with a pop-style chorus backing Glen's beautifully textured reading. Howlett P. Smith's "Little Altar Boy" might qualify in some quarters as a contemporary standard, seeing as how the Carpenters made it one of the key tracks on their 1984 Christmas album, but it's positioning as a Christmas song is at the very least a bit weird. In it the singer appeals to an altar boy to help him learn to pray so he can ask forgiveness for his many sins. The Campbell-De Lory interpretation heightens the drama of the appeal for help, both in the intensity of Glen's vocal plea and the surging strings in De Lory's arrangement. What is actually has to do with Christmas is the unanswered question. Vic Dana cut the first version of the song in 1961, and a year later it made an inexplicable appearance in the forgettable Chubby Checker jukebox musical Don't Knock the Twist in what the song's Wikipedia entry describes as "an introspective moment." The thought of an introspective moment in a Chubby Checker movie is hard to wrap one's head around, as the saying goes.
'Christmas is For Children,' Glen Campbell, from That Christmas Feeling. Another Cahn-Van Huesen gem done to a T in Glen's hands.
This CD reissue adds two bonus tracks to the original album's 11 tunes: "The Night Before Christmas," an engaging enough reading by Glen with atmospheric effects provided by a fluttering, flittering flute line and sleigh bells deployed in a timely manner; and a lush, orchestrated "Silent Night" with a powerful, reverent Glen vocal leading the way—a couple of nice touches, originally recorded for and released on a 1969 various artists compilation titled (B.F. Goodrich Presents) The Christmas Sound of Music, to add even more luster to this most heartfelt, soulful addition to the Christmas album canon. Thus a classic restored.