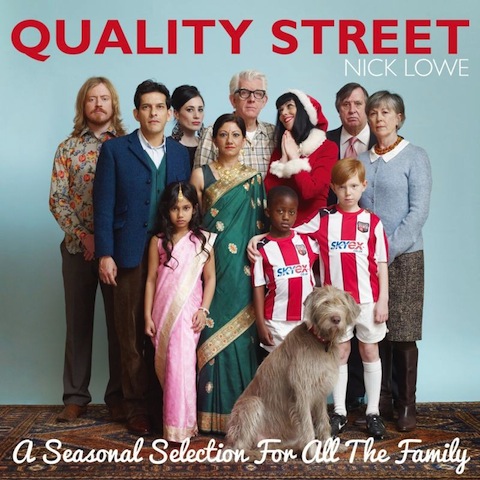 QUALITY STREET
A Seasonal Selection For All The Family
Nick Lowe
Yep Roc
Nick Lowe might not immediately spring to mind as an artist you'd expect to find releasing a Christmas album—he can, after all, come off as curmudgeonly and unsentimental, much closer in spirit to Ebenezer Scrooge than to Bob Cratchit. But when his new label home, Yep Roc, suggested a holiday project, he took it under advisement and shortly thereafter bought in.
"Over the course of the afternoon of that day I started examining my feelings and said, well, wait a minute," he told Huffington Post's David Bauder. "This could be a great opportunity to do something that, if not standing a chance of being really good, it might at least be able to work on more than one level. So I changed my mind."
A sampler of Nick Lowe's Quality Street: A Seasonal Selection For All The Family
The result, Quality Street, fulfills his vision, and comes complete with a subtitle that might strike some fans as being quintessentially snarky in a Nick Lowe kind of way but is in fact completely sincere. He sends that message without delay, on a driving rockabilly treatment of the gospel chestnut "Children Go Where I Send Thee," a rousing workout that pulsates with the intensity of the best of his old band Rockpile's recorded moments and features a deeply committed, intensely rhythmic Lowe vocal. From there he moves on to some familiar seasonal turf, adds a few new original tunes to the program, covers some lesser known contemporary tunes and generally succeeds at making it all work "on more than one level.
Nick Lowe, 'Children Go Where I Send Thee,' the opening cut from Quality Street: A Seasonal Selection For All The Family
Consider his new song "Christmas at the Airport." Dryly chronicling the travails of a traveler stranded in a terminal on Christmas day when weather grounds his flight, the song has all the ingredients of a tearful blues, but in Lowe's hands it's framed in an upbeat Nashville Sound-style arrangement with a twangy guitar, silky background singers and Lowe himself sounding for all the world like that most bemused of country singers, Tom T. Hall. In fact, the lyrics are decidedly in a Tom T. slice-of-life mold, which in this case amounts to the singer trying to find the humor in his unfortunate plight. "Hooves On the Roof," on the other hand, concerning the developments on Christmas night, is delivered by Lowe in a soft, conspiratorial croon over a playful, jazzy organ, with the occasional electronic blip punctuating the cool, mellow shuffle groove. Another stylish original, "Just To Be With You (This Christmas)," is not rife with Lowe irony, as fans might suspect based on their experience with the artist, but is a warm, affectionate love song with a bright Bacharach-like melody and a seductive samba lilt as if it had emerged fully formed from a mid-'60s time warp. Arguably his best original here, the folkish "I Was Born in Bethlehem," is understated in arrangement with the dominant instruments being only a softly strummed acoustic guitar and a low humming organ. The narrative finds a somber, even weary sounding Lowe in the role of Jesus (well, is he not the "Jesus of Cool"?), reflecting in a wry way on His life's journey—about his birth night he remembers his mother summoning the wise men to her side but adds, "I was there but couldn't see the unfolding mystery"–and how he tried to, shall we say, give something back, to wit: "I was born in Bethlehem/it's been 2000 years since then/but I've done what I can/to be there where a man can find a friend." The song has a John Prine feel about it—it's at least a kissing cousin to "The Missing Years," which also has Jesus speaking, in this instance about the time of his life the Bible does not account for—and is ripe for becoming a holiday staple for roots artists. (Question: Is your faithful friend and narrator alone in hearing in this song Lowe nick a bit of Harold Arlen's "If I Only Had a Brain" melody?)
Nick Lowe's 'Christmas At The Airport,' from Quality Street: A Seasonal Selection For All The Family
Of the more familiar fare, his treatment of "Silent Night" is most surprising, given its jaunty Tex-Mex treatment, complete with cheery horns, but it's not a joke—Lowe sings with a middling swagger but doesn't mask his respect for simple, direct lyrics Joseph Mohr penned in 1818. As he told the Huffington Post, "It's a great song. It hasn't stuck around for all these years for nothing." Nor has it been heard in quite this way, either. From the Roger Miller songbook he unearths a gem from 1967 in "Old Toy Trains," a touching Christmas lullabye in which a father gently puts his son to bed on Christmas Eve with the promise of him soon hearing jingle bells in the sky. Lowe honors Miller's exquisite version with a reading every bit as tender, with an especially lovely approach to the beautiful chorus that might well bring a tear some listeners' eyes. And then there's Boudleaux Bryant's folksy rumination on the telltale signs of the season ("good will is in the air/you can feel it everywhere"), "Christmas Can't Be Far Away," served up in a classy blues-tinged pop arrangement with a soft organ, spare hollow-body electric guitar embellishments along the way, and a mellow female chorus sighing behind Lowe's sensitive crooning.
Nick Lowe, 'I Was Born in Bethlehem,' from Quality Street: A Seasonal Selection For All The Family
Asked by Huffington Post what he was aiming for in doing this album, Lowe answers: "I suppose what I was seeking was for somebody to say that it's the kind of record you could play outside of Christmas, just something that doesn't sound like some bad cash-in."
Dear readers: Quality Street is the kind of record you could play outside of Christmas. Its sentiments aren't bound by the season it celebrates, and ought to be honored—nay, put into practice–all year 'round. It is not some bad cash-in but an honest effort, thoughtfully conceived, artfully executed and worthy of a place in anyone's collection. Nick Lowe, it must be said, knows how to keep Christmas well, if any man alive possesses the knowledge.