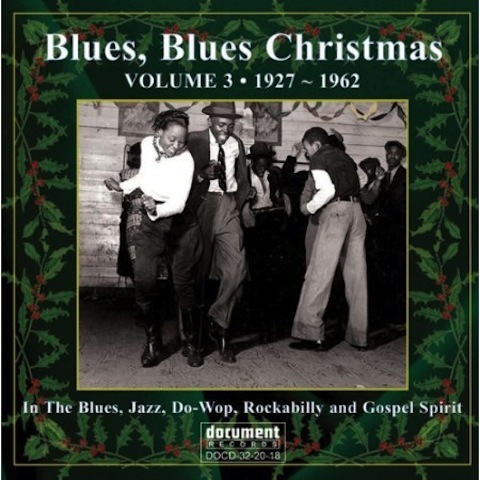 DEATH MIGHT BE YOUR SANTA CLAUS
Various Artists
Legacy Recordings (2012)
BLUES, BLUES CHRISTMAS
VOLUME 1 1925-1955
Various Artists
Document Records (2005)
BLUES, BLUES CHRISTMAS
VOLUME 2 1926-1958
Various Artists
Document Records (2008)
BLUES, BLUES CHRISTMAS
VOLUME 3 1927-1962
Various Artists
Document Records (2013)
Hold it! Hold it, man! Don't play me no 'Jingle Bells'! The way I feel this Christmas, the only kind of bells I want to have anything to do with is some of them mission bells. Man, play me some blues!
This opening diatribe by Harmon Ray (aka Joe McCoy) precedes his low-down holiday blues, the rare "X-mas Blues," the forlorn vocal-and-piano lament of man spending Christmas without his woman. (The piano on this cut is credited to Eddie Boyd, but the consensus among blues scholars is that the deep blues keyboard work is that of Peetie Wheatstraw; in fact, "X-mas Blues" is included on a 24-track CD packaged with Paul Garon's biography of Wheatstraw, The Devil's Son-in-Law: The Story of Peetie Wheatstraw & His Songs (Charles H. Kerr Pub. Co., June 1, 2003)
Rev. J.M. Gates, 'Death Might Be Your Santa Claus'
Bessie Smith's groundbreaking Yuletide blues recording, 'At the Christmas Ball,' from Death Might Be Your Santa Claus
Thus is the tone set for Death Might Be Your Santa Claus, Legacy's 18-track collection of Christmas tunes and Yuletide sermons that are about as far from being merry and bright as you could imagine. In these tunes, people don't imbibe Christmas cheer, they drink either to forget to simply get through the season in one piece (check out Bessie Smith's groundbreaking Yuletide blues recording, "At the Christmas Ball," a 1925 session with Fletcher Henderson on piano and Freddie Green delivering a terrific, moaning trumpet solo that mirrors Bessie's tipsy mood); the great Rev. J.M, Gates rails against materialism and counsels getting right with God lest "The Coffin Be Your Santa Claus"; and for women alone, Christmas morning means getting a letter from a male paramour in stir and in so deep "even a white man can't get him freed," as Victoria Spivey wails in "Christmas Morning Blues," accompanied by Porter Granger on piano and Lonnie Johnson on guitar; a bonus track of the same song features a less tortured reading by Kansas City Kitty but does offer the treat of Georgia Tom Dorsey's rather hilarious piano support in which he seems to mock the singer's feelings at times—this was before Tom had his eureka moment and became the father of modern gospel music, Thomas A. Dorsey).
Lil McLintock, 'Don't Think I'm Santa Claus,' featured on Death Might Be Your Santa Claus and Blues, Blues Christmas Volume 3
It's not only the very thought of Christmas that gets roughed up on these tracks (which are largely from the '20s and '30s); Santa Claus takes a beating, to the point where it starts to feel like piling on. Lil McClintock, accompanying his vocal on guitar, in an otherwise touching, and poetic, love song, advises his gal "Don't Think I'm Santa Claus" ("you need not think I'm a human being/it's nothing but a fraud/'cause I bring you presents once in a while/don't think I'm Santa Claus…"); the Rev. J.M. Gates, who has already preached on the topic "Will the Coffin Be Your Santa Claus?", returns with another sermonette, "Death Might Be Your Santa Claus" in which he warns his flock of the dangers posed by giving presents such as guns and playing cards, because, ultimately, "death going to bring you down, and death may be your Santa Claus." He keeps the theme going in "Hell Will Be Your Santa Claus," in which he advises adventurous souls to "check up on your soul" lest "hell be your Santa Claus." (Gates, who dominates this disc with excerpts from of his four sermons, is a monumental figure whose influence extended beyond the pulpit to succeeding generations of blues and jazz musicians who picked up on his rhythms and phrasings and made music—powerful music in some cases—out of them; in contrast to Washington Phillips, a contemporary who also recorded many sermons and was given to vivid imagery and florid language, bordering on hallucinogenic at times, Gates is fierce, direct and guided by scripture as its own witness; it's not a precise analogy, but Phillips points to Sam Cooke and the changes he wrought in gospel music before moving to the pop world, whereas Gates's muscular, heated rhetoric and throaty exhortations set the stage for similarly styled gospel singers such as Julius Cheeks of the Sensational Nightingales and the Rev. James Cleveland.) In "Papa Ain't No Santa Claus," the comedy duo of Butterbeans and Susie (Jodie Edwards and Susie Edwards) get into it over Susie's acquisitive ways ("I do business strictly COD"), which happen to be bankrupting Butterbeans—"Papa ain't no Santa Claus!" he croons at her, to which she replies with a tart, "And your mama sure ain't no Christmas tree, no sir!" In what must be one of the earliest recorded double-entendre references to Santa Claus coming down the chimney, in "Santa Claus," the Mississippi Shieks' Armenter "Bo Carter" Chatmon practically begs for his woman to bestow a certain type of gift on his lustful self in a 1938 recording that had to have made an impact on Clarence Carter before he wrote and recorded his own risqué holiday classic, "Back Door Santa," thirty years later, in 1968.
If you just want to go in far enough to say you've been there, Death Might Be Your Santa Claus is the winning ticket, albeit one with a narrow focus. For a more thorough immersion in seasonal fare of varying stripes—reverent, cynical, despairing, jubilant, uplifting and naughty-but-nice—from across the roots spectrum (many of them scintillating rarities that otherwise might have been lost to history), Document's three Blues, Blues Christmas releases simply can't be beat. These are as essential as Christmas music gets. Volumes 1 and 2 were released in 2005 and 2008, respectively, and lo and behold the U.K.-based label has presented us with a third entry in the series this year, and it is simply spectacular.
From Blues, Blues Christmas Volume 1, Black Ace (B.K. Turner) with 'Christmas Time Blues (Beggin' Santa Claus),' recorded Feb. 15, 1937 in Dallas, TX, released as a Decca 78 RPM disc

The Cats and The Fiddle, 'Hep Cats Holiday.' The Chicago-based vocal group, inspired by the Mills Brothers, recorded this for the Bluebird label on July 31, 1940. The single, released in September 1940, is featured on Blues, Blues Christmas Volume 1.
The first Blues, Blues Christmas volume, released in 2005 and covering the years 1925 to 1955, features several of the songs included on Death Might Be Your Santa Claus, but at 52 tracks it tempers the more cynical, suggestive and/or angry missives with traditional, sweeter-natured fare such female impersonator Frankie "Half Pint" Jaxon's "Christ Was Born on Christmas Day"; the jubilant "When Jesus Was Born" by the Selah Jubilee Singers moonlighting as the Sons of Heaven; a rollicking, swinging big band workout by Big Joe Turner and Pete Johnson on "Christmas Date Boogie"; Lightnin' Hopkins' wonderful rockabilly-influenced "Happy New Year"; and Lonnie Johnson's "Happy New Year Darling," a soldier's song of gratitude for his gal's sustaining love while he was off serving the country. In addition to a couple of Rev. Gates' sermons here, this set also includes instructive ones by Rev. A.W. Nix ("How Will You Spend Christmas") and Rev. Edward Clayborn, who holds forth on the topic "The Wrong Way to Celebrate Christmas."

The Orioles, 'Oh Holy Night,' as featured on Blues, Blues Christmas Volume 2
The second volume, Blues, Blues Christmas 1926-1958 (released in 2008), is comprised of comparatively lighter hearted Christmas fare from a great lineup of artists including Fats Waller ("Swingin' Them Jingle Bells"), Lowell Fulsom ("Good Party Shuffle [Christmas Party Shuffle]"), the Orioles, with a beautiful group harmony versions of "Oh Holy Night" and "What Are You Doing New Year's Eve," Chuck Berry's classic "Run Rudolph Run," Johnny Moore's Three Blazers with the original version of "Merry Christmas Baby," Sister Rosetta Tharpe's rocking "When They Ring the Golden Bell," Blind Lemon Jefferson's wrenching "Christmas Eve Blues"—a few rare items along with others that have been heavily anthologized through the years.
From Blues, Blues Christmas Volume 2, The Pilgrim Travelers with 'I'll Be Home for Christmas,' released on Specialty, 1952
A double-disc set like its brethren, Volume 3 is the high water mark of this series. As with the earlier volumes, the liner booklet contains brief but telling biographical sketches of the artist represented on the 40 tracks in the double-disc set, but the marked difference here is the breadth of artists appearing, many of whose Christmas recordings were so obscure as to be unknown even to collectors and certainly in danger of never again seeing the light of day (many never saw much of the light of day even when new). The right Rev. J.M. Gates is here providing continuity with the other volumes via an unsettling three-minute sermon on the topic "Gettin' Ready for Christmas," in which he urges his very vocal flock to get their souls right with God as Christmas approaches because other forces—the police, the undertaker, to name two—are gettin' ready for them. Recorded at the Kimball Hotel in Atlanta on October 2, 1941, the Rev.'s sermon arises from a segregated land that viewed him and others of his race with suspicion, at the very least, and as uninvited strangers, hence his warnings to the assembled to proceed with caution (he advised having ice picks and guns at hand) as the holidays loom, a truly sad state of affairs.
Ella Fitzgerald, 'The Secret of Christmas,' arranged and conducted by Russell Garcia. This 1959 recording is included on Blues, Blues Christmas Volume 3.
Otherwise, things aren't quite as bleak as the Rev. Gates's pulpit warnings. Among the more familiar highlights here: Lead Belly's bouncy "Christmas is Coming"; Ella Fitzgerald and Louis Jordan's gently swinging 1949 rendition of Frank Loesser's seasonal classic, "Baby, It's Cold Outside," the template for the towering 1961 version by Ray Charles and Betty Carter; Ella again, ten years later, with the tender holiday love song, "The Secret of Christmas," a truly beautiful, heart tugging moment heightened by arranger/conductor Russell Garcia's sweetly crying strings; the influential Ravens, with the dynamite due of tenor Maithe Marshall (who sounds positively otherworldly singing "sleep in heavenly peace") and bass singer Jimmy Ricks, who takes a profoundly moving second verse home, on a stunning group harmony treatment of "Silent Night," truly a "Silent Night" for the ages. B.B. King is here with his 1960 Kent single of his indispensable pianist Lloyd Glenn's rousing "Christmas Celebration," which in this big, brassy production finds B.B. swinging his vocal and seeming to be wishing his woman a happy holiday, but there's no denying the cynical edge in his delivery lending an ironic tone to his season's greetings. In 2001, when he revisited the song on his wonderful A Christmas Celebration of Hope album, the older,  more seasoned B.B. sang with engaging, undeniable sincerity to a woman with whom he shared a cherished history in one of many instances of this great artist following Frank Sinatra's lead in communing with songs he had recorded earlier in his career and giving them a treatment richer in feeling and subtext than he could muster in his first run at them.
Duke Ellington's singular take on Tchaikovsky, 'Sugar Rum Cherry (Dance of the Sugar Plum Fairy),' with Johnny Hodges contributing a smoldering alto sax solo. From Duke's 1960 album The Nutcracker Suite, and featured on Blues, Blues Christmas Volume 3.
Other familiar names are present and accounted for on Volume 3, but with recordings that, in some cases, weren't even holiday hits in their day and never rose to the seasonal evergreens plateau. Nevertheless, Document has anthologized some doozies here: Duke Ellington, with a truly cool and sensuous take on Tchaikovsky via "Sugar Rum Cherry (Dance of the Sugar Plum Fairy)," prominently featuring a smoldering alto sax solo by the great Johnny Hodges; Lightnin' Hopkins, with a dark, lowdown guitar-and-drums rendering of "Santa Claus"—he sings "darlin', I'm gonna bring you presents and do little things that you may want me to," certainly a scintillating variation the Future Real Conditional tense structure—with Delmar Donnell on ramshackle drums in a single released on the Fire label in 1960; the Five Keys, led by the magnificent plaintive lead tenor of Rudy West (with his brother Bernie singing bass), with a touching holiday love song, "It's Christmas Time," dreamy, sentimental and exquisitely beautiful in all its group harmony glory, released as an Aladdin single in 1951; Billy Ward & the Dominoes, having already launched Clyde McPhatter's career, arrived swinging on a King single from 1953, "Ringing in a Brand New Year," with a new lead tenor destined for solo stardom, one Jackie Wilson; the Penguins, riding the smooth lead tenor of Cleve Duncan, bopping their way through the frantic 1955 Mercury single, "Jingle Jangle," with sleigh bells ringing throughout and an unidentified alto sax master goosing the track along with a sputtering solo; the Dexter Gordon Quintet, with a frisky romp through "Jingle Jangle Jump"—a title that pretty much describes the goings-on—led by the salty, hearty lead vocal of the irrepressible 250-pound dynamo Gladys Bentley, otherwise known for dressing in a man's tuxedo and unabashedly hitting on female members of her audience.
The Penguins, 'Jingle Jangle' (1955), from Blues, Blues Christmas Volume 3
This is all wonderful—and I haven't even mentioned the outstanding cuts from Freddy King ("Christmas Tears"), Victoria Spivey (the tantalizingly suggestive—and rare female foray into this naughty territory–"Ain't Gonna Let You See My Santa Claus," from 1936); Jimmy McCracklin (belting his smoldering two-part small combo blues, "Christmas Time"), et al.—but Volume 3 sets itself apart from its predecessors by embracing obscure country contributions to the Christmas song oeuvre. From 1954 comes a slick, lively duet on "The Christmas Boogie" by the ill-fated, unrelated Davis Sisters (Betty Jack and Skeeter) coming off a big #1 single the previous year in "I Forgot More Than You'll Ever Know." The rockin' guitar solo is courtesy one Chet Atkins, who would go on to steer Skeeter's successful solo career in the '60s after a car wreck in late '53 claimed the life of Betty Jack. Groovey Joe Poovey was only 14 when he applied his backwoods vocal charm to the cute ditty "Santa's Helper," with the help of his very able Big D Boys band, which included ace steel player Don Messick and John Hicks adding atmospherics with tuned whiskey glasses. Emerging in the dawn of modern country music, energetic Fiddlin' John Carson & His Virginia Reelers were a prolific outfit with little truck for the slow and deliberate, as evidenced here by the rambunctious workout on "Christmas Time Will Soon Be Over," played with all the urgency the title suggests by a lineup boasting the twin fiddles of Carson and Earl Johnson plus his daughter Rosa Lee Carson (aka "Moonshine Kate") and T.M. Brewer on banjo and/or guitar. Western swing gets into the picture with the delightful "Christmas Choo Choo Train" by Coy McDaniel & Shorty Warren with the Western Rangers, with its interesting and unexpected instrumental touch provided by Dick Richards' accordion backing the Gene Autry-ish lead vocals on a playful track cut in New York City—where Autry made his early recordings, with some of the town's top jazz players—in 1952. The operatic tenor Vernon Dalhart wrote his name large in country music history with "The Wreck of the Old 97" in 1924 and was essentially responsible for the Victor Company dispatching Ralph Peer to Bristol, VA, three years later to tap the southern market for talent. Those "Bristol Sessions," as they are now known, uncovered the likes of the Carter Family, Jimmie Rodgers and the Stoneman family and changed the course of country music history. Dalhart's utterly charming 1928 recording of "Santa Claus That's Me!" with the bright fiddling of Adelyne Hood has all the necessary plot points about Santa's job to have become a Walt Disney Christmas cartoon a la 1932's indelible "Santa's Workshop." Walt clearly missed a golden opportunity in not directing his gifted animators to adapt Dalhart's Harmony single for the silver screen.
The Davis Sisters—Betty Jack and Skeeter—with 'Christmas Boogie' (1954) with Chet Atkins on guitar. From Blues, Blues Christmas Volume 3.
http://www.youtube.com/watch?v=haqFF06QBng
Coy McDaniel & Shorty Warren and the Western Rangers, 'Christmas Choo Choo Train (1952), from Blues, Blues Christmas Volume 3
If this set does nothing else, however, it gets major points for including two exceedingly rare—as in almost impossible to find now—tracks from the indomitable "Guitar Granny," Memphis's Cordell Jackson, who formed her own Moon Records label and started distributing her own music in 1956 after she couldn't break into Sam Phillips's male-dominated Sun roster. Jackson never had a big hit but musicians and rockabilly fans well knew of her exploits and had great respect for her artistry and business savvy both. Her career got its biggest boost in the '80s and '90s when Tav Falco's Panther Burns and Alex Chilton cut some of her Moon singles, which in turn ignited her solo career and brought her to New York, Chicago and New Jersey venues, onto the David Letterman show and, most notably, into a Bud Light commercial where she showed up to give Brian Setzer a dazzling lesson in rockabilly guitar. She's represented her in her prime with a hot workout on her "Rock and Roll Christmas," one side of a 1956 Moon single featuring her blazing Carl Perkins-style guitar, sassy vocal and clever lyrics comprised almost entirely of song titles of popular rock 'n' roll hits of the day—"Heartbreak Hotel, Rock 'n' Roll Ruby, I Want You, I Need You, I Love You, Be-Bop-a-Lula, Honky Tonk!" goes the first verse—all ending with "I want a rock 'n' roll Christmas!" before she cuts out on a hot six-string solo. The single's other side, "Be-Boppers Christmas," imagines a swinging Christmas Eve scene with "bobby sox hung by the chimney with care" and an appearance by "a real gone Santa" who "came bopping in like he slipped on a banana." Oddly, this cut features no Cordell guitar but it does have her sassy vocal and a solid clicking-clacking rockabilly bass on its bottom, but on the whole it's not the dazzling display we get on "Rock and Roll Christmas." But any Cordell is good Cordell, and hats off to Document for including her.
'Guitar Granny' Cordell Jackson, 'Rock and Roll Christmas,' Moon Records (1956). From Blues, Blues Christmas Volume 3.
Cordell Jackson, 'Beboppers Christmas,' the flip side of 'Rock and Roll Christmas' (1956), also featured on Blues, Blues Christmas Volume 3.
There's so much more here as to be breathtaking—soul stirring gospel (Rev. Rice's Sanctified Singers, the Fairfield Four, the Famous Jubilee Singers, Spartanburg Famous Four, Magnolia Five); more hot blues (Ozzie Ware with Duke Ellington's Hot Five, Thelma Cooper, Bumble Bee Slim, Amos Milburn, Freddie King); group harmony and '50s pop-influenced R&B (The Larks, Dee Dee Ford, The Youngsters [whose "Christmas in Jail," an anti-drunk driving paen, is a must-hear]; red-hot jump blues in the Louis Jordan mold via Oscar McLolli & His Honey Jumpers with 1954's "Dig That Santa Claus"—all admirably sequenced with sparkling audio remastering by Nighthawk Sound. While we're at it let's give a tip of that to one Razor Jim, too, for the graphic design. In the world of Yuletide anthologies, all three volumes of Documents Blues, Blues Christmas series rank as essential, but the good folks there have topped their previous efforts with Volume 3. In this field, it's an unqualified masterpiece.