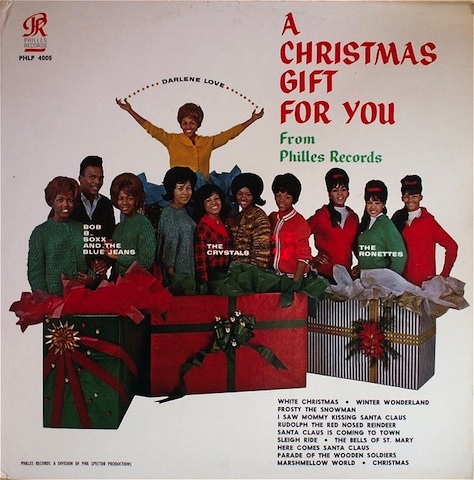 Even after a full half-century, few holiday albums carry the mythic weight of 1963's A Christmas Gift For You From Philles Records, wherein Phil Spector sought to put his personal stamp on Christmas music by "treating" a batch of well-worn Yuletide classics to his signature "Wall of Sound" production style–an approach that in just two short years had helped the young record company owner/operator rise to the top of the pop music mountain as he became  (in the famous words of Tom Wolfe) America's "First Tycoon of Teen."
Nineteen-sixty-three had been a spectacular year for 22-year-old Spector and his small roster of artists–the Crystals, the Ronettes, Darlene Love, and "combo" group Bob B. Soxx and the Blue Jeans. Spector liked to boast that his marketplace acumen was so sharp that he wouldn't release any record unless and until he was positive it was a hit; astonishingly, he actually had the numbers to back it up. Between January and September, each and every one of the 10 singles released by Philles had made the Billboard Top 100 charts, with eight making the Top 40, six the Top 30, and three (the Crystals' "Da Doo Run Run" and "Then He Kissed Me" and the Ronettes' debut "By My Baby") reaching the Top 10.
The Crystals, 'Parade of the Wooden Soldiers,' from A Christmas Gift for You from Philles Records
Suffice it to say, then, that expectations were understandably high when Spector decided to cap off the year with an album of familiar Christmas favorites done in Spectorian fashion that would make them of a piece with his most recent body of work for his own Philles label (a partnership with music publisher Lester Sill). He proceeded by locking down L.A.'s Gold Star Studios for six weeks and making hostages of his four groups of artists, his great engineer Larry Levine, his gifted arranger Jack Nitzsche, his "Wrecking Crew" army of regular session players (including drummer Hal Blaine, guitarist Tommy Tedesco, keyboardist Leon Russell and percussionist [yes] Sonny Bono) as well as various other participants including then-17-year-old Cherily LaPiere–an aspiring singer who, a year later, would marry Bono, launch an unsuccessful solo career as simply "Cherilyn," then shorten her name to Cher and emerge as a successful duo with her husband. All this to record the likes of "Rudolph the Red-Nosed Reindeer," "Frosty the Snowman," "Santa Claus is Coming to Town," "Marshmallow World" and "White Christmas."
On these songs, as well as on virtually all the others on the collection, Spector's auteur-like approach made it sound like he wanted not so much to celebrate Christmas music as to celebrate himself, with his extreme makeovers of the songs sporting all sorts of musical nods to his own hits: the Ronettes' "Frosty the Snowman" referenced the "bum bum-bum" drum hook of "Be My Baby;" the Crystals' "Rudolph" quoted from the arrangement to "Then He Kissed Me;" etc.
The Ronettes, 'Sleigh Ride,' from A Christmas Gift for You from Philles Records
From track to track, there are what seem to multiple sets of sleigh bells, castanets and glockenspiels all merrily ringing, knocking or clanging away over, under and around the thick swirl of strings, horns, keyboards, guitars, bass and drums. And there's much to admire: "The Bells of St. Mary's," sung by Bob B. Soxxer Bobby Sheen, rises to a gloriously melodramatic fever pitch; the Ronettes' "Sleigh Ride," complete with the sounds of horse hooves, neighs and a horn arrangement swiped from Martha and the Vandellas' "Heat Wave," is a flat-out hoot; and the lone original, "Christmas (Baby Please Come Home)," co-authored by Spector with the hit Brill Building duo Jeff Barry and Ellie Greenwich, gives Darlene Love a much-deserved place in the spotlight. And then there's the production's piece-de-resistance: La La Brooks and the Crystals' over-the-top version of "Santa Claus Is Coming To Town," in which a careful listener can hear what will a decade later be the foundation for Bruce Springsteen and his E Street Band's sound on "Born To Run"–a fact underscored by Springsteen's inclusion of the song in his holiday set list for many years.
Darlene Love, 'White Christmas,' from A Christmas Gift for You from Philles Records
That Phil Spector himself believed his Christmas album was going to be a career-defining event could certainly be inferred from the album-ending final track where, with orchestra and angelic choir rising behind him to perform "Silent Night," he steps out from behind the control room to thank everyone involved in "my endeavor to bring something new and different to the music of Christmas–and to the record industry which is so much a part of my life."
Bob B. Soxx & the Blue Jeans, 'Here Comes Santa Claus,' from A Christmas Gift for You from Philles Records
A not so funny happened to Phil Spector, though, on his way to musical world domination. On the very same day A Christmas Gift for You was released, President John F. Kennedy was assassinated in Dallas, leading to perhaps the most subdued and solemn holiday season in all of American history. To most people, it was deemed unpatriotic and sacrilegious to celebrate Christmas too heartily that year, and the music in people's homes and on the radio reflected that. What Spector thought would be a crowning achievement (and just in time for his 23rd birthday in late December) went largely unheard and unacknowledged that Christmas–and when the calendar turned to 1964, four moptop kids from Liverpool called the Beatles showed up to breathe new life and spirit into pop music and pop culture. Soon, the handwriting was on the wall of sound for Spector, who wouldn't claim any more Top 20 hits until 1965, when the Righteous Brothers helped him briefly recover some of his fast-fading glory. By 1966, though, and the relative commercial failure of his self-professed masterpiece, Ike and Tina Turner's "River Deep Mountain High," Spector was shutting the door on Philles Records. His days as the tastemaking "Tycoon of Teen" were over–and we all know where the story twists and turns from there. As for the tipping point, though, one need not look, nor listen, any further than A Christmas Gift for You from Philles Records.
Ace engineer Larry Levine, Cher and Lou Adler, among others, discuss aspects of the making of Phil Spector's Christmas album, A Christmas Gift for You from Philles Records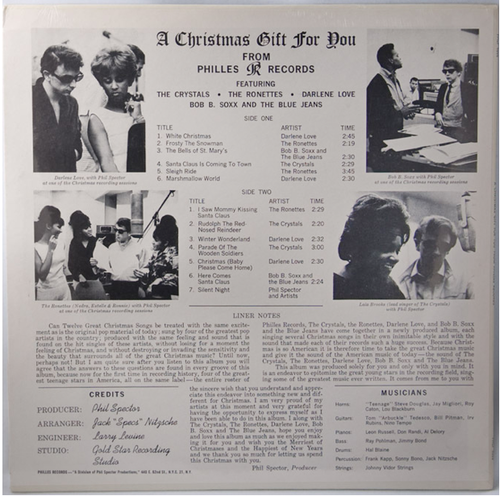 Liner Notes by Phil Spector
Can Twelve Great Christmas Songs be treated with the same excitement as is the original pop material of today; sung by four of the greatest pop artists in the country; produced with the same feeling and sound that is found on the hit singles of these artists, without losing for a moment the feeling of Christmas, and without destroying or evading the sensitivity and the beauty that surrounds all of the great Christmas music? Until now, perhaps not! But I am quite sure after you listen to this album you will agree that the answers to these questions are found in every groove of this album, four of the greatest teenage stars in America, all on the same label–the entire roster of Philles Records, The Crystals, The Ronettes, Darlene Love, and Bob B. Soxx and The Blue Jeans have come together in a newly produced album, each singing several Christmas songs in their own inimitable style and with the sound that made each of their records such a huge success.
Because Christmas is so American it is therefore time to take the great Christmas music and give it the sound of the American music of today–the sound of The Crystals, The Ronettes, Darlene Love, Bob B. Soxx and The Blue Jeans.
This album was produced solely for you and only with you in mind. It is an endeavor to epitomize the great young stars in the recording field, singing some of the greatest music ever written. It comes from me to you with the sincere wish that you understand and appreciate this endeavor into something new and different for Christmas. I am very proud of my artists at this moment and very grateful for having the opportunity to express myself as I have been able to do in this album. I, along with The Crystals, The Ronettes, Darlene Love, and Bob B. Soxx and The Blue Jeans, hope that you enjoy and love this album as much as we enjoyed making it for you and wish you the Merriest of Christmases and the Happiest of New Years and we thank you so much for letting us spend Christmas with you.
Phil Spector, Producer
Darlene Love, 'Christmas (Baby, Please Come Home),' from A Christmas Gift for You from Philles Records
Of Phil Spector, Marshmallows and Ebb Tides

By Michael Sigman
Darlene Love, 'Marshmallow World,' written by Carl Sigman and Peter DeRose, from A Christmas Gift for You from Philles Records
During the early 1960s, my father, songwriter Carl Sigman, and many of his "Great American Songbook" contemporaries watched in horror as airwaves and record stores were overrun by alien creatures making noises that, to their ears, did not qualify as "music."
Carl came from a tradition in which songwriters wrote songs and singers sang them. As the shift away from that model accelerated — with the advent of the Beatles and other artists who wrote their own songs — fewer and fewer of Carl's new tunes made the kind of (chart) noise he would have liked.
Phil Spector helped change that.
Spector's 1963 Christmas Album (nee A Christmas Gift for You from Phil Spector), which marked its semi-centennial anniversary last week, gave Carl an appreciation of the potential of rock & roll to take his old-school paeans to love (requited or, more often, not) to strange and beautiful places he had never imagined.
Writing in the examiner, ace music writer/Rock 'n' Roll Pantheon czar Jim Bessman reminds us of the artistic and aesthetic significance of the Christmas Album, which features spectacular interpretations of a number of standards, including the inimitable Darlene Love singing a rollicking Wall of Sound version of "Marshmallow World," a seasonal confection Carl wrote with Peter DeRose about "A yum yummy whipped cream day" where "The world is your snowball/Just for a song."
Carl enjoyed that cover. But he was thoroughly knocked out two years later when Spector brought the full force of his genius to a monumental treatment of Carl's best song.
In 1953, "Ebb Tide," a stunning melody composed by classical harpist Robert Maxwell and recorded by Frank Chacksfield & His Orchestra, was a smash hit instrumental in search of a lyric. The publisher offered Carl first crack at writing one, but there was a catch: it had to be completed within a few days.
Carl accepted the assignment with high anxiety not because of the tight deadline but because he instinctively felt that it would be next to impossible to conjure the right words to fit that tune, with that title. After several days filled with long hours at the piano–punctuated by short bouts of the kind of intense pacing that made our living room something of a no-'hi' zone–he decided to take a break and catch a movie.
He zeroed in on a newspaper ad for From Here to Eternity, featuring the now-iconic image of Burt Lancaster and Deborah Kerr embracing on a beach as the tide washes in. In that moment, time was suspended and Carl's most profound lyric poured forth in near-perfect condition.
The Righteous Brothers, 'Ebb Tide,' lyrics by Carl Sigman, melody by Robert Maxwell (1965, #5 single)
"Ebb Tide" became an instant standard via a hit single by Vic Damone and a flood of covers including Roy Hamilton's towering reading, a more pensive but even more brilliant version by Frank Sinatra (Nelson Riddle's arrangement which makes you swear you are on that beach) and a lovely romantic take by the Platters.
It took 12 years and the rock & roll sensibility of Phil Spector to make "Ebb Tide" a Top 5 hit single.
Towards the end of 1965, Spector was on a roll with the blue-eyed soul duo The Righteous Brothers (Bill Medley and Bobby Hatfield). Having scored a monster hit with Barry Mann/Cynthia Weil's "You've Lost That Lovin' Feeling" the previous year, Spector put out "Ebb Tide" as a single (to follow "Unchained Melody," another smash). Where the dark-haired Medley's bass-baritone brought unutterable sadness to "Lovin' Feeling," blond Bobby Hatfield's soaring tenor made the orgasmic joy of "Ebb Tide" ring out.
"Ebb Tide"'s lyrics were as mysterious to singers and listeners as they were to their author. In Bob Dylan's memoir Chronicles, the greatest songwriter of the past half-century writes, "I used to play the phenomenal 'Ebb Tide' by Frank Sinatra a lot and it had never failed to fill me with awe. The lyrics were so mystifying and stupendous. When Frank sang that song, I could hear everything in his voice–death, God and the universe, everything."
The reverence for "Ebb Tide" spawned a welcome irreverence from satirists. Steve Martin sent it up with faux grandeur in his early stand-up routine, and Jerry Colonna's decimation of the song proceeds un-swimmingly until he appears to drown before he and the song achieve their intended climax.
Spector added to the fun, though unintentionally. He was furious that Carl never thanked him for using the Righteous Brothers' "Ebb Tide" in the famous "pottery wheel" love scene in Ghost. But that scene was "Ebb Tide"-less; it was accompanied by the aforementioned "Unchained Melody." "Ebb Tide" served as background music for the hilarious Naked Gun 21/2 pottery-gone-awry scene, in which Leslie Neilson and Priscilla Presley consummate their passion amidst images of a hot dog, a train going through a tunnel, rockets launching, fireworks and, the coup de grace, a basketball slam dunk.
Out of a thousand or so Sigmansongs, "Ebb Tide" was, I think, the only one in which the title never appears in the lyric. Spector's production even fixed that. Not long before he died, Bobby Hatfield wrote me a note expressing his love for the song. He added that towards the end of the recording session, Phil ducked out of the studio for a minute, whereupon Hatfield and Medley spontaneously belted out the words "Ebb Tide" at the very end, finally showing Carl how it's done.
For more by Michael Sigman, click here.
Writer/editor, media consultant, music publisher Michael Sigman is a regular Huffington Post blogger. Follow Michael Sigman on Twitter