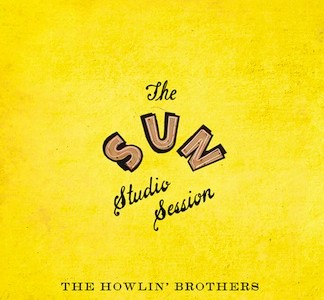 THE SUN SESSIONS EP
The Howlin' Brothers
Readymade/Dine Alone Records
We're hopin' this EP helps keep the conversation goin' with all our fans who've already discovered us via HOWL between now and Feb 4th next year when we will release a BRAND NEW (as yet un-titled) studio album. Much more on that later…
Thus the word from The Howlin' Brothers in early October when they released a mighty fine six-song EP recorded at the legendary Sun Studio in Memphis. It's available only as a digital download (in the U.S. and Canada), with physical copies on CD and vinyl available at the band's shows and via its website "as soon as they can be manufactured."
The EP is bookended by two familiar tracks, although only one of those has been associated with the Brothers, until now. They kick things off with a bonafide Sun and Carl Perkins classic, "Dixie Fried." From an idea suggested and opening verse supplied by his neighbor, an aspiring but marginally talented rockabilly artist named Curly Griffin, Perkins fashioned a vivid tale right out of the honky tonks of Jackson, TN, where Carl and his brothers toiled for years before being signed to Sun. Its protagonist, Dan, pulls into the tonk after work and gets the party started; he imbibes a little too much moonshine, though, and pulls a knife on a fellow patron ("all the cats knew to jump and hop/'cause he was borned and raised in a butcher shop"), which lands him in the slammer, where he continues to urge his buddies on with "rave on, cats!" The original "Dixie Fried" is one of the great rockabilly sides of all time, and was a personal favorite of the usually hyper-self-critical Perkins, who said he nailed his towering performance—vocally and on his red-hot guitar solos—in one take. To the Brothers credit, they evoke the Perkins original but veer off in another direction, with a solid but countrified beat after Jared Green opens the festivities with a guitar solo redolent of the Perkins style, after which the tune bops off into Howlin' territory, fueled by what sounds like a slide banjo, Ben Plasse's thumping upright bass and more prickly guitar from Green supporting a feisty, footloose vocal.
From The Sun Sessions EP, the Howlin' Brothers introduce themselves and perform 'Tennessee Blues' at the scene of the crime
The closing track is a remake of "Tennessee Blues" from the Brothers' acclaimed Howl album, released earlier this year. In its Howl incarnation, the song is a slow, mournful guitar-fiddle-bass lovelorn blues with a gritty Ian Craft vocal. On the Sun EP Jared Green puts away his guitar and settles in at the legendary Sun studio piano—the same one Sam Phillips pointed to when he was trying to convince Perkins to use the label's newest artist, a fellow named Jerry Lee Lewis, on his next recording session, saying, "Carl, he can sure beat up a damn piano." Craft's vocal is even more mournful and affecting here than it is on Howl, and Green's subdued conversation with the 88s, along with the mordant rumble of Plasse's bass, gives the tune the feel of a saloon song, or one of those nighthawks at the diner tales dotting Tom Waits's early albums.
The Howlin' Brothers, 'Charleston Chew,' live in Studio 1A and also featured on The Sun Sessions EP.
In between these are four new songs that should whet the appetites of all Brothers fans for what's to come early next year. "Til I Find You," a haunting tale of the singer's quest to reunite with a lover who has drowned, rolls out at a bustling tempo keyed by banjo and Green's wailing harmonica and an earnest, determined vocal in an arrangement evoking the frayed nerves and loose wiring of a man inconsolable in grief. "Troubled, troubled, I'm troubled all the time," the singer cries in a hoarse voice at the outset of the dark-hued "Troubled Waltz," an eerie, spare dirge in three-quarter time that descends ever deeper into despair so pervasive the singer finally apologizes: "if I make you cry I don't mean no harm/I'm a motherless child on my own," his words underpinned by dark gospel moans. Another country blues, "Take Me Down," shambles along on the strength of a fervent, shaggy vocal from Plasse and a loosey-goosey arrangement heavy on languorous banjo and a whining harp. Some Howlin' Brothers fans will recognize "Charleston Chew" since the band has played it live on occasion, and here the fiddle-fired bluegrass dance tune serves as a lively buffer between "Take Me Down" and "Tennessee Blues," songs with decidedly wounded overtones.
As a holding pattern and teaser, The Sun Sessions EP can't be beat, and to sweeten the deal the entire session, with interviews, will air early next year on more than 100 PBS stations. "Stay tuned" would seem to be an understatement. Rave on, Brothers, I'm with ya!