Long before the Internet and social media networks, where citizens of the world report their struggles for freedom to allies thousands of miles away, one man did the same thing solely with the power of spirit. The man was Mahatma Gandhi and his true gift of inspiration fully became global in 1930 when he led the 241-mile Salt March, from Sabarmati to Dandi in Gujarat, to protest the British Salt Tax. During the march, Gandhi and his followers repeatedly sang "Raghupati Raghav Raja Ram," and many Indians now closely associate the bhajan with him. Ultimately the march led to India's independence and influenced great leaders of generations hence, from Martin Luther King, Jr. to Nelson Mandela in what amounted to a worldwide civil disobedience movement.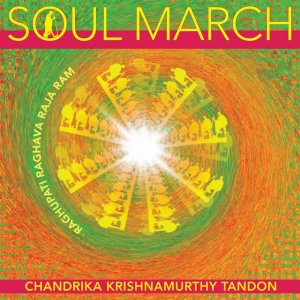 Now the Salt March has inspired Grammy-nominated singer Chandrika Krishnamurthy Tandon's new album, Soul March. Recorded in India and the United States, Soul March features nine songs composed solely by Tandon and based on "Raghupathi Raghava Raja Ram." More than 75 musicians are featured on the album, which combines ancient traditional instruments such as the ektara, dugdugi, and esraj with saxophone, banjo and piano while mixing styles such as bossa nova, jazz, calypso, and rumba. In the end it remains true to her description of her music: "It's ancient words set to simple modern rhythms within a classical framework."
"I was set to perform at a Gandhi celebration and I chose this song," remembers Tandon. "This song is like 'We Shall Overcome' in India. The words are so meaningful for today's struggles all over the world. The song basically says, 'Light inside me, help me find wisdom.' But the song has been sung so many times, I wanted to make the power of the words fresh again. So I set out to find out how many ways we can shout out those words in music and rhythms that people all over the world can understand. The issues and the details are different but the fundamental quest is still the same. People want to find the voice for truth."
Each song on Soul March takes an Indian raga (a scale or mode with certain musical rules), and re-envisions "Ragupathi Raghava Raja Ram." On the opening track, "Maand," Tandon recruited wandering minstrels from the deep Delta in Bengal to perform on instruments such as the one-stringed, plucked gourd called the ektara; its two-stringed cousin, the dotara, made from the jackfruit tree; and, the dugdugi, and hour glass-shaped, double-headed goatskin drum.
But the album is characterized by a multi-cultural conversation created between musicians, giving musical evidence of the song meaning's universality. Brazilian jazz guitarist Romero Lubambo—known for his work with Yo-Yo Ma—became hypnotized improvising around the raga on "Charukesi," which Tandon composed as a guitar rumba. Playing alongside mandolin player Snehasish Majumdar, Lubambo would call and say, "Chandrika, I can do this forever and ever!"
The track "Jog" was composed as a fast bossa nova, but ended up with an African or Afro-Brazilian feel, including Lou Marini and two Indian masters on saxophone, and heavy percussion. A full 16-piece string section is used on "Behag," which gets a great response thanks to the mixolydian-like scale, while "Madhyamavati" reveals a pentatonic scale giving a nod to a Chinese feel. "Puryadhanasri" is one of the most challenging ragas for Western ears, while "Bhairavi" takes on an accessible Calypso sound thanks to percussionist Bopa King Carre.
On Wide Angle TV with host Ashok Vyas, Chandrika Krishnamurthy Tandon launches Soul March, with performances of songs from the album and explanations of the history informing the album.
Because the core song is so popular, the new life Tandon breathes into it with all of these interpretations is attracting attention from a wide spectrum of people. Other Indian classical singers are weaving the songs into their own live performances. School bands are asking to include these variations in their performances in different parts of the world.
In some ways, the search for freedom parallels Tandon's own life story. In 1979, while working for Citibank in Mumbia, India, after graduating from India Institutes of Management (I.I.M.) in Ahmedabad, her employer sent her to work in its New York office for a few weeks, during which time she befriended some partners of the McKinsey & Company global management consulting firm. McKinsey asked her to interview for a position with its firm, and put her through a 17-interview process before offering her a job. "I remember doing 17 different interviews in a yellow sari," she told the New York Times's India Ink blog, "but no one commented on what I was wearing—they were all interested in me as a person."
Chandrika Krishnamurthy Tandon, 'Basanth,' from her 2011 Grammy-nominated album, Soul Call
Arriving back in New York with $24 to her name, she used her first paycheck sensibly—to buy a Martin guitar—and slept on her apartment floor for six months until she could afford furnishing (and some new clothes).
"I was working 20 hours a day, seven days a week, but I loved the work ethic," she told India Ink. "I loved that even though I was fresh off the boat, McKinsey was so open and saw potential in me that I didn't even see.
"I had clients all over the country and also globally, and at the time India wasn't on the forefront the way it is now, so I would have some of them asking me with fascination about cows on the street and what the red dots meant that some Indian women wore. But at the same time, a lot of my clients were excited about showing me American experiences such as having key lime pie."
She became the first Indian woman to become a McKinsey partner. After 11 years she left to open her own consulting firm, Tandon Capital Associates, which specializes in restructuring companies. And when she could, she squeezed music into a punishing schedule, if that's not too tame a description of her ordeal.
"I had to adjust to life in the U.S.," she explained in a revealing interview published in The Hindu on April 28, 2013. "On my second day, I rented a car and left, nervously, at 4 a.m. for an hour's drive to an 8.00 a.m appointment! I had no network, no family. I compensated by working non-stop. In five years, I made partner–one of two, out of 12. It was 'move up' or 'out.'
"We lived with my grandfather who read to us every night–Shakespeare, English poetry. He made you feel you can be anything you want. It was inconceivable that I'd apply to IIM, or get in. At my interview, they asked, 'You perform on radio? You speak French? Sing us a French song.' So I did! What I got from my grandfather was inner unstoppability. Many people are smarter, more talented. I have inner strength. I fought to go to college, went on a hunger strike for business school until my mother agreed to let me go. At McKinsey's, I didn't know what I didn't know. But I wasn't focused on the lack, I focused on the possibility."
Chandrika Krishnamurthy Tandon, 'Bhoopali,' from Soul Call
Still, in juggling life as a wife, mother, businesswoman and artist, she had to make "major tradeoffs," as she explained to The Hindu.
"Life as founder-chairman of my company was brutal: Restructuring an Australian company, I'd fly 32 hours to Brisbane, stay nine days, talk to my nine-year-old via nightly video-conference, micro-arranging her schedule. Returning home, I'd talk to my Brisbane team and work non-stop negotiating other clients. I wasn't the emotionally available mother I wanted to be. Flying 32 hours every nine days took a toll. Then, I was offered a multimillion-dollar deal, spending four days a week in Europe. I considered it, crying non-stop. I had done mega jobs, working with billionaires, flying on private planes. It was emotionally and intellectually heady. But Lita's my only child; I wanted to be home with her. I turned down that deal. Professionally and personally, it was catastrophic. Suddenly, I had no identity: a top businesswoman, unsure I even had a business. To quit travel, I had to restructure my company…I missed the excitement but I was there 100 per cent for Lita, everyday. I went into myself, came to a new way of seeing "success" as freedom to do what I wanted. I got into spirituality, searched for answers, for purpose. I'd followed my career mindlessly–among the youngest in my IIM class, accepted into Citibank (which took three out of 116 applicants), then McKinsey's, and my own business. I never stopped. My life had been other-directed. I re-examined my values: What's important?
"My happiest times were around music. When I was travelling, I'd go hear music, alone, after work. In New York, I binged–jazz concerts, nights in a row. As children, we had lessons, music was always there; our mother turned on the radio at five! We lived simply: mother cooked, we cleaned. I'd sing as I did chores–Tamil and Hindi film songs, Dean Martin, Listeners' Choices. At the Alliance Francaise, I sang French songs. McKinsey gave me $5000 to furnish my apartment. I bought an $1800 guitar, a $2000 stereo system, then had no money, so I slept on the floor of my empty apartment. In my only saucepan, I cooked rice and ate it with chutney and yogurt for the first month. Years later, I requested T. Vishwanathan to teach me. I'd leave home at 4 a.m. for his 6-8 a.m. Saturday lesson, returning at 10 a.m. before Lita awoke. When Indian masters wouldn't teach me, I found travelling masters. Finally, Girish Wazalwar worked around my schedule, teaching me intensively–all day, seven days at a time. I would also make trips to India for a few weeks in the summer when my daughter was at camp to work with teachers there."
(FYI: Tandon is not the only member of her family to achieve success in America. Her sister Indra Nooyi is the chief executive at PepsiCo and her brother runs a hedge fund. Asked by India Ink about competition with her siblings, Tandon said there was none because "we all did different things and came to America independently on our own paths—me to work and my brother and sister to go to school. We had and continue to have separate epicenters of interest. Today we see each other often and are there for emotional support, but our personal and professional lives are mostly separate.")
A conversation with Chandrika Krishnamurthy Tandon at the PanIIT 2011 Global Conference in New York
In 2004 she had an idea to record an album for her father-in-law as a gift to him on his 90th birthday. Its repertoire consisted of several musical variations on the chant "om namah shivya." Wanting it to sound professional, she recorded the album in a studio; a friend heard it and in turn gave it to a London label that wanted to sign her and polish it up for commercial release. So it was that her debut, Om Namah Shivaya: Soul Mantra, was released in 2005 to enthusiastic reviews. Her sophomore effort, 2010's Om Namo Narayanaya: Soul Call, reached #11 on Billboard's World Albums chart and earned a Grammy nomination for Best Contemporary World Music Album.
Her Grammy "bump" has resulted in considerably more concert bookings, including at Lincoln Center, the Global Peace Initiative in Iowa and at the Golden Jubilee for the Indian Institute of Management in Ahmedabad. "My songs are also up on iTunes, and my CD sales have gone up into the thousands, which isn't the norm in the world music category," she says. "But I also continue with my work in consulting and at NYU. My music takes 40 percent of my time."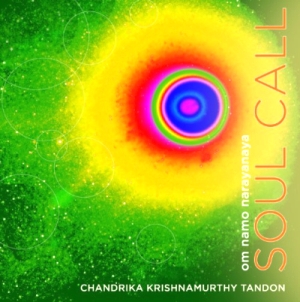 When Tandon performed for the Gala and Opening Concert of the Smithsonian's historic yoga exhibit this past October, she used music to re-connect the threads of yoga that have become lost in translation. Drawing on both Soul Call and Soul March, as well as other ancient and classical songs, she inspired listeners to connect their inner light with the light within others and a greater force. Her musical mission, she says, is a universal one that crosses many planes.
"Freedom works at multiple levels," she explains. "One is when you have freedom of yourself. Freedom from stress. Freedom from negative emotions. That's one form: personal freedom. Then you have fighting for social justice. The foundation and I do work to help women achieve economic freedom by giving them and their children access to a better education and livelihood. And then you have the more well known form of freedom fights–in movements for justice. Not just from tyranny, but causes big and small, where groups of people band together to make the sum greater than the parts. To me, all of these represent freedom.
"It's not just 'Let's go out and march for ten days!' In today's context it happens with different sounds, in different ways. People are on a quest for something beyond themselves. That's the soul march I am talking about."
Furthering the "quest," she teaches devotional music, which is sung by a choir of 100-plus that she started in her temple. "I compose new music for them, adding verses to bhajans. We sing Shankara compositions. I don't judge, we enjoy the process every Sunday. There's no charge, it's a circle of love, and I'm enriched by it. One woman takes four buses to get there!"
Chandrika Krishnamurthy Tandon, 'Makauns,' from 2011's Soul Call
The "quest for something beyond themselves" has produced some remarkable stories chronicling the effect Tandon's music has had on listeners, including ones with cancer who listen to it as a form of healing and those suffering from depression who have used it was a way to lift their moods.
These stories, she says, "have been unbelievable. A woman wrote me about her sister, who had an inoperable brain tumor and communicated with the twitch of her eyes that she wanted to hear my songs. Another man wrote about his father, who was dying of cancer and listened to my CD 24 hours a day in his final weeks. And last year, a journalist who was interviewing me told me about his 5-year-old son, who got agitated during July Fourth fireworks and only calmed down after listening to my music.
"I support education, wellness and arts. It's about making life full and enriching in one's days here. I'm happy I turned away from the work. I'm blessed to have the freedom to choose how I want to spend my days."
Tandon's albums are released by Soul Chants Music, a nonprofit label dedicated to building bridges between cultures and creating harmony through music.
Additional references: World Music Newswire