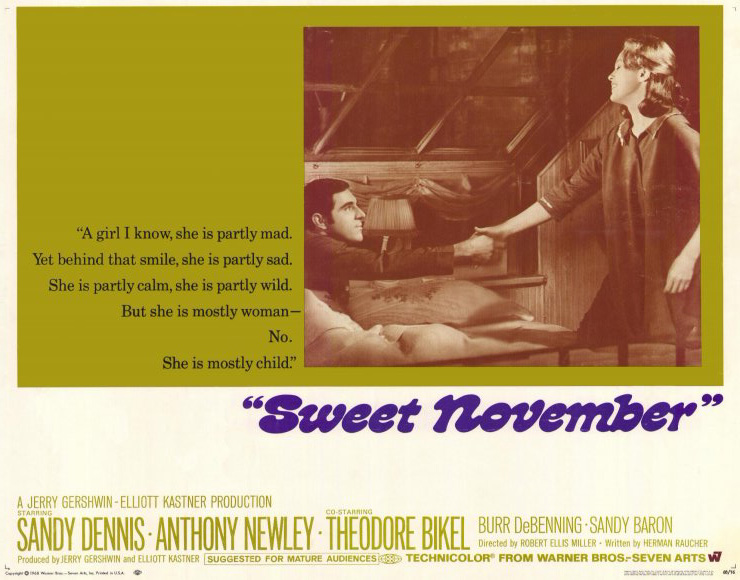 Director: Robert Ellis Miller
Written by: Herman Raucher
Producer: Jerry Gershwin
Producer: Elliott Kastner
Music by: Michel Legrand
Cinematography: Daniel L. Fapp
Art Direction: John Lloyd
Costumer Design: Ann Roth
Set Decoration: Ralph S. Hurst
Cast: Sandy Dennis (Sara Deever); Anthony Newley (Charlie Blake); Theodore Bikel (Alonzo); Burr DeBenning (Clem Batchman); Sandy Baron (Richard); Marj Dusay (Carol); Martin West (Gordon); Virginia Vincent (Mrs. Schumer); King Moody (Digby); Robert Gibbons (Sam Naylor)
Part 1/8
Part 2/8
Part 3/8
Part 4/8
Part 5/8
Part 6/8
Part 7/8
Part 8/8
(Sweet November segments posted at YouTube by oldfilmscreen)
Though it was not a great box office success and is now even more obscure than its 2001 remake starring Keanu Reeves and Charlize Theron, the Robert Ellis Miller-directed Sweet November was one of 1968's great date movies. (Fans of New York City films will also enjoy some cool exterior scenes shot in Manhattan, circa 1967.) For a generation coming of age in that turbulent year, it offered a challenge to conventional notions of relationships in the contrasting attitudes of button-down businessman Charlie Blake (a solid Anthony Newley) and the seemingly freewheeling, footloose Sara Deever (the quirky, enchanting Sandy Dennis). That Sara's liberal policy towards sharing her bed is the product of a dark secret she withholds from her monthly lovers hardly undercuts the then daring premise of Herman Raucher's screenplay (which the writer began as a stage play but changed it to a film script at the urging of Universal Studio execs).
Newley's repressed Charlie Blake was only one of his many fine film roles. He began his career in 1948 as a child actor, appearing in Peter Ustinov's Vice Versa, followed by a more celebrated turn as the Artful Dodger in David Lean's acclaimed film version of Dickens's Oliver Twist. During the 1950s he was active on British radio and in films, and began a successful singing career with a string of pop hits beginning in 1959 with the #3 U.K. hit "I've Waited So Long," followed by a pair of #1 hits in 1960, "Why" and "Do You Mind." He began writing songs as well, producing a Grammy winning Song of the Year in 1963 in the classic "What Kind of Fool Am I?" He wrote the lyrics to John Barry's music for the Goldfinger theme and had other hits with "Gonna Build a Mountain," "On a Wonderful Day Like Today" and the Brel-influenced "The Joker." Teaming with Leslie Bricusse in 1962, he wrote the hit Broadway musical Stop the World–I Want to Get Off, in which he also starred and won a Tony Award for Best Leading Actor in a Musical. He and Bricusse also teamed on two other popular Broadway productions, The Roar of the Greasepaint, The Smell of the Crowd (1965) and a stage adaption of Roald Dahl's classic children's book Willy Wonka & The Chocolate Factory (1971). His singing style–mannered, affected and practically a caricature of Vegas-style vocal excess–was utterly engaging, despite it all, mainly because Newley so obviously believed in himself and in the messages conveyed in the original tunes, especially the ones he wrote with Bricusse.
In the 1959 British comedy Idle on Parade (sometimes referred to as Idol on Parade), Anthony Newley portrays rock 'n' roll star Jeep Jackson, who was drafted into National Service at the height of his popularity. His big hit in the film (and heard here), 'I've Waited So Long,' was in fact a #3 pop hit in the U.K. and jump-started Newley's long and successful singing career. William Bendix was one of the co-stars of this John Gilling-directed youth-oriented entry.
On 1972's TV special Chevrolet Presents Burt Bacharach, Anthony Newley and Sammy Davis, Jr. team up for a near-15-minute revue of Newley-Bricusse songs. One of Sammy's defining hits was a Newley-Bricusse classic, 'What Kind of Fool Am I?'
Anthony Newley, live in Monte Carlo, performs 'What Kind of Fool Am I?'
A year after Sweet November's release, Newley directed and starred in a British musical film with the cumbersome title of Can Heironymus Merkin Ever Forget Mercy Humppe and Find True Happiness? It re-teamed him, this time as a writer, with Sweet November's screenwriter, Herman Raucher, and also featured in bit parts Milton Berle and George Jessel. Otherwise, the movie is remembered for its X rating, which meant U.S. newspapers would not accept advertising for it and for being critically savaged. The New York Times's Vincent Canby described Newley's performance as seeming to be "an act of professional suicide," and added: "The movie is as self-indulgent as a burp. It's also as pretentious as its form. The movie is not so free and loose as it is out of control." Among major critics, it found grace only with Roger Ebert. Writing in the Chicago Sun-Times, he decreed it "strange, wonderful, original, and not quite successful"; he went even further, adding, "It is just about the first attempt in English to make the sort of personal film Fellini and Godard have been experimenting with in their very different ways. It is not as great as 8½ but it has the same honesty and self-mocking quality." For Newley personally, the ordeal of the film led to his wife (and co-star), actress Joan Collins, filing for divorce. From the '70s into the '90s Newley was active in Vegas and at Catskills resorts and starred in a well-received one-man revue on Broadway, but never again achieved the heights of his early career. He died of renal cancer on April 14, 1999.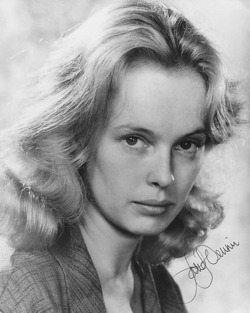 Hastings, Nebraska-born, Actors Studio-trained Sandy Dennis began her acting career on television, with a part in 1956 in the soap opera The Guiding Light. A few other TV roles followed in the late '50s before she made her film debut as Kay in 1961's Splendor in the Grass. However, her heart was in live theater, where she flourished, winning back-to-back Tony Awards for her performances in A Thousand Clowns (1963) and Any Wednesday (1964). When she returned to films, she was an Oscar as Best Supporting Actress for her role as Honey in Who's Afraid of Virginia Woolf in 1966, and followed that with a string of well-received performances: Up the Down Staircase (1967), The Fox (1967), Sweet November and, in one of her most memorable turns, as the long suffering wife of Jack Lemmon's neurotic, paranoid, manic George Kellerman in Neil Simon's The Out-of-Towners (1970).
As described in her Wikipedia entry, Dennis had critics somewhat confused as to whether to praise or to condemn her unique approach to her roles and her odd diction: Walter Kerr famously remarked that she treated sentences as "weak, injured things" that needed to be slowly helped "across the street"; John Simon said that she acted with "a postnasal drip." Nonetheless, William Goldman, in his book The Season, referred to her as a quintessential "critics' darling" who got rave reviews no matter how unusual her acting and questionable her choice of material. During her stint in Any Wednesday, Kerr said the following: "Let me tell you about Sandy Dennis. There should be one in every home."
In the end, Sandy Dennis could not be ignored whenever she took on a part, because she played it as no other actor would. She was only 52 years old when ovarian cancer claimed her life on March 2, 1992. Though she never married, she and jazz great Gerry Mulligan cohabitated from 1965 until their split in 1974. She later lived with actor Eric Roberts from 1980 to 1985. –David McGee
Sandy Dennis and Jack Lemmon in a scene from The Out-of-Towners (1970), written by Neil Simon, directed by Arthur Hiller.
Review:
Renata Adler, New York Times, February 5, 1968
Sweet November must be the most sentimental and sinister fantasy about contemporary love in years. One can't help leaving the theater sniffling and furious with oneself, which makes the movie a little hard to criticize.
When Radio City Music Hall, where "Sweet November" opened yesterday, runs a movie about a girl—not a siren or a villainess, but a nice, fairly ordinary girl–who takes a different lover every month, there must be something very serious going on. And there is. A new myth that is deep and probably durable. A young manufacturer of boxes (Anthony Newley) falls in love with a Brooklyn Heights girl (Sandy Dennis) who sublets apartments and likes to paint in her spare time. Now, the cliché and the reality are likely to be that he wants to have an affair and she wants to get married.
What the movie does is reverse the terms of the modern urban argument: he wants to get married, and she, for her own special reasons, wants to have an affair. Brief, no regrets, perfect—just as it would be in the mind of the young man from Playboy in his struggle on the way to the altar with the determined young woman from Cosmopolitan. There is only one possible resolution for all this perfection. True romantics have always seen it, and the 'movie quite mawkishly presents it Tragedy attends promiscuity at the Music Hall, still.
Sandy Dennis is very good. Her stammer, particularly if one has just seen "The Fox," is a bit nerve-racking; but again—with a kind of awkwardness and Katharine Hepburn flatting of the voice—she gradually takes over her part. Anthony Newley, hardly clowning at all and playing quite softly, is good, too. Theodore Bikel, as a kind of vegetarian friend of the family, has to handle most of the mawkish part, and there is not much he can do with it. The music by Michel Legrand (who did "Umbrellas of Cherbourg"), is not very noticeable—except for one song, "Sweet November," by Leslie Bricusse and Anthony Newley, which is ghastly.
The dialogue, by Herman Raucher, is extremely solid and witty. There is everything from standard two-liners ("There's not been a rape there in years."/"Well, maybe things will pick up in the spring.") to very complicated routines with unlikely punchlines, such as "No one writes 'No handball playing' in the sky, Charlie." Unfortunately, Newley is supposed to be afflicted in the picture with a neurotic sense of haste that everyone keeps referring to as "Hurry, hurry, ding, ding." This is even more annoying than it sounds.
But despite all the sick, dreadful assumptions about life that turn out to underlie the plot—and as you think about it after you've seen it, you'll probably be appalled—Sweet November succeeds.
Selected Short Subject
The Jackson 5ive, 'It All Started With…'
The debut episode of The Jackson 5ive cartoon series, 'It All Started With…,' broadcast on September 11, 1971. This pilot, introducing the five brothers, their pets and their producer (Berry Gordy), tells the apocryphal origin story of the Jacksons being discovered by Diana Ross (who voices her own character) when they saved her from their pet snake, Rosey. Songs: 'ABC,' 'Goin' Back to Indiana.'  Voices: Paul Frees (The Producer/additional voices); Donald Fullilove (Michael); Edmund Sylvers (Marlon); Joel Cooper (Jermaine); Mike Martinez (Tito); Craig Grandy (Jackie); Diana Ross (Diana).
The Jackson 5ive was a Saturday morning cartoon series offering a fictionalized portrayal of the red-hot new Motown group. Produced by Rankin/Bass and Motown Productions for ABC, the series was broadcast from September 11, 1971 until September 1, 1973. ABC rebroadcast the series during the 1984-1985 Saturday morning season, to coincide with and capitalize on Michael's breakout as a superstar solo artist. The series was animated mainly in London at the studios of Halas and Batchelor, with some animation done at Estudios Moro, Barcelona, Spain. The director was Spanish-American Robert Balser.
Other than appearing in the introduction where actual photographs are shown morphing into animated cartoons, the actual Jackson brothers themselves—Jackie, Tito, Jermaine, Marlon, and Michael—were unable to contribute to the show in any way due to scheduling conflicts. Only their music was used; however, during the music montages, a clipping of the Jackson 5 appearing in concert would air occasionally to blend in with the cartoon. Motown founder Berry Gordy did not add his voice to the show (that job fell to Paul Frees) but his character was frequently involved as the "adult figure" to the group. Diana Ross did, however, voice her fictionalized self in the debut episode. The premise of the show is that the Jackson Five would have adventures similar to Josie and the Pussycats, Alvin & the Chipmunks or The Partridge Family, with the unique addition being that Gordy, the band's manager in the show's universe, would develop ideas to publicize the band, such as having to do farm work or playing a concert for the President of the United States.
A specially recorded medley of four Jackson 5 #1 hits—"I Want You Back," "The Love You Save," "ABC" and "Mama's Pearl"—served as the show's theme song. Each episode featured two songs by the Jackson 5, all derived from their albums Diana Ross Presents The Jackson 5, ABC, Maybe Tomorrow and Third Album (with the exception of their cover of the song "Bridge Over Troubled Water"). In the newer episodes, from 1972-73, songs were culled from Michael Jackson's album Go To Be There and two songs from the Jackson 5 album Lookin' Through the Windows.