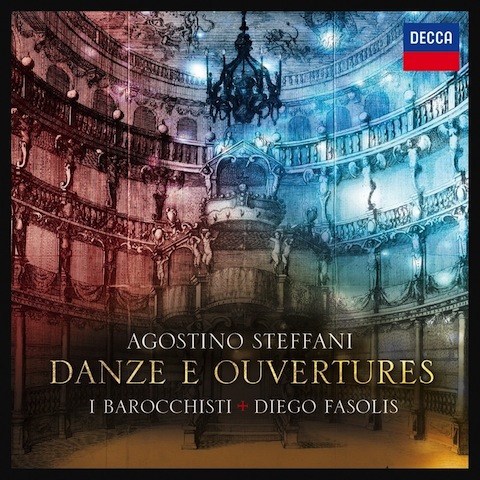 DANZE E OUVERTURES
Agostino Steffani
Coro della Radiotelevisione Svizzera
I Barocchisti
Diego Fasolis, conductor
This is a first-class collection of instrumental suites and movements from Agostino Steffani's operas, from the same team who brought us Cecilia Bartoli's superb Mission program–except, of course, that the diva herself is not required here. As Colin Timms, the leading authority on the composer, explains in his excellent booklet notes, Steffani wrote vocal and not instrumental music as such, but the numerous instrumental pieces he did leave are all taken from his operas. Many of them were in fact published in his lifetime in the form of French-style overture-suites, scored for orchestra or chamber ensemble, and there have been a couple of recordings of these in the past which are still available from some sources.
The present program takes a different approach, selecting freely from among his many opera overtures and dance movements to form a varied and fascinating program. The disc's greatest assets, in my view, are the composer's mastery of melody and scoring, the well-chosen and varied selection of pieces, and the brilliance of the performances by Swiss-based period instrument band I Barocchisti under their excellent director Diego Fasolis. The Ouverture and suite of dances from the brilliant opera "Orlando generoso" make a great start, the overture itself being one of several instances on the disc in which the initial phrases convey a grave, subdued beauty, with expression then increasing in intensity as the opening theme is repeated and the movement progresses; this approach is highly effective in the theatre, and it works equally well here. By the way, this is one of only two of Steffani's operas currently available in a complete recording.
AUDIO CLIP: Steffani: Orlando Generoso—Ouverture, I Barochisti with Diego Fasolis conducting
Other pieces I especially appreciated are the overture to "Henrico Leone" (track 9), another splendid opening laden with anticipatory drama; the overture to "I trionfi del fato"–justifiably doom-laden in view of the opera's title. The opening, this time titled Sinfonia, of "Tassilone," is followed by extracts from "Niobe, regina di Tebe"–another marvelous work which has been honored with no less than three different productions in the last few years–at Schwetzingen, Covent Garden and Boston; in this recording, Fasolis' lively ensemble extract maximum drama from the earthquake movement with the aid of their enthusiastic percussion section. The "Les Ombres" movement from "I trionfi del fato" brings a dramatic change of mood and texture, its dark hues represented by bassoons, cellos, violone and organ. The Chaconne from "Henrico Leone," combining both grace and energy, gives ample opportunity for the woodwind to show off their skills; and a lovely, bouncing Gavotte brings yet more variety. From "Alcibiade/La libertà contenta" we find that, oddly, the quick section only of the Ouverture also provided the melodic material for that of the later "Tassilone," but the two are scored differently here.
AUDIO CLIP: Steffani: Henrico Leone—Ouverture, I Barochisti with Diego Fasolis conducting
"Servio Tullio" brings us another excellent, dramatic Sinfonia; and the lovely, smartly performed Rigaudon from "I trionfi del fato" again shows the band as rhythmically alert as can be. "La lotta d'Hercole" has three delightful and contrasted airs for three river nymphs–but Wagner fans, in the most unlikely event that you're reading this, don't get too excited for, needless to say, it's all a far cry from the music of the Rhinemaidens. The Introduzione to "Amor vien dal destino" brings the disc to a majestic conclusion–with, appropriately enough for the close of a baroque opera program, the chorus joining in; no text is given, but the choir seem to be singing passionately about something or other, and on this evidence I would love to hear the rest of the opera.
Altogether this is a highly impressive and thoroughly enjoyable program of Steffani's music, showing off the color, variety, invention and sheer melodic beauty of his instrumental writing to great effect. As for the performance, I Barocchisti are a substantial early-music band of around thirty players–although not often playing all at once–and they produce gorgeous textures and balance as well as impeccable playing in the solo passages. Their leader Diego Fasolis is clearly a superb baroque practitioner, directing with exemplary style, energy and conviction. The recording is excellent, and the booklet notes by Colin Timms are highly informative, especially in explaining the composer's very significant influence on musical history. One odd thing about the booklet, however, is the abundant use of asterisks to show which of the items are "world premiere recordings"; many of these have in fact been recorded before–the most obvious example being the existing complete recording of "Orlando generoso" mentioned above; conversely, for some other items which are not so marked, I can find no trace at all of their ever having been recorded. How strange are the ways of the spin doctors!
Altogether, though, I can't imagine Baroque fans being anything other than delighted with this colorful and absorbing survey of Steffani's instrumental music
(Stephen Midgley is ranked as a Top 500 Reviewer at Amazon.com)
Bartoli's Complete Steffani Project In One Box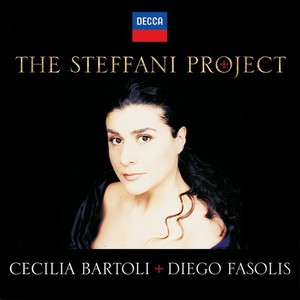 For the first time together, all three releases of Cecilia Bartoli's unique Steffani project are being presented as a gift package, The Steffani Project, marking a lasting tribute to a first rate composer and inspirational performances. The triumphant release of Mission in autumn 2012 drew rave reviews and was followed up in September 2013 with Steffani's Stabat Mater, alongside his greatest sacred works for chorus, orchestra and soloists, and a further disc of dances and overtures with the celebrated I Barrochisti conducted by Diego Fasolis. On the Stabat Mater, Bartoli leads an array of internationally celebrated singers including countertenor Franco Fagioli, the bass Salvo Vitale and the two young German tenors Daniel Behle and Julian Prégardien. The final album of the collection, Danze & Ouvertures, contains 43 great tracks of enchanting early-baroque music.
The variety of styles in Steffani's music continues to surprise. "La Bartoli sings as enthrallingly as ever, and with this new CD reasserts her place as No.1 in the international diva firmament"–Financial Times Germany on Mission.