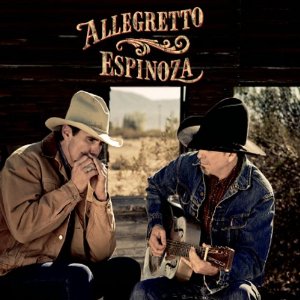 ALLEGRETTO/ESPINOZA
Lightning Strikes Records
It may be under the cultural radar but the western song is alive and well, as the various cowboy gatherings around the country attest every year. Credible new practitioners are popping up all the time, and not all of them are named Michael Martin Murphey. Hard on Murph's heels is the duo of Gary Allegretto and Ian Espinoza with a scintillating debut album comprised of nine original tunes and four interesting covers. And it's largely a two-man affair; other than Tom Corbett on mandolin on one track, the fellows have Paul Erdman playing discreet upright bass on four tracks and the formidable Gabe Witcher on fiddle on four tracks (together on two of those four tracks). Otherwise, it's Allegretto's resonant baritone voice and harmonica (along with washboard, Sierra Cup and Jew's Harp on the final cut) and Espinoza's expressive tenor, solid acoustic guitar and, notably, evocative National Steel guitar (a 1929 model once owned by Bukka White, no less) combining to carry the day.
AUDIO CLIP: Allegretto-Espinoza, 'Montana Stars'
AUDIO CLIP: Allegretto-Espinoza, 'Kit Carson Blues'
If comparisons must be made, Allegretto's songs come out of the Woody Guthrie school of colorful characters and tall tales told with a dash of wry wit and colorful twists on country clichés, as we learn right off the bat on his "First Rodeo," a bouncy workout about a fellow with a talent for getting into trouble and various types of misfortune ("my woman up and left me a few days ago/says she was cleaning up her act, starting with me…"), spiced with Witcher's sprightly fiddle, Espinoza's galloping guitar (he also fashions a tasty solo run along the way) and Allegretto's own protesting harp. With Espinoza's National Steel setting a bluesy ambiance with support from Allegretto's moaning harp, the latter offers a classic cowboy take on traveling "Along the Navajo Trail," sleeping under the stars and saddling up come morning. Espinoza is rather like Bob Nolan to Allegretto's Guthrie, with a poet's eye for the beauty of the natural world and reflective lyrics. In the case of his first entry here, the captivating ballad "Montana Stars," he recounts the conflicting emotions of an old west gunslinger at a crossroads in his life (and ready to trade his weapon for a guitar!), with Witcher's fiddle and Allegretto's shimmering harp adding the atmospheric pull that elevates the song to the spiritual plane of an elegy.
AUDIO CLIP: Allegretto-Espinoza, 'Catch and Release'
AUDIO CLIP: Allegretto-Espinoza, 'Abilene'
In the spirit of "First Rodeo," Allegretto serves up a humorous twist on "Catch and Release," a term familiar to anglers but perhaps less well known in the context of romance, as it is used here. It too proceeds at a galloping pace thanks to Espinoza's fleet fingerpicking and Witcher's fiddling as Allegretto relates the story of an old cowhand's misadventures in love (he's been married "four or five times"), all of which have revealed to him the truth that "the only complication with marriage is/it's the number one cause of divorce"–which inevitably gives rise to the philosophy of "always stick with catch and release" when it comes to relationships. Sound advice, I'd say. Given the prevalence of cowboy themes and sounds herein, listeners might be surprised, pleasantly so, when the fellows roll out Allegretto's "Kit Carson Blues," a story song about the titular character; but instead of being redolent of the big sky western plains, it's a Delta blues fueled by Espinoza's National Steel with a melody reminiscent of Big Bill Broonzy's "When Will I Get to be Called a Man." Arguably the album's most affecting song, Espinoza's "Abilene" is a soft, emotionally complex ballad with a folk flavor in Ian's delicate fingerpicking and reminiscent of Townes Van Zandt in its "Tecumseh Valley" sense of place and raven-haired femme fatale's melancholy philosophizing as she arrives from Baltimore to claim the body of her slain brother and to confront his killer. Though Espinoza is posited on this outing as the more sensitive troubadour in the duo, he undercuts that image with the tough blues of "Hard Times," backing himself on National Steel with Allegretto bolstering the attack with the rumble of his bass harmonica in a tune that subtly comments on the state of the union in the guise of being one woebegone gent's catalogue of, well, hard times.
Gary Allegretto performing his 'Settle Down Blues' on Park City Television during the 2011 Sundance Film Festival
Of the covers, most impressive is intense take on Lead Belly's "When I Was a Cowboy," with Allegretto's vocal soaring high and triumphant over Espinoza's dramatic guitar attack and his own honking harp. The album closes out with a mellow rendition of the traditional instrumental "Cowboy Waltz" (a soothing guitar-bass harmonica-mandolin arrangement) followed by a rowdy, rootsy, handclapping, foot stomping rendering of "Cripple Creek," an occasion for Allegretto to blow and holler on the harp in a nice variety of textures and to sing it out in a loose, freewheeling style. Near the end someone shouts out, "Whew!" Upon completing this journey through fine songwriting and stellar playing, you might be seconding that emotion.