Organic Seeds with your Coffee? Sustainable Ag Startup Sets Sights on Cafe Market
October 8, 2013 | Jenny Smiechowski
What if growing your own food was as convenient as running out for your morning cup of coffee? SeedTabs co-founder Wyatt Roscoe hopes to make it just that easy by selling organic seeds at popular locales like coffee shops, bookstores, and grocery stores.
According to Roscoe, SeedTabs owes its existence to a several pound seed order that was a bit excessive for his small garden. Roscoe and his brother Will decided to share their abundance of seeds and began passing out small bags of seeds to all of their friends. At first glance, says Roscoe, people were hesitant to accept these small bags of seeds. "These drug-like baggies of seeds received confused looks that quickly morphed into smiles of appreciation."
As Wyatt and Will observed the effect their seeds were having, they had an epiphany: people really enjoy growing things, but often don't take the initiative to do it. "Everyone was excited to plant, but [they] weren't willing to go out of their way to get seeds," said Roscoe, "We created SeedTabs and sell them in high traffic locations to eliminate this hurdle preventing people from planting."
Story continues at Seedstock.
In Search for Sustainable Biofuel Feed Solution, Startup Focuses on Ancient Pongamia Tree
October 16, 2013 | Nina Ignaczak
To meet world food demand in the future, agriculture productivity must increase by a factor of 1-2% per year, more than doubling total output by 2050, according to the Global Harvest Initiative's 2012 GAP Index report. At the same time, global demand for biofuels is projected to increase by 133% by the year 2020, according to Hart Energy's Global Biofuels Outlook Report.
Intensification of unsustainable agricultural practices to meet these competing needs often harms soil, causing nutrient depletion, erosion, salinization, and chemical, and allows the introduction of crop pests. The result: significant amounts of land are removed from production indefinitely every year. The Food and Agriculture Organization of the United Nations estimates 1-2% of global cropland is removed from production annually due to salinization alone.
That statistic got the attention of Naveen Sikka, Founder and CEO of TerViva, an Oakland, CA-based sustainable agriculture startup aimed at developing new crops for marginal or underutilized farmland.
"Agriculture is not simply about food, it's about resources," says Sikka. "It's about food, fuel, feed, fiber, and raw material inputs, and our company's feeling is that non-food products should be grown on land that is not sustainable for growing actual food like vegetables or wheat. We set out to figure out how to do that."
So-called "new ag" or "ag 2.0" is a growing field in which agronomists are working to identify new crops that can meet the food and fuel demands of the future. Terviva is trying to work sustainability into this equation.
Story continues at Seedstock
New Britain, Conn. Farm Seeks to Improve Neighborhood with Sustainable Urban Agriculture
October 10, 2013 | Abbie Stutzer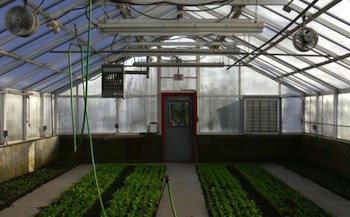 Urban Oaks Organic Farm resides in North Oak, a low-income area in New Britain, Conn. Urban Oaks was started to help improve the food-insecure neighborhood. "In our neighborhood, which used to be infested with crime and drugs and violence, it's much less," Elizabeth Aaronsohn, an active volunteer at Urban Oaks Organic Farm and Farm board member, said.
Mike Kandefer and Tony Norris (deceased, 2007) were originally herb farmers in Bolton, Conn., but when the city of New Britain, Conn., asked Kandefer and Norris to takeover an old, abandoned 3-1/2-acre flower farm (now known as Urban Oaks), the duo jumped at the chance. "The city put in $100,000. Lots of volunteers helped clean up the space. That was 15 years ago," said Aaronsohn.
The farm grows greens in its seven greenhouses in the winter (harvest lettuces, salad greens, kales, swiss chard, spinach, arugula, collards, escarole, endive, and herbs), as well as vegetables (sweet peppers, hot peppers, frying peppers, Italian and Asian eggplant, garlic, cucumbers, summer squash, zucchini, figs, okra, etc.) in the summer. All seedlings are started in the greenhouses and moved to the farm when the plantings are ready.
The Farm also responds to what its customers request (The Farm supplies produce to approximately 20, mostly high-end, restaurants, and runs a farm stand that's open to the public on Fridays and Saturdays.) "We have experimented with unusual vegetables, even the Asian one called, 'bitter melon,' for a year or two, because one of our workers was from Thailand," Aaronsohn said.
Story continues at Seedstockseeds.