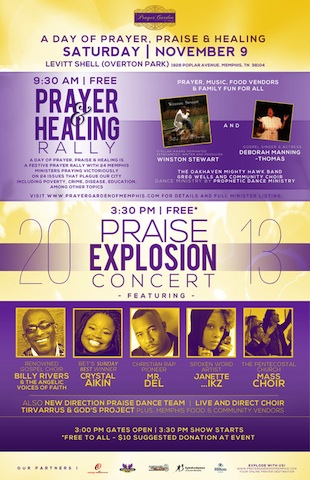 The Prayer Garden of Memphis, a non-profit organization whose mission is to provide an interdenominational Christian-based platform accessible to all individuals wishing to restore peace in their lives and the City of Memphis through corporate prayer, will present A Day of Prayer, Praise and Healing Explosion on Saturday, November 9 at Levitt Shell (Overton Park), 1928 Poplar Ave.
This will mark The Prayer Garden of Memphis's (PGOM) inaugural prayer and gospel music concert. It will include a morning corporate prayer rally at 9:30 a.m. featuring prayer by 24 Memphis area ministers on the 24 top issues of the City of Memphis and its residents. The Prayer Rally will also include music by Stellar Award nominated keyboardist, writer and producer (formerly of the Bar-Kays) Winston Stewart, gospel singer and actress Deborah Manning-Thomas, Greg Wells & Community Choir, The Oakhaven Mighty Hawk Marching Band, and dance ministry by Prophetic Dance Ministry.
Gospel's top national artists and Memphis-based vocalists and groups will be featured in the PGOM afternoon Praise Explosion Concert at 3:30 p.m.  Performing live are BET's Sunday Best winner Crystal Aikin, renowned Gospel choir Billy Rivers & The Angelic Voices of Faith, Christian rap pioneer Mr. Del, spoken word artist MissTerious Janette…ikz and Memphis' own The Pentecostal Church Mass Choir, New Direction Praise Dance Team and Live and Direct Choir.  Also added to this dynamic concert event are Tirvarrus & God's Project. Concert gates open at 3 p.m.
Deborah Manning-Thomas sings 'Walk Around Heaven' at the 1996 Cassietta Lerone Baker tribute in Memphis. Ms. Manning-Thomas is scheduled to perform at the Nov. 9 inaugural Prayer and Gospel Music Concert event sponsored by the Prayer Garden of Memphis.
The prayer rally is free and open to the public. Concert admission is free and open to the public with a $10 suggested donation. PGOM invites people across all denominations and ethnicities to unite through prayer and music to help bring continual healing to the City of Memphis and the nation.
For more information about or to participate as a vendor at this event, contact: Omerge Alliances, Olivia Scott-Perkins at 646-325-3201.

About The Prayer Garden Of Memphis: PGOM, founded by Marceline Williams, is an avenue for all to begin to pray daily for an answer needed.  The intent is to serve as a digital hub for all seeking a word of prayer–a tangible prayer partner by email.  The website also offers a place of peace and serenity. PGOM's mission is to reach the people on a national level and open the gateway online to lost souls, as well as to believers that the anointing, glory and peace is activated through your everyday prayer petitions.
PGOM is a digitally based non-profit organization residing 24/7 at http://prayergardenofmemphis.com/offering inspirational messages and a place for people to submit anonymous prayers. PGOM is intentionally not affiliated with any church domination to best equip the organization to serve all who are seeking God.