Plenty has occurred for Toledo, Ohio's First Creation since I last spoke with the group's founder, Rev. Jerry Boose, in 2009. Back then, Nobody Like Jesus was their new album. In a recent interview, Boose had good news to report as well as word of a recent tragedy.
First the good news: last September, the group released its fifth CD, Heaven, to positive reviews. "Can't Wait," the album's first single, came out in early 2013. This past July, the title track went to radio. The group did a series of radio interviews, appeared at Dorinda Clark-Cole's conference, and performed for a Bobby Jones Gospel taping. "God opened up many doors for us to appear across the country," Boose said. This year, First Creation also welcomed Frankie Swain to its roster and celebrated its 26th anniversary, "a blessing in itself," Boose quipped.
First Creation, 'Jesus, You're Everything,' live at Jerusalem Baptish Church, March 2012. Posted at YouTube by Yolanda Edwards.
About the tragedy: Swain was added after member Elder Jesse Coleman passed away in early 2013. "Jesse suffered from diabetes for a lot of years," explained Boose, "and he was in the hospital for an extended period of time. Then two months after he got out of the hospital, he passed away. It's a great loss, because Jesse was an integral part of First Creation. Not only was he a great singer, but he was a superb saxophone player and an awesome preacher. He had many talents."
Boose was optimistic. "We have been able to maintain the First Creation sound because Frankie's voice fits in perfectly with the group. We actually went through a few people before we found Frankie, because we didn't want to change our sound too much. The smooth harmonies are what we're known for."
So is First Creation a gospel quartet or a gospel group?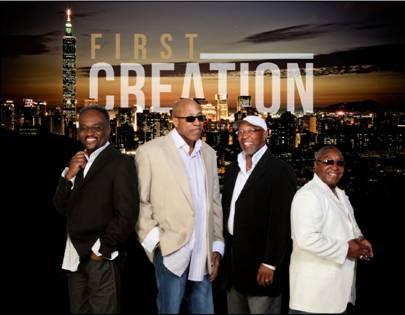 Boose chuckled. "First Creation has a contemporary sound, somewhere between R&B and gospel, but we always add music on our albums to represent the quartet sound. For example, on Heaven, 'Going up to Glory' is strictly quartet. On the other hand, 'Keep it Real' has somewhat of a Temptations feel.  People enjoy that song when we do it live." Boose added that the album also contains praise and worship material as well as gospel ballads. William "Redd" Crook Jr., a member originally from Chicago, produced many of the tracks on Heaven with Toledo's Ike Lafontaine, and he wrote the majority of the songs, also.
Now that Boose is pastor of Second Baptist Church in Holland, Ohio, he has to be back in the pulpit on Sundays whenever the group travels. Nevertheless, he said, "the group gets out there often and whenever requested.
First Creation is currently considering re-releasing some of its finer recordings, as well as one or two new selections, on a "best of" CD. "There was a lot of good music on our past CDs that didn't get the best opportunity to be heard," Boose said. "But now that we have some avenues for better marketing and airplay, we want the public to hear them."
Marketing is critical to independent artists, explained Boose. "There's so much music out there now, and the Internet offers many new avenues for independent artists to be heard. But to get heard, you have to have a good marketing team and a good strategy behind it. At the same time, you have to stay true to who you are, to your sound and your ministry."
For more information, visit www.firstcreationmusic.com.
HEAVEN
First Creation
FC Productions, LLC
Review by Bob Marovich
First Creation of Toledo, Ohio, combines the muscularity of male quartet singing with Whispers-style R&B harmonies and contemporary gospel arrangements.
The group's fifth and newest album, Heaven, opens and closes with evocations of the hereafter. While the title track is a laidback, blissful contemplation of the place "where every day will be Sunday," the concluding song, "Going Up to Glory," employs a driving tempo that speeds the walk to the Golden Gate to an all-out sprint.
Although First Creation's sweet spot is the mellow mood, the group also likes to experiment with different styles of music. For example, the topical song "Keep It Real" borrows melodically from the Temptations' funky "Papa Was a Rolling Stone" (right down to the bass solos) and Sly Stone's "Thank You (Falettinme Be Mice Elf Agin)." Lyrically, it asks some of the same questions that "Ball of Confusion" put to the public more than forty years ago.
On the single, "Can't Wait," the lead vocalist calls on Jesus to take control of his life after describing the rough spot of rough spots: no money, no wife, even the dog barks at him.
Heaven's standout selection is "Only Trust," largely because of the understated harmonies and quiet storm vibe that builds to boiling during the vamp. A close second—again because of the soft harmonies but also for Amanda Clark's fine cameo—is "He Is King." Without the incessant rhythm, it sounds like an updated eighteenth century hymn.
The more you listen, the more Heaven grows on you.
Bob Marovich is a gospel music historian, radio announcer and author. His "Gospel Memories" radio program of vintage black gospel music and artist interviews airs live first Sundays from 3 a.m. to 7:30 a.m. on Chicago's WLUW 88.7 FM, and streams live at the station's website. Snippets of recent broadcasts can be heard online at the Gospel Memories Radio Show. Bob is also founder and editor of The Black Gospel Blog.