October marks the third U.S. tour for native Trinidadian Brian Martin and his contemporary praise gospel ensemble, Worship 4 Life. The visit, which included stops in Atlanta and Nashville, was on the heels of the UK-based group's newly released singles, "Just For Who You Are" and "Deliverance In Praise (D.I.P)," from their Deliverance In Praise Live CD (Reach Records UK).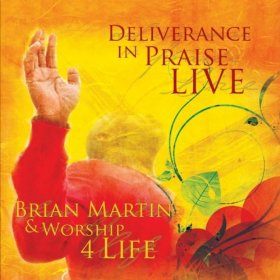 Although his grandparents were heavily involved in church activities, Brian Martin did not grow up listening to or performing gospel music. His tastes ran to a Trinidadian style of calypso music called soca as well as reggae, the mainstay of the Rastafarian movement in Trinidad, which Martin joined at age 16.
Things began to change for the young man after he met his soon-to-be wife Jill, a fellow Trinidadian living in England who happened to be visiting the Caribbean island. As if paraphrasing the plot of the film I Fell In Love with a Church Girl, Martin said, "My wife—she was my girlfriend then—used to go to church.  She was constantly telling me about God and Jesus. At first I was reluctant, but in the back of my mind, it was slowly sinking in."
It wasn't until the 19-year-old Martin moved to England to study engineering, however, that God spoke to him "in a big way." He found himself attending church faithfully and decided to trade Rastafarianism for Christianity.
Brian Martin & Worship 4 Life, 'Just For Who You Are,' from Deliverance in Praise Live
Martin's conversion inspired his songwriting. His first album, Lifter Of My Head (2003), was launched live at Fairfield Hall, London in 2003 and garnered him an English GEM Award (Gospel Entertainment Music) in 2005. The award earned him an invitation to the House of Commons to pay tribute to South African leader Nelson Mandela. "These things don't just happen every day!" Martin reflected.  "It was a huge honor, an overwhelming experience."
From there, Martin and his ensemble, Worship 4 Life, started spreading their brand of contemporary praise music throughout the UK and Europe, as well as into parts of Slovakia and the Czech Republic. Last year, the group visited Florida and became the first UK artist to participate in the One Love Gospel Cruise—"a huge privilege," Martin said.
Martin said the 20 to 25 members who comprise Worship 4 Life "belong to different churches all over England. They are all praise and worship leaders in their own right."
Brian Martin & Worship 4 Life, 'Just for Who You Are,' a live clip of the song released as the first single from the album Deliverance in Praise Live
The ensemble's latest album, Deliverance In Praise Live, was recorded and filmed live at Fairfield Hall—the site of Martin's 2003 triumph. Martin wrote all the songs for the album.  "Writing and arranging are in my comfort zone," he said, then added laughingly, "worship leading and singing are out of my comfort zone!"
The album's fourteen selections are based on 2 Chronicles 20.  "The enemy wants to take away your joy, but praise is a weapon against the enemy," Martin explained. "The whole album is about encouraging you to hold on, to inspire you to be an overcomer. If you wait on God, He will make a way. God is on your side every step of the way."
Brian Martin & Worship 4 Life, 'Mercy Endures,' from Deliverance in Praise Live
This past May found Brian Martin and Worship 4 Life promoting their album throughout the Northeastern United States. Their third U.S. tour opened in Atlanta on October 11, with stops in Birmingham and Nashville, where the group appeared on the Dove Awards Pre-Party.
"Worship 4 Life is a family atmosphere," Martin said. "It's about coming together for one cause: to communicate the Gospel of Jesus Christ."
For more information, visit www.brianmartinworship4life.com.
Bob Marovich is a gospel music historian, radio announcer and author. His "Gospel Memories" radio program of vintage black gospel music and artist interviews airs live first Sundays from 3 a.m. to 7:30 a.m. on Chicago's WLUW 88.7 FM, and streams live at the station's website. Snippets of recent broadcasts can be heard online at the Gospel Memories Radio Show. Bob is also founder and editor of The Black Gospel Blog.