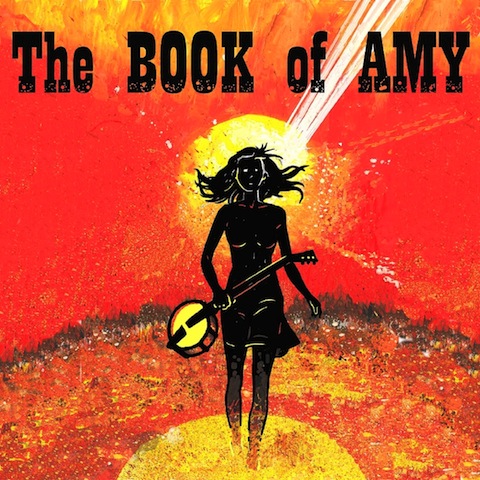 THE BOOK OF AMY
Thick Syrup Records
This much we know: how three musicians decided to call themselves The Book of Amy is a complex tale originating in the corridors of power in Washington, D.C. during the 2010 negotiations on the Dodd-Frank Wall Street Reform and Consumer Protection Act; beyond this, you'll have to ask them. On its website the trio is described as "battered veterans of punk-rock-art-damage." If that's what Mark Jickling (a Washington, D.C. native), Liz Downing (Baltimore via Alabama) and Rebby Sharp are recovering from, then they could have done themselves few greater favors than to retreat to the early 20th century, mostly to the Appalachian and Blue Ridge mountains (a natural fit for fiddler Sharp, who hails from Waynesboro, VA, in the Blue Ridge region) and on a couple of memorable occasions into the shadow of Clinch Mountain. Thus the precise locations–musically, spiritually and geographically–of 14 numbers drawn mostly from ages-old traditional fiddle and string band repertoire, with two of those being original tunes by Book members Sharp and Jickling, along with a spare, affecting mandolin-and-vocal reading of old soul folk iconoclast Michael Hurley's "Why Should I Have to Worry," which also introduces us to Downing's delicate, high-pitched voice that is in and of itself a most compelling instrument in its Sara Carter plainness. You rarely hear many singers anymore with Downing's seemingly untutored approach, so rustic and plainspoken. No wonder the trio visits two Carter Family standards, the solemn, ominous account of unrequited love titled "East Virginia Blues #1" (which features a poignant, uncredited guitar solo by Ian Jickling, son of Mark and otherwise a classical guitar student at Indiana University) and the chilling, equally stark (and sensitively guitar accompanied death wish, "Answer to Weeping Willow," on which Downing's voice is every bit as striking and raw as Sara Carter's and equally unsettling for its equanimity in anticipating death delivering a Heavenly reunion with a departed partner. Apart from Downing the album's only other voice is supplied by Jad Fair (he and his brother David are the core of cult favorites Half Japanese, they of the well-documented disdain for learning how to play their instruments) with a dry, lighthearted rendition of "Cripple Creek." The website note about the album describes this as a "Dada" version, presumably because it is more sound poem than musical performance.
AUDIO CLIP: The Carter Family's 'East Virginia Blues #1' from The Book of Amy. Vocal by Liz Downing.
AUDIO CLIP: The Carter Family's 'Answer to Weeping Willow,' from The Book of Amy. Vocal by Liz Downing.
The bulk of the album is comprised of taut, idiomatically on the mark instrumentals from yore. "Dry and Dusty" is an old-time fiddle time originating in the Ozarks, with Rebby Sharp pretty much following the energetic approach heard on what is possibly the earliest recording of the song, by the Morrison Brothers guitar-fiddle duo. "Going Across the Sea" is of indeterminate origin, but Flatt & Scruggs took a run at it, and way before F&S country music pioneer Uncle Dave Macon once introduced as "that old familiar song from a-waaaayyyy back in there, 'Gwine Across the Sea'." The Book of Amy retools this banjo dance tune as a solo fiddle number, scratchy and lively, albeit with a melancholic tinge in contrast to Uncle Dave's feisty workout. "Honey Ewe," an old-time fiddle tune from early 20th century West Virginia fiddler Ernie Carpenter, is deliberate and a bit restrained in a meditative way, with Jickling's low-key banjo creeping up underneath Sharp's plaintive fiddling. "John Brown's Dream" is a bustling fiddle romp to which Sharp adds a little extra oomph with some flowery flourishes akin to those the Steep Canyon Rangers virtuoso Nicky Sanders deploys to add extra spice to certain high flying moments. This tune comes by way of the great Tommy Jarrell, who cut several versions of it, with the most compelling being a duet with banjo man Fred Cockerham. Hobart Smith worked some interesting variations on the standard version, too, and Sharp's rendition tips its hat to both giants.
AUDIO CLIP: The Book of Amy, 'Going Across the Sea'
AUDIO CLIP: The Book of Amy, an original instrumental by Mark Jickling, 'Love Shook My Heart'
"Love Shook My Heart" and "South River Falls" sounds as they must have been discovered in the same dust-covered songbook as the abovementioned tunes, but these are in fact original instrumentals by, respectively, Jickling and Sharp. The former, which takes its title from a poem fragment by the great Greek lyrist Sappho ("Love shook my heart/Like the wind on the mountain/Troubling the oak trees") is a gently swaying fiddle and mandolin (Jickling) dialogue with a sea chanty flair about it, whereas "South River Falls"–an actual place in Sharp's native Virginia, accessible via a trail winding through the beautiful Shenandoah National Park–has a minimalist guitar underpinning Sharp's fiddling, which does not try to capture the beauty of the Falls or the natural world around it but suggests, in its dissonant passages and distressed melody, something malevolent in the air.
That's the album, minus a handful of songs in the same vein as the selections appraised here. In a note included with the CD, Mark Jickling wrote to yours truly saying, in part, "We tried to find the place where all the ladders start." Mission accomplished on that point, and then some. Think of The Book of Amy as one of the Lost Gospels. Ye who seek the truth will find it here.