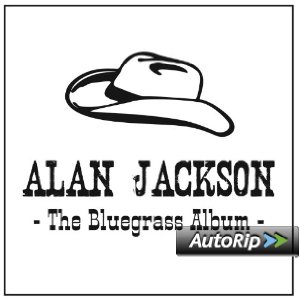 THE BLUEGRASS ALBUM
Alan Jackson
ACR/EMI
The more country music becomes unrecognizable as a genre, the more Alan Jackson keeps on being Alan Jackson. You can do that when you've sold as many millions of records as he has and have the leverage to remain resolutely who you are and true to what made you who you are. In finally realizing his long-time ambition to record a bluegrass album, he's even more Alan Jackson than he's ever been, casting his lot with the genre that has never lacked for respect in Nashville's mainstream country business but also hasn't been given the secret handshake to become part of the establishment. AJ would seem to be part of the establishment—a big part of it, since his superstar breakout during the country music explosion of the late '80s and early '90s helped broaden the music's reach beyond anything even Chet Atkins and Owen Bradley had envisioned when they crafted the pop-oriented Nashville Sound in the early '60s.
There's always been a bit of the outsider about AJ, even at the height of his mainstream success. When Garth Brooks was turning country into arena rock extravaganzas (and adding a weird, unrecognizable vocal to a KISS tribute album), Jackson was talking about his disdain for the way the industry discarded its veteran artists. He made his point more boldly at the 1999 CMA Awards show by cutting short a performance of his hit "Pop a Top" and singing a few bars of George Jones's "Choices." Possum, you see, after being told by the show's producers that he would be allowed only enough time for a snippet of the song—one of the most powerful and most personal recordings of his career—decided the show didn't really need his services and went home. Miffed at such disrespect shown a true country music legend, Jackson decided to make a point of the snub by sneaking in what he could of "Choices."
Alan Jackson, 'Let's Get Back to Me and You,' an original song from The Bluegrass Album, retooled from the country version the artist released on his 1994 album, Who Am I. This live performance at Nashville's Station Inn, on August 27, 2013, was posted at YouTube by RisingOutlaws.
Meanwhile, bluegrass kept on being bluegrass, kept on speaking to tradition, kept on speaking the language of the working class, of family and of traditional values, kept on speaking poetically about love and loss, and upheld its virtuosic standard of musicianship. Why wouldn't Alan Jackson finally gravitate to this world?
What he's done on The Bluegrass Album is let bluegrass come to him, rather than vice versa. He can't summon that high lonesome plateau with his creamy smooth baritone voice that seems so perfectly made for country, so he doesn't try. Pick any one of the 14 tracks—including the album closing "Blue Moon of Kentucky" (which is also an occasion for him to thank, by name, all the musicians, the producer and the engineer for helping him realize his bluegrass dream; and since EMI Nashville doesn't have the good sense to send advances with liner copy, your intrepid reviewer can thank AJ for the sessionography)—and you'll hear, intact, the classic Jackson phrasing, easygoing attitude, wry sense of humor and unalloyed sincerity you've heard on his country albums. You could take a vocal track and lay it over a traditional country backdrop and it would fit right in, which would not be the case with something from hardcore bluegrassers such as, oh, James King or Jamie Dailey, to cite standard bearers from different generations. But it works, as surely as Michael Martin Murphey's country tenor works as a bluegrass instrument. He even breaks with a standard—though hardly universal—bluegrass tradition, so to speak, of kicking off albums with rambunctious tunes. Instead, he begins with his original "Long Hard Road," a midtempo, dark-hued confession of a man who's strayed from the straight and narrow to ill effect ("I left behind the person that I once was/changed for good, and some for bad/I've wasted days and nights on love forgotten/I've traded happiness for sad…"—needless to say, he drinks too much too) and realizes "I need to find my way back home." Tim Crouch (fiddle), Adam Steffey (mandolin) and Scott Coney (guitar) all contribute concise, riveting solos to the evocative backwoods ambience.
Alan Jackson, 'Long Hard Road,' an AJ original from The Bluegrass Album
In fact, AJ doesn't pick it up and go until the fourth cut, the delightful toe-tapper "Appalachian Mountain Girl," a driving love song to the fetching female in question—who in fact has left him high and dry ("I often wake up late a night/dreaming about her/then walk the floor 'til morning comes/in hopes she will return")—made all the more affecting in the choruses when the all-star backing chorus of Don Rigsby and Ronnie Bowman add sweet harmonies to Jackson's lead, as Crouch blazes away on fiddle ahead of Steffey cutting loose with a speed-picked mandolin solo that'll have your head spinning. He dips into his own catalogue for one of the album's most spirited moment, a high-octane version of "Let's Get Back to Me and You," from his 1994 Who Am I album, here reconfigured in bluegrass style largely owing to Sammy Shelor's breakneck banjo work.
Alan Jackson, official video for 'The Blue Ridge Mountain Song,' from The Bluegrass Album
Mountains figure prominently in the album's most beautiful moment, "Blue Ridge Mountain Song," another Jackson original (close call here, because his "Mary," the second track, is an unforgettable heart tugging love song, one that could easily be reconfigured into another Jackson country smash). Over the course of five-plus minutes Jackson tells the story of a couple wed young and "in love as they could be," charting their lives over a gently pulsing backdrop punctuated by Shelor's spare banjo and Rob Ickes' softly crying dobro, which set the stage for the story taking a tragic turn when death claims the young bride. Jackson's final verse, over the solemn background, with Rigsby and Bowman echoing his vocal at the end, is both poignant and eloquent in its depiction of a soul hollowed out by numbing tragedy: "Now he lives there all alone/in the house that they called home/in his heart there lies a void/in the absence of her voice/and he lays down every night/and dreams about that front porch light/where she'd sing a little blue ridge mountain song, and he'd just hum along/they'd dance all night 'til dawn/on the hillside all alone/they were young and they were free/like a mountain melody/in love as they could be/singing that blue ridge mountain song…" From the Blue Ridge Mountains we go to the "Blue Side of Heaven." This tender original ballad, being the solemn assurances of a dying man to his beloved, anticipates the couple's heavenly reunion when her time comes, features some of the most affecting lyrics Jackson has ever penned, gems on the order of "I'll meet you on the blue side of Heaven/where angels sing and days never end/I'll dance with you on the blue side of Heaven/where God will bless our love once again." Rooted in bluegrass gospel, its reflective ambience, and the singer's earnestness as he prepares to cross over, is heightened by the plaintive, economical soloing by Crouch, Steffey and Ickes. Speculating on whether Heaven and love might be similar in exceeding the boundaries of imagination, "Way Beyond the Blue" (by Randy Albright, Lisa Silver and Mark D. Sanders) smolders in a low-key, blues-tinged way on the strength of Jackson's laid-back vocal and extended instrumental interludes during which Steffey, Crouch and Shelor fashion shaggy solos that have an interesting improvisational feel on an otherwise tightly structured album.
The Dillards, with Maggie Peterson on lead vocal, as the Darling family (with Denver Pyle as father and jug player Briscoe Darling) on The Andy Griffith Show, February 4, 1963, performing 'There Is a Time'
AUDIO CLIP: Alan Jackson, 'There Is a Time,' a cover of the Dillards song, from The Bluegrass Album
Of the tunes AJ covers, John Scott Sherrill's "Wild and Blue" (there's that color again) waltz tells of a freewheelin' gal whose unbridled ways have her man at wit's end, to the point where he's announcing, "They can just take you up yonder, honey, you're already wild and blue."  Given the narrative arc of The Bluegrass Album, the Dillards' hard driving classic "There Is a Time" is a natural fit. Emerging after Steffey's mandolin sprints out of the gate, AJ's intense vocal captures the urgency of the lyrics penned by Rodney Dillard and Dillards bassist Mitch Jayne on the topic of time's relentless march and how it changes us as the years roll by. (The Dillards first recorded the song for their 1964 album Dillards Live!!!! Almost!!!!  after performing it as the Darling family–with Maggie Peterson singing lead in the role of Charlene—on The Andy Griffith Show of February 4, 1963; the band reprised it on the third volume of the Will the Circle Be Unbroken albums.) You had to figure an artist so deeply immersed in tradition, one who would stand up on national TV when George Jones was dissed, would pay homage to the artist who looms largest in bluegrass history, Bill Monroe, and so he does, in closing with "Blue Moon of Kentucky" (wonder, too, whether in choosing this particular song from Big Mon's overwhelming catalogue, whether he may also have been tipping his hat ever so slightly to Elvis as well). After the opening verse Jackson takes a minute to thank by name everyone who accompanied him on the album, before returning to the song, which he renders in the slow, dirge-like cadence of Monroe's first recording (that he doesn't break into the Elvis romp maybe puts the lie to the above-proffered theory about the nod to the Hillbilly Cat, come to think of it). It's a cool, thoughtful ending to Jackson's first bluegrass foray. Other than The Bluegrass Album being one of this year's signal moments in roots releases, the other essential observation to make about it is that it should not be Alan Jackson's last visit to these parts. He sounds like he belongs here.