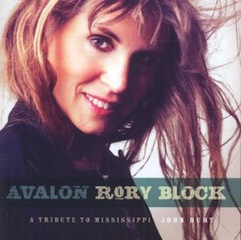 AVALON: A TRIBUTE TO MISSISSIPPI JOHN HURT
Rory Block
Stony Plain
When engaging the music of Mississippi John Hurt on this, the fourth album in her Mentor Series, Rory Block entertained no illusions about what she was getting into. In her liner notes she writes: "…the challenge of creating a proper tribute is far greater than anticipated. Every country blues master I can think of put something extraordinary, ethereal, spiritual and so powerful into their playing as to make it almost impossible to reproduce. Many worthy artists have covered these songs, but when you examine the source, you understand more fully the level of greatness that was in the original versions—greatness that is also almost impossible to define. But let me try by saying that true character, charisma, drive and soulfulness are some of the essential ingredients. So how will we manage? With devotion, respect, reverence, and with energy—with extra 'oomph'—lest we be weak."
AUDIO CLIP: Rory Block, 'Everybody Loves John,' her original contribution to Avalon
On Avalon she proceeds to do exactly as she said she would, bringing that extra "oomph" but with devotion, respect, and reverence. This, like her other Mentor Series albums, isn't an attempt to emulate the artists she honors but rather to honor their legacies, and their influence on her, by finding her own place in their songs, which in turn has the effect of underscoring the timeless nature of these tunes in speaking to the human condition in their own time and beyond. Eight of the 11 tracks on Avalon were written by Hurt; two are traditional numbers he recorded; and one, the bouncy opener titled "Everybody Loves John," is a Block original celebrating the life and times of Mississippi John, from his birth in 1892 to his rediscovery in 1963 (and her first live encounter with him, when he sang "Richland Woman Blues") with a touch of gospel raveup at the end. (It's the best song written about Hurt since
Tom Paxton's warm "Did You Hear John Hurt" in 1977; come to think of it, it's the only song of consequence written about Hurt since Paxton's.)
AUDIO CLIP: Rory Block, 'Richland Woman Blues,' from Avalon
She doesn't shrink from taking on the Hurt classics, segueing from her original opening track right into the title tune, one of the 13 songs the blues legend recorded as a young man for OKeh in 1928 before disappearing until Tom Hoskins located him in 1963. Hurt's singing voice was sweeter and lighter than Block's and lent his original version a wistful quality, whereas Block's rendition, and the energy in her slide work and fingerpicking, convey a more determined, even defiant attitude. "Candy Man," another of the classic 1928 recordings, brought out the best in Hurt's low-key sense of humor to the point where you could almost miss that he was sneaking in some naughtiness in his descriptions of exactly what the main character was selling—Block plays up that angle in her sprightly reworking with some slick, driving fingerpicking backing her singsong vocal with its frisky phrasing that lets you know she knows whereof she sings. As she does on "Avalon," Block works her own lyrical changes on "Spike Driver Blues," making of Hurt's John Henry tale a series of impressionistic scenes designed to achieve a sense of the steel drivin' man's indomitable personality in contrast to Hurt's slice-of-life portrait. Where Hurt was coolly sensual on his ragtimey "Richland Woman Blues," Block picks up the pace and the intensity both in her guitar attack and in the edginess in her voice that invests a lyric such as "red rooster said 'cockle doodle do do'/Richland woman said 'Any dude will do…" with unabashed lust.
"Louis Collins," being about the burial of the title character, who was killed in a shootout with another man, is one of Hurt's most devastating songs. It doesn't traffic in the details of Collins's killing but rather in the sorrow attending his funeral, especially as it affected his mother: "Mrs. Collins weeped, Mrs. Collins moaned/to see her son Louis leavin' home/the angels laid him away…," repeating the last phrase three times as if to emphasize the tragedy's harrowing aftermath. Block digs into the song, her slide howling eerily over her brisk fingerpicking, and declaiming the lyrics with fiery intensity to heighten the depth of disbelief in what has transpired and the abject sorrow attending it—"oh, kind friends, oh, ain't it hard/to see poor Louis in a new graveyard/the angels laid him away…" It's a beautiful, exceedingly moving performance, via a woman, her voice and her guitar, succinctly summoning the vividness of a human tragedy to such a degree a listener cannot help but be haunted by it.
AUDIO CLIP: Rory Block, 'Louis Collins,' from Avalon
Add to the abovementioned highlights memorable performances of the deep blues of "Got the Blues Can't Be Satisfied," the frisky traditional number "Make Me a Pallet On Your Floor" and the gospel-flavored "Pay Day." In her notes Block says she was after "a more natural, earthy approach" in this recording, She was referring specifically to leaving the sonics raw—"let it be real…every recording is a field recording in my view," as she says—and to that end Avalon is an unqualified success. Natural and earthy, however, also describes the artist we hear giving new life to some of the finest of Mississippi John Hurt's blues and in the process becoming of a piece with his art. Let it be real? Let it be.