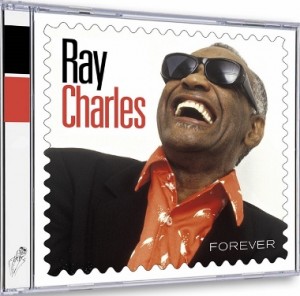 FOREVER
Ray Charles
Concord Records
A smart set of rarely anthologized Ray Charles recordings, Concord's Forever CD/DVD combo celebrates Brother Ray being commemorated with a U.S. Postal Service Musical Icons Forever stamp, issued on September 23. Can't really call a 12-song set a "sweeping overview," but an overview it is; apart from being, well, awesome music, it also illustrates how Ray's music making wasn't limited to his Atlantic and ABC/Tangerine years. Those embracing a contrary notion might want to re-examine some of Ray's later albums for what they might have missed and then adopt an "evolved" mindset about his catalogue.
But we're not here to argue the critical evaluation of the Charles oeuvre. Rather, let us celebrate along with the otherwise-besieged U.S. Postal Service one of the most remarkable musicians this country has ever produced. Ray returned his native land's embrace by being unabashedly patriotic, which meant loving the U.S. as a concept while remaining clear-eyed about certain on-the-ground realities. So we get, as the album closer, "America the Beautiful," with its majestic sanctified arrangement courtesy Quincy Jones ("it's positive, it's melodic and it's warm and it's loving," Q says in the liner notes) and Ray deeply invested in the lyrical sentiments he belts out over a robust gospel choir, organ and strings. Originally published as a song in 1910, the lyrics were from an 1895 poem by Katharine Lee Bates set to music by Samuel A. Ward (who adapted his own melody from a hymn he had written in 1882); Ray sings the lyrics from the familiar 1913 version (the 1895 poem had been revised in 1904) but instead of starting with "O beautiful for spacious skies…" he jumps to the more telling and personally resonant third verse, testifying with a gritty "O beautiful for heroes proved/in liberating strife/who more than self their country loved/and mercy more than life…" after which he adds one of those singular bits of Ray marginalia, calling out, "You know, when I was in school we used to sing it something like this—listen here!" At which points he tenderly glides into "O beautiful for spacious skies…" with a satiny Q string section humming softly behind him. It builds to a big finish with Ray shouting "I thank you, Lord!," as his singers take wing and kettle drums thunder in a powerful crescendo. But the same artist who could sincerely shout "I thank you, Lord!" could also lash out at racial injustice, as he did on "None of Us are Free," a tune penned by Spector A-teamers Barry Mann and Cynthia Weil in collaboration with Brenda Russell and featured on an interesting but flawed 1993 album, My World, produced by pop mastermind Richard Perry. My World was an effort to mate Charles's style with elements of synth-pop, New Jack swing and hip-hop but those approaches too often got in Brother Ray's way—as they do on "None of Us are Free," except that the message—none of us are free as long as one of us is in chains—unfortunately has never gone out of style and Ray's urgency cuts through the dense, jittery arrangement (at root the song owes a huge debt to Marvin Gaye's "What's Goin' On," and could have used some of that tune's cool groove to underpin Ray's testifying).
Ray Charles, 'I'm Gonna Move to the Outskirts of Town'
Ray Charles, 'So Help Me God,' from the 1993 Richard Perry-produced LP, My World, and included on the new Forever CD.
On the other hand, My World's virtues happen to be on bold display elsewhere, as it accounts for fully one-third of the 12 tracks. In addition to "None of Us are Free," Forever includes, as an album opener, the beautiful, string-enhanced arrangement of Leon Russell's "A Song for You" that also makes room for Ray's elegant piano fills as his deeply emotional reading, by turns heated and temperate, turns the whole enterprise into a sumptuous blues ballad. Preceding and setting the stage for "America the Beautiful," the gospel-infused "So Help Me God" leans heavily on Ray's church piano and backing choir as he pleads to the Almighty for grace and guidance with such force he sounds like he's almost in tears—it's a powerful, soul baring performance, one of the finest and most personal of his later years. Not the least of the My World songs, "If I Could" was that album's most tender moment, and another quite personal one to boot. Written by latter-day Doc Pomus collaborator Ken Hirsch, with Marti Shannon, this reflective moment finds Ray in the guise of a father speaking to his estranged daughter, admitting to the damage he has caused ("if I could, I would help you cross the bridges I have burned…") while acknowledging the treacherous rites of passage that lay inevitably and frightfully ahead. The humanity inherent in Ray's tortured soliloquy explains why Pomus found Hirsch to be a kindred spirit and why the late, great songwriter (who penned "Lonely Avenue" for Charles) placed Brother Ray at the very top of his pantheon of great American artists.
Ray Charles, 'If I Could,' from My World, included on Forever
Two rare tracks sweeten this mix. From the posthumous collection Rare Genius—The Undiscovered Masters (2010) the slinky, suggestive come-on "Isn't It Wonderful" grooves lustily behind Ray's unabashed pickup lines and what one critic called "libidinous chuckles," all burbling organ and an anguished electric guitar's howls evoking the male in heat. This track originally existed only as an unaccompanied Ray vocal performance and was locked away in his studio vault. Producer John Burk convened a solid band that was in tune with Ray's spirit and captured the lighthearted, slightly salacious fun Charles was having with the tune, which was written and originally recorded in 1972 by Lim Taylor, son of the formidable blues singer Mable John (the first female artist Berry Gordy signed to his Tamla label). Previously unissued until now, "They Can't Take That Away From Me," the Gershwins' pop classic from 1937, written for the film Shall We Dance and introduced by Fred Astaire, was produced by Ray with a big band flair, with swinging horns, his own bluesy organ, sweet strings ascending, and a lowdown vocal that ranges from defiant to tender to suggestive (you're never too far from elemental human drives when Brother Ray gets into a love song).
Ray Charles takes on the Gershwins' 'They Can't Take That Away From Me,' live at the McCallum Theatre in 1991. The previously unissued studio version is included on Forever.
Ray Charles marks his 40th birthday by performing a verse of 'I Walk the Line' and his R&B-styled 'Ring of Fire' on The Johnny Cash Show, February 11, 1970
The classic brassy "I'm Gonna Move to the Outskirts of Town," from the Atlantic years, as subtle as it is boisterous at times; "Ring of Fire," reimagined by Ray as an R&B ballad, with rumbling bass, blues guitar, bursts of horns and Ray's lusty vocal, every bit as distinctive as Anita Carter's original and Johnny Cash's immortal country monument; a lovely, blues-tinged pop interpretation of Meredith Wilson's "Till There Was You," from The Music Man; a reverent, preacherly reading of John Lennon's "Image" with gospel flavorings in the backing choir and blues flourishes via guitar and organ (which happens to be part of the album's final five-song cycle of what might be called message songs, beginning with "None of Us are Free" and culminating in "America the Beautiful")—these are the more familiar but no less essential makings of a standout anthology saluting a momentous occasion for an artist most deserving of the honor this album celebrates. Anyone up for adding Ray to Mount Rushmore?
(The 20-minute DVD included in the Deluxe Edition includes live performances of some songs on the disc–"Imagine," from the 1998 Goodwill Games; "A Song for You," from the 1997 North Sea Jazz Fest; "They Can't Take That Away from Me, from 1992–plus interviews with Ray from 1985 and '86.)