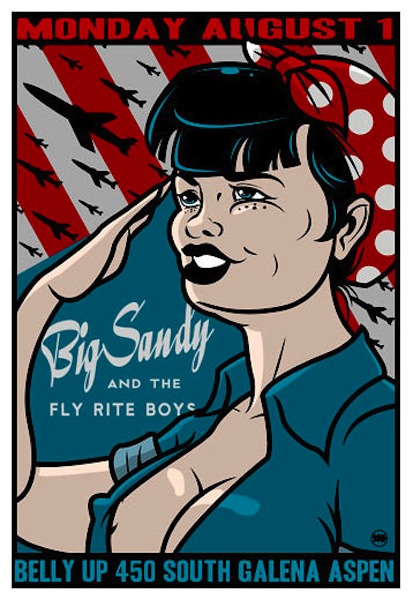 WHAT A DREAM IT'S BEEN
Big Sandy and His Fly-Rite Boys
Cow Island Music
For 25 years Big Sandy and His Fly-Rite Boys have stood for all the good things they absorbed in all the roots music they absorbed in the 20th Century. Their musicianship has been uniformly impeccable and idiomatically on point (the current generation of Fly-Rite Boys includes Jeff West on bass and harmony vocals; Joe Perez on drums and backup vocals; and on guitar and mandolin, Ashley Kingman, a Fly-Rite veteran with 20 years of service to the cause); the original songs are taut and earthy, with a real flair for memorable imagery and colorful lexicon; and Big Sandy is a versatile roots singer who can cleverly interpolate stylistic flourishes from the country-rockabilly-early rock 'n' roll giants of yore but injects his own personality into the fray when he digs into a lyric.
The occasion of his career's silver anniversary has given rise to a career overview in the new album What a Dream It's Been, but it's not the career overview anyone might have expected. Instead, Sandy and his Boys revisited a dozen choice songs from their catalogue and retooled them with all-acoustic arrangements, with different flavors that required rethinking the instrumental lineup for some.
Big Sandy and His Fly-Rite Boys, 'Three Years Blind,' from the 25th anniversary album What a Dream It's Been
For example:
"This Ain't a Good Time," a bopping rockabilly workout on Jumping from 6 to 6 in 1994, has been transfigured here as a laid-back, broken-hearted country-rockabilly treatise with Big Sandy's once-aggressive vocal toned down to a subdued, resigned plea in an arrangement retooled to accommodate the bluegrass tinge by Fly-Rite veteran Ashley Kingman's sparkling mandolin solo. Jeff West's slappin' bass seeps through to remind us of the song's–and the band's–wildcat origins as rockabilly revivalists, a point made even more effectively in" Missouri Gal," a Buddy Holly-esque rocker from Big Sandy's near-forgotten 1990 debut (on the Dionysus label), Fly Right With…, when he was working with the Fly-Rite Trio. In its original incarnation "(You Mean) Too Much to Me," from the band's 2003 Yep Roc album It's Time, had a snarling guitar, thundering drums and a clicking-clacking bass driving it hard; in its 2013 remake, Big Sandy gives it a solo acoustic treatment, his emotional vocal echoing in its phrasing both Elvis and Jerry Lee, as the stark setting has the effect of enhancing the singer's vow of devotion. The raucous "Glad When I'm Gone" is a monster track–Kingman's guitar solos are white-hot romp up and down the neck, West slaps his bass with fevered intensity, and when Grey DeLisle adds her piping voice to Sandy's in the soaring chorus, the whole thing turns into a wild bluegrass romp (I'll bet mine aren't the only ears that hear Sandy sounding a whole lot like skiffle pioneer Lonnie Donegan at times here, and you don't have to listen hard to know Lonnie would have gone to town on this arrangement; and yes, for the record, your chewing gum does lose its flavor on the bedpost overnight).
The original version of 'Glad When I'm Gone,' from Big Sandy and the Fly-Rite Trio's 1993 album, On the Go
AUDIO CLIP: Big Sandy and His Fly-Rite Boys' retooled 'Glad When I'm Gone' from the new album, What a Dream It's Been
From the band's western swing album Night Tide (2000) comes the wrenching story-song about spousal abuse and its horrific aftermath, "Nothing to Lose," even more chilling here in a low-key, shuffling arrangement with the occasional flourish from "El Paso"-style Spanish guitar. Arguably the most surprising transformation comes in the slinky, seductive love song "Baby Baby Me," from 1998's Dedicated to You, on which it was a slow grooving classic  '50s-style romantic ballad with a deliciously sultry supporting vocal by Vicky Tafoya. Come 2013 and it's a strutting ska-influenced come-on with Sandy putting it over with a bright, eager vocal minus the distaff contribution save for DeLisle (presumably) adding harmony wah-ooh-wahs to his in the choruses.
So hats off to Big Sandy and to all his Fly-Rite Boys. This is no dream–it's really good stuff, as it's been for a quarter century. And counting.