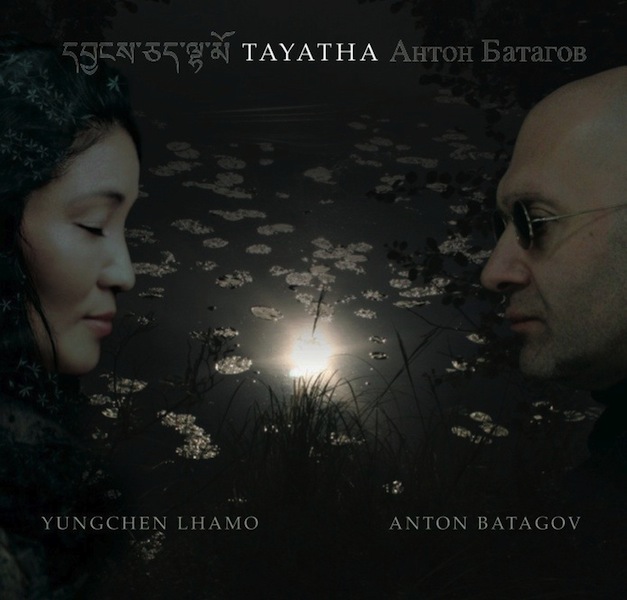 As the snow drifted down, covering New York City and its environs in a foot-deep blanket of white, classically trained pianist and post-minimalist composer Anton Batagov put his fingers to the keys. "I had not a single note on paper. No files, nothing," he remembers.
He had come together with Tibetan singer Yungchen Lhamo, whose flowing voice unfurls melodies that shimmer with profound awareness of both her native Tibetan culture and her Buddhist faith. "I said you play something, if you feel like it. If not, it's okay," Lhamo recalls. "Then we found the common sense of offering—not just making or manufacturing something."
AUDIO CLIP: from Tayatha, Yungchen Lhamo and Anton Batagov, 'Good Times Will Come'
Though ostensibly from two different cultural and musical worlds, the two musicians found common ground in a meditative and wide-open musical dialogue. Tayatha is the striking chronicle of their encounter, ripe with Batagov's restrained yet sure-footed playing, and Lhamo's delicate yet powerful voice. Referencing their shared practice of Buddhism and their shared belief in music's power to shift the world, Batagov and Lhamo demonstrate the irrelevance of cultural boundaries in their deep, focused response to each other's music.
At first glance, it seems an unlikely pairing: the refined classical pianist and composer, often compared to Terry Riley, and the deeply rooted traditional singer, whose recordings on major world music labels (like Peter Gabriel's Real World) brought her worldwide recognition.
 The two unexpected collaborators met through a mutual friend, the choreographer and theater director Bill T. Jones, who felt they should meet. They did, and chatted for five hours straight, deciding to try and play together. When they did, on the brink of one of New York's heaviest blizzards, they discovered a connection that surprised them both.
"Our collaboration was unusual for both of us, and was a very meditative experience," Batagov notes. "I am a classically trained musician, a pianist and contemporary composer. Yungchen doesn't use notated music, which makes her a very intuitive musician. I can't explain how it happened, but we found different sides of the same language."
This language stretches beyond their faith and practice—both are Buddhists—to their cultural backgrounds. East and West have long met in Russia, where Tibetan Buddhism has had a profound, centuries-long influence as a touchstone of both religious and artistic inspiration. Historically, Tibetans and Russians also share an awareness of the rigors and difficulties of life under a communist government hostile to religion. Yet these cultural commonalities belie a more profound tie—one Batagov and Lhamo felt with a tangible immediacy—that comes through in their sonic dialogue.
AUDIO CLIP: from Tayatha, Yungchen Lhamo and Anton Batagov, 'Flying Dakini'
Tayatha feels instantly welcoming even as it shines with great clarity and depth of experience. Lhamo's voice has a pure tone, balanced with husky touches and elegant ornamental flourishes that add to its overall expressiveness. Crafting her own lyrics in Tibetan ("White Palace," a contemporary koan referencing both Tibet and Washington) or drawing on traditional mantras ("Medicine Buddha"), Lhamo sings with a contemplative intensity. In eloquent counterpoint, Batagov supports and responds with delicacy and power, always keeping his statements gently melodic. Conceived as a unit, the pieces move from soaring calls ("Ungrateful Child") to wonderfully complex interactions ("Flying Dakini"), with Lhamo making bold forays into improvisational territory that was new to her, while staying true to the spirit of her musical traditions.
AUDIO CLIP: from Tayatha, Yungchen Lhamo and Anton Batagov, 'White Palace'
"It wasn't conscious," she muses. "Normally, I have my own rhythms, and I don't really think of myself as a singer. With Anton, I thought about how my voice will go with his sound. Each thing he hit, I had to think about how to match the sound. It was very enjoyable. We decided to make an offering, and of course there are many ways to find a compromise."
Batagov agrees, citing the creative rapport shared by musicians who have the confidence in their own abilities to try something new, different, challenging—and even risky. "Music is based on intuitive things," he insists. "When Yungchen and I are both are in the same sphere of sounds, we feel at home. Intellectual understanding is just the foundation, but to build a really deep spiritual building on this foundation, you need to fly a bit."

Interview courtesy World Music News Wire
Yungchen Lhamo and Anton Batagov's 'Tayatha' Brings Unadulterated Aural Pleasure
By Daniel Stephen Johnson for Q2/WQXR.org
This record ought to be kitsch. Seven Tibetan songs by exiled chanteuse Yungchen Lhamo, in arrangements by Russian composer Anton Batagov, Tayatha is an album that seems to have been conceived and executed with every resource directed toward a single purpose: aural pleasure.
There are no violent dynamic contrasts, no harsh dissonances, and no racing tempos, just haunting melismas with earnest piano accompaniments.
But Tayatha refuses to be dismissed quite so easily. The most obvious reason is the strength of Lhamo's vocals: she has an appealing instrument, and its range of colors is as minutely controlled as a bow in the hand of a virtuoso cellist, her expressive register smoothly shifting from croon to sob. Her voice is a jewel, a dark-hued gem, and Batagov's simple setting shows it off to its greatest advantage.
His harmonies are spare, for the most part, strumming underneath the melody like the black-key piano music of the Belle Epoque, delicate countermelodies only occasionally emerging to comment on Lhamo's vocal lines. Batagov constructs his parts to limn the arc of each song, building and receding, and the arc of the cycle as a whole: after five movements of wide-open, unobtrusive harmonies, the penultimate track's sudden deployment of a warm, firmly established major key is startling.
The recording itself, produced by Batagov, is just as appealing, and for the same reasons: simplicity and clarity. The piano sings and chimes, and Lhamo's voice, while framed with a handsome ambience, requires–and receives–no flattery. Batagov makes it clear in the liner notes that he wants the album to be listened to as a whole, without interruption.
Not a surprising request; what's surprising is that a seventy-minute album of vocalism in a style alien to Western ears, largely accompanied by mellow piano ostinati, could be so satisfying and so enjoyable as to make the listener eager to comply.