awesome lineage, powerful message
'HAPPY'
Judy Cheeks
Mozan Music
To an unrelenting funk backdrop, Judy Cheeks—daughter of quartet legend Rev. Julius Cheeks and goddaughter of Sam Cooke—sings about how happy she is that God loves her, especially given the state of the hate today.
But she doesn't stop there. Summoning up her inner evangelist, Cheeks cries out to the whole world to "stop hatin' others and give Him glory."
Like her famous father, Judy can sing, but where his voice was gruff and edgy, hers is smooth and pointed, more Donna Summer than Dot Coates. That makes sense. Cheeks spent the last three decades of the twentieth century creating soulful dance music, such as "Mellow Lovin'," "Respect" and "As Long As You're Good To Me." She got her start at age 19 working with Ike & Tina Turner, and went on to do background singing for Stevie Wonder, Dionne Warwick and Donna Summer, among others.
Judy Cheeks, 'Happy,' from her new album True Love is Free
Official video for Judy Cheeks's single, 'Happy'
While writing Love and Honor, a book on her father's legacy, Cheeks was inspired to return to gospel music. "In my research," she said, "I realized all he had gone through in the timeline of his life alongside the history of America. He was singing about God for people, yet he couldn't drive through the South without fearing for his life. Imagine how much faith he had to possess to follow that calling!
"Because of my Dad, I was surrounded by gospel and all of the great gospel singers. Young kids would go to pop concerts. I got my thrill going to see the Davis Sisters and the Dixie Hummingbirds. That was my grounding."
From Cheeks's new album, True Love Is Free, "Happy" is both celebration and apocalyptic warning, a chance to stomp on the devil's head while throwing some impressive shapes.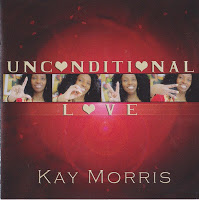 '…one of the year's most globally diversified inspirational projects…'
UNCONDITIONAL LOVE
Kay Morris
Jewels Records
I don't know about you, but a CD from a Jamaican native living in Canada that includes a song accompanied by a Ugandan children's choir would qualify as one of the year's most globally diverse inspirational projects.
That in part describes Unconditional Love, the eighteen-track CD released in March by reggae gospel artist Kay Morris.
"Save the Children," featuring God's Glory Children Choir of Kampala, Uganda, has an African feel, but for the most part, the album blends traditional reggae styles with earth-embracing lyrics. Whether singing about the importance of universal love (the single, "Letters of Love") or the preventable deaths of women who die during childbirth ("Women Shed No Tears") the rock is steady and the lyrics are socially relevant.
From Kay Morris's Unconditional Love, 'Letters of Love'
This is not surprising. Morris is a Reggae Gospel Hall of Famer and founder of the Kay Morris Foundation ("Voice of the Voiceless"), a nonprofit that has, among other things, made life better for Ghanaians living with HIV/AIDS. For her service, Ghana named her Queen Nana Sika I of the Royal House of Berekuso.  In 2007, she received the Nelson Mandela Humanitarian Award.
Morris delivers the album's sing-song melodies in the unadorned, straightforward style common to reggae vocalists.  Similarly, the production is sound system sparse, with emphasis on the lyrics and beat. The anti-hypocrisy "No Stone" will resonate best with reggae enthusiasts for its forceful beat and Morris's thick Jamaican patois.
During the One Love for Haiti benefit concert in Toronto, Rita Marley invited Kay Morris to join her on stage and sing Bob Marley's "One Love." Many of the songs on Unconditional Love, especially "Letters of Love," sound like the musical progeny of that classic anthem.
Picks: "Letters of Love," "No Stone."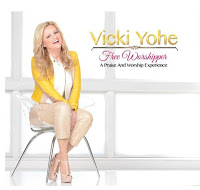 '…from the epicenter of Praise & Worship…'
FREE WORSHIPPER: A PRAISE AND WORSHIP EXPERIENCE
Vicky Yohe
Shanachie Records
Originally from Central Illinois but now based in Louisiana, Dove and Stellar Award nominee Vicki Yohe recorded her new album, Free Worshipper, before a congregation at the multicultural FaithWorld Church in Florida, a state that has become—along with Texas—the epicenter for today's Praise & Worship music.
Free Worshipper is a collection of better-than-average P&W songs that Yohe sings thoughtfully from the core of her musical comfort zone. Moods change over the course of the CD:  from the high-energy opener "Every Time," to the bold and brassy "God Can," to the plaintive "God Loves the Broken."  Despite shifts in tempos and coloration, Yohe maintains her earnest evangelist persona. She is at her best rendering praise ballads, giving songs such as "God Is Good;" "I Know a Name," the current single; and "Four Words," a duet with FaithWorld Senior Pastor Clint Brown, the passionate warmth pop singers give Diane Warren love songs.
Vicky Yohe, 'I'm at Peace,' live on Bobby Jones Presents
"God is Good" is the album's highlight, though it is clear that the gently hypnotic "Waves of Glory" was tops with the live audience and will no doubt be the favorite of P&W fans. Music director AyRon Lewis coordinated a band of capable musicians and background vocalists. The use of horns and strings adds to the authenticity of the performances.
Bishop T.D. Jakes cites Vicki Yohe as "transcending all barriers," and that is clearly the musical point of Free Worshipper. Granted, the songs are closer musically to contemporary gospel than CCM, but enthusiasts of both will enjoy her way with a song.
NOTE: As a marathoner and disciple of healthy eating, I commend Vicki on her successful and recently publicized fitness and wellness regimen. She looks amazing!
Pick: "God is Good."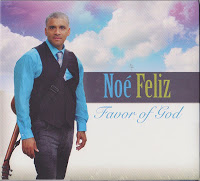 '…equally soothing and invigorating…'
FAVOR OF GOD
Noe' Feliz
New Way Songs
From Rutgers University, where his formation as a worship leader began, to 2013 Rhythm of Gospel Awardee for Urban Contemporary Male Vocalist, Noe' Feliz has honed a personal approach to P&W.
This approach, displayed on his album Favor of God, combines straightforward worship lyrics with the rich melodicism of Latin music and the rhythmic drive of inspirational urban AC.
Overdubbed harmonies that navigate atypical chord changes–another characteristic of Feliz's style–can be heard on tracks such as "In All Our Ways" and the Spanish language "Tengo Tu Amor" ("I Have Your Love"). Meanwhile, spicy Latin brass (real brass, thank you, Jesus!) and congas accompany "El Cielo."
Noe' Feliz, the title track from Favor of God
The title track, a meditation on unmerited favor, is the most explicit example of Feliz's blend of Latin melody and R&B rhythm, though the infectious "El Cielo" is the track that suggests Feliz ought to do an entire album of Latin-flavored Christian songs. The album's most memorable track, a song of discipleship called "Take All of Me," has a distinctive Winans feel, from its funky swing to Feliz's meaty vocal coloration that evokes Marvin Winans.
"More Each Day," given a bilingual reading, is a VaShawn Mitchell-style praise ballad that smartly interpolates a line of "I Need Thee Every Hour" in the vamp. Female background vocalists replace the overdubbed harmonies on "Holy Place," a P&W song tailor-made for Sunday worship
Feliz possesses a lovely tenor that would be even clearer and more chilling than the winter air if he sang more from his diaphragm to ease the strain and tension on his throat, which at times makes his voice sound fatigued. Nevertheless, Favor of God is a pleasant listen, equally soothing and invigorating.
Noe' Feliz is Praise and Worship Leader at Light of the World Family Worship Church in Hamilton, New Jersey, under the leadership of Rev. Leo Sherard.
Picks: "Take All of Me," "Tengo Tu Amor."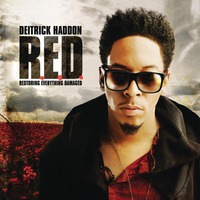 '…a message that all souls are human and imperfect…'
R.E.D. (RESTORING EVERYTHING DAMAGED)
Deitrick Haddon
RCA Inspiration
R.E.D. (Restoring Everything Damaged) is Deitrick Haddon's most personal album to date.
Present on the twelve-song project (the deluxe version has five more cuts) are the electronic dance music and playful polyrhythms for which the singer is known. The lyrics, on the other hand, are serious and introspective, at once humbly repentant before God and defiantly fist-shaking at the "sage hypocrites," the wolves in sheep's clothing.
Like an album-long soliloquy, Haddon stands alone in the spotlight, acknowledging past failures and imperfections, as well as the betrayals that have left him wounded and weary. "Have you ever had to be silent while they scandalize your name?" he asks on "Just As I Am." He is as transparent as he can be without spilling the details. The current single, "Have Your Way," is a Cliff Notes summary of the lyrics.
The album's message is that all souls are human and imperfect, but can be restored by Jesus's blood, as Haddon sings on "Paint it Red" and reprises later on "Raining Red." During "Victory," he admits to being "a little bit wiser than I was before," and by the reggae-fueled "Strong," he declares that with Jesus on his side, he is "not tired yet." "Church Rock" finds the artist with his full groove back.
Haddon's fondness for '60s and '70s soul is evident on selections such as "You're With Me," complete with tinkling keyboard triplets, and the mid-tempo "Waiting (All Night)." "Feel a Breakthrough" evokes explicit or subconscious fealty to Michael Jackson's rhythmic urgency, and "Victory" contains Prince's muscle-twitching funk.
R.E.D. is Haddon's sixth album with RCA Inspiration (formerly Verity Records), and his 12th album overall. "I want people to know that I'm not making music to fit a format or make church people happy," he said. "I am making music that reflects my experience on the planet Earth as a Christian." On R.E.D., the experience is one of life's most crucial: the measure of the man.
Picks: "You're With Me," "Waiting (All Night)," "Church Rock."
'…an a cappella gem…
CHO-ZEN BY FAITH
C3 (Cho-zen 3)
Real Records
The test of any singing group is whether it sounds good unplugged.
From Lumberton, North Carolina, Kimberly Worley, Terri Pittman, and Kimberly McKoy (member Felicia McLean passed away of cancer), are female trio Cho-Zen, aka C3, and they sound very good a cappella. They even pepper their album, Cho-Zen By Faith, with unaccompanied selections such as "Another Day's Journey" and "I Just Can't Give Up Now" (aka James Herndon's "No Ways Tired").
But even with instrumentation, C3 loves harmonies. From simple to complex, the trio swirls harmonies around in their mouths like sweet candy. As such, they evoke the Pointer Sisters, Destiny's Child, and TLC, as well as gospel groups Trin-i-tee 5:7, Z'iel, and the Clark Sisters. If you enjoy these groups, you will like C3.
C3, 'Another Day's Journey.' A studio a cappella rendering is included on the group's new album, Cho-Zen By Faith
In addition to the album's a cappella selections, C3 gives "By Faith," which borrows lyrically from "We've Come This Far By Faith," a quiet storm feel. "Contemplating I" and "I Don't Know Why" are smooth jazz arrangements with Take 6-style harmonies. "Tell Somebody" is a good example of the group's ability to combine old school lyrics ("I just want to tell somebody what He's done for me") with new school urban contemporary music.
"Don't It Feel Good" is the album's standout, a rhythmic praiser with a hand clap couplet that is the song's dynamic hook, though it disappears way too early. I would suggest giving this track another try, as it has radio promise. Back in the day, it would be extended on 12-inch vinyl.
I would argue that not all social matters identified in "Contemplating II" signal the end of days, but nevertheless, Cho-Zen By Faith has plenty to offer the listener. It is sad to know that Felicia died young, but the group will, I'm sure, continue to keep her legacy alive in the songs they sing.
Picks: "Another Day's Journey," "Don't It Feel Good."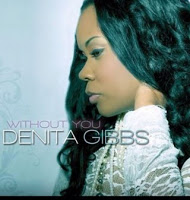 '…a singer deserving of national attention…'
WITHOUT YOU
Denita Gibbs
Audiostate Entertainment 55 (released August 13, 2013)
Without You is Denita Gibbs' sophomore release but her first for Audiostate 55 Entertainment and its muscular distribution.  It is also her first album in nine years but it is well worth the wait.
A delightful, impressive project with quality song compositions, Without You is sung and performed with aplomb and given crystal clear production by Daniel Mosley, James Bevelle, and label prexy Dr. Henry Panion III.
Gibbs, like the label, hails from Birmingham, Alabama. She is a confident singer, her voice equal parts brassy and whispery. Evoking contemporary gospel thrushes Kierra Sheard, Cheneta Jones and Alexis Spight, Gibbs shifts from urban AC to jazz to neo-soul without giving the listener aural whiplash because she is comfortable in all these styles and makes them her own.
For example, she moves from the fizzy "Joy" to the poppish "Even When," a meditation on "there but for the grace of God go I." "Worthy" is a praise ballad with a jazz foundation but a hard-singing gospel vamp at the end, while "Arise" is neo-soul.  The throbbing rhythm of "His Name" is power praise, catchy and bold.
The title track is an exquisite praise ballad, one of the year's best inspirational selections, buoyed by Cameron Sankey's piano and lush strings, courtesy of the Alabama School of Fine Arts String Orchestra. Hearing a real string section is a treat in a day when synthesized brass and strings are the unfortunate norm.
Denita Gibbs is a singer deserving of national attention and Without You deserves greater exposure.
Picks: "Without You," "Worthy."
Bob Marovich is a gospel music historian, radio announcer and author. His "Gospel Memories" radio program of vintage black gospel music and artist interviews airs live first Sundays from 3 a.m. to 7:30 a.m. on Chicago's WLUW 88.7 FM, and streams live at the station's website. Snippets of recent broadcasts can be heard online at the Gospel Memories Radio Show. Bob is also founder and editor of The Black Gospel Blog.