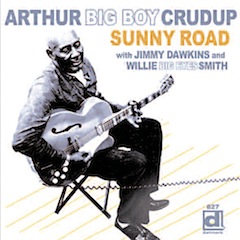 SUNNY ROAD
Arthur 'Big Boy' Crudup
Delmark
We have Elvis Presley to thank for Arthur "Big Boy" Crudup being remembered as more than a footnote in blues history. One side of the Hillbilly Cat's first Sun single in 1954 was a wild, freewheeling version of Crudup's "That's All Right Mama." The young Elvis also would cut a ferocious, howling version of Crudup's "My Baby Left Me" (featuring Scotty Moore's rich-toned semi-hollow body guitar answering Elvis's vocal fusillades with a breathtaking six-string blitzkrieg throughout the song) as the B side of his 1956 mega-hit single "I Want You, I Need You, I Love You," and included a smoldering, swaggering take of "So Glad You're Mine" on his astonishing second album for RCA (also released in 1956) titled simply Elvis. When asked about Crudup in a 1956 interview with the Charlotte Observer, Elvis minced no words in proclaiming his admiration for the man: "Down in Tupelo I used to hear old Arthur Crudup bang his box the way I do now, and I said if I ever got to the place where I could feel all old Arthur felt, I'd be a music man like nobody ever saw." The sessions that produced Crudup's first album, Mean Ol' Frisco, released in 1962 on Bobby Robinson's Fire label were reportedly financed on the QT by Elvis.
But old Arthur Crudup never made enough money as a troubadour to be a full-time musician (for years he fought a bitter, mostly unsuccessful battle with his publisher, Lester Melrose, to recover royalties he claimed had never been paid him, dating back to the artist's late '40s-early '50s recordings released on RCA's Bluebird label and on Trumpet, Checker and Ace; he even harbored some bitterness towards Elvis—one time referring to him as "Elvin Preston"—although Presley had no stake in Crudup's publishing), so he worked as a farm laborer and for a while sold bootleg liquor. Delmark Records' astute founder Bob Koester got Crudup back in the studio in 1967 and released two fine albums of the man's work in 1969 alone: Look on Yonder's Wall (with the titan of blues bass on board, Ransom Knowling) and Crudup's Mood (aka Meets the Master Blues Bassists, featuring Knowling, who passed away before the sessions were complete and was replaced by none other than Willie Dixon, hence the entirely appropriate revised album title).
Arthur 'Big Boy' Crudup, February 9, 1970, a complete session recorded for John Peel's BBC Radio 1 show, broadcast on February 14. The set includes the title track of the newly released Delmark album Sunny Road, recorded in 1969, and its shattering final track, 'All I Got is Gone,' a true blues epic of tragic dimensions. Crudup also performs his classic 'That's All Right' and 'Rock Me Mama.'
Nineteen sixty-nine also saw a third album completed but unreleased until now: Sunny Road, recorded on November 10, 1969, is a casual affair, spare in its own way, even though Crudup is accompanied by the legendary blues drummer Willie "Big Eyes" Smith, with Mark Thompson on bass on five of the nine cuts, and Jimmy "Fast Fingers" Dawkins on guitar on three tracks, much to Arthur's expressed delight at times. That the sound is so rich is due mostly to Crudup amping his guitar (on seven cuts) through the same rotating Leslie speaker that Buddy Guy used on Junior Wells's classic debut album, Hoodoo Man Blues, from 1965. Though still mourning his late wife, Crudup is mostly in strong voice here, kicking off the action with "Sunny Road," a laid-back stomp in which he announces his intention to leave behind a woman who "don't seem to want me/you don't care what you do," and seek brighter prospects elsewhere (along the way he even interpolates in a taste of "That's All Right, Mama" in a verse, singing "well, that's all right, all right for you/that's all right, baby, any way you do/I'm leavin' in the mornin'…." His stinging licks punctuate these declarations and Big Eyes keeps the bottom solid. Throughout the album Crudup swings between asserting himself in the face of mean woman blues and pleading for reconciliation, as in the dark, grinding "Please Don't Leave Me With the Blues," the first of the tunes on which we hear the sumptuous tones of the Leslie-amped guitar as Crudup picks long, prickly phrases underscoring his heartbreak over his woman's betrayal. You might think a song titled "She Gives Me a Thrill" would be attached to an upbeat workout, but in fact it's a muted but warm outpouring of gratitude on Crudup's part to the woman who "never fails me, Lord, when I need a favor done"—that he follows this statement with the revelation "she loves me early in the morning/and that woman loves me late at night…she loves me all day long and I know my baby's treating me right" justifies the understated, simmering ambiance: Arthur sounds like nothing so much as a man with a satisfied mind.
Arthur Crudup discusses his relationship with his publisher Lester Melrose as he performs 'My Baby Left Me' (1972)
Elvis, 'My Baby Left Me,' the B side of 'I Want You, I Need You, I Love You' (1956)
Arthur Crudup performs his song 'So Glad You're Mine' in this 1972 clip
Elvis, 'So Glad You're Mine,' from his 1956 RCA Victor album Elvis
Sunny Road's most light hearted moment comes via the blues grinder "I Have Called Up China," one of Crudup's most inspired ideas, in which he extols the virtues of a woman who's "not good looking, Lord, but she's just my height and size" but "every time she loves me/she brings eyesight to the blind" (a lyrical tip of the hat to Crudup's buddy Sonny Boy Williamson). When she disappears from Chicago, our man claims he calls China, "every little town I know." At the 3:53 mark he summons "Fast Fingers" front and center with an eager "take it, man, take it! Take it!" and Dawkins answers with a tasty, low-key solo, during the middle of which Crudup exclaims, "Looka there! Looka there!" Following a minute-and-a-half of studio chatter recorded with Bob Koester, Crudup introduces the final tune, "All I Got is Gone," with a flourish from the Leslie-amped guitar that gives it the feel of a hymn before he settles something akin to a funeral march, a dirge, then begins singing "I received a letter/all in the world I had was gone" in a teary voice cracking with emotion. The brief flurries of sharp, painful notes he fashions seem to be the best he can muster as Big Eyes hits the snare hard and steadily, unwavering, trudging on while Crudup gathers himself. "I'm just here in the world/Lord, I'm livin' all alone!" he cries out plaintively early on, and you can hear him sniffling before he shouts "Yeah!" as Dawkins enters crafting a taut phrase over Crudup's solemn vamping. It's a chilling, real moment, comparable to Son House's dramatic 1965 revisiting of his "Death Letter Blues"—a powerful and chilling inquisition of the Almighty producing no answers when Crudup moans, "I wonder each and every day/why you take her away from me." At a little more than seven minutes, "All I Got is Gone" is a blues epic, revealing the artist as lost and emotionally untethered. Sunny Road may have a loose feel about it, but its troubled interior monologues indicate serious doings roiling beneath a placid surface. At the end, "All I Got is Gone" is the sucker punch you didn't see coming and knocks you flat on your rear for a 10-count. Sunny road indeed.
Postscript: Agent-manager-producer-promoter-photographer Dick Waterman did recover some of Crudup's lost royalties for the late artist's heirs.
AUDIO CLIP: Arthur 'Big Boy' Crudup, 'Please Don't Leave Me with the Blues,' from Sunny Road. Willie 'Big Eyes' Smith on drums, Mark Thompson (bass), Mike Thompson (guitar)