She was described in the William H. Taft High School yearbook as the "prettiest, peppiest cheerleader." And so she was, this Jewish girl from the Bronx who became the prettiest, peppiest cheerleader for great pop and folk songs from the Americas. Eydie Gormé, who died on August 10 at age 84, exuded class to the end, she of the great personal dignity and vivacious spirit audiences found irresistible. In an age when personality trumps talent; Eydie Gormé, whose beauty, bearing and smile were regal, backed up a glitzy image with penetrating vocal artistry. A sublime sense of phrasing, great pitch control, an interpretive gift second to none in the way she could coax the deepest or most telling emotions out of a lyric were her hallmarks, along with, as the New Republic's Paul Berman put in his Gormé tribute of August 13, "an interpretative talent for hinting without appearing to hint, as if hinting at hinting, which is otherwise known as the art of the subdued tease."
Eydie didn't kick around for a long time before she got her big break. Once the big break came, she was prepared, and never looked back: for two decades-plus she was a constant presence on record in swanky nightclubs, in legendary Vegas venues and on television, most always in the company of her loving and beloved husband and fellow pop vocalist Steve Lawrence. Their stage banter could be gently cutting, but it was more often amiable and occasionally lusty (sometimes all at once: in her later years Eydie used to joke with the audience about learning how to use her computer because "it's great to come home to a hard drive") but it was never mean spirited, and no one ever left a Steve and Eydie show doubting the couple's unswerving devotion to each other.
She was born Edith Gormenzano on born Aug. 16, 1928, in the Bronx, NY, to Sephardic Jewish immigrants. Her father was a tailor from Sicily and her mother was from Turkey. She grew up speaking English and Spanish, and both languages proved indispensable to her later recording success. Before her singing career took off, Gormé worked as a Spanish-language interpreter. She had been a singer with the Tex Beneke Band when Steve Allen hired her to appear on his New York variety TV show in 1953. Lawrence—born Sidney Leibowitz–was also part of the show's ensemble, and the two sang and acted in comedy sketches. When Allen's Tonight show was picked up by NBC in 1954, Steve and Eydie came along, and for three years were regulars on the nascent medium's first late-night hit. They were married in 1957 and a year later had a hit TV show of their own, The Steve Lawrence and Eydie Gorme Show, before Lawrence was drafted into the Army. Note the previous sentence: they were married…and had a hit TV show—from the moment their nuptials were concluded, Steve and Eydie were forever Steve and Eydie, one almost always going where the other went, known all over America simply by their first names, every bit as iconic in their era as Ozzie and Harriett, Lucy and Desi and Ralph and Alice (Kramden, who were only a fictional TV couple).
A very young Eydie Gormé sings 'Ma, He's Making Eyes at Me' in this undated TV clip
Eydie Gormé's #11 single from 1958, 'You Need Hands,' at that time her highest charting single since making her recording debut in 1954
While Steve was serving his country, Eydie performed solo, but come 1960 and his discharge, they were together again, never to be parted professionally until Eydie announced her retirement in 2009. The secret of their success and endurance is a many-faceted thing, but it starts with the way they presented themselves to the public, in a timeless, elegant style oblivious to the tumultuous cultural shifts going on around them. In the '60s, when some of their celebrated peers adopted counterculture wardrobes and attitudes, Steve and Eydie still sported a tux and an evening gown on stage. A lot of singers "try to make the switch and do rock," she told the New York Times in 1993. "But if we came out in jeans and sneakers it would look ridiculous. We're stuck with who we are." Being "stuck with who we are" served them well nonetheless: in 1978 they won an Emmy for their TV special, Steve and Eydie Celebrate Irving Berlin.
Steve Allen, no friend of rock 'n' roll, put it more indelicately, albeit on the money. "What has been the nature of their success?" he said in a 1996 New York Times story. "First, the fact that they are a couple has something to do with it. Secondly, they are damned good singers. And thirdly–this has both hurt and helped them–they concentrated for the most part on good music. This lost them the youthful audience, who prefer crap to Cole Porter's music. But it endeared them to people with sophisticated taste."
Eydie Gormé's third single, 1956's 'Mama, Teach Me to Dance,' charted at #39 and teamed the singer with Sid Feller, Ray Charles's conductor and arranger during his hit making ABC-Paramount years.
In reflecting on Eydie's legacy, Bill Katz of Urgent Agenda offered a potent observation: "Eydie Gorme's career reminds us that we once had truly great popular music in America, sung by singers who actually could sing, and who could engage the audience. We had real composers and lyricists. Our music entertained, but didn't degrade. I have to believe there's still an audience for that music. And I know there are young people who still love it. I've met them."
"Eydie has been my partner onstage and in life for more than 55 years," Lawrence said in a statement following his wife's passing. "I fell in love with her the moment I saw her and even more the first time I heard her sing. While my personal loss is unimaginable, the world has lost one of the greatest pop vocalists of all time."
Eydie Gormé and Steve Lawrence's 'I Just Want to Stay Here,' the duo's #28 single from 1963, written by Gerry Goffin and Carole King
Apart from numerous hits-style collections and import iterations of her catalogue, Gormé's discography numbers 43 albums (including some wonderful duet albums she cut with Steve Lawrence, one of which, 1960's We Got Us, won a Grammy) hewing mostly to the glories of the Great American Songbook with an occasional nod to contemporary writers of note, as she and Steve did in 1963 with their #28 single "I Just Want to Stay Here," from Gerry Goffin and Carole King. They weren't working with studio hacks either, but rather with some of the finest musicians extant, as assembled by their towering producer-arranger Don Costa, who went on to a monumental career producing, among others, some of Frank Sinatra's most interesting latter-era recordings. For all the wonderful, lasting records she made, Gormé, solo and with Steve, was never dominant on the charts. Her only big hit was 1963's #7 novelty fluff penned by Barry Mann and Cynthia Weill, "Blame It On the Bossa Nova," which she knocked out of the park with her rousing delivery, despite its not being a bossa nova at all; and she won a Grammy in 1966 for her rendition of "If He Walked Into My Life" from the Broadway hit Mame, although the single barely charted, peaking at #120. Hers was not a body of work to be appraised by its chart history but by its overall excellence in conception and execution, and most important, its timeless quality.
Eydie Gormé and Trio Los Panchos live on TV in 1964 performing 'Piel Canela,' 'Sabor a Mi' and a swinging 'Granada'
Circa 1963 Columbia Records president Goddard Leiberson suggested to Eydie that she try her hand at some Spanish language songs, on his hunch that she would have great appeal to the Latin market. In 1964 she teamed up with the famed Trio Los Panchos (only two-thirds of which were actually Mexican; guitarist Johnny Albino was from Puerto Rico) on a collection of Spanish-language standards called Amor. "Sabor a Mí" became closely identified with Gormé and emerged as one of her signature tunes, but the entire album is a beauty of romantic Mexican folk tunes with Eydie's plaintive voice backed by the Trio's sensual gut-string guitars and sturdy but emotionally rich voices. The disc was later reissued and is now available as Canta en Español. In 1965, a sequel appeared called More Amor (later reissued as Cuatro Vidas). Her final album with Trio Los Panchos was a 1966 Christmas collection, Navidad Means Christmas, later reissued as Blanca Navidad. Gormé also recorded other Spanish albums in her career, including the Grammy-nominated La Gormé (1976), a contemporary outing. The 1977 release Muy Amigos/Close Friends, a duet collection with Puerto Rican singer Danny Rivera, also received a Grammy nomination.
Eydie Gormé with Trio Los Panchos, Canta en Español (originally titled Amor, 1964), complete album
A Gourmet's Gormé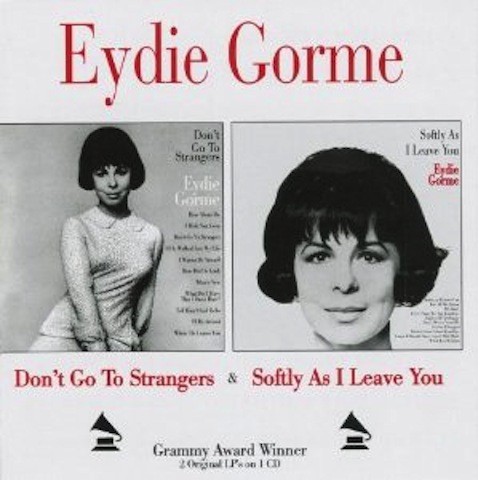 In recent years several of Eydie's finest long players have finally been reissued on CD with remastered sound and informed liner info and notes. A checklist of the Gourmet's Gormé would have to include:
Don't Go to Strangers/Softly As I Leave You (1966 and 1967, respectively), Real Gone Music: prime-time Eydie singing standards with a slight contemporary flair in the orchestral and string arrangements but never straying far from the classic style she had honed in the '50s. She belts with the best on "What Is a Woman" and the swaggering "I Wanna Be Around," but both albums lean heavily on heartbreak that the singer delivers with aching beauty on "Softly As I Leave You," "Ev'ry Time We Say Goodbye," "All Alone," "How Did He Look" and "What's Good About Goodbye."
Eydie Gormé, 'Softly As I Leave You,' the title track from her 1967 album
Eydie Gormé (1957): Her second album (the first was 1956's Delight) finds the spunky young Eydie keeping things upbeat for the  most part, belting "Gypsy In My Soul" and "The Gentleman Is a Dope" in a way that underscores her natural theatrical flair, whereas "Saturday Night (Is the Loneliest Night of the Week),"
Eydie Swings the Blues and Eydie in Love (1957 and 1958, respectively): two early gems, with conductor Don Costa doing the arrangements on both and really connecting with Eydie. On Swings the Blues they swing indeed on "I Gotta Right to Sing the Blues," get brassy and torch-intensive on "When the Sun Comes Out," low down and lonely on Ellington's "Don't Get Around Much Anymore" and positively seductive on Gershwin's "The Man I Love." In Love spotlights Eydie the romantic, with a heart tugging rendition of "When the World was Young"; a spare, affecting "In the Wee Small Hours of the Morning"; a yearning "Impossible"; a haunting "Here I Am In Love Again." Amazing and beautiful, in every respect.
From Eydie in Love (1958), 'In the Wee Small Hours of the Morning,' arranged and conducted by Don Costa
Eydie must-haves would be incomplete minus her engaging work with Mexico's legendary Trio Los Panchos: their first project together was 1964's Amor, Spanish-language standards including the beautiful title track and "Sabor a Mi," one of Eydie's signature songs afterwards (the album was later reissued and is now found under a new title, Canta en Espanol). The pairing was so simpatico that it was repeated a year later, in the 1965 sequel More Amor, reissued as Cuatro Vidas. Its memorable selections include classic boleros "Cuatra Vidas," "Vereda Tropical" and "Nochecita," and the sumptuous love song, "Mas Amor." Navidad Means Christmas (1966): Eydie's third album with Trio Los Panchos is a lively Latin outing, festive and joyous, of all-Spanish-language seasonal tunes.
Eydie Gormé with Trio Los Panchos, the beautiful 'Amor,' the original title track of her first album with the Trio, released in 1964 and subsequently retitled Canta en Espanol.
The abovementioned Paul Berman of New Republic offers this eloquent, unbeatable summation of Eydie's work with Trio Los Panchos:  The recordings of Eydie Gormé with Los Panchos show her happily going along, one more courtly singer along with the rest. And yet, something in that accent of hers reminds you that La Gormé does hail from the United States, where, during her high school years, big-band swing was enjoying its golden age—a style chiefly African-American in origin, with an occasional contribution from big talents like Tommy Dorsey, the trombonist, whose relaxed phrasing proved to be inspirational for more than one singer. The big-band background winks at us from behind La Gormé's Spanish consonants and her seeming simplicity.
Her versions of "Nosotros" and "Sabor a Mí" are no different from anything a Mexican female pop singer of her era would have produced, except for the flat gringo vowels. And yet, now and then she lingers over a note a little too languidly, as if she had decided to allow the rhythms of the song to glide ahead of her. Or she allows her voice to swell a little more intensely than a courtly troubadour from the twelfth century would have advised. And the combination of rhythmic freedom (although only in a phrase or two, so quickly pronounced as to be forgotten) and the swelling intensity (if only hinted at), contrasts still more tantalizingly with the elegant orderliness of the Panchos.
Eydie Gormé with Trio Los Panchos, 'Nosotros,' from Canta en Espanol (aka Amor, 1964)
Nothing she does allows you to conclude that she is anything but the most demure of young ladies. And yet the voluptuous lingerings and swells go far enough to lead you to wonder. You could almost allow yourself to suppose, if you were in a perverse frame of mind, which no decent person listening to Los Panchos would ever be, that she is saying to the courtly Panchos: "Come on, boys! Is that all? More, more! Don't you see, you elegant gentlemen, that I am not just a demure lady, I am also a woman, and I have emotions and desires of my own—which may even be larger than yours combined?"
We Got Us/Eydie & Steve Sing the Golden Hits (both albums, 1960): two more Don Costa-arranged gems exploring love in its warmest, cuddliest form with wonderful arrangements and performances of "I Remember It Well," "I'll Be With You in Apple Blossom Time," "Marie," "Sentimental Journey," "Together Wherever We Go" and "Baby, It's Cold Outside," in which the couple exude an on-disc intimacy that can't be faked.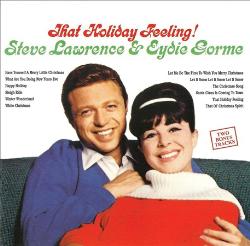 Cozy/Two On the Aisle (1961 and 1962, respectively): another outstanding two-fer again pairing the duo with Don Costa but this time tackling a bit more sophisticated material than they did on their 1960 duet albums. "If Ever I Would Leave You," "The Party's Over," "Till There Was You" and "Wouldn't It Be Loverly" bring out deeper interpretive performances than Steve and Eydie had yet committed to record. No, it's not Sinatra at his late-night finest but its tinges of longing and loss lend a striking edge to several performances here. Play this disc for anyone that believes Steve & Eydie were too bright and bubbly ever to acknowledge the complexities of mature love.
That Holiday Feeling! (1964): Nothing less than a tour de force exhibition of assured, heartwarming Yuletide cheer and reflection on the original 12-track gem from 1964, with two splendid bonus cuts added to the CD version. Don Costa is again responsible for the tasty arrangements, with Joe Guercio (who was Elvis's musical director during the '70s) conducting the orchestra. The swingin' side of Steve & Eydie bursts out delightfully on their spirited vocal pas de deux on "Baby It's Cold Outside"; Costa gets some interesting textures going with woodwinds and strings as the singers romp through "Sleigh Ride" and also crafts a lush, nuanced string arrangement to shadow a beautiful, heartwarming Eydie reading of "Have Yourself a Merry Little Christmas" that in and of itself illustrates how masterfully she could shade lyrics to suggest the wariness that was part and parcel of this song's hopeful sentiments, as she does here, and wind up in a beautiful place where everyone is made welcome. A Christmas evergreen, this
From That Holiday Feeling!, Eydie Gormé's moving but nuanced performance of 'Have Yourself a Merry Little Christmas,' set to a heavenly string arrangement by Don Costa.
Steve & Eydie, co-hosting Hollywood Palace, November 14, 1967, perform a Broadway melody of 'Without You I'm Nothing,' 'Where Would I Be Without You,' 'Walking Happy,' 'Cabaret' and 'The Honeymoon is Over.'
In the end, there's no way to measure what's been lost with Eydie's death. Yet another elegant symbol of a dying era, yet another truly gifted artist who was about entertaining, yes, but also about elevating and touching our souls, about inspiring us, about speaking of things that mattered in our lives. Steadfastly apolitical as an entertainer could be, hers was instead a humanitarian's voice—she made the world a better place in those moments when she was singing meaningful, literate songs.
In the Las Vegas Sun of August 11, 2013, columnist John Katsilometes documented what Eydie's passing meant in the larger scheme of his town's nightlife history. The most powerful, and haunting, remembrance he offered was of the only Steve and Eydie performance he ever saw, in October 2006, when the couple was the last act to perform at the Stardust, yet another of Vegas's legendary hotels that would soon be subject to the wrecking ball. In its sharply observed details of a world fading before his eyes, Katsilometes's account is doubly poignant even as it captures the essence of the couple's onstage magic.
He observes:
The opportunities to see Steve & Eydie together in Las Vegas proved scant. The one time I was able to catch their performance was in October 2006, as they were the final act at the Stardust.
This was Old Vegas at its finest. I walked into the theater behind Shecky Greene and Frankie Avalon. Seated in the booth to the right: Steve and Elaine Wynn. On the left: Dennis Bono and Lorraine Hunt Bono. Vinnie Falcone, famous for his years as Sinatra's pianist and bandleader, was the orchestra's music director.
Before the performance, a clip of Steve & Eydie's career highlights played for the crowd. This went on for 15 minutes, as the couple were shown singing with Sinatra, Sammy Davis Jr., Dean Martin, Bob Hope, Perry Como, Johnny Carson, Steve Allen and Judy Garland, among many other legends in the history of entertainment.
Early Steve and Eydie, on Steve Allen's Tonight show, joined by Ann Southern and Dinah Shore on the show's theme song, 'This Could Be The Start of Something Big'
They joked with such ease that it seemed every word was spontaneous. Steve remarked about the couple's famed role as "show closers" at Vegas resorts. They had closed Circus Maximus at Caesars and were the final voices heard from the stage at the Sands and Desert Inn.
Steve said the couple had "closed as many hotels as Steve Wynn has built," and, nodding toward Stardust owner Bill Boyd, seated near the stage, "We're going to rush through the show because Mr. Boyd has a wrecking ball out in the parking lot."
But the real pearls were the sharp, clearly affectionate asides the couple made to each other. Eydie told the crowd she'd been learning how to use a computer because "it's great to come home to a hard drive."
As I wrote at the time, Steve & Eydie were of a different and classic era, when entertainers knew how to talk to a crowd, wear fancy clothes, sing on key and finish big. At the end of the show that ended the Stardust, the two linked arms and strolled the walkway at the front of the stage that looped through the audience.
The spotlight bathed the two legends in bright light as they chatted about the many rooms they'd closed, so many that they might run out of showrooms in which to perform. Then they finished with their signature song: "One For My Baby (And One More For the Road)." It was the last time they sang together in Las Vegas.
"One For My Baby" is what they sang that night at Fellini's, too, a song captured years later. We can just smile at the memory of Eydie Gorme, raise a glass and remember her warmly singing of that long, long road.
In addition to her husband, Eydie is survived by her son David. Another son, Michael, died of a heart ailment at age 23. The grieving couple did not perform for a year following his death.
Sources: Wikipedia; New Republic, August 13, 2013; Los Angeles Times, August 10, 2013; Las Vegas Sun, August 11, 2013.
Eydie Gormé performs George Gershwin's 'The Man I Love'