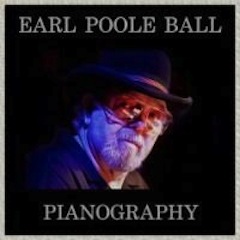 PIANOGRAPHY
Earle Poole Ball
Tin Tube Tunes
When Sam Phillips introduced his newest Sun artist Jerry Lee Lewis to Carl Perkins before adding the Killer to Carl's studio sessions, Sam told Carl, "He can beat up a damn piano."
Well, Earle Poole Ball can "beat up a damn piano," but he's also an uncommonly lyrical player, and at his most fanciful seems to channel Bill Evans or Vince Guaraldi, Assemble the pieces of his sound signature, though, and you understand why Johnny Cash, whom Ball accompanied on stage and record for 20 years, referred to him as the king of honky-tonk piano. Pure, unadulterated country and honky tonk is what he delivers on his revealing new album, Pianography, which turns out to be a sampler of three albums in one.
The first seven cuts all date from last year and this, all but one are Ball originals he wrote himself or in collaboration with his buddy Jo-El Sonnier, with the lone cover being a wry, fatalistic dirge-like reality check from Bert Colwell and Hoy Lindsey, "Something's Gonna Get Us All," which notes, "We all start dying the moment we're born," and you can guess where it goes from there. Most of the new cuts are less pessimistic, although the bouncy album opener, "Standing At the Edge of the World," with some tasty spitfire guitar from Caspar Rawls, might be the happiest broken-hearted melody you've ever heard, and Earl handles its lyrics like someone who's learned lessons the hard way and moved on to another day. Autobiographical songs have always been a mixed bag but Ball's fiddle-rich, sumptuous title track is heartfelt and moving, keyed by the uplifting spirit of Ball's easygoing vocal as he charts his journey out of his native Mississippi in 1961 (his father gave him two $100 bills, two new suits of clothes, a leather suitcase and a one-way bus ticket to Houston with instructions to make his bones as a professional musician) to the apex of country music and laying down roots in Austin, where he reigns as one of the city's most revered musicians. The bright, cascading piano riff kicking off and recurring in "The Real Me" sounds like Ball's honky-tonk iteration of the riff Guaraldi introduced in "Ginza" but used most effectively, and legendarily, to evoke the feel of snowflakes falling in "Skating" in his A Charlie Brown Christmas score. Ball's song is about staying power–his staying power in keeping on keeping on–and being thankful for each new day. "One of Those Old Things," a loping honky-tonk missive, features Jay Dee Maness on pedal steel and Gene Elders on fiddle adding evocative touches as Ball, singing with a bluesy shrug, enumerates a litany of disappointments he's chalking up to experience and–as he does in "Standing At the Edge of the World"–moving on. A frisky "Say You Love Me," with Cindy Cashdollar, and a sizzling rocker, "Sing It Boy," with Rawls again distinguishing himself on lead guitar, round out the newly recorded tracks of what amounts to a most impressive seven-track EP within the LP.
Earl Poole Ball, 'The Real Me,' an original song from his new album, Pianography. This live performance at Threadgill's Old No. 1 in Austin, TX, was posted at YouTube by Frederick Walser.
Following this opening salvo, Pianography takes Ball back to the most illustrious chapter of his biography, his tenure with the Man in Black. Four rousing live cuts are taken from a Cash tribute show, dubbed The Johnny Cash Bash, held in Austin at Emo's club on February 26, 2010. Cash's "Big River," Roy Orbison's "Down the Line" and Claude Demetrius's classic "Mean Woman Blues" all get sizzling treatments (especially the latter when Ball injects some heated Jerry Lee glissandos into the maelstrom and Rawls checks in with some ferocious soloing).
The album's surprising third chapter, if you will, is subtitled in the liner booklet as "Long Ago and Far Away." So it is: two cuts recorded ten years apart, in 1967 and 1977, the former recorded in Hollywood, CA, and produced by Eddie Hodges, the latter recorded in Nashville and produced (and written) by Ball himself. "Second and San Antone," the '67 cut, sounds suspiciously like rewrite of the Jimmy Logsdon-Vic McAlpine tune "Where the Rio de Rosa Flows" as recorded in 1958 by Carl Perkins, with a rockabilly flair, of course (both songs are set in San Antone, by the bye); it's a winning performance but Ball's original tune and production, "Flowers on Papa's Grave," is a great lost hit fueled by his strong, forceful reading over a high-spirited gospel-flavored arrangement complete with a southern gospel quartet (in the style of the Statler Brothers, in fact). Its compelling performance shows the young Earl Ball to have been a formidable vocalist with an abundance of heart and expressiveness in his attack and a stylish, muscular delivery. For whatever reason the dice didn't roll Earl's way on "Flowers," but to say he coulda been a contender would be to diminish an important career by suggesting he missed his shot at the brass ring. The evidence indicates he in fact must have a big collection of brass rings, and if you hear what he's saying in some of his new songs on this outing, well, it's clear he's all about grabbing for a few more. Go for it, Earl.