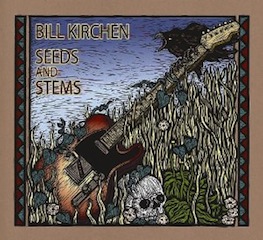 SEEDS AND STEMS
Bill Kirchen
Proper Records
"Get outta my way you small town clowns/this country boy, he's come to town"
So begins stellar guitarist-singer-songwriter Bill Kirchen's fine new album, Seeds and Stems, a collection of revisited Kirchen classics and new originals. In fact, the above lyric comes from "Too Much Fun," one of the aforementioned classics dating back to the artist's fruitful tenure as a founding member of trailblazing country-rockers Commander Cody and His Lost Planet Airmen. Here, backed by his own formidable Too Much Fun band (bassist Maurice Cridlin and drummer/percussionist Jack O'Dell, with a handful of additional musicians sitting in here and there), Kirchen, in full Tele splendor, adds a little extra je ne sais quoi to give the familiar favorites fresh bite, drive and soul and thereby make them new again. "Too Much Fun" sounds even rowdier in its 2013 incarnation as the band romps through its tale of a free spirit who meets all sorts of resistance to his antics–especially when driving a stolen car–and winds up behind bars "for having too much fun."
Seeds and Stems being something of a career overview, its eclectic repertoire is hardly surprising. "Too Much Fun" may kick off the festivities with a heated rockabilly flair, but the second cut, "Tell Me the Reason," is a note-perfect honky-tonk tearjerker lamenting the demise of a seemingly perfect couple's romance, with Kirchen's twangy, tear-stained guitar fills supporting his plaintive, heartbroken vocal. Thus is the stage set for "Down to Seeds and Stems Again," one of Commander Cody's signature songs (co-written by the Commander and Airman Billy C. Farlow–the latter being Kirchen's collaborator on "Too Much Fun" as well) here rendered in the muted colors of a sad country ballad and enhanced by Kirchen's weeping guitar solo, a lonely piano flourish courtesy Austin de Leone, and a desolate, dry Kirchen vocal (along with his heart tugging recitation informing us that in addition to losing his gal his dog has died and his house is being repossessed–folks, this is sad multiplied to the nth factor).
Bill Kirchen, 'Hot Rod Lincoln,' the extended live version, in Madrid, October 18, 2012
On the trucking front Kirchen offers another early Cody song in the twang-drenched "Semi-Truck" (the full title indicates its homage to the time-honored trucking song tradition, to wit: "Here I Sit, All Alone With a Broken Heart, I Took Three Bennies and My Semi-Truck Won't Start), which in a humorous vein is the dark side of Dave Dudley's "Six Days On the Road." The backdrop for the rousing "Truck Stop at the End of the World" is the start of WWIII, an all-out nuclear holocaust that Kirchen informs us cannot stay a trucker from his appointed rounds; in the spirit of Steve Goodman's "You Never Even Call My Name," Kirchen's "Mama Hated Diesels" ("I guess it had something to do with dad," he tells us) proves you can't go wrong writing songs about trucks and mamas, especially if the song has both in it along with yet another timeless element–a cemetery scene set at mama's grave, leading to a poignant ending that leaves you wondering whether you should laugh or cry, which rather indicates the subtlety of Kirchen's humor. Raw and wrenching, transformed from its original red-hot incarnation, "Womb to the Tomb" is nothing less than a long-haul driver's chronicle of his encounter with a phantom trucker whose mission is to help fellow big-riggers escape tight spots on the road–a good Samaritan on the order of Red Sovine's "Phantom 309."
Bill Kirchen, 'Down to Seeds and Stems Again,' live at the Turning Point, Piermont, NY, August 9, 2009
Dylanologists will want to take note of Kirchen's superb cover of Bob's "It Takes a Lot to Laugh, It Takes a Train to Cry," a real beauty of bluesy, laid-back balladeering keyed by Kirchen's restrained vocal over an evocative arrangement led by his spare, probing guitar which in turn is supported by O'Dell's delicate brush drums and de Lone's ghostly piano. And given how on many of the uptempo tunes (let us not fail to mention the kick-ass workout titled "Rockabilly Funeral") Kirchen teases us with intimations of his spitfire, legendary solo on the Commander's chart busting 1972 cover of "Hot Rod Lincoln", you expect you'll hear it in full flower when he rolls out his version as the penultimate song here–but wait. This isn't the "Hot Rod Lincoln" of yore; instead, it's only part of the "Hot Rod Lincoln" of yore. This one's a near-eight-minute track, and yes, the first 2:10 is "Hot Rod Lincoln" complete with Kirchen's amazing soloing, but then it takes what you might call a hard left, as it does in Kirchen's concerts, when he begins name checking in words and music a whole host of marquee names (most of them musicians with distinctive sound signatures) whose cars pull over when the Hot Rod Lincoln comes barreling down the road. For instance, when Duane Eddy lets him by, Kirchenthen pays homage with a twangy taste of "Rebel Rouser"; Roy Orbison, "he let me by," and is saluted with the opening bars of "Pretty Woman"; The Ventures, a smidgen of "Walk Don't Run"; Count Basie pulls over and Austin de Lone nods with his 88s; The Beatles, The Monkees, Stevie Ray Vaughan and on it goes, reaching a high point of sorts with "the Kings," namely Freddie, B.B., Ben E., Carole, Billie Jean (to the sound of a tennis ball being volleyed–actually it sounds like a "Pong" game), flamboyant boxing promoter Don King (no sound–Bill, as we have noted, has a well-honed sense of humor) and The King (Elvis, by way of a replication of Scotty Moore's opening lick on "Heartbreak Hotel). This "Hot Rod Lincoln" is a real show stopper of a penultimate tune, not easy to follow, unless you can pull "Talkin' About Chicken" out of your trick bag and please the crowd with its laid-back, lusty humor. Special guest picker Jorma Kaukonen adds a little spice to a broth comprised mainly of a series of favors one partner asks of the other, each of which begs the question, "Are you talkin' about love or are you talkin' about chicken?" Don't know about that, but we are most certainly talking about a lot of exemplary picking and singing on Seeds and Stems. A good time is promised to all who enter.