Vintage calypso—the beloved Caribbean sounds of the early 20th-century—is alive and well and thriving in Berlin. The seventeen-member strong, multinational, wildly effusive, charmingly quirky Lord Mouse and the Kalypso Katz packs the city's bars and clubs with their swaying beats, hot horns, bold lyrics, and a bevy of dapper, rakish suits and bathing-beauty chorus of singing, dancing damsels.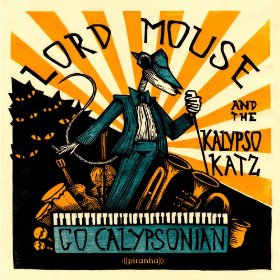 After four years of wooing crowds around Western Europe, they have finally released their call for the world to Go Calypsonian (Piranha Musik). As the album reveals, the band may break into a ridiculously catchy Soviet cartoon ditty ("Chunga Changa," courtesy of Russian bassist General Confusion), into a sweet homage to the abdication of King Edward (the classic calypso song, "Love, Love Alone"), or do its damnedest to make booties shimmy ("Calypso Hipshake").
"The Calypsonian vibe gets to everyone and anyone," exclaims American-born Lord Mouse, the mastermind behind Berlin's unexpected darlings and Europe's only big band calypso outfit. Though drawing its power from the old-school sounds of Trinidad, calypso as played by Mouse and the Katz can get anyone dancing, or tumbling merrily under the limbo stick.
The Katz's inclusivity comes from the multifaceted origins of calypso, and not just from its party-friendly energy. As islands in the Caribbean changed imperial hands and as overlords from the Spanish to the French to the British made their mark on Afro-diasporic and evolving local music, diversely rooted music like calypso emerged. Though Trinidadian and Caribbean musicians have moved in other directions, the vintage stuff has reemerged in unlikely places, in part due to its ongoing relevance.
Calypso lyrics include rebellious, humorous, and sometimes suggestive protests of corrupt politics or racial prejudice, while touting the singer's street cred and sexual prowess. Explains Lord Mouse: "Like in rap, the themes are all very similar. You could draw a direct line from any old Calypsonian straight to his hip-hop counterpart of today."
Doing their damndest to make booties shimmy: Lord Mouse and the Kalypso Katz, 'Calypso Hipshake,' from the new album, Go Calypsonian.
http://www.youtube.com/watch?v=prA4dyq4OOc
Lord Mouse and the Kalypso Katz, 'Snake Charmer,' from the new album, Go Calypsonian
Though the lyrics resonate with contemporary mores and issues, the sound of calypso, as it was played more than a half-century ago, is unique, and the group works to keep that feel. Shying away from more recent sonic developments (soca's electronic pop intensity, for example), the Kalypso Katz maintain a vintage vibe that honors the songs of early calypso. "Our old-school sound is partly due to a great sound engineer. Also, crappy instruments help!" Lord Mouse laughs.
"Originally, my idea was to put together a smaller ensemble, playing traditional calypso in the 1930s style. But we have a lot of talent in Berlin, and people just kept on coming. Before I knew it, we had ballooned to 17 people!" Lord Mouse recalls fondly. The cool sound and visual impact made the big band feel right, and the Kalypso Katz were born.
Yet there are challenges for a group of adoring calypso fans—none of whom come from the Caribbean, as thoughtfully chronicled in "White Boy Calypso." "One theme we had never touched on was race, which is obviously very big in calypso, as these people were the children of slaves. It was a bit touchy to find a song that could apply to us, a bunch of white people. But this one works, because it's about how everyone asks me why I am doing this music as a white man. We don't get to play in Caribbean festivals because of our skin color. The theme of this song reiterates what Stevie Wonder sings about in 'Sir Duke:' Music is an equal-opportunity venture, and should always remain that way."
Lord Mouse and the Kalypso Katz, 'White Boy Calypso' and 'Mambo,' June 13, 2013
'I want to spend my Christmas in Trinidad': Lord Mouse and the Kalypso Katz, from the album Calypso Christmas
Calypso fandom has become a venture open to all, as the band is willing to perform wherever the stage is big enough to hold all seventeen of them, from music festivals to outdoor bars (where the band has a history of bringing on mysterious cloudbursts).
"Our fans are pretty hard to stereotype, but it's always a good crowd. Funny, because it is all but forgotten everywhere else, even in Trinidad, its homeland," Mouse recently recounted in a conversation with music writer Miles Jackson. "Our orchestra hails from around the world and we've been pushing this cause and none of us are from the Caribbean. The folks here in Berlin are really receptive to it. I feel really blessed to have so many incredible people together on the dance floor."

Courtesy World Music Newswire, July 16, 2013