A lasting friendship was born in the early '50s when B.B. King met a promising young blues singer from the Memphis area, Robert Calvin Bland, who became known as Bobby "Blue" Bland. Born near Memphis January 27, 1930, Bland received his first lessons in direct, heartfelt singing while a member of various church groups in town; in the late '40s he took to Beale Street and began honing a singular vocal approach out of the gospel, blues, country and early R&B that had become his artistic touchstones. Bland didn't have a big, powerful voice. Rather, his was the quiet storm of post-war blues—forceful and determined in a macho kind of way on uptempo numbers, but with an underlying tenderness that could put the hurt in a ballad to a degree that, of all his contemporaries, only B.B. himself approached. Along the way, he developed the earmarks of a master stylist as well, later employing a more probing, delicate attack–learned in part from studying the recordings of Nat King Cole, Perry Como and Tony Bennett–to heighten the deeper feelings roiling below the surface of his dignified demeanor. In time he also developed a signature vocal tic, a kind of choking sound he called "the Squall" that was his version of a shout—except that Bland sounded like he was trying to dislodge something from his throat. Not the most pleasant of vocal affectations, "the Squall," Bland insisted, drove the women wild. One of his longtime female fans, Maurice Prince (who was the proprietor of the Los Angeles–based Maurice Snack 'n' Chat restaurant), described Bland's music as "sexy blues" that women found most appealing. "Men would come out to see B.B.," she said, "but the women would flock around this guy because he would sing kind of quiet and come out with these sexy notes.  He was softer than B.B.–you had to kinda listen, and that got under your skin. When Bobby would sing something, it was more like he was talking directly to you."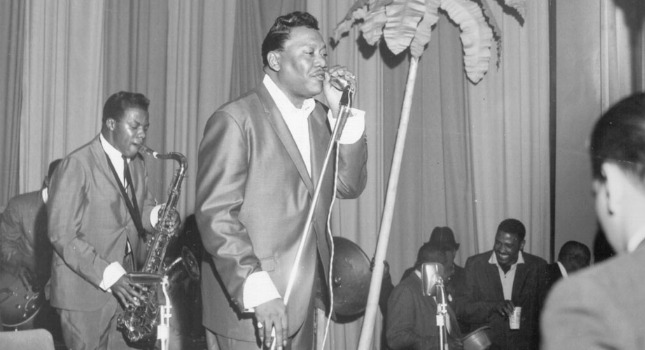 Although Bland's artistic growth was far from complete when he cut his first sides at Sam Phillips's Memphis Recording Service in 1951, he was on his way to being an assured vocalist, recording in his hometown backed by musician friends from Roscoe Gordon's band, but lacked a singular style–his vocal attack was heavily beholden to B.B.'s style, especially in the upper register cries. (Bland not only was a member of B.B.'s band in the early days, he was also, at various times, B.'s chauffeur and valet.) Phillips licensed Bland's recordings to Chess, and Bland was briefly on Modern before signing with Don Robey's Houston-based Duke label, which also had a successful gospel subsidiary, Peacock Records. A two-year stint in the Army, starting in 1952, provide fruitful for Bland because, as he told Peter Guralnick in an interview published in the latter's essential Lost Highway: Journeys & Arrivals of American Musicians (Godine, 1979), "it grew me into my manhood."
The world he returned to after the service was on the verge of enormous musical and cultural change, the harbinger of which was the excitement being created by Sam Phillips's newest discovery, Tupelo, MS, native Elvis Presley, a white vocalist whose unusual vocal style was an amalgam of influences he had absorbed from gospel, blues, country and pop, and whose frenetic performing style was creating a sometimes frightening stir among young people, especially females of the species. As Guralnick notes in his profile of Bland, the race market was breaking wide open–"there was now an opportunity to reach a wider market than had ever been conceived of before"–and Bobby Bland found himself in the right place at the right time with the right people around him to take him to another level. By far the most important of these was Duke's house arranger, band leader and trumpeter, Joe Scott.
Bobby 'Blue' Bland's breakthrough single, 'Farther Up the Road,' Duke Records, 1957; #1 R&B
Bobby 'Blue' Bland's second charting single, 1958's 'Little Boy Blue,' peaked at #10 R&B
Guralnick: "With Bobby Bland, (Joe Scott) must have sensed a special potential, because at the beginning anyway he was working with a style that was scarcely even formed. They spent long hours on things like diction ('Well, a lot of that I learned from Nat 'King' Cole'), phrasing, how to put a particular punchline across, the proper approach to a lyric–amenities that to Bobby Bland are extremely important. Bobby had a tendency then to sing flat and to rush his time, and Scott worked with him on that, too, concentrating on a single song and working on it carefully for at least a month, breaking down lines ('I never could handle no long lines') and rewriting lyrics before he would let bobby take into the studio. Most of all he took the songs that Bobby brought him ('Shit, Robey didn't write none of them,' says Bobby of the classic compositions that came out either under Robey's own name or his pen name of Deadric Malone. 'He got them from–well, there used to be a lot of writers who went through there. No, he didn't steal them! They always got what they asked for. It's not his fault that they didn't have time enough to wait.') and tailored them to Bobby Bland's particular talents. In the process Scott created a style and a genre, the blues ballad, that will be marked forever as Bobby Bland's own."
"Well, you see," Bobby said, "it was the brass that gave me a kind of identity, right from my first biggest record I ever had. That was Joe, because Joe liked the trumpets, you know."
Early Bobby 'Blue' Bland, 'Time Out,' a non-charting single from 1955 in which he charges into his high register wailing like a Sonny Boy Williamson harmonica solo
Scott liked more than the trumpets. Likening him to "a less-celebrated Phil Spector," Guralnick points out how Scott balanced certain predictable elements in Bland's style with more daring moves in pursuit of a unique identity for the singer. "Experiments were introduced," he notes, "there were flirtations–some very successful–with strings and choruses, different fashions were tried on and discarded, but for the most part the work over this changing decade flows together almost as if it were a single extended composition. It is not the blues exactly. The songs project a sense of hurt and vulnerability, and a willingness to assume responsibility, that is far removed from the blues' unquestioning embrace of reality. It is not jazz, because every detail is carefully worked out, down to the tiniest vocal aside or interpolation. It is simply a seamless body of work whose song titles and sentiments ('I'll Take Care of You,' 'You're the One (That I Adore),' 'Call on Me' 'Loneliness Hurts'), shimmering melodies, and intricately arranged effects all meld together to create a portrait of Bobby 'Blue' Bland, the masterful exponent of a sophisticated new style."
A Bobby Bland classic, 'I Pity the Fool,' a #1 R&B single from 1961
'Without a warning, you broke my heart': another 1961 classic from Bobby 'Blue' Bland, 'Turn On Your Love Light," #2 R&B
The early years produced some powerful music–in 1956 a wrenching torch number, "You or None," rendered with cool sensuality of a Percy Mayfield sort, and an explosive performance on "Time Out" in which he charges into his high register wailing like a Sonny Boy Williamson harmonica solo–but his breakthrough would not come until 1957, with a shuffling bit of R&B clairvoyance in "Farther Up the Road," notable for the spitfire dialogue between Bland, lusting for revenge, and Memphis guitarist Pat Hare, an early master of distortion, firing off portentous-sounding four-bar riffs around him before launching into an angry, serpentine solo attack. (Hare, who accompanied many of the blues artist that passed through Sam Phillips's studio, including James Cotton (whom Bland discovered only recently was his half-brother), Howlin' Wolf, Muddy Waters and Junior Parker, auditioned for Phillips in 1954 in hopes of establishing a solo career for himself. His performance of the song he chose for his audition, an early 1940s Doctor Clayton tune titled "I'm Gonna Murder My Baby," unnerved Phillips, who refused to release it; in fact, it didn't see the light of day until 1990, when it surfaced on the Rhino compilation, Blue Flames: A Sun Blues Collection. Phillips must have had a premonition, for nine years later Hare, otherwise known as a mild-mannered man, made good on the song's title promise and shot his girlfriend to death and also wounded an investigating police officer. He spent the last 16 years of his life in prison, doing little besides playing in a band he formed called Sounds Incarcerated before dying of lung cancer in 1980.) Upon its release "Farther Up the Road" bolted farther up the charts, residing at Number One for two weeks. At the same time "Farther Up the Road" was introducing him to a larger audience, the song was also establishing a unique storytelling style, not exclusive to Bland, but one he employed most effectively on many of his most memorable sides. Starting with his tale in progress, he proceeds to hurtle towards a denouement while filling in minute–but not all–details of the story's first act, in effect shifting the timeline to create drama around key sentiments such as "farther on up the road/someone's gonna hurt you/like you hurt me," and then winding up with what amounts to the moral of the story. From this point forward, Bland's Duke recordings were notable for the diversity of their arrangements and the inventive vocal stylings Bland employed. Whether he was shouting over a pulsating, horn-driven, Ray Charles-style arrangement ("Close to You," from 1960) or crooning sensitively on a moody, lilting, ballad ("Two Steps from the Blues," again 1960), he was believable and affecting at every turn.
'You can take it where you find it/or you can leave it like it is': 'That's the Way Love Is,' Bobby 'Blue' Bland's first single of 1963, was #1 R&B for six weeks
'My pay goes down, my tax goes up': scabrous and topical, Bobby's 1966 single 'Poverty' was a #9 R&B hit
In the '90s an exemplary reissue program restored order to Bland's Duke recordings, thanks primarily to the three essential well-annotated two-CD collections, I Pity the Fool: The Duke Recordings, Volume One, Turn on Your Love Light: The Duke Recordings, Volume Two and That Did It! The Duke Recordings, Volume Three. The ultimate aim of this program was to bring the entirety of Bland's twenty-year Duke recording history to the market in chronological order, including alternate takes, rarities and previously unissued sides. Of the sets here, Volume One focuses on the years 1952-1960, Volume Two the years 1960-1964, and Volume Three, 1965 to 1972; the first two volumes contain more informative liner information with regard to chart histories, career outline, biographical details and so forth (by Bob Merlis and Don Snowden, respectively), but Volume Three, although featuring the least of Bland's artistry for the label, does come recommended as essential for the inclusion of 16 singles tracks previously unavailable on any album. Lower-budget Duke retrospectives include the single CDs The Best of Bobby Bland(includes "Farther Up the Road" and two other certified Bland classics in "I Pity the Fool"–his second Number One single, from 1960—along "Turn On Your Love Light," from 1961, and 1963's #1—for six weeks—R&B smash, "That's the Way Love Is"); Greatest Hits, Vol. 1, with its 16 essential tracks (although the omission of "Little Boy Blue" is puzzling); and the 12-cut 20th Century Masters–The Millennium Collection: The Best Of Bobby "Blue" Bland set ("I Pity the Fool," "Turn On Your Love Light," the scabrous, topical "Poverty," and the monumental, gospel-inspired "Lead Me On," a love song rooted in its singer's sense of racial disenfranchisement, akin to Percy Mayfield's "Please Send Me Someone to Love," from Two Steps From the Blues are the highlights of this truncated overview).
The monumental, gospel-inspired 1960 single "Lead Me On," a love song rooted in its singer's sense of racial disenfranchisement, akin to Percy Mayfield's "Please Send Me Someone to Love," from Bland's masterpiece album, Two Steps From the Blues (his first Duke album, released in 1961)
Among the non-greatest hits albums, the one absolute must-have is his first Duke long player, the 1961 masterpiece Two Steps From the Blues, which ranks with the greatest R&B albums of all time. Its authority and passion were not lost on two teenage brothers in Texas, who literally wore out multiple copies of the vinyl version; those young Texas teens grew up to be Jimmie and Stevie Ray Vaughan. From the raw-boned confessional blues of the opening title song to the final, touching "I've Been Wrong So Long," Bland constructs a concept album devoted to intimate reflections on love and longing so personal and atmospheric it comes off as R&B's answer to Sinatra's brilliant forays into thematic unity, Only the Lonely and In the Wee Small Hours. From the album opening title track, to "Cry, Cry, Cry," to "I Pitythe Fool," "Little Boy Blue," "I've Been Wrong So Long," "How Does a Cheatin' Woman Feel" and, especially the topical "Lead Me On," the album narrative is riveting, the singer's performances nothing less than Homeric.
http://www.youtube.com/watch?v=94l3gNRbOP0
From Two Steps from the Blues, 'Cry Cry Cry,' a #9 single followup to 'Lead Me On' (1960)
From Two Steps From the Blues, 'I've Been Wrong So Long,' the B side of 'Cry Cry Cry' (1960)
Aging as gracefully as his friend B.B. King, Bland briefly joined his long-time friend and supporter on the ABC label in 1971, when Don Robey sold the Duke label to the ABC Records Group. At that point Bland was in a deep funk: dire financial straits had forced him to break up his touring band in 1968, at which point Joe Scott left, never to return, as did his long-time guitarist Wayne Bennett, settling in Chicago to do session work. Bland's drinking was the root of all his problems ("I was an alcoholic for eighteen years," he told Guralnick), and the upshot was a downward spiral into depression. He came to his senses after a night on the town with T-Bone Walker that ended with both men desperately sick. "That's what really woke him up," Bland's bandleader and "all-purpose gofer" (according to Guralnick) Mel Jackson said. "Him and Bone. You was there, you got sick too." To Guralnick Bland admitted Jackson was right. "Bone was my first idol. Maybe it was just seeing him fucked up the way he was. Then I met my wife, too. She was eighteen years old. She believed in me; she helped me. She was the one got me to quit."
And in typical Bobby Bland fashion, there was a P.S. to the previous remark: "Then she got a little drinking problem of her own, but we straightened that out. Now everything's fine.
Everything was fine at ABC, too, at least in the beginning. Working largely with producer Steve Barri, arranger Michael Omartian and recording in Los Angeles with the cream of the city's session players, Bland, though not scaling the aesthetic heights he did during his years with Joe Scott at Duke, became a player again in the R&B field, returning to the Top 50 for the first time since 1964 with the 1973 single "This Time I'm Gone for Good," a dark, mystery-laden ballad featuring a shimmering, southwestern-flavored guitar and a weeping slide over a surging string section, with Bland's "Squall" in full force and his vocal plaintive and painfully wounded. It peaked at #10 R&B, but was followed by an even bigger hit, 1974's #3 R&B workout, "I Would Treat a Dog (The Way You Treated Me)," a funky, thumping, Stax-styled retort to a faithless woman, complete with a rich B3 underpinning an active, robust horn section. These years also produced a couple of interesting forays into country with a loping, horn-infused take on the Merle Haggard classic, "Today I Started Loving You Again," and a soft swing rendition of Dan Penn's "I Hate You." ("He just cut the fool out of it," Penn said in a 1999 interview with Oxford American. "He had a really great feel on it. I felt just great that I had a Bobby Bland cut, although it was late in the game, and it was sort of country—it was still Bobby Bland. He didn't really cut it country; he put a swing to it.")
Bobby 'Blue' Bland, 'This Time I'm Gone for Good.' This 1973 ABC single returned the singer to the Top 50 for the first time since 1964
Bobby 'Blue' Bland's take on Merle Haggard's 'Today I Started Loving You Again," #34 R&B (1976)
In 1974 ABC staff producer Steve Barri put Bobby and B.B. together to cut a live album in Los Angeles, at Western Recorders' Studio 1, before an invited audience of family and friends (including James Brown, who made a special trip to be in the audience for this event). The result could hardly have been better. B.B. and Bobby kick it off with a churning version of "3 O'Clock Blues" with Bland singing lead and B.B. making his presence felt initially via the stinging notes Lucille is spitting out in advance of him entering to growl his way through the second verse as the band stomps into the action and the horns swell behind it all. "Ladies and gentlemen, nothing is planned tonight; we didn't plan anything," B.B. says in greeting the audience, whereupon Bland cuts in to tell him, "Here's your beer."
B.B.: "So what I'm thinkin' is we just gonna pull something out of the hat, you might say, and toss it up and get right into it."
"We'd like you to sit back and relax," Bland suggests, then moans, "It's my own fault, darlin'… "
The set is heavy on the "sexy blues" of Bland's legend (including his 1959 single, "I'll Take Care of You"; a 1960 single, "Don't Cry No More"; 1962's "That's the Way Love Is"; and 1964's "Black Night") and B.B. monuments such as "3 O'Clock Blues," "Everybody Wants to Know Why I Sing the Blues," "It's My Own Fault," and, included in a 14-minute medley "Rock Me Baby" (given a slow, earthy treatment that's right in Bland's wheelhouse) and "Chains of Love." (One of the medley's many charms is an interlude during a reprise of "3 O'Clock Blues," when B.B. and Bobby reminisce about their early days in Memphis.)
From the certified platinum album Together For the First Time…Live, B.B. King and Bobby 'Blue' Bland get it going on Bland's 1960 single, 'Don't Cry No More'
No one's pulling rank; Bland often starts the song, B.B. comes in for the second verse, and they alternate from there, with, obviously, plenty of room left for Lucille. There's melancholy in the version of Charles Brown's "Driftin'[PARB1]  Blues"; moony-eyed tenderness in "I'll Take Care of You"; a jaunty, celebratory R&B workout in "That's the Way Love Is," with its rousing horn chart; some low-down blues in the song B.B. introduces as being about "a jealous man," "Don't Want a Soul Hangin' Around," which heretofore had always been titled "Don't Answer the Door." The difference between the two men as performers is evident even on disc: Bland is not shy about sparring vocally with B.B. or spurring him on, but is brief, and even a bit remote (albeit jovial), in his remarks to the audience; whereas B.B. achieves an immediate intimacy with the assembled throng with his warm, welcoming, casual style. Between songs he chats and introduces new numbers as comfortably as if he were speaking to family. In short, Bobby Bland is Bobby Bland, B.B. King is B.B. King, and they found a way to make the twain meet and to make it electrifying—an object lesson in the blues as life. And on the theory that B.B.'s live albums are not without a greater purpose, the first outing with Bobby Band, coming in the wake of the mellow, ornate blues he delivered on his 1972 album Guess Who, demonstrated to any doubters that what happens in the studio is one thing, but out on the boards, out there in the world, B.B. remained steadfastly a dedicated urban bluesman who hadn't lost his hard edge. Aesthetically the album was a winner, and commercially too—Together for the First Time … Live was certified platinum. Its success was sweet revenge for B.B.
From Together For the First Time…Live, Bobby 'Blue' Bland and B. B. King discourse on 'I Like to Live the Love' (1974)
From Together For the First Time…Live, Bobby 'Blue' Bland and B. B. King illustrate why 'That's the Way Love Is' (1974)
"One critic for a national magazine … rode me and Bobby hard," B.B. recalled. "Said the album was a mess and called the music nothing. That bothered me. It's one thing if a critic says he doesn't like you, but another to call your music nothing, especially if he can't make music himself. I don't like arguing with critics, so I didn't. I waited. Waited to see the fans' reaction. Well, the fans loved it. [The album] went platinum. By then, I couldn't contain my emotions anymore, so I wrote the magazine, saying 'Please let the critic who criticized my album criticize all my albums. With the success of my record with Bobby Bland, the man is bringing me luck.' Never heard back from the magazine. But I did hear from ABC, who said they wanted me and Bobby to cut another album, which we did a couple of years later. So much for critics."
Produced by Esmond Edwards, with horns arranged by Johnny Pate (his first work with B.B. since the Live & Well sessions) and recorded at the Coconut Grove in Los Angeles, B.B. and Bobby's second joint project, Together Again … Live, follows the same approach as their first get-together, the two artists quick to share the spotlight and to interject smart quips and energizing ripostes during each other's solo parts. The pair do a moving, sensitive turn on a medley of T-Bone Walker's "Stormy Monday" and Percy Mayfield's beautiful "Strange Things Happen," get the night off to a boisterous beginning with an exuberant rendition of Louis Jordan's "Let the Good Times Roll," and swing hard later on during an ebullient reading of "Every Day I Have the Blues." The highlight is the closing medley, keyed by a decidedly sexy, slinky version of "The Thrill Is Gone" (plus a taste of "I Ain't Gonna Be the First to Cry") that features not only B.B. and Bobby alternating bone-deep lyric readings, and some effective, stuttering interjections by a muted trumpet heightening the loneliness inherent in the story's subtext. It also features a star cameo from an audience member, as startling as it was unplanned. Towards the end, Bland approaches a female patron who identifies herself as Viola (identified in the credits as Viola Jackson) and promptly proceeds to slay the crowd with some husky, Mavis Staples–style gospel-inflected moaning after commandeering the mic for a goosebump inducing vocal turn redolent of sex.
From Together Again…Live, B.B. King and Bobby 'Blue' Bland advise, 'Let the Good Times Roll,' a #20 single from their Together For the First Time…Live album (1976)
In a 1977 TV appearance, Bobby 'Blue' Bland joined B.B. King on a medley featuring 'The Thrill is Gone,' from Together Again…Live (1976); B's 'It's My Own Fault,' from Together For the First Time…Live (1974); 'I'm Gonna Move to the Outskirts of Town' (written by Casey Bill Weldon and recorded by B.B. on his 1999 Louis Jordan tribute album, Let the Good Times Roll)
In 1985 Bland found a home on Malaco and stayed the course for the remainder of his career, trading on gospel-soul stylings and exemplary song selection in a traditional R&B vein. A good starting point for this era is First Class Blues, something of a greatest hits package comprised of several tracks from Bland's first two Malaco albums, Members Only (1985) and After All (1986), as well as fresh interpretations of "Two Steps From the Blues" and another Bland evergreen from the Duke years, "St. James Infirmary." On a fervent interpretation of "In the Ghetto," Bland, all soul on ice, gives a slow, deliberate reading that has the effect of making vivid the corrosive desperation of inner city life. The Members Only album is one of the premier showcases for "the Squall," but that odd vocal affectation, no matter how effective it was in tickling women where they live, took a back seat on the title track, delivered by Bland with a blend of soulful equanimity and understated sorrow on a par with the finest work of his career. Beckoning the broken-hearted to "a private party," Bland advises "don't bring your checkbook/bring your broken heart/'cause it's members only tonight." Framing his tender voice, a string section hums softly, the drums lay back, the guitar emits a soft cry every few bars, and a gospel chorus rises behind Bland as the rhythm gently sways and the ache deepens. A singer can't do what Bland does on this track without understanding the song from the inside out and projecting his own personal experience into the narrative. It's a towering performance. The inspired Midnight Run, Portrait of the Blues, 1998's Memphis Monday Morning and especially 1993'sYears of Tears, show the mature vocalist in splendid form, working his turf, moving hearts, and sounding as involved in his material as he was at the outset of his career. Too many critics have undervalued Bland's Malaco years, but it was good home for the artist, and he in turn settled into making some very good records with only a few misfires. His final album was 2003's Blues at Midnight.
A live version of 'Members Only,' a masterpiece from the Malaco years, on stage in St. Louis, 1989
The studio version of 'Members Only,' from the like-titled album, released on the Malaco label in 1985
B.B. King makes no bones about his regard for Bobby Bland's artistry. "He's my favorite blues singer," he states. "Man can sing anything, but he gives the blues, with his gorgeous voice of satin, something it never had before. He lifts the blues and makes them his own. I got started a little before Bobby, but when he came 'round Beale Street, I loved having him sit in with those little bands of mine. Bobby was one of the joys of Beale Street."
An authentic giant of American music, Bobby "Blue" Bland died on June 23 at his home in the Memphis suburb of Germantown, following what his family described as "an ongoing illness." He is survived by his wife, Willie Martin-Bland, and his son Rodd, a musician.
"He's always been the type of guy that if he could help you in any way, form or fashion, he would," said his son Rodd. Tow which Lawrence "Boo" Mitchell, son of the legendary Memphis musician and producer Willie Mitchell added: "He brought a certain level of class to the blues."
Bobby 'Blue' Bland, 'This Time I'm Gone for Good,' (1973), a #5 R&B single