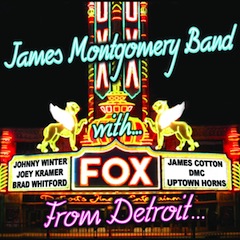 FROM DETROIT…TO THE DELTA
James Montgomery Band
Open E Entertainment
Few living bluesmen have served the music in as many important capacities as Detroit-born, Boston-based James Montgomery. A past president of the New England Blues Society, Montgomery brings blues history alive for fans on his syndicated radio show "Backstage with the Blues," in which musicians tell the stories behind their most famous songs and tell tales from their years on the road and in the studio. He's also performed with a daunting list of the last half-century's most important blues and rock musicians, everyone from B.B. King to Muddy Waters to the Allman Brothers to Bruce Springsteen and many, many more, an impossibly imposing list unparalleled in contemporary music.
At Sculler's jazz club in Boston, the James Montgomery Band celebrates the release of its latest CD, From Detroit…To the Delta, April 10, 2013, with a tough version of a Montgomery original, 'Delta Storm'
The James Montgomery Blues Band performs 'Put Your Money Where Your Mouth Is' from the new album, From Detroit…To the Delta at the Tupelo Music Hall, June 14, 2013. The song was written by guitarist George McCann.
It seems proper, then, that a man who has devoted so much of his life to doing right by other artists should make his sizzling new album about himself, or rather about his journey through the blues, from his early education in the urban variety to later explorations of the music's Delta origins. From Detroit…To the Delta is sequenced in exactly that way so that he winds up not where he began but at the source of the blues. The super-collaborator, as he's been called, doesn't slack off in that department, even though he's far and away the star of this show. He's brought in the great James Cotton to goose along a swaggering take on Lightnin' Hopkins's "Black Cadillac" with his honking harp (and James being James, he gives Cotton wide berth for his instrument and it pays off with a scintillatingly textured solo); Johnny Winter (with whom Montgomery played for four years) blazes away on slide guitar as James provides a short course in Winter's early years as blues guitar phenom with a rumbling vocal amidst the furious pace of "Little Johnny," a cut that also features contributions from two Aerosmith stalwarts in Joey Kramer, providing the muscular drumming, and guitarist Brad Whitford. Kramer, along with the Uptown Horns, is also on "Motor City is Burning," a John Lee Hooker song penned in the wake of Detroit's 1967 riots. Rising from a malevolent thump into an out-and-out roar with the horns wailing and Tom West's B3 crying, Montgomery sings of "the big city burning down/yeah, burning down to the ground." Given that Detroit has now declared bankruptcy, Hooker's apocalyptic reportage of 46 years ago has retained all its punch and then some; and when Montgomery wails "Motown on fire! Motown on fire! Motown burnin' down to the ground, yeah," you have to wonder if the native Detroiter believes the past is prologue, and all this could come frightfully true.
At the Tupelo Music Hall, the James Montgomery Band performs John Lee Hooker's 'Motor City is Burning,' written in the wake of the city's 1967 riots and ever timely today. The studio version is featured on From Detroit…To the Delta.
From the new album, From Detroit…To the Delta, the James Montgomery Band performs Bo Diddley's 'Who Do You Love' at the Newport (RI) Blues Café.

To be honest, the guests add a certain firepower when they show up, but at the end of the day Montgomery and his solid band–George McCann (lead, rhythm and slide guitars), David Hull (bass, rhythm guitar, keyboards and background vocals; he also produced the disc) and Seth Pappas (drums, percussion)–aren't in need of outside help. You can hear what they do on their own on an atmospheric Montgomery heartbreaker, "I Don't Want to Have a Heart," an end-of-the-affair lament Montgomery puts across with a gritty vocal–one of his best on the record–and adds a plaintive harp solo to underscore his misery. Guitarist McCann also contributes a tough original song, "Put Your Money Where You Mouth Is," a bit of severe counsel to someone who has a tendency to run off at the mouth and "scream bloody murder." The track is low-key in execution, propelled mostly by McCann's spare, understated electric guitar with only a sharp-edged Montgomery harp solo to break the music's haunting spell. The fellows, with Charise White doing the distaff honors, works out a cool, propulsive version of Ray Charles's "Hit the Road, Jack," featuring a terrific McCann guitar solo constructed from octave chords and high, upper neck flurries of notes with a little extra spice courtesy a swinging harp solo from Montgomery. "Changing of the Guard," by David Hull and Kathi Worth, shows the band at its rocking finest in a song with infectious drive, potent rock 'n' roll dynamics, searing guitar soloing, a heated harp outburst and Montgomery's soaring, confident lead vocal. Sending everyone home by bringing Cotton along for a ride in the aforementioned "Black Cadillac," Montgomery does right by the blues, as he's been doing since forming the first James Montgomery Band in 1970. In the process he's done right by himself and his own considerable legacy, and he sounds likes he's having a great time every step of the way. At the very least, you want that for him.