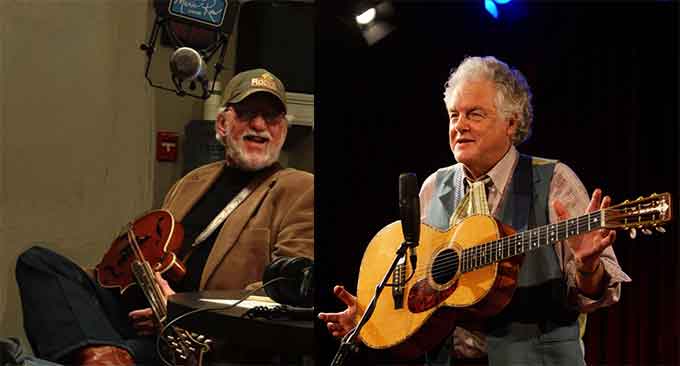 Doyle Lawson (left) and Peter Rowan: Picking it clean, singing it true, never going out of style
Two bluegrass veterans with something to celebrate do so in style on their new albums. Doyle Lawson is marking his fiftieth year as a professional musician on his chronicle of love in many guises, Roads Well Traveled, with the support of one his finest Quicksilver lineups. In his tellingly titled The Old School, Peter Rowan, who has been making some of his best albums ever in the past few years, mines his own history as one of Bill Monroe's Bluegrass Boys by assembling a multigenerational cast of players, some of whom knew and played with Monroe, others representing the continuity of the Monroe doctrine in bluegrass's younger generation, to go to town on 11 Rowan originals plus a resonant cover of the Civil Rights anthem, "O Freedom," sung by Odetta at Martin Luther King's march on Washington on August 28, 1963, which took place at the very moment the young, Boston-born Rowan was touring around the south with Monroe and wondering if his conscience would allow him to endure much more of segregation's brutal reality.
Though it has plenty of sunny moments and jubilant spirits, Doyle Lawson's Roads Well Traveled is as emotional an album as he has ever cut with any iteration of Quicksilver. Even though the album opener, a homesick blues called "Dixie Road," has a frisky drive about it, the close-knit harmony vocals, anchored by Josh Swift's rumbling bass, have a strong, affecting punch to them, common to the most heartfelt singing and with decided gospel overtones. The songs come from various top-drawer writers–Harley Allen, Bill Anderson-Steve Wariner, Carl Jackson, Jim & Jesse, Doyle himself, et al.–and tell stories centered on love: the tender bluegrass ballad, "How Do You Say Goodbye to Sixty Years," is a heart tugging, richly harmonized query from a widowed husband standing at the grave of the only woman he's ever loved, with evocative, sensitive instrumental support from Joe Dean on banjo and Jason Barrie conjuring tears from his fiddle; Lawson and Quicksiver members Mike Rogers, Corey Hensley and Joe Dean combined for a different kind of tale about love departing, the sprightly "It's Hard To Be Forgotten," lamenting a lost love, with fiddler Barrie and Swift on dobro and fiddle adding the requisite instrumental heat; pure, unalloyed unconditional love is the theme of the gentle, loping "When Love Is All You Want (It's All You Need)," from the combined forces of Jonathan Burchett and Carl Jackson. In this tale a couple of limited means surmounts every obstacle through the strength of their affection for each other–"in the worst of times, the worst of times was good/and he could always make her smile with his simple poems and such/and she made him a rich man with the softness of her touch/to some it might have seemed an old routine/but to Annie Mae and Henry Lee/they were livin' out their dream," proclaim the keening, tight-knit voices in one of the album's most impassioned performances, backed by Dean's understated banjo and some solid guitar picking courtesy Mike Rogers. Then there is a different kind of enduring love–the love of place, of the roots of your raising and what you became. Doyle articulates this theme most eloquently without a word in his driving instrumental, "By the Waters of the Clinch," a sparkling, high-spirited romp with plenty of room for multiple solos (including a dynamic, discursive mandolin broadside by Lawson himself) as the sparkling melody and lively rhythmic thrust evoke Doyle's youthful memories of growing up in Hancock County, TN, where he began playing music and dreamed his dreams along the banks of the Clinch River. Pride in small town values and life is celebrated unabashedly in the fiddle-rich midtempo treatise, "I'm That Country," written in part by Quicksilver's Mike Rogers. Thus some of the roads well traveled in this most engaging half-century celebration. But given the number of fine albums Doyle Lawson has cut over the years, it's fair to say we've been down this road before–and we're still being surprised by what we find when we travel it.
Doyle Lawson & Quicksilver, 'Dixie Road,' a live performance of the first track on the band's new album, Roads Well Traveled. Video shot by Sherri George, Clay City, KY, March 9, 2013.
Speaking of roads well traveled, Peter Rowan has been down a few in a long, distinguished career that began when he was 22, in 1966, with a successful audition as a guitarist and vocalist for Bill Monroe's Bluegrass Boys. Upon leaving Monroe's stable in 1967, he would make stops in David Grisman's Earth Opera and in Seatrain before reteaming with Grisman, Seatrain's Richard Green, banjo giant Bill Keith and the exceptional roots guitarist Clarence White in Muleskinner, a pioneering progressive bluegrass outfit. Peter Rowan knows from roads well traveled, and his career is a tribute to often taking the one less traveled.
But The Old School celebrates the bedrock aesthetics of traditional bluegrass–the engaging stories of everyday people in love or in trouble (or both), the soulful singing, the awe inspiring picking and the heart behind it all. Produced by Compass Records head (and towering banjoist) Alison Brown with a crisp, clear sound and warm vocals, the album is almost equal amounts buoyant spirits and wrenching missives true to the bluegrass ethos of "pick it clean, sing it true." It features some of Rowan's strongest writing and uniformly exceptional singing and playing by the rather awesome dramatis personae. The Del McCoury Band is on board; former Bluegrass Boys Jesse McReynolds and Bobby Osborne join Rowan and the McCoury Band's fiery fiddler Jason Carter on a moving bluegrass gospel quartet rendering of Rowan's powerful song of salvation, "My Savior is Callin' Me." One of the album's most exquisite tunes is a touching Rowan-penned tribute to Doc Watson, written the morning after Rowan got word of Doc's passing. "Doc Watson Morning" is an upbeat accounting of Doc's lasting legacy, memorable as much for what Rowan has to say as it is for his folksy, engaging lead vocal and Bryan Sutton's Watson-styled flattop picking.
The album charges out of the gate with its (and every bluegrass band's) unflinching mission statement," "Keepin' It Between the Lines (Old School)," a scalding workout notable for the harsh portrait it paints of life on the road, the musicians' commitment to it, and not least of all, the furious fiddling of ace Michael Cleveland, the impeccable mandolin work by Ronnie McCoury and the all-universe vocal group calling itself The Rules (Bobby Osborne, Jesse McReynolds, Del and Ronnie McCoury). Here's an occasion, too, for Rowan, nothing if not a child of the '60s, to inject a sly bit of social commentary in his lyric, "We all believe in the American dream/but nothing is anymore what it seems/wealth and fortune, justice is blind/I'm just keepin' it between the lines."  The Old School is anything but a political album, but this one-off lyrical observation about the state of the Union; plus the rousing rendition of "O Freedom" ("before I'll be a slave/I'll be buried in my grave/go home to my Lord and be free/O freedom…"), made buoyant by Jason Carter's rich fiddling and Keith Little's steady banjo; and the pronounced love of the land informing "A Mountain Man's Dream" ("earth, water, fire and air, the elements clean," Rowan cries, his voice rising, in this unusually structured, dramatic reading of a Native American's homecoming, "earth, water, fire and air–a mountain man's dream") give the whole enterprise some topical bite.
Appearing at Music City Roots, Loveless Café Barn in Nashville on April 24, 2013, Peter Rowan discusses the backstory of his new album, The Old School, and, following an introduction by Jim Lauderdale, performs his loving tribute to Doc Watson, 'Doc Watson Morning,' from the CD.
In the end, though, you're liable to find yourself returning frequently to gripping entries such as the "In the Pines"-like "Letter from Beyond," a tender, but chilling, posthumously penned billet-doux, with the twin fiddles of Stuart Duncan and Buddy Spicher enhancing the dark ambience Del McCoury conjures with his piercing tenor vocal; or the bluesy, laconic "Ragged Old Dream," a soothing, laid-back exercise; or "True Love to Last," with J.D. Crowe on banjo underpinning Rowan's lacerating confession of being complicit in his love affair's demise ("I was a king, I had it all/keys to the kingdom I left fall/I tried to do right and be strong/but I was weak and I got it wrong"), leaving him to assure the paramour in question that "love will find you/and be kind to/one who gives/true love to last," a sentiment made all the more poignant by Don Rigsby's plaintive harmony vocal.
So here's to the old school masters, Messrs. Lawson and Rowan, for two outstanding examples of resiliency–theirs and their music's. Pick it clean and sing it true, fellows. It never goes out of style.