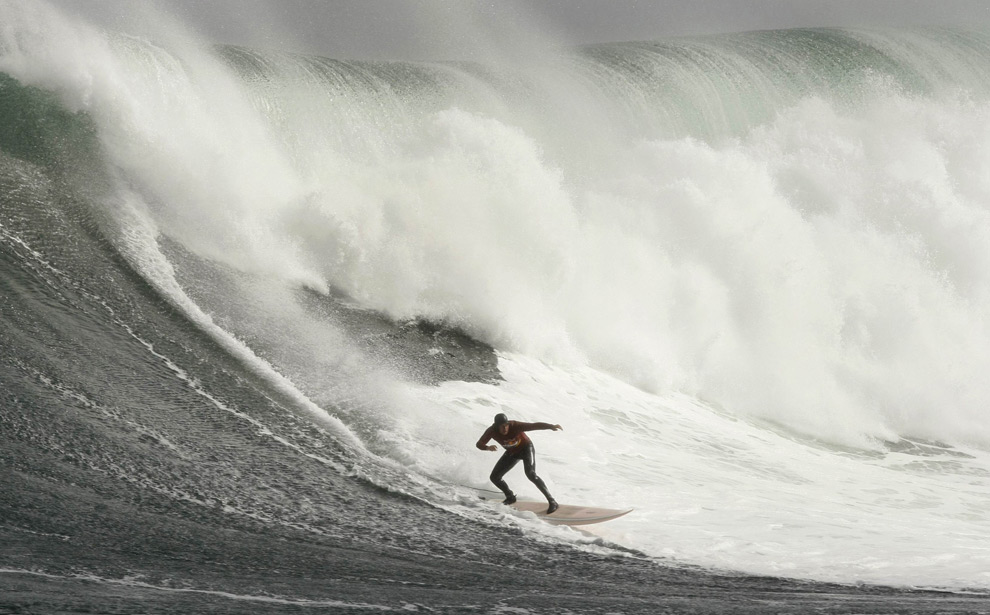 To Know You're There
When summer fades it helps to know
A dear friend waits from long ago.
The friend you are, you'll always be
Now poised beneath a tranquil sea.
I've seen you not since early spring
The last time on a brisk morning.
From your deep green eyes, to offshore spray
I remember as if yesterday.
Upon a rais'd ocean floor
Those six foot days will come once more.
But until then I'll watch you rest
Awaiting autumn's first northwest.
 'Surfing Drums,' from Dick Dale and His Del-Tones' 1962 debut album, Surfer's Choice. This is an earlier version of Dale's song 'Jungle Fever,' with lyrics added at the end.
Hard Years Aboard
They can come and go so quickly
Jobs, friends, health, dreams, perspectives.
Lost and found among other things
Within a culture who's guiding light was anything but to follow.
Those who've made it through
Now mellow and reformed, skin aged, thoughts scattered about.
What fun they had, "didn't know any better,"
Friends who missed the ferry back
To reality didn't all make it.
Mistakes washed away by tides and time
An era of then
Regretted by some, traded for nothing by others.
Yet the waves remain,
A salvation of sorts.
The same souls' ecstasy and solitude
Amid or away from discord.
For after all the ride remains
To bring us here and there.
'Pier Pressure,' a latter-day surf classic by the legendary guitarist Teisco Del Rey, from his acclaimed 1994 album, The Many Moods of Teisco Del Rey
Heart Break
The drop was late and risk quite great
To make it was left all to fate,
But on this one you took a spill
Held down by Mother Nature's will.
Wish you could take this one back
A bad sign when your leash goes slack.
With breath expiring,
And mellow tiring,
The surface that you thought you neared
Was hard, then orientation cleared.
Kicked off the bottom and made your way
Soon greeted by the light of day.
And when you were, you looked around
Then cringed upon what you had found.
A broken heart at leash's end
Instantly lost beloved friend.
Justified to yell aloud
Swim in through empathetic crowd.
Then rub your eyes in hopes you'll wake
"I'm dreaming, this is surely fake!"
But true as the sand between your toes
This session's been brought to a close.
So sit and watch as waves go by
And swallow hard this humble pie.
The Pyramids, 'Penetration,' the last big surf instrumental hit, was released in 1963 and peaked in the Billboard Top 20 in 1964.
Shorechestra
Low tones of cobble stones echo off the seawall behind me
Tumbling over one another as the tide recedes,
Herding them with it.
The percussion of higher tempered shells mix in and trail off with the same rhythm.
Floating just beyond the breakers several pelicans beat their wings against the water
As if still too full from breakfast to reclaim flight.
A pod of dolphins pass near the beach to take their turn at center stage.
Their chorus of well timed spouts, following one another in succession.
A pronounced breeze picks up slightly, led in with perfection by the maestro,
Breathing through the palms above whose fronds play like a wire brush
Rasped gently over a symbol.
Plovers pipe up as well and other shore birds chime in
As waves continue to strum the sandbar.
I feel the glow of sun beginning to seep through the haze
As beautiful becomes a gross understatement.
Walking up the beach, hand in hand, a retired couple approach
With polite smiles, that tender a silent "Good morning"
So as not to disrupt the show.
In tune, my eyes speak back the same.
And it is.
From the movie Surf Party, The Astronauts play their original instrumental surf classic, 'Firewater'
Riders' Anthem
To pros and Joes may this expose
Our Riders' Anthem here proposed
We wear an emblematic ring
A promise to ride anything.
Enlightened by diversity
And likened to a sprouting tree.
We know not how each branch will grow
The ones on top push those below
To bend and twist in search of light
Essential this innate foresight.
So let your riding do the same
To live in shade's to hobble lame.
Allow each branch to sprout and grow
To seize the day it helps to know
The essence of a rider's sport
Is not just riding long or short,
But embarking on a fluid mission
And taking flight in all conditions
From street to snow
In wind, wake and waves we flow
Through barrels deep
Off lips we leap.
So slide around the bend and see.
Un-stunt your growth and ride on free
Become that metaphoric tree.
Bryan Knowles is a surfer, shaper, and writer, who despite the flat summers and frigid winters of his grommet-hood on Cape Cod, MA, fell in love with surfing and the ocean early on. Making his first surfboard at age 14, Bryan later wrote his college application essay about board building and went to Stanford University. After graduating, he survived a few years of the corporate consulting grind before realizing it was time to turn his real passion into a business. Bryan now resides in North County San Diego where he is co-founder and "Rider-in-Chief" of Ride Anything Surfboards. He also maintains a blog of surf inspired poetry at SurfPoetry.com and is obsessed with curves, clean lines, and all things aquatic.